2023 BFI London Film Festival: 25 Movies to Watch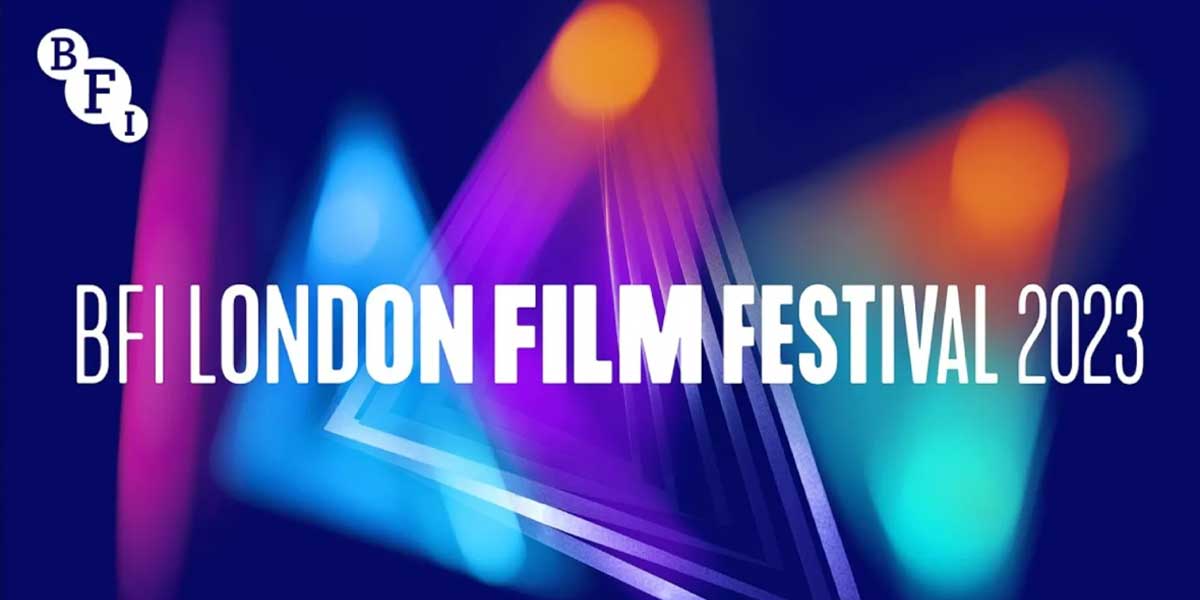 Which movies should you watch at the 2023 BFI London Film Festival? We made a list of 25 great films recommended by our writers!
---
The 2023 BFI London Film Festival is approaching, and the line-up is fantastic! But with so many festival favourites, world premieres, and highly anticipated movies, how will you decide which films to watch this year? We made a list of 25 great movies you don't want to miss. And they are recommended by the Loud and Clear Reviews writers who will be at the festival!
The BFI London Film Festival will take place on 4 – 15 October, 2023, with screenings in London and in cinemas around the UK. The programme includes galas, premieres, great indie gems, and events – some of which free! Without further ado, here's a list of 35 great movies to watch at #LFF23, in alphabetical order! Don't forget to follow us on our socials for our exclusive updates, interviews and live tweets:
---
1. ALL OF US STRANGERS
HEADLINE GALA
Director: Andrew Haigh
Country: United Kingdom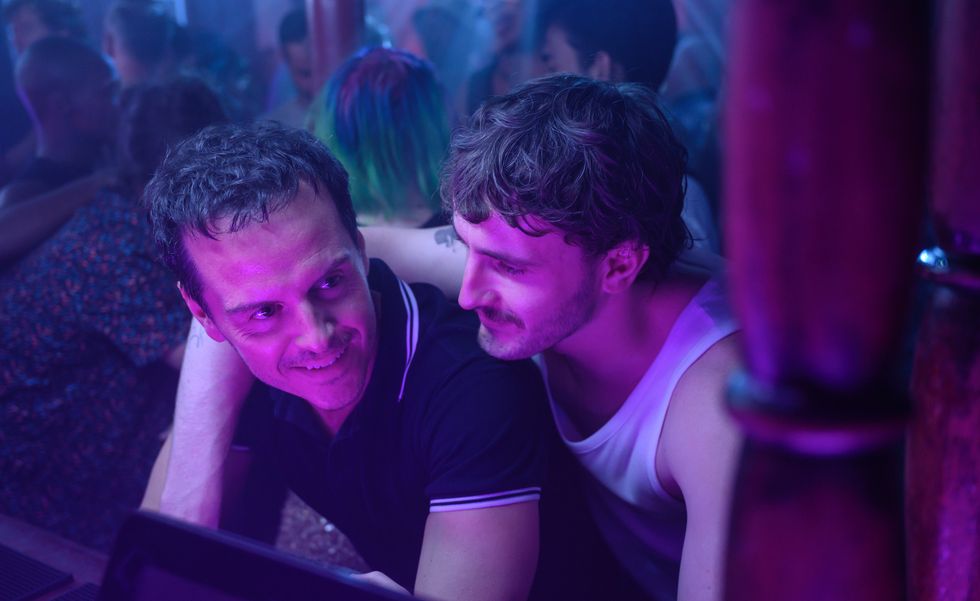 One of Britain's greatest current filmmakers, Andrew Haigh, heads to the London Film Festival to share his latest drama, All of Us Strangers. This is Haigh's first film since 2017 after directing television shows The OA (2019) and The North Water (2021). We are extremely excited to see Haigh return to the big screen with this adaptation of Taichi Yamada's 'Strangers'.
All of Us Strangers promises to be both enigmatic and emotional, mysterious and resonant, just like his previous films Weekend (2011) and 45 Years (2015). Fertile feelings will bubble below the surface in the most realistic way possible; All of Us Strangers should show humans in all their messy glory too. If Haigh's name wasn't enough to lure you in, just look at the cast: Andrew Scott, Paul Mescal, Claire Foy, Jamie Bell. This one is unmissable. (W.S.)
---
2. THE BIKERIDERS
HEADLINE GALA
Director: Jeff Nichols
Country: USA
Jeff Nichols – writer-director of Take Shelter, Mud and Midnight Special – is back with this full-throttle crime drama based on true events. The Bikeriders follows the history of Chicago biker gang the Vandals through the '60s and '70s, as told by member Kathy (Jodie Comer). She joined the group after falling in love with reckless rider Benny (Austin Butler). However, as the gang's operations become more sinister, Benny must struggle with his loyalty to Kathy and Vandals leader Johnny (Tom Hardy). Early reviews have compared the film to Goodfellas (and there's even a Rolling Stones song in the trailer). Michael Shannon, Norman Reedus and Mike Faist are also part of the all-star cast. (D.A.)
---
THE BOY AND THE HERON
SPECIAL PRESENTATION
Director: Hayao Miyazaki
Country: Japan
Full Review: The Boy and the Heron: Film Review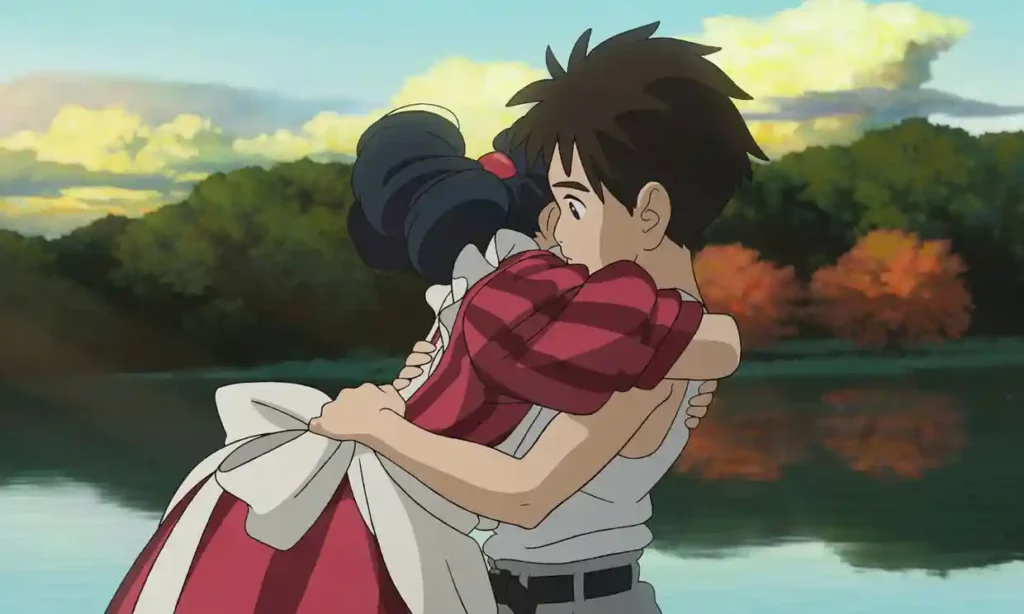 Hayao Miyazaki's latest animated film, The Boy and the Heron, is a semi-autobiographical film that marks the director's return to the big screen and his first feature film after he announced his retirement in 2013. After becoming the first animated film to ever open the Toronto International Film Festival earlier this year, The Boy and the Heron will now also show at the London Film Festival as one of the titles in this year's special presentation selection.
The film starts during the Pacific War in 1943, with 12-year-old Mahito Maki (Soma Santoki) longing for his mother. The Boy and the Heron follows its protagonist as he embarks on a fantastic journey that allows him to explore the liminal space between life and death. As a fan of Miyazaki's movies, we are excited to see his unique style back on the screen once again in what seems to be another captivating story. (C.C.)
---
DO NOT EXPECT TOO MUCH FROM THE END OF THE WORLD
DARE
Director: Radu Jude
Country: Romania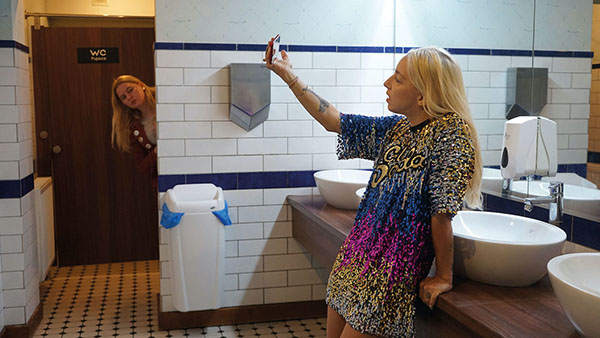 One of the highlights of the London Film Festival in 2021 was Radu Jude's explosive, unclassifiable satire Bad Luck Banging or Loony Porn. His follow-up, Do Not Expect Too Much From the End of the World, promises to be as stark in its satirical elements and as outrageous in execution as that Golden Bear winner. It plays in London Film Festival's Dare strand: a perfect fit for Jude and his enigmatic directorial and writing style.
His latest looks set to continue his best traits of playing with cinematic form and style in the most outrageous and engaging ways. It revolves around the production of a 'safety at work' video, but in a more detailed sense, we don't really know what to expect from Do Not Expect Too Much From the End of the World. We wouldn't want it any other way. (W.S.)
---
EILEEN
DARE
Director: William Oldroyd
Country: USA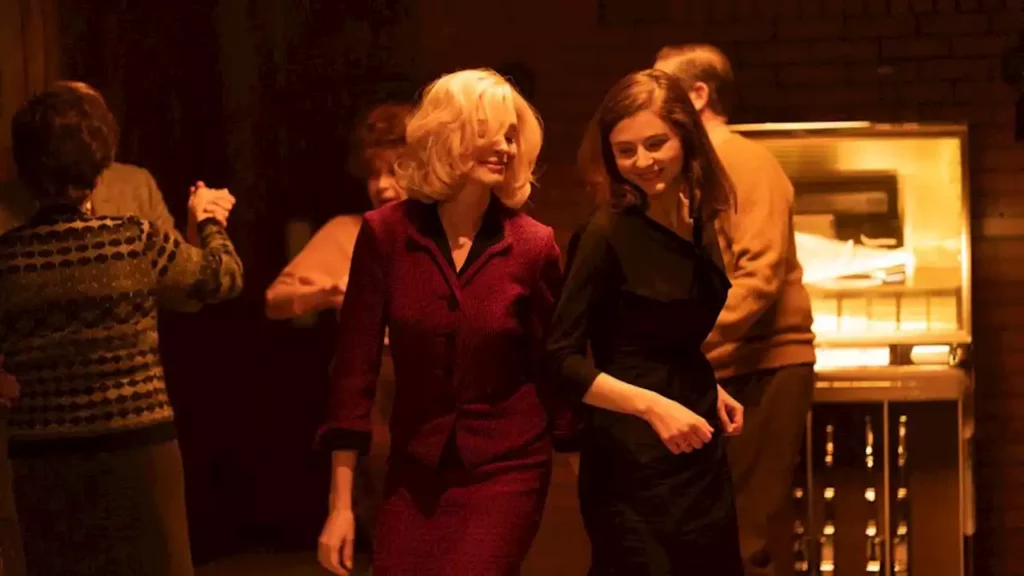 NEON, the production company that brought us Titane, Triangle of Sadness and Portrait of a Lady on Fire, is sure to light up our screens once again with the fascinating crime thriller Eileen. Eileen (Thomasin McKensie) and Rebecca (Anne Hathaway) spark up a darling friendship when they cross paths whilst working at a juvenile centre for boys in New England. Tense, sexy, and exhilarating, Eileen takes us on a journey of our title character's well earned tantalising escape from her everyday tedious life. The second feature from William Oldroyd promises us a wild and thrilling ride that is a must see. (B.L.)
---
EVIL DOES NOT EXIST
OFFICIAL COMPETITION
Director: Ryūsuke Hamaguchi
Country: Japan
Full Review: Evil Does Not Exist: Film Review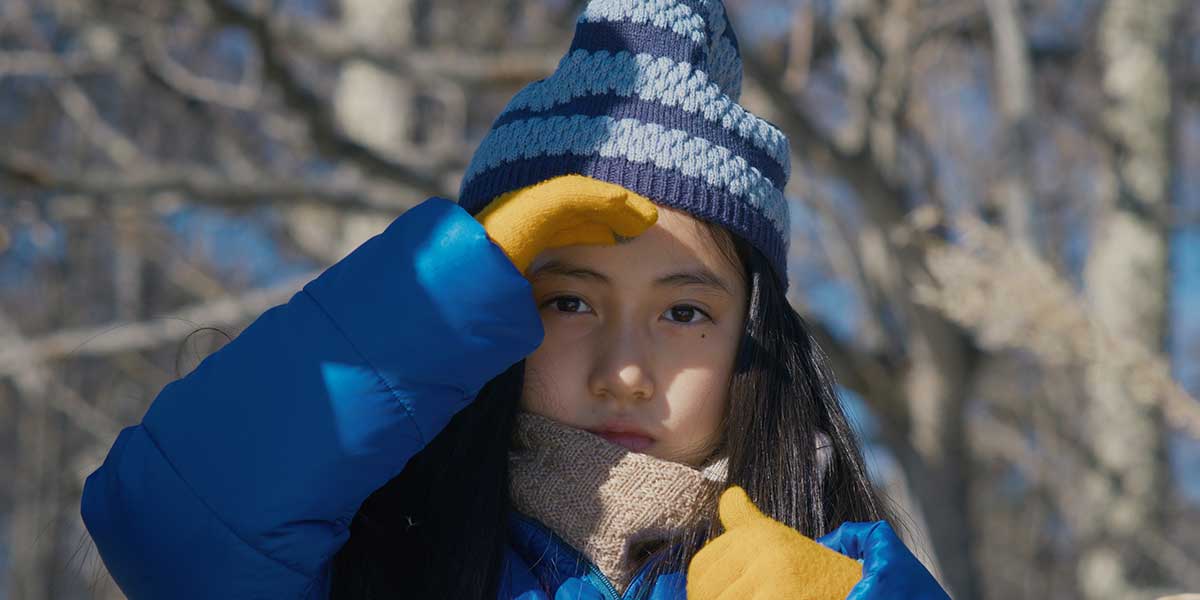 Anticipation for Evil Does Not Exist—Oscar-winning filmmaker Ryūsuke Hamaguchi's first film after Drive My Car (2021)—was already high, even before it wowed audiences at Venice Film Festival and subsequently won the Grand Jury Prize. Not a lot is known about Evil Does Not Exist: there is no trailer, only a short synopsis revealing that a small village near Tokyo becomes threatened by the prospect of a glamping site being built nearby. Rural and urban worlds collide.
Expect compelling, subtle drama, evocative symbolism, a tight and layered script, and a touching score by composer Eiko Ishibashi (who also helped Hamaguchi in the writing process). Competing in the Official Competition at London Film Festival, Evil Does Not Exist promises to wow audiences in London just as it did to those in Venice. (W.S.)
---
FALLEN LEAVES
SPECIAL PRESENTATION
Director: Aki Kaurismäki
Country: Finland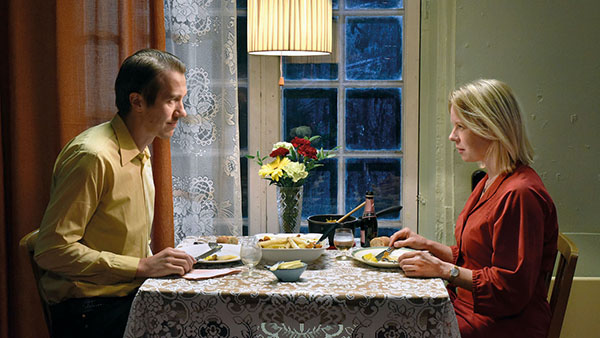 Finnish auteur Aki Kaurismäki is back with his twentieth feature film, Fallen Leaves. Less prolific than he was in the 1980s and 90s, Kaurismäki's brand of charming melancholy, amusing deadpan delivery, and stinging social satire seems to be as strong as ever.
Fallen Leaves is a continuation of Kaurismäki's unforgettable Proletariat series (1986-1990), which was originally a trilogy but now sees a fourth entry 33 years later. Alma Pöysti and Jussi Vatanen are Ansa and Holappa, two lonely people with mundane jobs who find happiness with one another—or as much as one can in a Kaurismäki film. One of London Film Festival's Special Presentations, Fallen Leaves won the Jury Prize at Cannes Film Festival earlier this year, and will most certainly be one of the funniest and most depressing films at LFF—a combination that few directors would be able to achieve. (W.S.)
---
FINGERNAILS
OFFICIAL COMPETITION
Director: Christos Nikou
Country: USA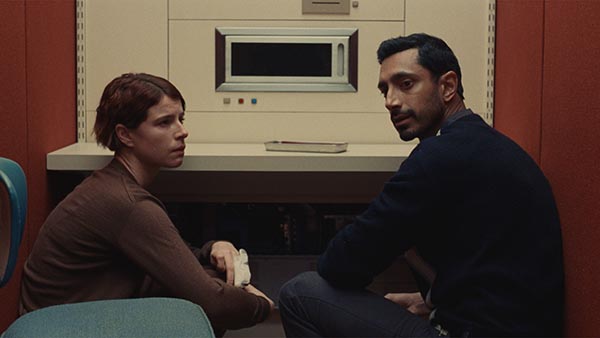 Is love real? This is the question star Jessie Buckley sets out to decipher in Christos Nikou's science-fiction comedy Fingernails. Anna (Buckley) wants the relationship she has with her partner Ryan (Jeremy Allen White) to be concrete, but doesn't quite believe their affinity is at 100%. Behind her spouse's back, Anna takes a job working at a secret compatibility facility, an institute which develops a series of tests where couples try their luck to see if they're suitable for each other. Anna works alongside Amir (Riz Ahmed) who she becomes very fond of as she dives deeper into her work. Fingernails is a story of utopian love in a dystopian world. (B.L.)
---
FOE
SPECIAL PRESENTATION
Director: Garth Davis
Countries: Australia, USA
Alongside All of Us Strangers, Paul Mescal stars in this dystopian sci-fi thriller from Garth Davis (Lion). The rural lives of Midwestern couple Junior (Mescal) and Henrietta (Saoirse Ronan) are interrupted by Terrance (Aaron Pierce), who informs them that Junior is being sent to a large space station. Junior does not want to leave his wife though – and Terrance's solution will cause further tension. Foe is adapted from the 2018 novel by Iain Reid, who co-wrote the script with Davis. If the film follows Reid's book closely, that means we'll be getting a psychological story where artificial intelligence plays a major part. (D.A.)
---
HIT MAN
SPECIAL PRESENTATION
Director: Richard Linklater
Country: USA
Full Review: Hit Man: Film Review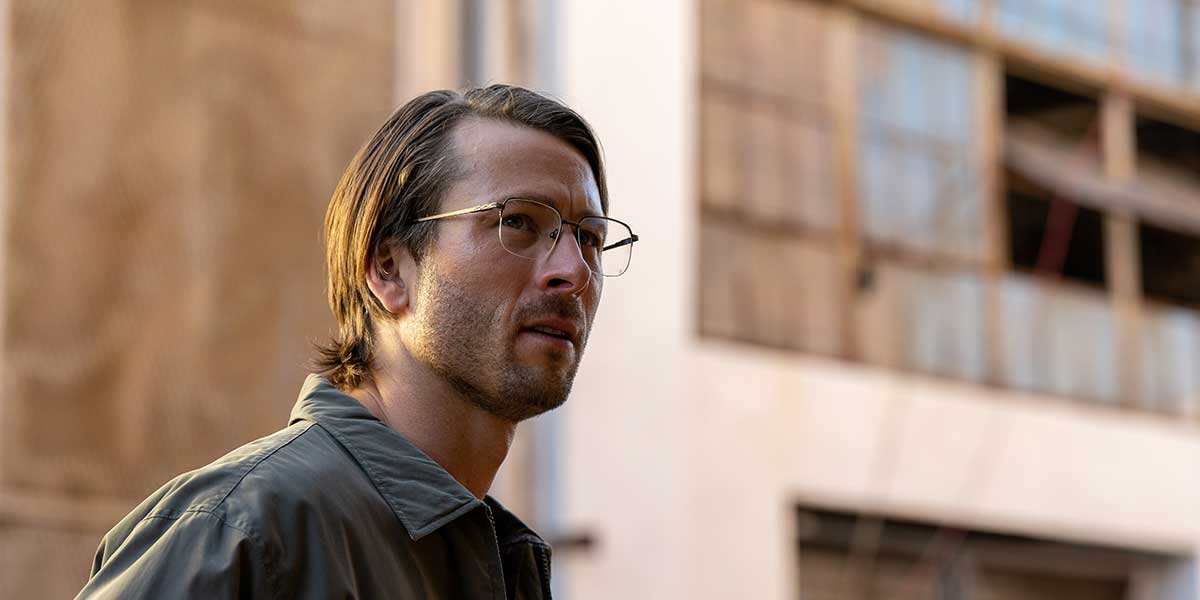 Once in a while, you enter a festival screening knowing nothing about the film, and end up having the time of your life. This was our experience when watching Richard Linklater's Hit Man in Venice, in a room full of people laughing and clapping in delight. Hit Man feels like the film Linklater was meant to make. It's an extremely entertaining, riotously funny movie that's also the clever psychological analysis of a very special man.
That man is Gary Johnson (Glen Powell, also the film's co-writer), a psychology and philosophy professor who spends his days teaching his students about ID (our most instinctive self), SUPEREGO (our moral code), and EGO (the combination of the two). But Gary has another job: in his spare time, he works with the New Orleans Police. One day, he is "promoted" to "fake hit man:" someone who meets with ordinary people looking to hire a hit man and gets them on tape so that the police can arrest them.
And Gary is exceptionally good at this job, as his alter-ego, the charming "Roy," couldn't be more different from his ordinary self. One day, he meets with a client named Madison (Adria Arjona) and unwittingly provokes a chain reaction that will cause a series of hilarious events. Powell is superb in a film that's also an interesting analysis of human nature, ultimately asking us if there is such a thing as one's identity. Prepare to discover your new favourite movie. (S.S.)
---
HOARD
FIRST FEATURE COMPETITION
Director: Luna Carmoon
Country: United Kingdom
Read also: Hoard Interview: Luna Carmoon, Saura Lightfoot Leon & Joseph Quinn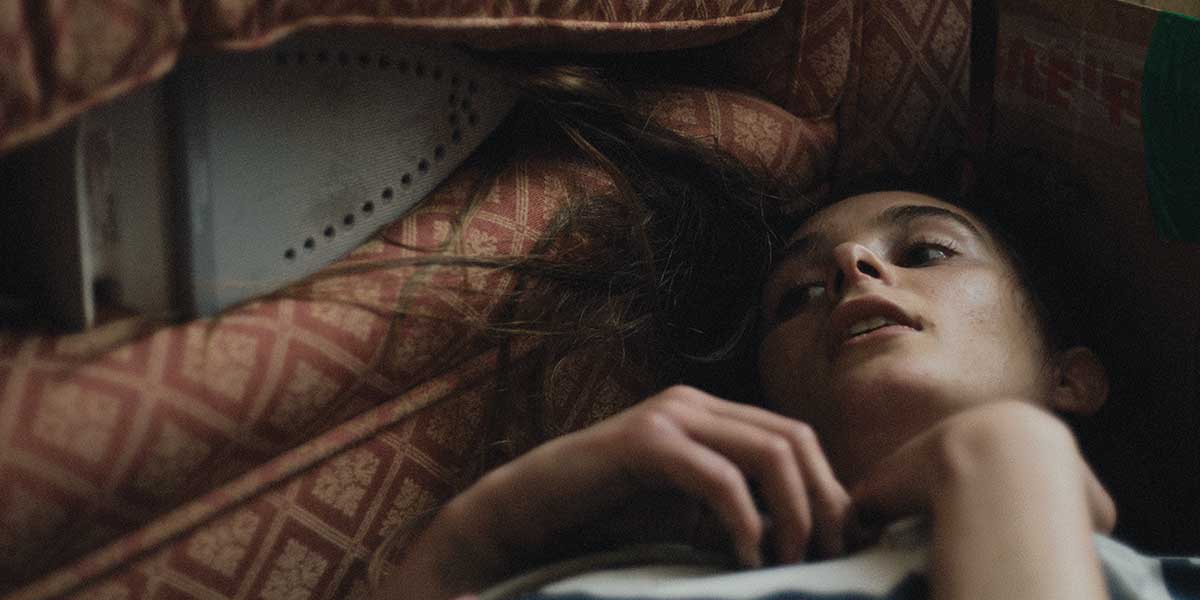 What if, one day, you were overcome by the sudden urge to reconnect with your past? And what if said past involved a mother who gave you as much love as she gave you traumatic memories? Our protagonist's predicament isn't easy, as Maria (Saura Lightfoot Leon) was separated from her hoarder mother (Hayley Squires) as a child, and grew up with a supportive, loving foster parent named Michelle (Samantha Spiro). In 1994, Maria is a teenager like any other, but the "scents" from her childhood are starting to resurface. This leads her on a journey to try to remember as much as she can, and ultimately find out who she is.
Maria's journey is partially triggered by the arrival of a stranger named Michael (Joseph Quinn), a former foster child of Michelle's who comes to stay with them for a few weeks. Michael has suffered his share of neglect, and the two of them really connect on a deeper level. But as the film goes on, we find out more about both, and ultimately realise that this is Maria's story. Laura Carmoon's Hoard is an ode to love and individuality that urges us to be ourselves. Saura Lightfoot Leon is exceptional in a gem of a movie that demands to be seen, and that you won't be able to forget. (S.S.)
---
THE HOLDOVERS
CUNARD GALA
Director: Alexander Payne
Country: USA
Sideways and Election director Alexander Payne is back in the limelight once again with The Holdovers, an American comedy-drama starring Paul Giamatti, Dominic Sessa and Da'Vine Joy Randolph. Paul (Giamatti) is a high-school teacher at Barton Academy that no one seems to like. The administrators who oversee the winter-break holdover duty don't favour Paul either, so when Christmas rolls around, Paul is stuck at school.
Paul, along with delinquent student Angus (Sessa), cook Mary (Randolph) and a handful of other pupils, are confined within the school walls, and attempt to make the best of the situation they're all reluctantly in. Their mismatched and contradicting personalities allow for insightful conversations, but ultimately realise that they are all suffering from loneliness. The Holdovers is an evocative ode to the 1970s. (B.L.)
---
HOW TO HAVE SEX
JOURNEY
Director: Molly Manning Walker
Country: United Kingdom
The directorial debut from Molly Manning Walker (DP of Scrapper) has become arguably the most anticipated British release of the year since winning Cannes' Un Certain Regard prize. After completing their exams, a group of young teenagers head to a resort in the Malia, Crete for what should be the best summer of their lives. But for Tara (Mia McKenna-Bruce, Persuasion), this vacation full of non-stop boozing and partying will have a dark side to it. Hailed as a frank and intimate study of consent and young adulthood, How to Have Sex marks Walker as a filmmaker to watch. (D.A.)
---
INSIDE THE YELLOW COCOON SHELL
DARE
Director: Phạm Thiên Ân
Country: Vietnam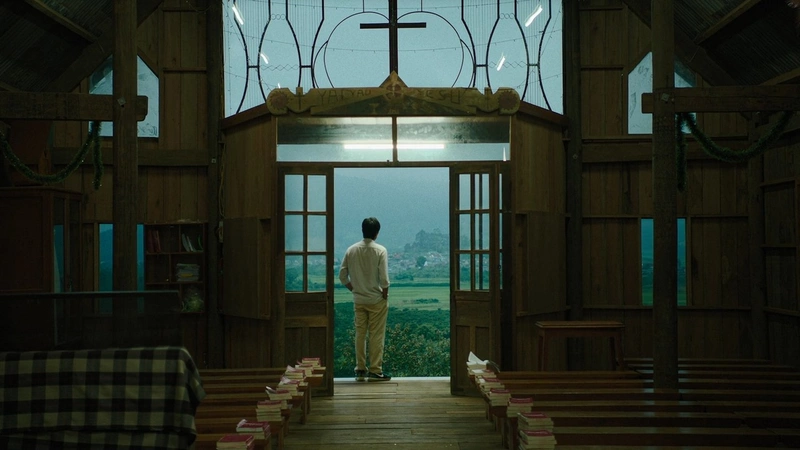 There are few better ways to announce yourself to the film world than winning the Caméra d'Or at Cannes Film Festival. This is what Phạm Thiên Ân did this year with his first feature film, Inside The Yellow Cocoon Shell, which sounds as entrancing as it does challenging.
Faith and spirituality collide as Thiện must transport the body of his sister-in-law to their village. Rural Vietnam becomes a place of memory and reflection, as we follow Thiện's mystical journey across the film's 182-minute runtime. Expect no easy answers, and instead be prepared to float along a sensory river of beguilement. Inside the Yellow Cocoon Shell is playing in the festival's Dare strand, which could not sound more fitting for Phạm Thiên Ân's enticing debut. (W.S.)
---
KIDNAPPED (RAPITO)
DEBATE
Director: Marco Bellocchio
Countries: Italy, France, Germany
Kidnapped (Rapito) marks Marco Bellocchio's return to the London Film Festival after last year's Esterno Notte. Once again, the director choses to focus on a key moment in Italian history as the setting of this story. The film was previously presented at the 2023 Cannes Film Festival, where it was selected to compete for the Palme d'Or.
The movie begins in Bologna in 1958. Edgardo Mortara (Enea Sala), a young Jewish boy, is forcibly taken from his home after having been secretly baptized to be raised as a Christian far away from his Jewish family. Rapito follows the Mortara family's struggle to be reunited with their son, which is parallel to the political fight for Italian unification and democracy in the historical context. The film's excellent balance between impressive cinematography and a compelling plot is definitely something you don't want to miss. (C.C.)
---
THE KILLER
HEADLINE GALA
Director: David Fincher
Country: USA
Full Review: The Killer (Netflix) Film Review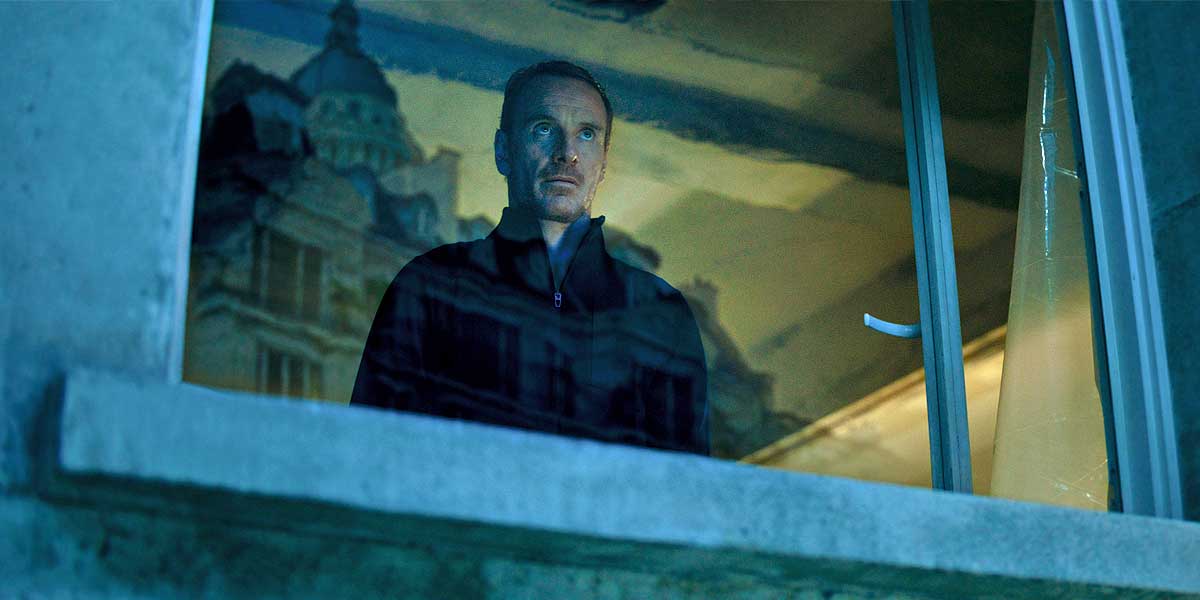 The man, the myth, and the legend that is David Fincher is back in the director's seat once again, treating us to another crime thriller that assures us is as strong as fan favourite Gone Girl. After the extremely divisive Mank back in 2020, Fincher is back to the crime genre once more, this time working with Michael Fassbender for the first time in his career.
Michael Fassbender stars as our nameless protagonist, a hit man who's on an assignment in Paris. When things don't go to plan, he begins an international escapade that is destined for simmering revenge around every corner. Along his journey, he meets an array of acquaintances, including a cameo from the beguiling Tilda Swinton. Despite having a runtime of 118 minutes, one of Fincher's shortest, The Killer still guarantees a wild rousing ride. (B.L.)
---
KILLERS OF THE FLOWER MOON
HEADLINE GALA
Director: Martin Scorsese
Country: USA
Full Review: Killers of the Flower Moon: Film Review
See Also

In the adaptation of David Grann's bestselling book of the same name, Martin Scorsese tells us the true story of the Native American tribe of the Osage Nation. In the 1920s, these "chosen people of chance" were forced to move from Kansas to an inhospitable land by the United States. But they retained the rights to their land's resources, and, as it turns out, it had many. And so, they quickly became one the wealthiest communities in the world.
With wealth come people who want to exploit it, and Scorsese presents them to us in the form of William Hale (Robert De Niro), self-proclaimed "King of the Osage Hills" and master manipulator. In this three-and-a-half-hour long movie, we follow him as he manoeuvres his nephew Ernest (Leonardo DiCaprio) to get him to marry "full blood" Osage Mollie Kyle (Lily Gladstone), whom he intends to quickly get rid of so that he can inherit her fortune. Killers of the Flower Moon feels like a gangster movie and a slow-burning western disguised as a crime drama. You'll be absolutely mesmerised by it. (S.S.)
---
THE KITCHEN
CLOSING NIGHT GALA
Directors: Kibwe Tavares & Daniel Kaluuya
Country: U.K.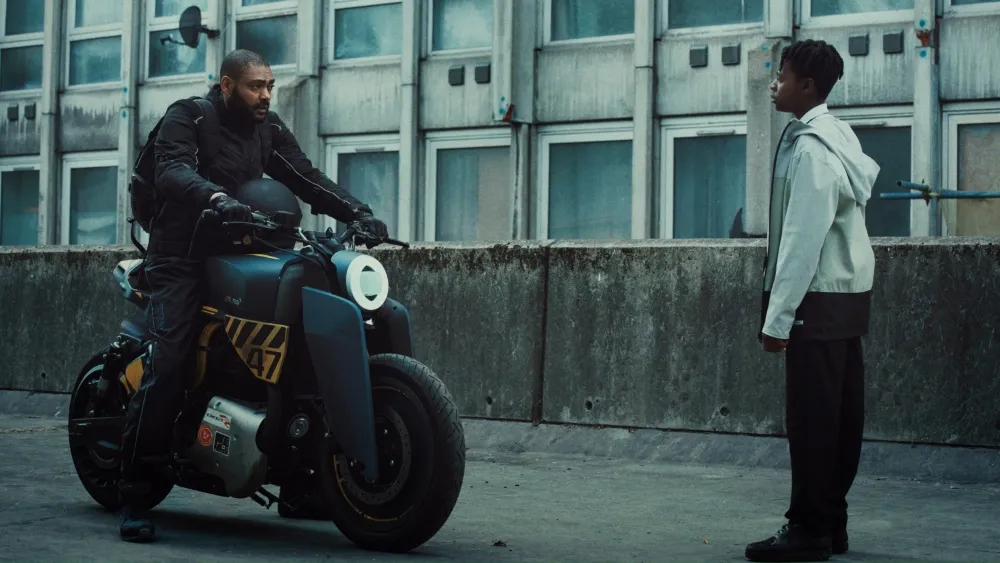 It would not be the London Film Festival if it did not champion British cinema. This year's Closing Night Gala could be none other than a British film: The Kitchen. The film is set in a dystopian future in 2040, when Izi (Kane Robinson) and Benji (Jedaiah Bannerman) struggle to navigate a futuristic London where all forms of social housing have been eliminated. The kitchen, the estate where Izi grew up, is the last remaining social housing in the city, with its residents refusing to abandon their home. As such, The Kitchen reflects on a future where the gap between the rich and the poor has been further and further expanded and underlined. With this element of social commentary, The Kitchen is a promising film and will definitely be an interesting watch. (C.C.)
---
ONE LIFE
AMERICAN EXPRESS GALA
Director: James Hawes
Country: U.K.
Inspired by a moving true story, One Life stars Anthony Hopkins in the lead role of Nicholas "Nicky" Winton. The film follows Winton as he looks back on his life and his efforts to help Jewish children hide and flee from German-occupied Czechoslovakia in the late 1930s, in an operation that is now known as Kindertransport. The historical event has been portrayed in the media's retelling of the Holocaust before through documentaries, books and personal accounts as a key historical moment.
The star-studded cast also includes other British A-listers in supporting roles, such as Helena Boham Carter as Babi Winton and Jonathan Pryce as Martin Blake. Seeing Anthony Hopkins star is any movie is always such a pleasure, but it will be thrilling to see his portrayal of the main character in such a moving story. (C.C.)
---
POOR THINGS
HEADLINE GALA
Director: Yorgos Lanthimos
Countries: Ireland, UK, USA
Full Review: Poor Things: Film Review
"What would a woman be, if she were able to start from scratch?." Star-producer Emma Stone's question perfectly describes Yorgos Lanthimos' Poor Things. The film is essentially about a woman who dares to be free in a world dominated by men. Said woman is Bella Baxter (Stone), a bizarre "creature" who's been brought to life by lovable (but also mad) scientist Dr. Godwin 'God' Baxter (Willem Dafoe). How? When he stumbled upon a dead pregnant woman and "saved" her by implanting her newborn baby's brain into her body.
The result is as exquisitely disquieting as you think it is, especially as it comes from the brilliant mind of Yorgos Lanthimos (The Favourite). But it's also infinitely charming and very, very funny. Lanthimos reunites with co-writer Tony McNamara to bring us a story about gender, sexual liberation, identity, and freedom from societal constraints. It's best if you go into the movie knowing absolutely nothing about it: we promise you won't regret it. (S.S.)
---
PRISCILLA
SPECIAL PRESENTATION
Director: Sofia Coppola
Country: USA
While just last year everyone's attention was on Elvis, the biographical drama on the life of Elvis Presley directed by Baz Luhrmann, this year, the spotlight is on another biopic. This time, Sofia Coppola is shining a light on Elvis' ex-wife, Priscilla Presley (Cailee Spaeny), with her newest film Priscilla. As such, Sofia Coppola once again turns to the interior portrayal of a young woman who became part of the popular culture. The movie is based on Priscilla's own memoir "Elvis and Me," co-written with Sandra Harmon, which follows her life from her first meeting with Elvis to their divorce.
After receiving positive reviews at its world premiere at the Venice Film Festival, audiences will soon get to see Priscilla in London ahead of its release in theatres in November. If you love Sofia Coppola's movies, Priscilla is one of the most exciting releases of the year, as it explores themes that are dear to the director, such as femininity, fame, and isolation.(C.C.)
---
SALTBURN
OPENING NIGHT GALA
Director: Emerald Fennell
Country: UK
Barry Keoghan and Jacob Elordi take centre stage in Emerald Fennell's highly anticipated second directorial feature. Saltburn revolves around two Oxford University students, Oliver (Keoghan) and Felix (Elordi), who derive from very different backgrounds, as a friendship blossoms between them in the early '00s. Oliver and Felix's camaraderie becomes intense and passionate, especially when Felix invites Oliver to his family's extremely wealthy estate to soak up the searing summer sun. After capturing audiences in 2020 with Promising Young Woman, Fennel's sophomore extravaganza is sure to lure in anyone who loves a neurotic thriller. (B.L.)
---
SKY PEALS
FIRST FEATURE COMPETITION
Director: Moin Hussain
Country: United Kingdom
Full Review: Sky Peals: Film Review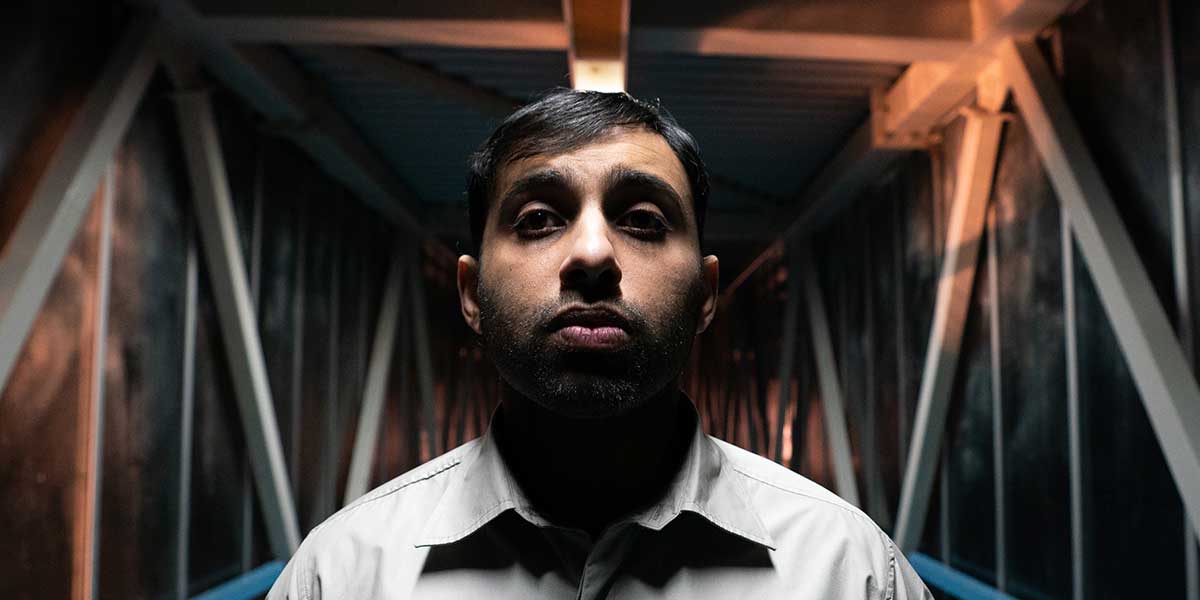 A very promising debut from British filmmaker Moin Hussain, Sky Peals competes for the Sutherland Award after premiering at Venice last month. It's an absorbing, atmospheric sci-fi drama that tackles identity and finding a connection to something through the story of socially awkward Adam (Faraz Ayub). He lives a life of self-isolation, working lonely nightshifts at a motorway service burger restaurant. When he hears about the death of the father he barely knew, he begins investigating and soon uncovers an extraterrestrial mystery. Was his father an alien? And if so, what does that mean for Adam? (D.A.)
---
THE SWEET EAST
JOURNEY
Director: Sean Price Williams
Country: USA
Full Review: The Sweet East: Film Review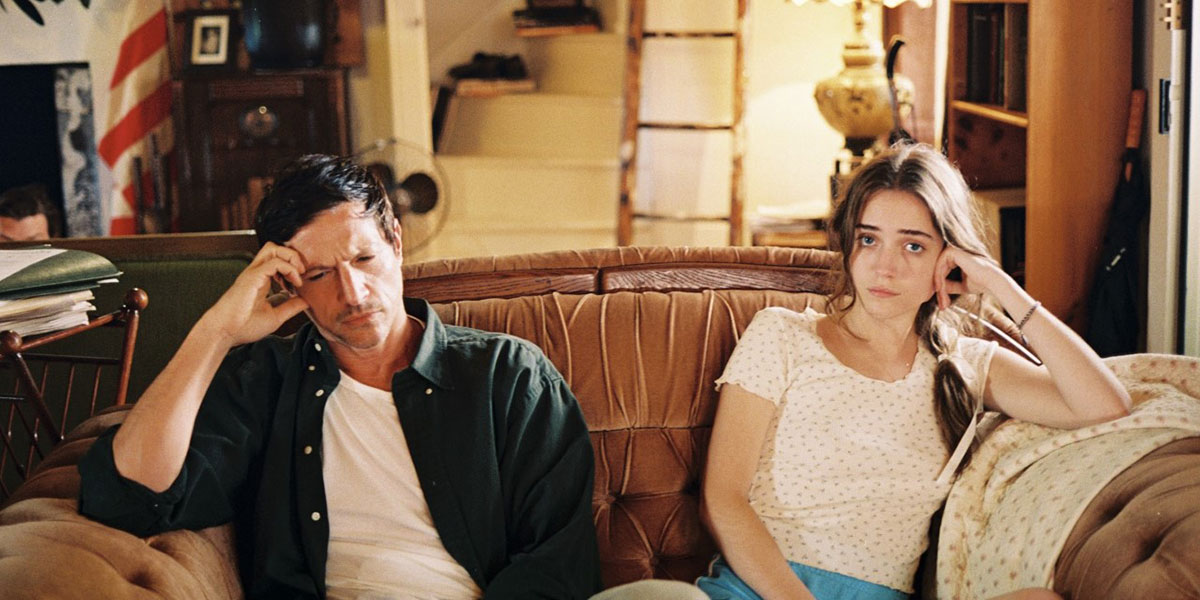 Cinematographer and Safdie Brothers collaborator Sean Price Williams and writer Nick Pinkerton bring us the film that won over Cannes. The Sweet East is the story of a teenager on a school trip. One day, Lillian (Talia Ryder) decides to go off and "do her own thing." In her journey, she meets anyone from white supremacists and religious fanatics to disquieting directors and wannabe revolutionaries. But this isn't the story of a young woman finding her identity: Talia knows exactly who she is. And you'll be thoroughly absorbed as you watch her navigate the world with confidence and wonder.
That is all we're going to say, as it's best if you discover the film's many surprises on your own. The Sweet East is an effortless watch that brims with originality, elevated by a well-paced script and fantastic performances, including a great turn from Red Rocket's Simon Rex. It's Alice in Wonderland set in Trumpian America, and it's clever, ironic, and surprising in the best possible way. (S.S.)
---
THE ZONE OF INTEREST
SPECIAL PRESENTATION
Director: Jonathan Glazer
Countries: UK, USA, Poland
Full Review: The Zone of Interest: Film Review
Jonathan Glazer (Sexy Beast, Under the Skin) won the Grand Prix at Cannes earlier this year with this film that highlights the chilling banality of the atrocities committed by the Nazis. Taking light inspiration from the eponymous novel by the late Martin Amis, the film follows Auschwitz commandant Rudolf Höss (Christian Friedel) and his wife Hedwig (Sandra Hüller, Anatomy of a Fall). The couple have built a perfect life for their family at a house next to the concentration camp – and its horrors are apparent in every scene. Glazer has made a film about normalisation and complicity, haunting in every facet. (D.A.)
---
MORE FILMS TO WATCH AT THE 2023 BFI LONDON FILM FESTIVAL:
---
The 2023 BFI London Film Festival will take place on October 4 – 15 in cinemas across the UK. Discover the official festival schedule and follow us on our socials for more #LFF updates: