Bad Luck Banging or Loony Porn Review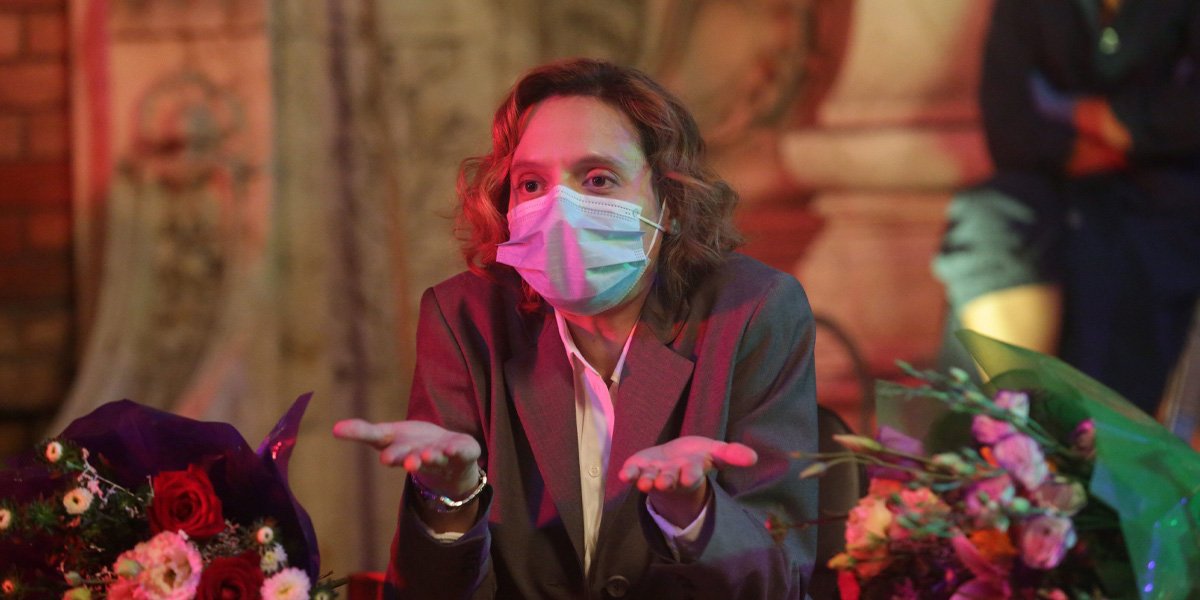 Katia Pascariu (© Silviu Ghetie / Micro Film 2021)
Radu Jude's scintillatingly outrageous drama comedy, Bad Luck Banging or Loony Porn, roars ahead with its singular vision and incisive screenplay.
---

Bad Luck Banging or Loony Porn might be the third Romanian film to win the Golden Bear at the Berlin Film Festival in just the last nine years, but it's undoubtedly the most unique. Radu Jude's (Scarred Hearts, Aferim!) bonkers, balls-out (quite literally) film stays true to its title, with plenty of banging and lots of porn, and has plenty of intelligent commentaries to make along the way too. At times poignant and at others brutally honest, Bad Luck Banging is constantly surprising, never resting on its laurels and frequently shocking even the most hardened of audience members. And the more shocking it is, the more one of its main points drills home, about how something as common as sex is still so taboo in society. In a wider sense, Bad Luck Banging is a savage indictment on society – Romanian or otherwise – and is a film that has a lot of rude fun along the way in the best, most satirical way.
Structured in three distinctive chapters, with the first and third connected by their characters and the second acting as a standalone montage of Jude's musings on a variety of concepts, objects and moments of history, Bad Luck Banging opens with an amateur sex tape between a man and a woman (a tape completely unsimulated by the actors). The film doesn't hold back, showing full frontal nudity, penetration and numerous sex acts. Along with the whimsical, marching band-style music and the garish pink credits, it is an opening that will grab your attention instantly.
After this relatively brief but truly memorable beginning, Bad Luck Banging shifts to its first chapter, following main character Emi Cilibiu, a history teacher played by a naturalistic and engaging Katia Pascariu (Beyond the Hills), running everyday errands in town. Jude's direction and Marius Panduru's (Aferim!) unique cinematography lends this opening section a gorgeous, flowing quality, enhancing the naturalism of the world around Emi. It feels like it's all one shot, but it isn't, and Bad Luck Banging doesn't even claim this illusion such as films like Birdman (2014) or 1917 (2019) do.
The camera frequently follows Emi from afar, pausing at numerous points and drifting – almost aimlessly – to capture another aspect of the world, such as a mall's welcome sign advertising a glut of shops and restaurants or a grand but derelict building. This first part is brilliantly at odds with the sex-driven opening and symbolically is extremely powerful, conjuring up a detailed, organic depiction of Romanian society.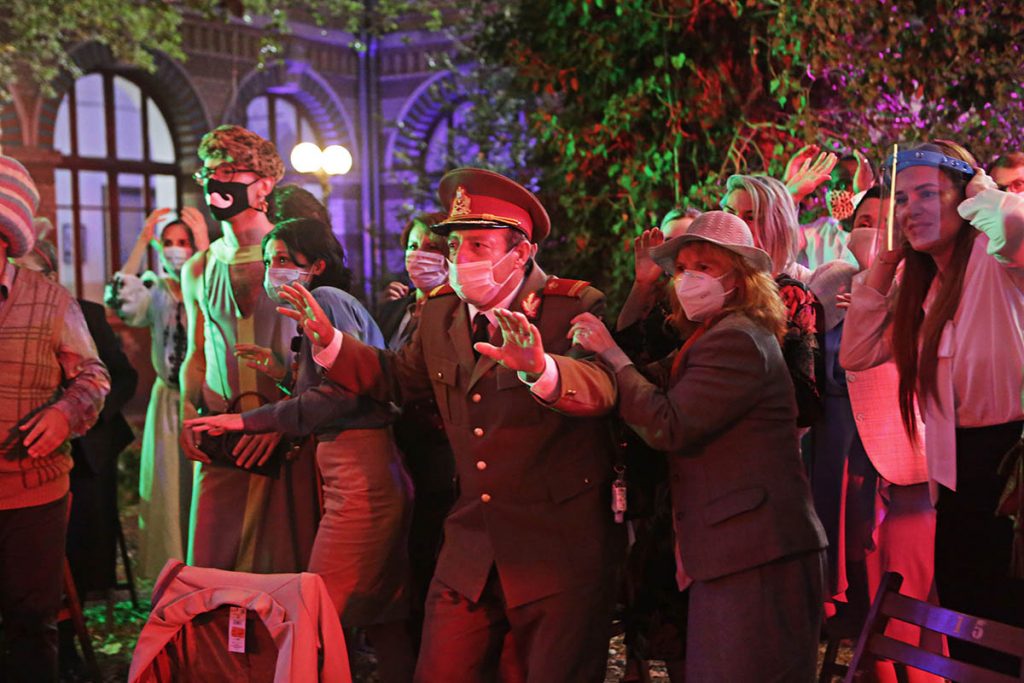 As it turns out, the homemade sex tape depicts Emi and her husband and has been uploaded to a private fetish site, before coming to the attention of the children, parents and staff members at Emi's school (it's worth pointing out that this is a prominent, private school only for the elite). This set ups the terrific final act: an elongated, surreal, courtroom-style scene depicting Emi's 'trial' in the face of these parents and set in the opulent school courtyard. It is here that Jude's script, which shines even before this point, really takes off with its uncomfortably realistic characters who all have crass, right-wing views on subjects such as race, sex and class, and who – much to Emi's misfortune – have the perfect, untouchable platform to speak from. It's a scene which could, in the wrong hands, come across as unnecessarily offensive and a simple procession of sexist or racist insults, but Jude manages to maintain a disturbing realism even throughout all the farcical surrealism on show. Everything the characters say has a point to its inclusion. At its very core, Bad Luck Banging is a fierce, angry attack on the elite in Romanian society and will delight viewers with its unbelievably bizarre ending (that is, the third ending, as it gives three alternative conclusions). It's a finale that is as unabashedly brave and stupendous as what has preceded it, if not more so.
Situated deliciously in the middle of these two chapters is the standalone middle, which touches on many of the same themes but told through a series of montages. There is humour in the form of three men performing traditional Romanian folk dance, all the while holding poles to ensure social distancing is maintained (characters are also frequently masked throughout the film). But true to its nature as a drama comedy, this chapter of Bad Luck Banging also includes vehement commentaries on consumerism (the names of historic revolutions only remembered today through drink and food brands) as well as morbid evocations of society, through its capture of a hospital ward for COVID patients situated, for efficiency, next door to a funeral home. Bad Luck Banging strikes this balance between dark, serious subjects and alleviating comedy quite perfectly and of course, adds in a fair few scenes of nudity and sexual acts to this chapter too.
Bad Luck Banging is a film that stands out amongst a field of similar works which try to attack the hypocrisy of the elite and the shortcomings of society. The themes of Bad Luck Banging are nothing particularly new nor surprising, so it is testament to Jude's excellent screenplay and the dynamite ensemble cast that the film still feels so fresh and invigorating. There is a great deal of evil ideology in society (Romanian or otherwise) and a great deal of stupidity too; one passer-by in the first chapter informs a friend that you can't physically catch COVID from the eucharist spoon and that incense does, in fact, cure cancer. Bad Luck Banging recognises both this evil and stupidity and achieves something rather special, shocking and greatly sardonic.
---
Bad Luck Banging or Loony Porn is available now on PVOD, VOD and in Virtual Cinemas. Read our interview with director Radu Jude.