Killers of the Flower Moon: Film Review

Robert De Niro and Leonardo DiCaprio in "Killers of the Flower Moon" (Apple TV+ & Paramount Pictures)
Martin Scorsese's Killers of the Flower Moon is a potent, stunning epic, elevated by a superb screenplay and flawless performances.
---

Martin Scorsese's highly anticipated new film Killers of the Flower Moon has just had its World Premiere at the Cannes Film Festival, raising the bar for all the other films we're going to see on the Croisette this year. Based on David Grann's bestselling book of the same name, the three-and-a-half-hour movie is set in 1920s Oklahoma, home to the Native American tribe of the Osage Nation. When the film begins, a man named Ernest Burkhart (Leonardo DiCaprio, of Inception) has just arrived in Fairfax, having just returned from the war to stay with his uncle William Hale (Robert De Niro, of Taxi Driver), the self-proclaimed "King of the Osage Hills."
"They're kind, big-hearted people, but they're sickly," the wealthy landowner tells his nephew, referring to the diabetes that seems to affect many of these "chosen people of chance," who initially resided in Kansas but were then forced to move to the region by the Unites States. "They gave them the worst land in the world," William continues, "but it had oil." And, since the tribe owned the rights to their land's resources as well as a share of the money coming in from various companies, they very quickly became one the wealthiest communities in the world. Which made rich "benefactors" like William Hale extremely interested in them.
In fact, it becomes quite clear that William "King" Hale fully intends to take advantage of his nephew's presence in Oklahoma, and make him an active participant to an "investment" project he's been working on for years. Because our master manipulator is actually one of the most despicable, irredeemable characters you've ever seen, and behind his carefully constructed facade lies an opportunist who's interested in one thing and one thing alone: getting part of that wealth for himself.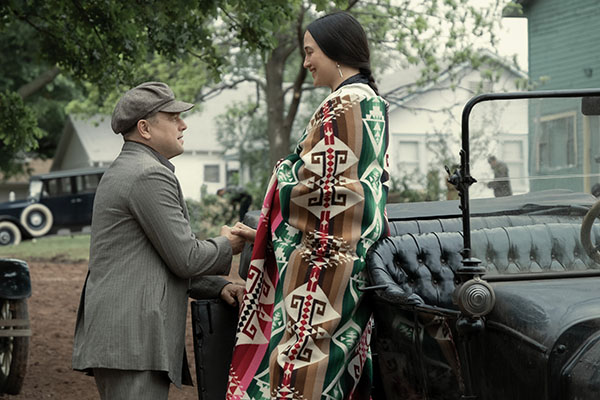 How will he achieve that? By doing exactly what most white people have been doing ever since the Osage became wealthy: marrying into their families, which would allow them to share their oil rights and eventually inherit their fortune. But the King intends to speed up that process, and becomes a key player in what would become known as the Reign of Terror: five years in which over 60 Osage were murdered in mysterious circumstances and with "no investigation" — a fact that Scorsese immediately discloses by showing us pictures of the actual victims. And behind most of these murders was "the nicest man in the world" himself, aided by his yellow-toothed, gullible nephew.
And so, Ernest soon marries "full blood" Osage Mollie Kyle (Lily Gladstone), and, just like that, her relatives start getting murdered. Soon, Mollie's diabetes starts to get worse, and she begins to fear for her own health. The only man she trusts is her husband, who's there to console her while secretly acting as her executioner too, going along with his uncle's elaborate plots but failing to see the big picture and really acknowledge his role in her demise. As more and more people get entangled in the murders, the situation escalates, until a federal agent named Tom White (Jesse Plemons, of The Power of the Dog) starts asking questions, and the time comes for Ernest to face the truth.
Killers of the Flower Moon feels like the film that Scorsese was meant to direct, as Goodfellas immediately comes to mind from the very first moment we meet William "King" Hale, a veritable crime boss who spends his time manoeuvring people to preserve his legacy, valuing loyalty above all else, and showing no hesitation or remorse to put his own nephew in the front line. Co-written with Eric Roth and David Grann, this stunning, potent epic feels like a crime saga that unfolds like a slow-burning western. It draws us in with flawless characterisation, immersive worldbuilding and an irresistible score, but its realism, dark humour, and quietly harrowing time spent alone with Mollie also ground it to reality.
As the unscrupulous William Hale, Robert De Niro is superb. The "King"'s complete lack of morals enable us to anticipate his actions even when Ernest has no clue, and a quick glance is enough to read him like an open book. Though Hale is a character we absolutely despise, he's also a great source of dark humour, as his seemingly innocent public persona, combined with his complete lack of redeeming qualities, make his motivations feel so absurd that we never for a moment empathise with him.
Leonardo DiCaprio was tasked with the even harder job of playing a constantly conflicted character who's almost as if he were two completely different people. Ernest has grown so used to being manipulated that he doesn't have the tools to stand up to his uncle, nor fully recognise how unforgivable his actions are. But he also knows exactly what he's doing when he takes part in said acts, which is why he's constantly ridden by guilt even when he's denying the obvious. This places him in a moral grey zone, and DiCaprio flawlessy embodies Ernest's contradictions right till the very end, in what is undoubtedly one of his best performances to date, both emotionally and physically.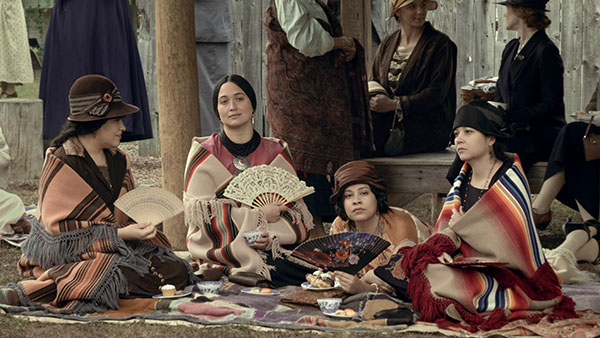 Lily Gladstone also shines as Mollie, a character that's just as complex, acting as a symbol of an entire generation of women who were gaslit and manipulated by greedy, ruthless men, but that never becomes a helpless victim, even when her health is failing her. Mollie's scenes are more intimate and restrained, but they are not any less powerful, and Gladstone conveys all of her character's anguish and sorrow as well as her resilience and courage, carrying her history and identity on her sleeve at all times.
Killers of the Flower Moon is also the rare film where its length isn't percieved, as every single shot is essential to its success. The film's initial slower pace enables us to really get to know these characters and get drawn into their world, so that, when the ending comes, it's much more effective and powerful. Not only that, but the final sequence alone is worth the entire film, and proof that Martin Scorsese is an absolute genius.
Scorsese's latest is an extremely compelling, well-executed film about greed, prejudice and racism, and it should be watched on the biggest screen possible. It's a masterclass in filmmaking from one of the best living directors, and it's pure cinematic magic.
---
---
Killers of the Flower Moon premiered at the Cannes Film Festival on May 20, 2023. The film will be released globally in theaters on October 20, and then stream on Apple TV+.