Gary Oldman as Herman Mankiewicz in MANK (2020). (NETFLIX)
In Mank, David Fincher covers the screenwriting process of Citizen Kane, and the unreal nature of Hollywood, in exquisite and playful form.
---

Chances are, if you've ever read a 'Greatest Movies Ever' list, Citizen Kane is on there. Directed by Orson Welles (in his first rodeo), the 1941 drama was so groundbreaking that it still has critics and cinephiles discussing it to this day. Thanks to its character's story, its stunning cinematography and more, the film has maintained its strong legacy, which is, perhaps, just as legendary as the troubled history behind its making. Kane has undergone many controversies, primarily because of its protagonist loosely resembling figure William Randolph Hearst.
The screenwriting credit that has gone to both Orson Welles and Herman Mankerwitz (and winning them both Oscars) has often been debated as to who made the most contribution. And, though Mank finds itself having more sympathy for Mankerwitz, as it shadows his struggle at writing the colossal screenplay, the focus here isn't on authorship.
Mank is a look at power and decline. We dive into Mank's former life as a well-known name in Hollywood, up to his downfall as an alcoholic and washed up writer, which all contributes not only to how Citizen Kane was written, but to why it was written. David Fincher's latest film comes to life in black and white, thanks to a meticulously researched screenplay written by his late father Jack Fincher, and the luminous performances from an all star cast, including Gary Oldman, Amanda Seyfried and Arliss Howard.
There are two points in Herman J Mankerwitz's (Gary Oldman) life that we closely follow: his success in Tinseltown throughout the 1930s – although stained by an addition to drinking and gambling – and the present day, in 1940, where Herman finds himself an outcast, clinging on to any work he can get. After surviving a deadly car crash, Herman is taken to a ranch to work in solidarity. The bedridden Mank (as he likes to be called) is employed by RKO Pictures and given a mere two months to complete a screenplay for Orson Welles (Tom Burke), with the help of typist Rita Alexander (Lily Collins).
As any writer would know, all this can create an amount of stress. But Mank isn't struggling any more with his work than he is fighting his own demons. He wasn't always at rock bottom, as flashbacks come to show us, jumping back to Mankerwitz's glory days, working at Metro-Goldwyn-Mayer as a writer on top dollar, and in the same social circle as powerful figures such as studio man Louis B. Mayer (arguably the best performance here, played incredibly by Arliss Howard).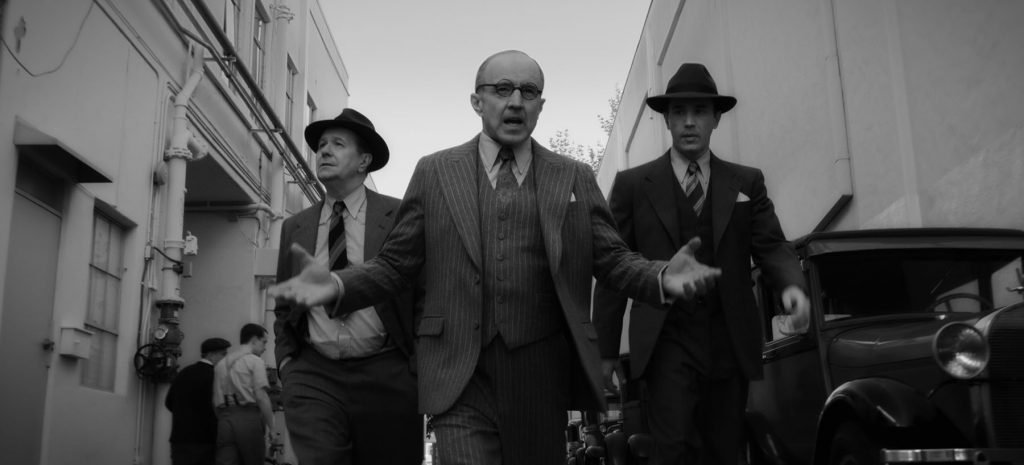 The journalist-turned-playwright-turned-screenwriter soon befriends actress Marion Davies (Amanda Seyfried), who leads him to the terrifying William Randall Hearst (Charles Dance). Mankerwitz forms such a good connection with him that he eventually becomes an occasional guest at his dinner parties, which are always filled with politicians and stars. The background of the Golden Age is also equally terrifying. The country is undergoing a Great Depression, and the studio workers are facing reduced salaries. But most importantly, the state is having gubernatorial elections, which Hearst is heavily influencing.
Mank begins to see how Hearst and Mayer, who are pushing for a conservative win, manipulate the audience through newsreels targeting the Democratic candidate Upton Sinclair. Mank eventually finds himself distancing from the men who lead MGM: it is revealed that Hearst also funds and pays for salaries at the studio, including Mank's and Mayer's. Herman is without his social circle and employment. Until boy wonder Orson Welles comes along, giving him that second chance he desperately needs.
Mank may not feel like a movie about the making of Citizen Kane, but that is all that it is. There are many key factors in the origins of Kane that are shown in the film, particularly through the use of flashbacks in Herman Mankerwitz's life. Mank also does not play out as a straightforward biography, because Gary Oldman's character is not a hero. He has been a heavy gambler and drinker from the get-go, and, despite his ups and downs throughout the story, he never truly changes, his only real achievement being the epic and dangerous screenplay that is The American (the original title of Citizen Kane), which he was not even going to receive credit for until he fought for it, once it was finished.
With so much collision between politics and film, the movie unravels the experiences of Mank with the Hollywood environment and the people who run it, as a way of understanding where Mankerwitz got the context behind Kane. But, for all of this, you can thank Jack Fincher, who wrote the screenplay for Mank decades ago.
What David Fincher provides is a great many things. He faithfully sticks to his father's intentions with Mank, recreating the Golden Age of Hollywood in black and white and drenching it in cynicism. Both Finchers are not interested in a nostalgic trip, so David doesn't think twice on showing the corrupted and dark industry that it has (probably) always been. The politics revolving around the election are never overplayed too, despite how much it can reflect today's political climate in the United States.
Fincher has a great team of players behind him. When it comes to performances, the cast shine like Clark Gable or Joan Crawford. Gary Oldman, in his 60s, portrys a man in his late 40s, and he couldn't look any more convincing. He is naturally fitted as the tragic hero that is Mankerwitz, alongside his secondary characters. Amanda Seyfried is another natural, filling in the shoes of Marion Davis and giving her life, moving us with sympathy with how much she protects Hearst.
The technical wonders pay a good homage to the ones seen in Citizen Kane. While cinematographer Erik Messerschimdt's work may not be the crash course of Gregg Toland's in Kane, the images still stun and impress, making great use of lighting and shadows, following the road that Toland paved. Trent Reznor and Atticus Ross take a spin at the music from this period in time, which works to the film's tone and style very well. The editing has a similar composition to Kane, but it may not always work in the film's favor, giving the film a much slower pace than it needs to tell its story. But this is a minor problem to what Mank ultimately achieves with its narration.
Fans of Fincher and Citizen Kane will most definitely enjoy Mank. It is nothing like Fincher has done before, and it is not the biography on Kane that you would expect. Mank has an outstanding screenplay that is brought to life with excellence. Everything you need to know about Citizen Kane's background is here. Oldman, Seyfried and the rest of the cast are on the top of their game. The entire film is so compelling and exciting to watch, one can't imagine what success it may find at next year's Academy Awards. Mank is not only the best thing to come out of Citizen Kane's legacy, but one of the best works ever made by father and son.
---
Mank is now available to watch on Netflix everywhere.