Drive My Car: Film Review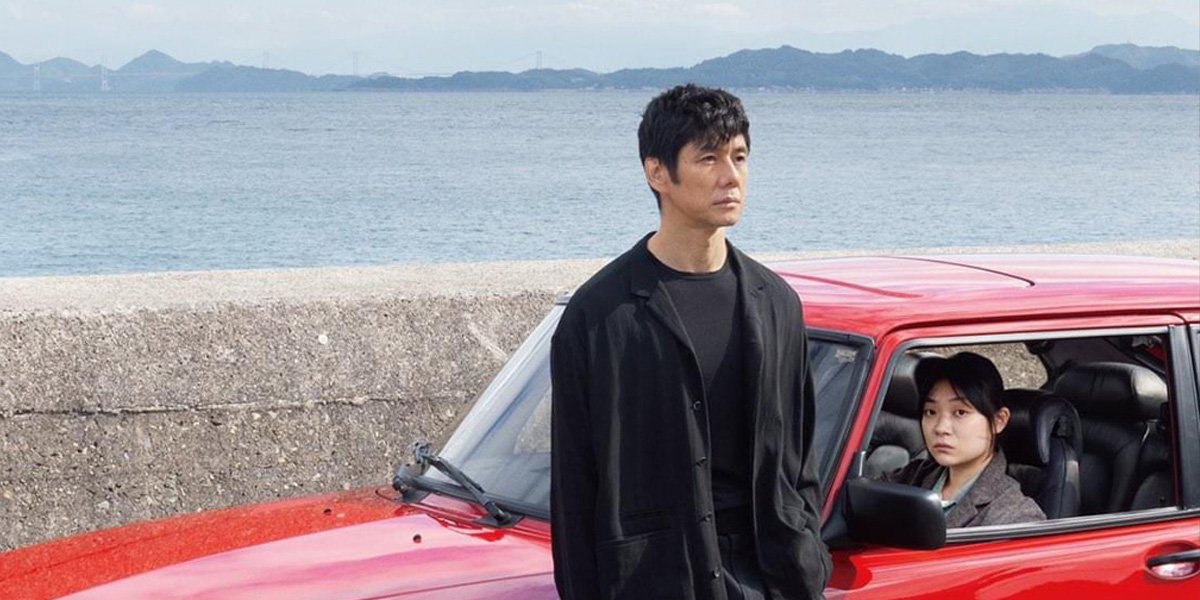 Hidetoshi Nishijima and Toko Miura in Drive My Car (Modern Films / Janus Films)
Drive My Car may be a bit too patiently paced for some, but others will appreciate its skillfully subtle storytelling and astute analysis of grief.
---

Since 1981, the works of famed Japanese writer Haruki Murakami have been adapted into films (beginning with Kazuki Ōmori's Hear the Wind Sing), but there's been an increased interest in his literary ideations as of late, especially following the blowout success of Lee Chang-dong's Burning in 2018. After winning the FIPRESCI International Critics' Prize at the 2018 Cannes Film Festival – along with a slew of other accolades – that film went on to be South Korea's entry for Best Foreign Language Film at the 91st Academy Awards, and though it was not nominated, it was the first Korean film to make it to the final nine-film shortlist, and artists have been looking for the next successful Murakami adaptation ever since.
This year, it is Ryusuke Hamaguchi's Drive My Car (Doraibu Mai Kâ) that seeks to finish what Burning started in regards to earning Haruki Murakami more recognition in the American film industry, having been selected as the Japanese entry for Best International Feature Film at the 94th Academy Awards after winning three awards at the 2021 Cannes Film Festival, including Best Screenplay – making Hamaguchi and his co-writer Takamasa Oe the first Japanese recipients of the award in the festival's history. With such continued critical acclaim, it's only natural that hype for Drive My Car has rose significantly in recent months but, thankfully, the deftly told drama still does mostly satisfy, powered by subtly effective performances and sophisticated storytelling – even if it's occasionally a bit too "purposely" paced.
It's been two years since the sudden death of Yusuke Kafuku's (Hidetoshi Nishijima, of The Wind Rises) wife, and the renowned stage actor and director still has yet to fully recover, becoming a recluse of sorts and retreating from his work. Still, when he receives a rewarding offer to direct a production of the play "Uncle Vanya" at a theater festival in Hiroshima, he's finally coaxed out of his hiding, but there's one catch – given his failing eyesight, he must be driven to and from work (and elsewhere around town) by a chauffeur, and those in charge have chosen one Misaki Watari (Toko Miura, of Weathering With You) on Yusuke's behalf. At first Yusuke doesn't mesh with the muted young woman but, within time, the two discover that they share similar sorrows, and Misaki proves essential in assisting him in how to deal with the troublesome Koji Takatsuki (Masaki Okada, of Confessions), a handsome TV star who plays a part in Yusuke's production and also shares a connection with his late wife, which Yusuke has yet to accept.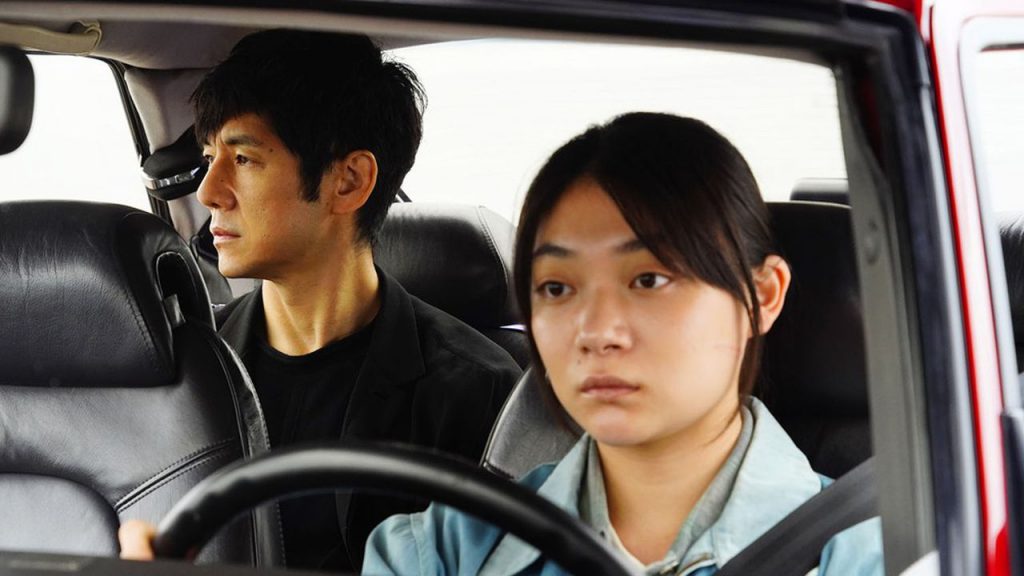 Turning a short story into a three hour feature film means that some significant liberties were taken with the source material, but rather than altering the text in any troubling way, Hamaguchi and Oe have simply done an even deeper dive on the characters at the center of this complicated web of love, loss, and lies, giving each arc ample time to breathe, and Drive My Car is undoubtedly at its strongest when it centers on these connections between Yusuke and Misaki or Yusuke and Koji. Sure, there are a surplus of scenes that do feel superfluous from time to time, perhaps giving too much attention to supporting characters who are less essential to the main messaging, and this does drag down the pacing at points, but Hamaguchi and Oe always know how and when to "right the ship," bringing us back to the real meat of the narrative and mining the relationships between our two dominant duos for riveting resonance.
When it comes to Yusuke and Koji, Hamaguchi and Oe, like in the original short story, avoid making Koji a villain for having a romantic relationship with Yusuke's late wife, never allowing the plot to regress into petty rumbling between two "macho" men. Drive My Car is too smart for such a stereotypical storyline and, instead, the conversations between these two characters are mature meditations on the mistakes we make when in love, additionally further fleshing out the personality of Kafuku's wife, Oto (Reika Kirishima, of of Godzilla: Final Wars) beyond the grave and showing how little we can know the supposed most important people in our lives, either because we aren't listening or because we willfully ignore another's calls for change. Simultaneously, the car-bound correspondence between Yusuke and Misaki is equally engrossing, particularly as we realize that this seemingly stoic woman is shouldering profuse pain from her childhood, having endured unimaginable abuse. Together though, the two learn that there is hope past their hurting, and they have to be able to accept the anguish they weathered from those they loved – whether physical or emotional – in order to fully live once more.
Nishijima makes for a moving lead as Yusuke, anchoring the film with authentic feeling and always capturing his character's directionless disposition, while Okada is also superb at unearthing the surprising layers of supposedly self-centered Koji in his stirring one-on-one scenes with Nishijima. But, in the end, it is Miura who steals the show, revealing her quiet rage in bits and pieces until a poignant payoff that is played down emotionally but full of passion nonetheless, sticking with crowds long after the credits roll. Ultimately, even when Drive My Car's patient pacing tests the attention span of certain audience members, these performances are never less than thrilling, giving the picture its real power. The film may arguably take a bit too much time to reach its thematic resolution, but when it arrives, it truly feels as if the lengthy journey was warranted, with the worthwhile lessons learned lingering for weeks – and maybe even months (or more) – to come. And, above all else, it's an affecting adaptation that does the heralded Haruki Murakami justice.
---
Drive My Car was screened at the AFI Fest on November 13, 2021. The film will be released in cinemas in the UK on November 19, and will open in theaters in New York on November 24, in Los Angeles on December 3, and nationwide on December 10.