Perfect Days: Cannes Film Review

Perfect Days (Master Mind Ltd / Cannes Film Festival)
With Perfect Days, Wim Wenders allows for a bittersweet portrayal of ordinary life in Tokyo with an exceptional Koji Yakusho. 
---

When it was announced, almost right before my eyes, that Koji Yakusho won the best actor award for Perfect Days at this year's Cannes film festival, I could not help but rejoice. Not only is it a well-deserved win, but Yakusho also gives the performance of a lifetime. I was also happy to see one of my favourite Cannes film festival films recognized, as Wim Wenders' Perfect Days is a movie that warmed my heart with the uniqueness and simplicity of its premise.
Perfect Days follows its protagonist Hirayama (Koji Yakusho) in his daily life as a toilet cleaner in Tokyo. Throughout the movie, we see Hirayama repeating the same actions every day. He appears content with the simple life he leads in his small apartment, filled with the books and cassettes he loves and enjoys in his free time. The turning point of the film comes when his niece Niko (Aoi Yamada) visits him in Tokyo, thus allowing the audience to gain an insight into Hirayama's past. Perfect Days is enriched by the presence of Hirayama's assistant Takashi (Tokio Emoto), a goofy and loud assistant that works as our counterpoint to our main character.
Perhaps the key to its success is precisely its simplicity. Perfect Days gives dignity to the ordinary aspects of everyday life that all of us in the audience are surely familiar with. Similarly, Hirayama's love for photography and the cassettes he plays in his car serves as a powerful reminder that he is a person in all his complexities, who isn't defined by being a toilet cleaner, or by the past he left behind. In a world that evidently defines people based on their job title, a film like Perfect Days is very much needed in order to remind us that we are so much more than just what we do for a living.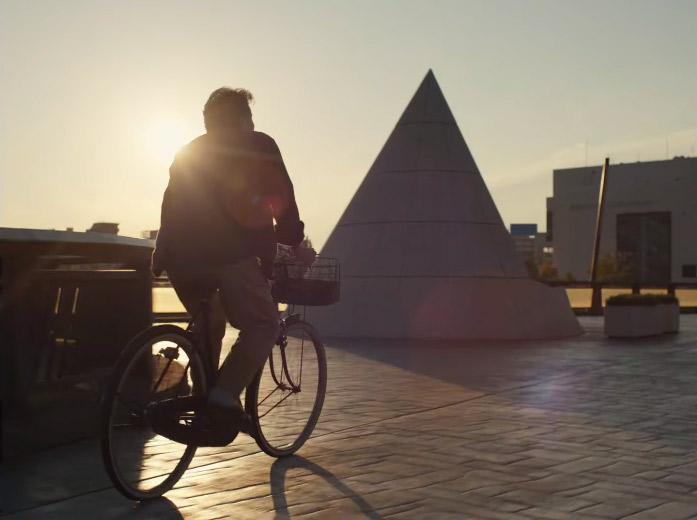 It is Yakusho's quiet and nuanced performance that makes the film the excellent product that it is. As explained by Takashi, Hirayama is someone who is "not a great speaker." In fact, Hirayama remains silent for the entire opening scene and for a significant part of Perfect Days. This leaves little space to explore the main character's interiority, and yet the film manages to do so regardless, thus allowing the audience to connect and possibly even relate to its main character. Another key aspect is the use of music that comes in at key moments during the film. Throughout the movie, the music and sounds are always diegetic, adding to the realistic atmosphere that defines Wim Wenders' latest work.
While the plot may initially sound tedious, Wim Wenders manages to create a unique atmosphere in his film thanks to its cinematography and, of course, the masterful performance delivered by Koji Yakusho. More specifically, the shots of Tokyo are particularly memorable, as Hirayama moves through his city and finds happiness in the simple and ordinary life he leads. Not only do they manage to successfully locate the story geographically in the urban setting of the Japanese capital, but they also add to the unique charm that makes Perfect Days stand out so much.
The film manages to remain interesting throughout the many repetitions, as it guides the audience through Hirayama's day with similar shots that mirror each other throughout. Thus, Wim Wenders proves that there is nothing wrong with the repetitiveness of ordinary life.
Beautifully shot and undoubtedly character-driven, Perfect Days proves that ordinary life can be just as interesting and heart-warming as – if not more than – any other film with an overly complex storyline. Wim Wenders' film is a much-needed reminder that beauty and happiness can be found in our everyday life, if only one is willing to look for it.
---
Perfect Days premiered at the 2023 Cannes Film Festival, where Kōji Yakusho won the award for Best Actor.