The Zone of Interest: Cannes Film Review
The Zone of Interest (Mica Levi, A24 / Cannes Film Festival)
Revolving around a merry nazi family living next door to a concentration camp, The Zone of Interest is a bleak, bold watch, and a holocaust drama unlike anything you've seen before.
---

When I was researching writer-director Jonathan Glazer's new film The Zone of Interest, all I could find was that it was about an Auschwitz commandant named Rudolf Höss (Christian Friedel) who "strove to build a dream life" with his wife Hedwig (Sandra Hüller) and their children, in a house with a garden next to the camp. I then found out that it was adapted from Martin Amis' novel of the same name, described as a "love story with a violently unromantic setting." Which is why, when I entered the screening of the movie at the 2023 Cannes Film Festival, I thought I had a pretty good idea of what I was about to watch: a holocaust film revolving around a secret love affair between a Nazi officer and the wife of a camp commandant. Needless to say, I was completely wrong.
The master storyteller behind Under the Skin and Sexy Beast gives us a film that might take inspiration from Amis' novel, but that's something else entirely. There's no romance in The Zone of Interest, where all we get to see is the ordinary, carefree daily routine of Rudolf and Hedwig Höss, a wealthy, merry couple living their best life with their many children right next to Auschwitz. Which is exactly what makes this holocaust drama so horrific and eerie.
In fact, we barely even leave the Hösses' house, but we don't need to. One small detail after the other, Glazer makes sure we never for a second forget where we are, and what's happening next door. First, it's Hedwig giving out clothes she recently acquired, and fondly recollecting that a friend of hers loved a "little Jewess"'s dress so much that she said she'd lose weight to fit into it. Then, it's the children's choice of toys, Hedwig's casual chats with her friends, or Rudolf getting excited about a more efficient set of gas chambers, which he learns about from someone as ordinary as a salesman. And then we enter the garden, and the real horror begins.
Because theHösses' idyllic garden, which Hedwig spent years curating, is directly attached to the camp's fence. As Hedwig spends days doing nothing, reveling in her newfound wealth and surrounded by her large, healthy family, we are always aware of what's happening on the other side of the fence. The smoke of the trains coming in, the shouts, the gunshots. It's all there, in plain sight, and yet the Hösses go on with their lives without a care in the world.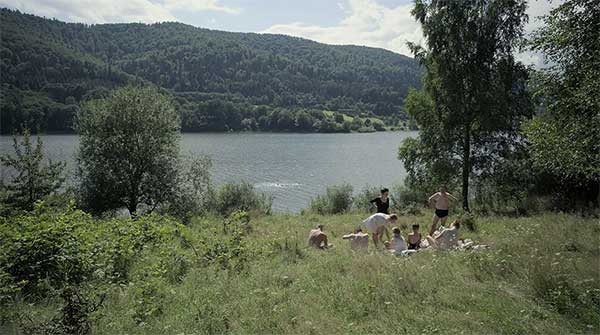 "You really have landed on your feet, my child," Hedwig's mother tells her daughter, who takes great pride in knowing that people call her "the Queen of Auschwitz". And it's in these ordinary, oblivious statements that Glazer's film is at its most potent and absolutely heartwrenching. Because, when Rudolf is promoted and sent to Berlin and Hedwig insists on staying behind as it'd be better for their children, she really believes it. These horrors have been normalised to the extent that the Hösses don't even understand the gravity of it all, and that's what makes the movie so chilling and terrifying.
As you would expect from a Jonathan Glazer film, The Zone of Interest is outstanding on a technical level too. Cinematographer Lukasz Żal (Cold War) crafts a nightmarish world that looks like a dark fairytale, with an everpresent ominous atmosphere that reflects the horrors taking place in the film. Inside the Hösses' houses, all is clean and symmetrical, shot in a grounded, minimalist way. But then we start to get glimpses of a young girl walking by the camp at nighttime, hiding fruit for the prisoners: though we don't quite understand who the girl is, the negative film inversion techniques used in these scenes make the film even more urgent and distressing.
But the sound design is the film's most distinctive, discomforting aspect: sound designer Johnnie Burn (Nope, Under the Skin) crafts a musical landscape that is in stark contrast with the images we see, made of gunshots, people arguing and shouting orders, and terrified screams that clash with the Hösses' world. The opening and closing sequence will stay with you for a long time, and it's one of the most imaginative framing devices used in recent years: when the end credits come, you'll be so uncomfortable that you'll want to exit the screening as quickly as possible.
Performance-wise, the film's standout is Sandra Hüller, who portrays her character with extreme precision and manages to be believable even when Hedwig is at her most oblivious. Christian Friedel has less screentime, but he's still effective, also thanks to a screenplay that makes most of his scenes disturbingly memorable. Moreover, while the novel's protagonist was named Paul Doll, Glazer chose to name Friedel's character Rudolf Höss, which was Auschwitz's actual commander at the time, and the man responsible for installing gas chambers that would provide "the final solution to the Jewish question" by killing as many as 2,000 people per hour.
Just like Friedel's character, the real Rudolf Höss committed inhuman atrocities only to come back home and enjoy the time he spent with his family, as if his job didn't involve killing thousands of people every day. Jonathan Glazer carefully selects what to show us in The Zone of Interest so that it's up to us to imagine what we don't see, but the Hösses' daily routine is more disquieting than any concentration camp footage could ever be, as it acts as a reminder that even the most inconceivable, inhuman acts can become a reality if we are desensitised enough to them. The Zone of Interest is a timely, haunting film, and an absolute must-watch.
---
The Zone of Interest premiered at the Cannes Film Festival on May 19, 2023. Read our list of 20 films to watch at the Festival de Cannes!