Elvis (Film Review): 'The Greatest Show on Earth'

Austin Butler in Baz Luhrmann's Elvis (© 2022 Warner Bros. Entertainment Inc.)
Austin Butler gives an electrifying performance in Elvis, Baz Luhrmann 's frantic, kinetic and incredibly captivating biopic about The King of Rock and Roll.
---

From the moment Elvis Presley first stepped on stage, he was destined to be a star. That is made especially clear in Elvis, the new biopic about the King of Rock and Roll that marks the first film in nearly a decade from Australian director Baz Luhrmann. With his lewd gyrations and one single "well," Presley captured the audience's attention and provoked feelings that the women there had never felt before. This moment appears in almost every music biopic, yet it feels different here. The crowd are shrieking; guitars are screeching in the background. It is frenzied, frantic, almost insane. In short, it's a Baz Luhrmann scene. And if this is your first Luhrmann film, strap yourselves in because Elvis is anything but a conventional biopic.
That may not seem apparent at first. When Elvis begins, Presley's manager, Colonel Tom Parker (played here by Tom Hanks), is dying. Stuck in a casino purgatory, he recounts seeing the young Elvis (Austin Butler) on stage and becoming fixated on him. Women may see some forbidden fruit, but Parker sees dollar signs and quickly persuades Elvis to let him control his career. From there, all the hallmarks of Elvis' life are here. His meteoric rise sees him battle claims of indecency from politicians. He is forced to join the Army, where he meets his future wife Priscilla (Olivia DeJonge). When he returns, he heads to Hollywood but never becomes a serious actor. That leads to his famous 1968 comeback special, where he starts to clash with the ever-controlling Parker. Then Vegas beckons, and Elvis is soon caught in a trap he can't walk out of.
During the film, there is constant talk from Colonel Tom about creating "the greatest show on Earth" around Elvis. Luhrmann does his best to replicate this in Elvis, surrounding the film with his usual maximalist style. As a result, we get an abundance of split screens, animated comic-book sections and Britney Spears remixes. The camera twists in the air like it is on a rollercoaster track whilst the soundtrack combines Elvis' greatest hits with modern artists like Doja Cat. And if music biopics are known for their montages, then Luhrmann supercharges that by featuring trailer-style montages in almost every scene. It is all part of his usual rapid-fire editing carried out by his Great Gatsby team of Matt Villa and Jonathan Redmond.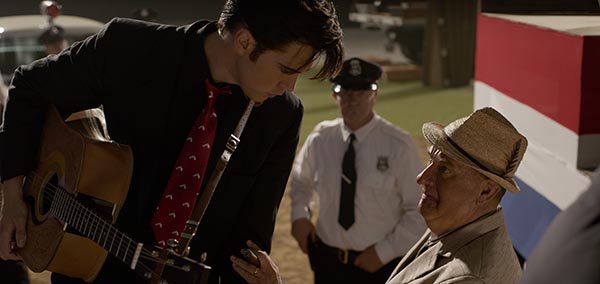 Elvis equally focuses on Presley and Colonel Tom, depicted respectively as the naïve artist and the master manipulator. As Parker, Tom Hanks is in his most sinister role to date. Buried underneath a fat suit and providing second-person narration constantly blaming 'you', the Presley-loving public, he is over-the-top as the Dutch carnie who is neither a Colonel, a Tom or a Parker – which is problematic when Elvis wants to go on a world tour. Instead, he is Machiavellian, first stalking Elvis like an overweight vampire before using every trick to keep him under his thumb. As an early rack focus shows, Colonel Tom sees this young man as someone to turn into his geek, Nightmare Alley-style.
But the breakout star from Elvis will undoubtedly be Austin Butler. Jolts of energy run through him from scene one, and his performance is electrifying, uncanny and magnetic. However, he manages to take this monolithic pop culture icon and make him human, embodying fierceness and care simultaneously. Furthermore, in a final act that may contain the most profound scenes of Luhrmann's career, Butler perfectly portrays the pathos of Presley's final years. His downward spiral as a six-week stay in Vegas becomes a multi-year residency. His too-late realisation of how Parker has exploited him. His regrets as he nears 40. And Luhrmann can only sell this as a tragedy because of Butler. Just like Elvis at that first concert, a star has been born.
Elvis is Baz Luhrmann's best film since Moulin Rouge!, a frantic, kinetic and incredibly captivating biopic about the King of Rock and Roll. It operates at lightning speed, thanks to stimulating visuals and a chaotic tone that benefits rather than hinders the film. Moreover, the concert recreations are something to behold, feeling as close as possible to Colonel Tom's "greatest show on Earth" moniker. In fact, the attention to detail overall is stunning – whether in Elvis' colourful suits or the faithful recreation of '70s Las Vegas (both the costumes and sets are designed by Luhrmann's wife, Catherine Martin). More measured and less clichéd than you might expect, Elvis is a joyous rush of blood that only Baz Luhrmann could pull off. And what a rush.
---
Baz Luhrmann's Elvis is now available to watch on digital and on demand.