The 20 Best Films of 2021 (According to Us)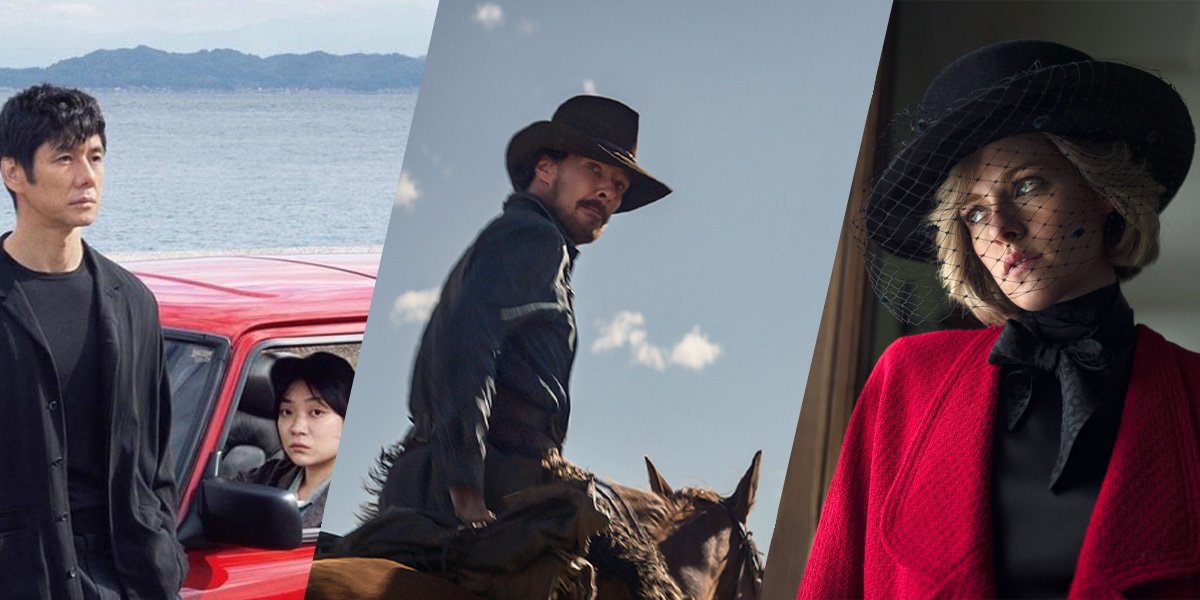 Drive My Car, The Power of the Dog, Spencer (Janus Films, Netflix, NEON)
From Drive My Car to Licorice Pizza, let's take a look at the 20 best films of 2021, according to 19 of Loud and Clear 's staff writers.

If it wasn't an easy feat to come up with last year's list of best films of the year, 2021 made the task even more of a challenge, as so many more movies hit theaters and streaming platforms. These films included not only highly anticipated releases like Dune, No Time To Die, The French Dispatch, Halloween Kills, The Matrix Revolutions and Cruella, but also great indie gems like Zola, Shiva Baby and Drive My Car, meaningful documentaries like Summer of Soul, Gunda and Sing, Freetown, and returns of beloved auteurs like Paul Thomas Anderson (Licorice Pizza), Pablo Larraín (Spencer), Edgar Wright (Last Night in Soho and The Sparks Brothers), Guillermo del Toro (Nightmare Alley), Kenneth Branagh (Belfast), Adam McKay (Don't Look Up), and many more. It's been an excellent year for animation, with the release of successful hits like Pixar's Luca, Sony's The Mitchells vs. the Machines and Disney's Encanto and Raya and the Last Dragon as well as festival favourites like Flee, Sing 2, Cryptozoo and Evangelion 3.0+1.0: Thrice Upon a Time.
It's also been a remarkable year for musicals, from Lin-Manuel Miranda's In The Heights and Tick, Tick… BOOM! and Steven Spielberg's West Side Story to Stephen Chbosky's much-debated Dear Evan Hansen adaptation, as well as films revolving around music, such as Todd Haynes' The Velvet Underground and Peter Jackson's The Beatles: Get Back. We've seen many impressive debuts this year, from festival favourites like The Fallout, Mass and Violet to Michael Sarnoski's Pig, Jeymes Samuel's The Harder They Fall and Maggie Gyllenhaal's The Lost Daughter, as well as noteworthy streaming releases like Jane Campion's The Power of the Dog, Shaka King's Judas and the Black Messiah, Sam Levinson's Malcolm & Marie, Sian Heder's CODA and J Blakeson's I Care A Lot, and rewarding Marvel movies like Spider-Man: No Way Home and Black Widow.
Here are the 20 best films of 2021, according to 19 of our staff writers. The list only includes movies that have had their first release somewhere in the world in the year 2021, not counting film festival debuts. And, if you're looking for even more recommendations, click here to read our critics' individual rankings.
---
THE BEST FILMS OF 2021:
11-20
20. Shiva Baby
19. Wheel of Fortune and Fantasy
18. Memoria
17. Last Night in Soho
16. The Worst Person in the World
15. Petite Maman
14. In The Heights
13. Pig
12. Judas and the Black Messiah
11. C'mon C'mon
---
10. WEST SIDE STORY
Director: Steven Spielberg
Writers: Tony Kushner (screenplay), Arthur Laurents (stage play)
Full review: An Unforgettable Cinematic Delight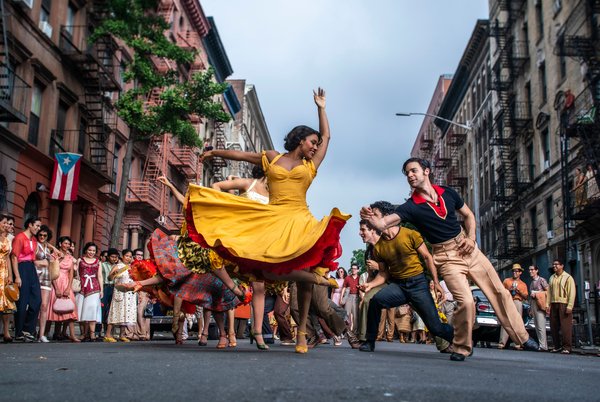 While comparisons to the 1961 classic are inevitable, Steven Spielberg and Tony Kushner forge a riveting new path with their take on West Side Story. It is a film bursting with color, energy, political unrest, and the sheer enjoyment of imagemaking. The film also happens to be the best musical in recent years, featuring an astounding ensemble cast of extraordinary dancers and singers who bring a sense of freshness and youthful abandonment to their characters. Rachel Zegler is easily a standout; it's easy to connect with the naivety she finds in her portrayal of Maria, and she excels at portraying the passion guiding her. After years of making visually stale Oscar bait dramas or CGI-infested action flicks, Spielberg has returned with a stunning and emotionally resonant film that reminds us why he became a household name in the first place. (A.B.)
---
9. TITANE
Director: Julia Ducournau
Writers: Julia Ducournau (screenwriter), Jacques Akchoti & Simonetta Greggio (writing consultants)
Full review: Collisions of Flesh and Steel
Read also: Julia Ducournau's Raw: A Deliciously Disturbing Social Horror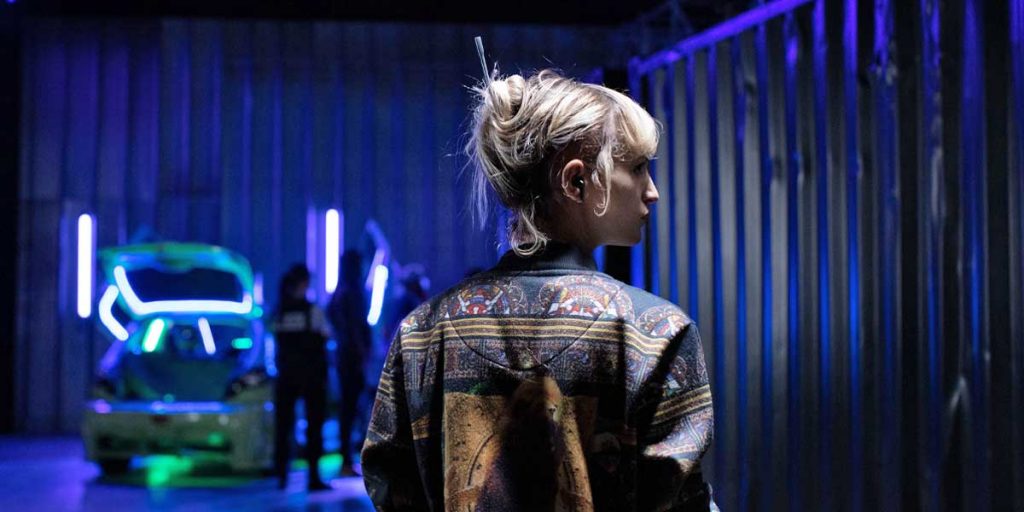 Titane is completely insane and completely original. French provocateur Julia Ducournau's sophomore film follows up 2017's Raw with another Cronenberg-inspired exercise in sumptuously abstract and viscerally physical filmmaking. Brilliant images are crafted (one particular shot of her literally dripping wet approaching a pulsating car especially stands out), but you don't just see the movie – you feel it, every titillating frame so materially sensuous in so many different ways. It's hilarious, licentious, gross, uncomfortable, violent, and touching, sometimes all at once, sometimes in conflict with each other. Reconciling with existing in the physical bodies that define our beings but contain our wills, Titane is a riveting allegory that repulses and provokes. It is a film that defies categorization at every turn, a disturbing experience that ultimately reinforces the power of tenderness and selfless love, and the beauty in the nasty, bloody, skin-and-bones mess that is the human condition. (Y.S.)
---
8. THE FRENCH DISPATCH
Writer & Director: Wes Anderson
Full review: New Wes Anderson Cinematic Wonder
Read also: All Wes Anderson's Films, Ranked (From Worst to Best)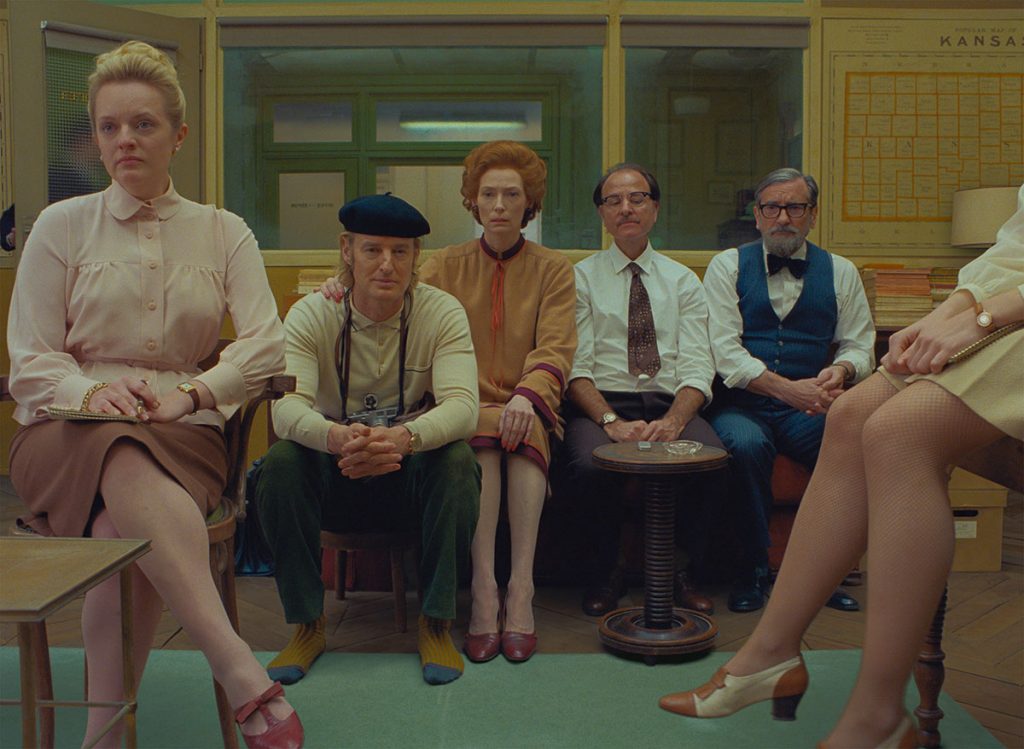 Maybe the film to finally put to bed the false notion of Wes Anderson's emotionless tapestries, his massive The French Dispatch might be the director's strongest-ever effort. Where some nostalgia pieces tend towards the conservative, Anderson has found the largest love-letter envelope possible and still presses against its edges. Dozens of characters, five stories, an entire fake city (or two) to amble through and sprint across and climb and fall from; Anderson's trademark baroque layering meets the dense setting of Ennui-sur-Blasé, a filmic playground whose tremendous unreality allows for any and every flitting formal tic to stick like a dagger. Anderson's touch is as light and severe as ever, packing frames with detail, jumping from black-and-white to burnished color, from French Nouveau politicking to grand scale Tati comedy to silent film vernacular and design. Gentle and elegiac though it can be, The French Dispatch is a stomp and howl for the right to create – for anyone to do anything so long as someone might spin something beautiful out of it. (C.F.)
---
7. BO BURNHAM: INSIDE
Writer, director, composer, cinematographer, editor & star: Bo Burnham
Full Review: Side-splitting Comedy Special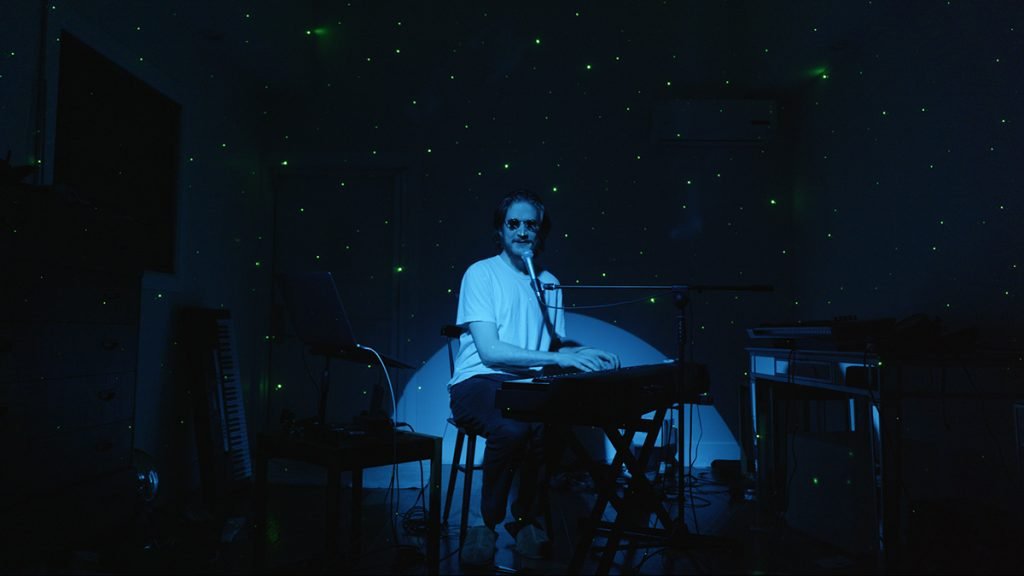 Filmed over the course of the most uncertain and existentially terrifying months of the Covid-19 pandemic, Bo Burnham: Inside is perhaps the most strikingly insightful work to have emerged directly from that wreckage. In this resolutely undefinable stand-up-special-slash-musical-theatre-performance-slash-slice-of-life-documentary, Burnham performs in front of no audience or crew: performances that somewhat resemble the one-man comedy songs that came to define his early career, distilled through Burnham's breakdown-accompanied complete creative control into existential terror and nervous paranoia. At its most straightforwardly performative, Inside includes some of Burnham's finer musical performances, albeit absent of the gatling-gun one-liners that punctuate his specials what. and Make Happy. It is in the transitions and the quickfire tonal shifts that the true substance of Inside is made most apparent, however; by ruthlessly documenting retakes, equipment failures, and technical setups in every frame, the process of creation becomes a core aspect (and, perhaps, driving force) of Inside's unravelling narrative. This is Burnham's comic and musical expertise infused with the technological anxiety of Eighth Grade and refracted through the lens of a surreal and incomparable period of recent history, solidifying Burnham as one of the most illuminatory creative voices of his generation. (H.S.)

---
6. THE GREEN KNIGHT
Writer & Director: David Lowery
Full Review: David Lowery's Arthurian Epic Astounds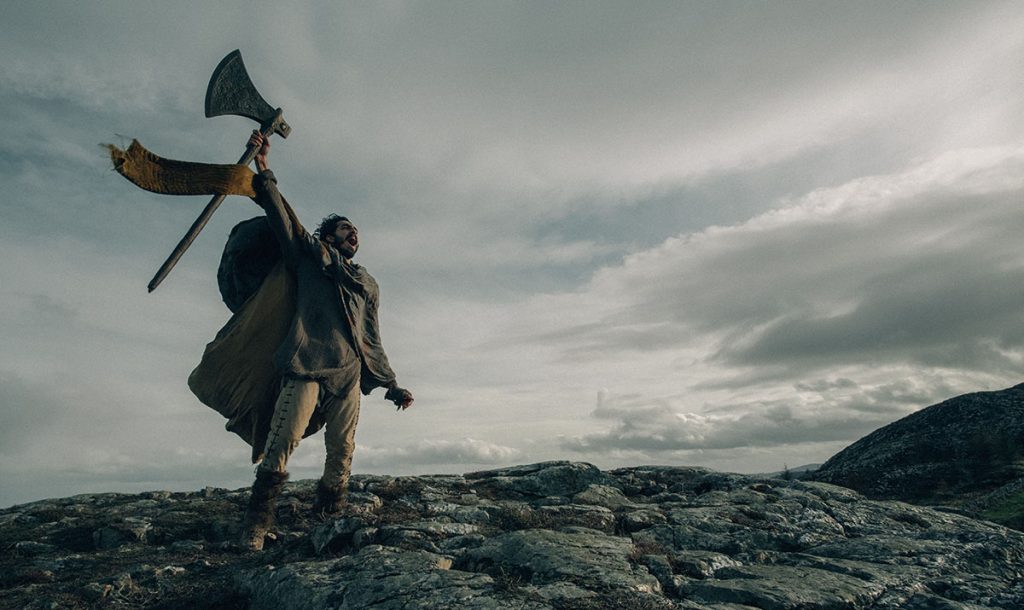 What lengths are you willing to go in order to make a mark and leave behind a great legacy that will be remembered by people for generations to come? That's the question David Lowery seeks to answer in The Green Knight as he tells the story of Gawain, the nephew of King Arthur desperate to earn his place at the roundtable when none of his uncle's knights step up to the challenge of the Green Knight. It's an enthralling medieval coming-of-age tale that is epic in scope and feels like a fresh take on a large-scale blockbuster. Told with Lowery's always-impressive style as a director and led by a Dev Patel performance that a lot more people should be talking about, The Green Knight finds a way to feel larger-than-life in a way fitting such a legendary tale while still being intimate and deliberate in the way it tells its story. It's a technical masterclass in the way it looks and the way its visual effects and sound enhances the experience of watching it as you make the quest with Gawain on his journey to prove his worth and face off with his destiny. (M.C.)
---
5. LICORICE PIZZA
Writer & Director: Paul Thomas Anderson
Read Also: Paul Thomas Anderson's Films, Ranked From Worst to Best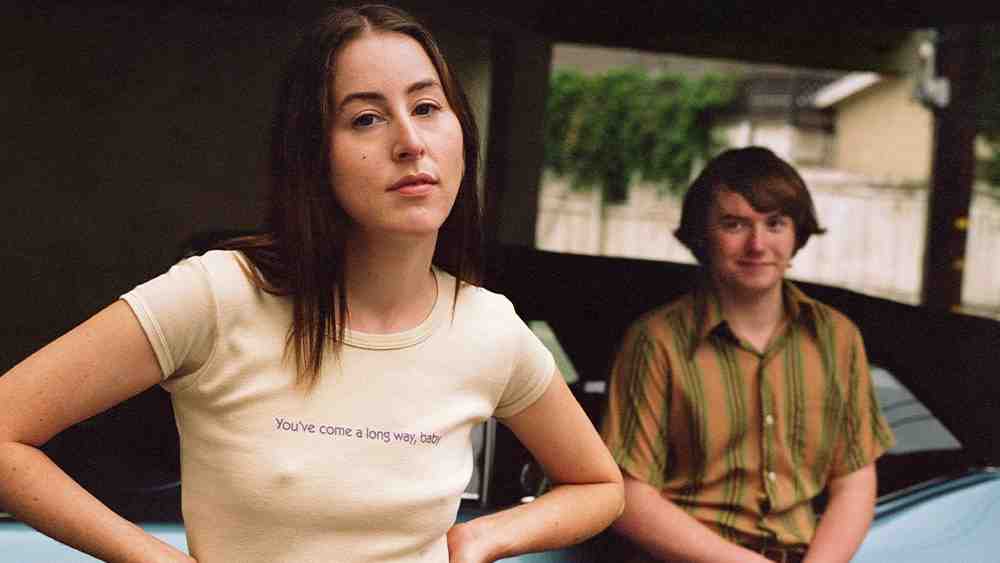 Licorice Pizza is the kind of movie that reminds you why you fell in love with the film medium in the first place – and the kind of movie that restores your faith in the medium's future. Showing writer-director Paul Thomas Anderson at his most playful but still powerfully and passionately poignant, this overwhelmingly openhearted odyssey envelops audiences in emotion from the first frame to the last, and though it may at first seem like a story stuffed with surrealist scenes strung together on a whim, such absurdity only adds to its authenticity, capturing the chaotic capriciousness associated with being alive with charming candor.
At the center of this eccentric endeavor is a couple that goes together about as well as the two foods in the film's title – and yet, high school student/hustler Gary Valentine and wayward young woman Alana Kane simply can't stay away from one another, with the former always aiming to be seen as an "adult," mesmerized by maturity, and the latter longing to relive her youth through this teenage trickster. Thanks to Anderson's witty and winsome writing, Cooper Hoffman and Alana Haim deliver two dynamite debut performances in these instantly iconic roles, but it's Haim who all but runs away with the film, immediately announcing herself as a supernova star-on-the-rise and filling what could've been such a stale character in any other actress' hands with such explosively unique and unforgettable energy. Together, this trio – Anderson, Hoffman, and Haim – turn in one of the most purely entertaining and thematically engrossing films of the year, and one that ranks near the top of Anderson's already formidable filmography. (Z.R.B.)
---
4. DRIVE MY CAR
Director: Ryûsuke Hamaguchi
Writers: Ryûsuke Hamaguchi & Takamasa Oe (screenplay), Haruki Murakami (short story)
Full review: Short Story Adaptation Stirs the Soul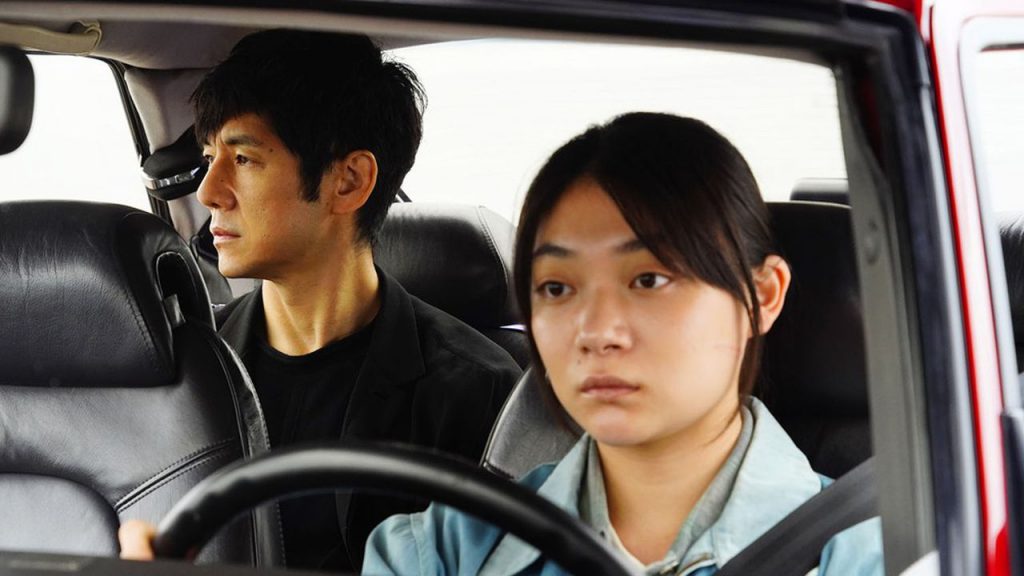 On the surface, Drive My Car might not seem that appealing: it's a 3-hour film which, as you might guess, features a lot of driving around. But Hamaguchi – enjoying a fine 2021 with this film and the startingly realistic anthology drama, Wheel of Fortune and Fantasy – gives this quiet epic a scarcely believable captivation and an authentically raw emotion.
Based on the short story of the same name by author Haruki Murakami, Drive My Car follows Yūsuke Kafuku – played by an impressively reserved Tsuyoshi Gorô – and the years following his wife's death as he tackles the play "Uncle Vanya" as a theatre director and tries to move through his grief as a widow. During his stint adapting this play, he is driven from rehearsal to hotel in his red Saab 900 by driver, Misaki Watari (Tōko Miura). Hamaguchi expertly balances the texts of Murakami and Chekhov alongside his own screenplay, drawing inspiration from those other writers when necessary whilst still imbuing proceedings with his own human understanding (or rather, the fact that humans and their journey may always remain ambiguous).
Drive My Car has moments of fully-fledged drama, human explosions that rock through other peoples' lives, but it finds time for quiet reflection too, with Hamaguchi's direction drawing out feelings of tranquillity and suffering simultaneously, feelings that will merge and intertwine in anybody's journey through life. In the background, throughout it all, is Kafuku's car: a rarely stationary vessel – sure to stop, start and turn in any direction along the way – heading for a destination that might be known but may never truly be understood. With this heady, philosophical, but equally accessible themes running through Hamaguchi's film, Drive My Car truly earns its place in this Top 10. (W.S.)
---
3. DUNE
Director: Denis Villeneuve
Writers: Denis Villeneuve, Jon Spaihts & Eric Roth (screenplay), Frank Herbert (novel)
Full Review: Chalamet Shines in Immersive Adaptation
Read also: The Five Best Films by Denis Villeneuve, Ranked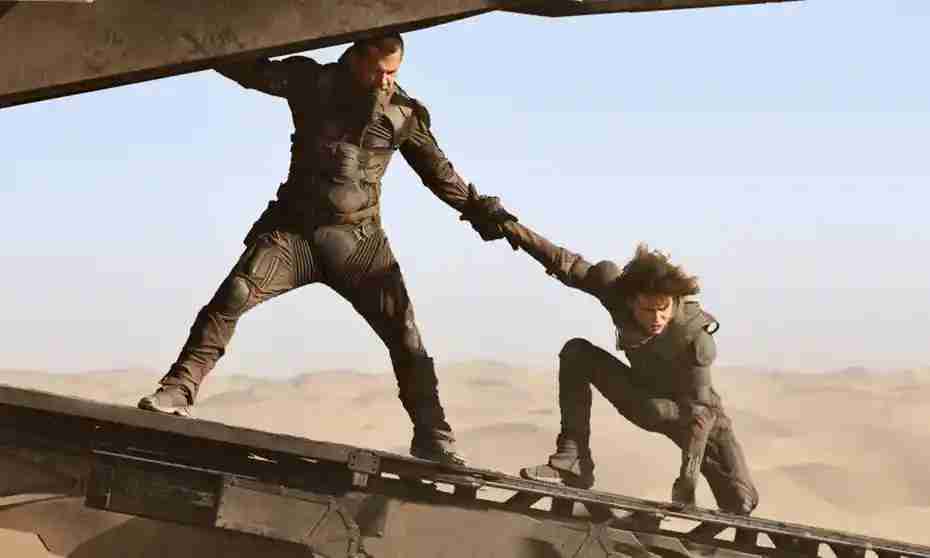 Based on Frank Herbert's iconic 1965 sci-fi novel, Dune follows Paul Atreides (Timothée Chalamet) as he and his family are entrusted with harvesting the most valuable substance in the universe, the spice, on the planet Arrakis, also known as Dune. There, they will face possible new allies, enemies and betrayal, while Paul is forced to accept his great destiny beyond his own understanding. It shouldn't surprise anyone that Denis Villeneuve was born to direct a proper adaptation of Herbert's life's work, after several failed attempts to bring this story to life. Yet, what he's able to pull off here is something on the level of what Peter Jackson achieved with his The Lord of the Rings trilogy. Denis Villeneuve understands the importance of scale and the gravity of the themes of religion, oppression, politics and more that come with Herbert's books. Dune's first act is a masterclass in world building, and arguably the best section of the film, as information and exposition is given to us in a way that feels organic rather than talking down to the audience. Hans Zimmer delivers what might be his best work yet with his otherworldly choir and weird new instruments he created specifically for this project.
On a technical level, Dune is as flawless of a blockbuster as you can get. Theo Green's sound design is unlike anything ever captured on film, and Greig Fraser's visuals seem like something pulled straight from John Schoenherr's illustrations for the original novels. I do wish certain character moments had left more of an impact on the film. For example, twists and turns are much more shocking as a book reader because we actually get to spend time exploring relationships across different characters. In Villeneuve's adaptation, things kind of just happen and that's about it. I can't really complain, though, when we have such strong performances from the likes of Rebecca Ferguson as the Lady Jessica, and how well she plays off Chalamet's Paul. I truly hope Dune showcases its "desert power" come awards season and is recognized for what the team behind this very impressive film was able to accomplish. After all, this is only the beginning and there are many more stories to be told in this universe! (E.O.)
---
2. THE POWER OF THE DOG
Director: Jane Campion
Writers: Jane Campion (screenplay), Thomas Savage (novel)
Full Review: Campion's Cinematic Comeback is a Classic
The Power of the Dog is one of those films that defy definition, and that will have your eyes glued to the screen from the first frame to the last, as you soak in the haunting atmosphere of 1920s Montana and become acquainted with its sensitive yet exquisitely vicious characters. Adapted from Thomas Savage's 1967 novel of the same name, Jane Campion's drama is faithful to its source material, and part of the reason why it works so well is an exceptionally well-crafted screenplay that leaves it up to us to fill in gaps that you'll only become aware of right at the very end, when you'll be left both speechless and in awe of the utter brilliance of it all.
At the centre of the story is the enigmatic, ruthless Phil Burbank (an exceptional Benedict Cumberbatch), a surly yet charismatic cowboy who oozes masculinity but who's also surprisingly fragile, stuck in a past of his own creation that affects his behaviour and interactions with the people around him. When his brother George (Jesse Plemons) marries restaurant owner Rose (Kirsten Dunst) and brings her and her son, Peter (Kodi Smit-McPhee), home, Phil's carefully constructed balance is broken. The cowboy starts mocking and taunting his brother's new bride and her son, until he decides to take the boy under his wing and a relationship begins to form, leaving both parties exposed, for better or for worse.
Both a slow-burning, immersive western and an eerie, suspenseful drama, The Power of the Dog is a clever analysis of humanity at its most earnest and fragile but also in all its vicious, calculative coldness. Brutal, sweet, unforgiving and drenched in emotion, The Power of the Dog is an unsettling watch, but it's also a genre-defying gem of a movie that confirms Jane Campion as one of the greatest storytellers of our time. (S.S.)
---
1. SPENCER
Director: Pablo Larraín
Writer: Steven Knight
Full Review: Brief Moments of Freedom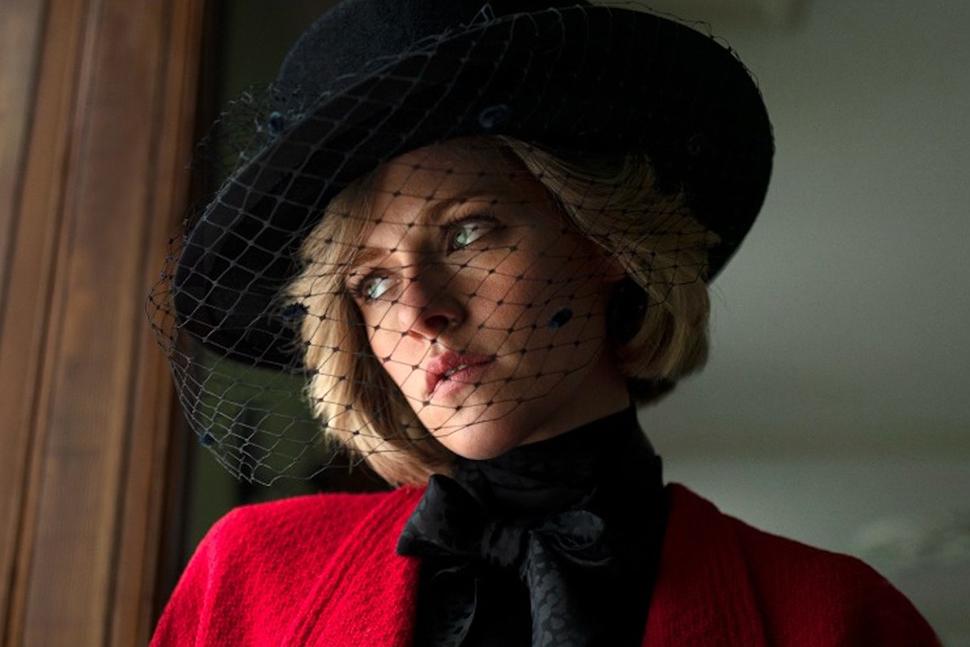 Imagine a life completely void of privacy. No freedom, no peace, no identity. The feeling of being trapped in your own body, unable to escape the growing feeling of entrapment no matter how hard you try. A prisoner in your own home – in your own country. With Spencer, director Pablo Larraín offers us just a mere glimpse of what this might be like, and it's completely terrifying. Propelled by Kristen Stewart's remarkable turn as Diana Spencer, Johnny Greenwood's beautifully unnerving score and Claire Mathon's masterfully artistic cinematography, the film is nothing short of perfect.
Spencer imagines a fictional Christmas gathering at the Queen's Sandringham Estate in Norfolk, but the festivities quickly take a dark turn when Princess Diana begins to suffer a severe psychological breakdown as a result of her exclusion from the family, her increasingly defamatory tabloid reputation, and her strained marriage to Prince Charles. As she clings to her friends and her children to keep herself sane, she soon realises that life in the public eye is nothing like what she'd hoped. The whole dizzying experience is like a waking nightmare – we follow Diana through every moment of her downfall, living through this monumentally destructive weekend right by her side without even a second to breathe. It's claustrophobic, it's tragic, and it's inspirational. Put simply, it's a masterpiece. (J.W.)
---
THE BEST FILMS OF 2021: RUNNERS-UP