Pig: Nicolas Cage Film Review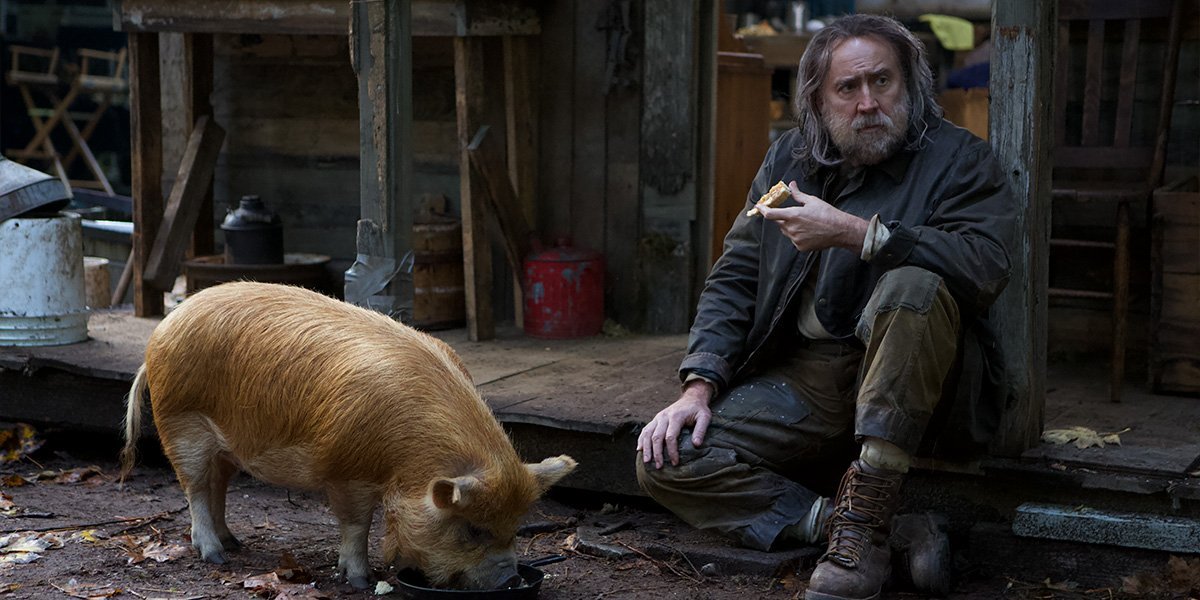 ()
Pig is a solemn yet subtly stirring character study that expertly subverts expectations, elevated by Nicolas Cage 's best performance in nearly two decades.
---

We're a long way away from Nicolas Cage's Oscar win for 1995's Leaving Las Vegas and subsequent nomination for 2002's Adaptation. After a brief stint in blockbusters in the late 2000s (National Treasure, Ghost Rider, The Sorcerer's Apprentice, etc.), Cage has spent most of the past decade in direct-to-DVD dreck or absurdist/avant-garde indies like Mandy or Color Out of Space, and while some of these films can certainly be fun for what they are – such as the recent horror comedy hybrid Willy's Wonderland, in which Cage faced off against murderous animatronic characters in an abandoned family entertainment center – it's tough not to wonder what might have been had Cage stuck in some of the more serious parts he played in the early aughts. And that's exactly what makes Michael Sarnoski's Pig such a breath of fresh air.
On the surface, Pig certainly sounds like yet another bargain bin, brainless revenge thriller of Cage's, only this time, it's centered around a truffle hunter in the Oregon wilderness, who returns to his hometown of Portland to find his stolen pig. Simply going off of that synopsis, it seems like we're in for an outlandish John Wick rip-off-of-sorts, with Cage cosplaying as Keanu Reeves and a pig substituting for Wick's puppy. However, it only takes a single scene for audiences to realize that Pig is something far softer, far subtler, and far more special than Cage's usual output.
Sarnoski's considerate camerawork instantly captures the captivating bond between Cage's Rob and his beloved pig, warranting our interest with his insistence on playing this story straight and refusing to veer into parodical territory, when it would've been so easy for the plot to become preposterous. And, as we follow Rob on his journey to rescue his pig – accompanied by Amir (Alex Wolff, of Hereditary and Jumanji: Welcome to the Jungle), one of the top buyers of his truffles – there's no savage violence in sight, as Sarnoski makes this a journey of self-reflection and self-discovery, characterized by compassion instead of chaos.
To reveal any more of Pig's secrets would be sacrilegious, robbing Sarnoski's eccentric epic of its ingenuity, as the writer-director (in his feature film debut, no less), expertly upends out expectations with every twist and turn, toying with our idea of what a "Nicolas Cage movie" is to keep us utterly engrossed in this unconventional narrative that so deftly defies everything we've come to associate with the aberrant actor. At no point can you predict what path the film will follow next, making for thoroughly mesmerizing viewing, despite the occasional placid pacing – and, thankfully, at 92 minutes, Sarnoski transitions between these slower scenes rather swiftly, only preserving the plot beats that are most necessary for his movie's meaning.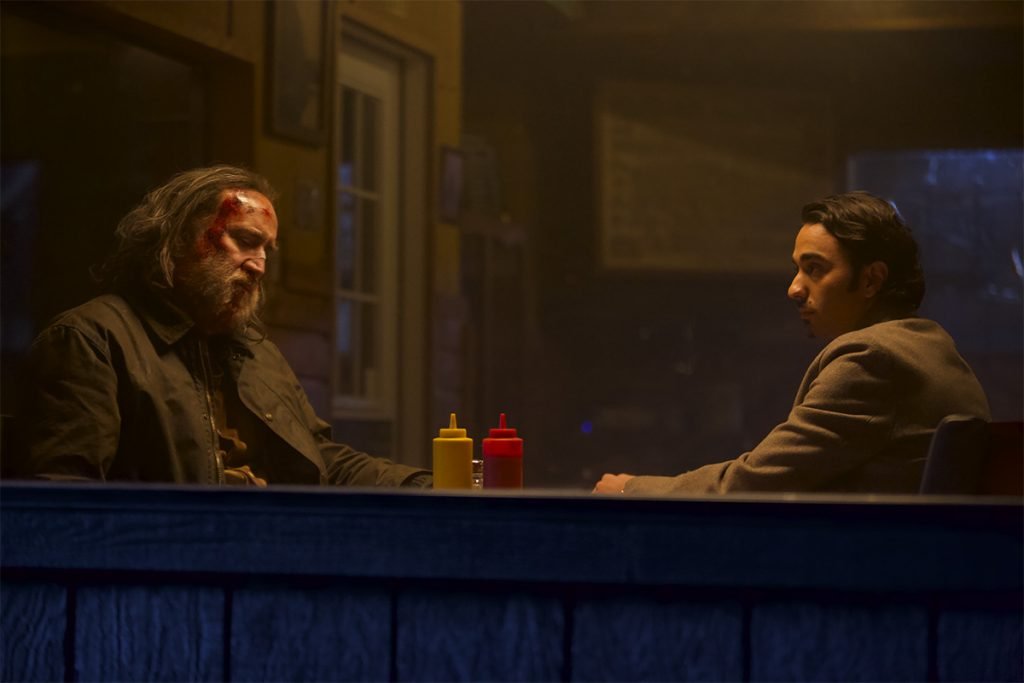 Additionally, should one start to wonder if all this whimsicality will coalesce into a coherent whole, Sarnoski assuages those fears with finesse, revealing the true richness and resonance of this tragic tale in Pig's latter half, as Rob's character becomes clearer and the significance of this story takes center stage. It's simply stunning how Sarnoski is able to take such a straightforward logline and spin it into this sincere and stirring saga of ruination and rebirth, but that is the beauty and brilliance of Pig.
That being said, for as stellar as Sarnoski's storytelling is, Cage is ultimately the essential element to Pig's success, as it's easy to imagine how any other actor could have failed to find the perfect balance in this part between dominance and delicacy, and stoicism and sentimentality. As is consistent with all his past work, Cage is an indomitable presence as the resilient Rob, but there's a real rawness to this character in particular that separates him from the roles the two-time Academy Award nominee has previously taken on. Gone are Cage's theatrical tics and his showier sensibilities; here, he lays himself bare, bringing this broken man to life with still soulfulness and careful contemplation.
It's initially disarming just how different Rob is from the prior protagonists Cage has portrayed, but as soon as that shock wears off, you're swept away by his restraint, riveted by his silent struggles and yearning to learn more about his monumental mental anguish. And, as Sarnoski slowly peels back the layers of Rob's pains – refining our view of his relationship with his pig and subverting any initial thought we had about his life story – Cage never misses a single emotional beat, responding to each reveal with earnestness and opening up this guarded man in gripping fashion. It's no hyperbole to state that this is undoubtably the performance of the year so far.
See Also

Technically, the film is a visual and aural feast as well, exalting the elegance of the natural world in a way not unlike last year's First Cow, thanks to consuming cinematography from Patrick Scola (Southside with You, Monsters and Men) that feels both gritty and gentle, much like our main character. While never shying away from the harshness of the settings Rob and Amir encounter, Scola simultaneously seeks out the softness in these atmospheres, finding an honorable harmony between these two feelings. Likewise, Alexis Grapsas (Monday) and Philip Klein (Wish Dragon, The Last Full Measure) craft compelling musical compositions that fit the many disparate moods of the movie and concurrently cohere to create one single sonic space that personifies Rob's psyche – no small feat, considering his complexity.
Ultimately, Pig is absolutely nothing like what'd you expect from a cursory glance at a summary of the film's plot or at its promotional materials, and it's all the better for it. Anchored by the most astounding and affecting Nicolas Cage performance in nearly two decades – and perhaps of his entire career – and suffused with soul and sincerity by Michael Sarnoski's delicate direction and sensitive screenwriting, Pig transforms into a touching – and tragic – treatise on loss, love, and life itself, slowly unveiling its true substance with striking sophistication.
---
Pig was released in US theaters July 16, 2021.