tick, tick…BOOM!: Netflix Film Review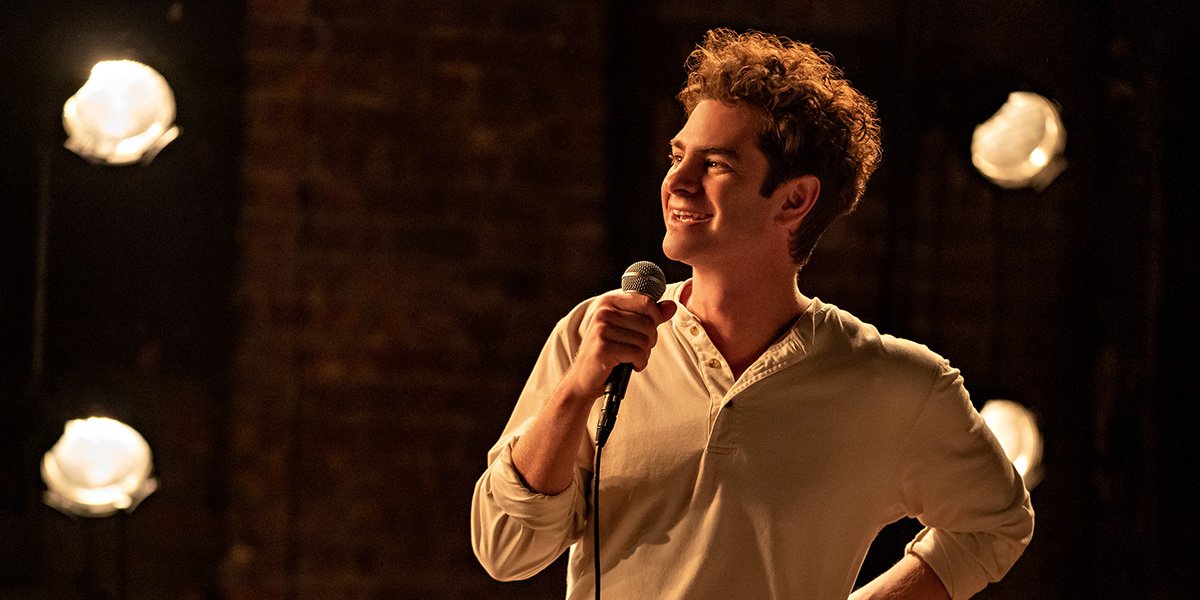 AAndrew Garfield as Jonathan Larson in tick, tick...BOOM! (Macall Polay/NETFLIX © 2021)
Andrew Garfield is glorious in Lin-Manuel Miranda's tick, tick… BOOM!, an arresting adaptation of its soulful source material that should satisfy fans.
---

You'll be hard pressed to find someone who hasn't at least heard of Rent's "Seasons of Love," but despite that hit musical's staggering success, its creator Jonathan Larson hasn't ever entered the cultural consciousness in the same way – and this is a wrong that Hamilton and In the Heights' Lin-Manuel Miranda seeks to right in his dazzling directorial debut, tick, tick… BOOM!. In adapting the autobiographical musical of the same name for the silver screen, Miranda not only keeps its stirring and soulful story intact but also refashions the tale as a tribute to Larson himself as well, extending past what's already on the page to offer an openhearted ode to one of the greatest artists of his generation. And, gifted with the glorious talents of The Social Network and The Amazing Spider-Man's Andrew Garfield – who gives his greatest performance to date – Miranda succeeds in making tick, tick… BOOM! a mightily moving celebration of all dreamers who have dared to defy the odds and stare their doubts down to share their stories with the world, no matter what stands in their way.
The year is 1990, and Jonathan Larson (Garfield) is on the cusp of turning 30 – much to his terror. Working a dead-end job at a local diner, Larson wishes for his long-gestating musical Superbia – a sci-fi dystopian rock opera – to finally take off, prepping a workshop for potential producers to come and see in the hopes that they'll wish to fund his passion project. As he strains to crack a key song in the second act, he finds himself separating from the real world, unable to feel satisfied by anything aside from his (hopeful) impending artistic success. When Larson descends deeper into his creative delirium, he alienates those closest to him, including his suffering girlfriend Susan (Alexandra Shipp, of X-Men Apocalypse and Love, Simon) and childhood best friend Michael (Robin de Jesús, of The Boys in the Band). At the same time, Larson struggles with the strife he witnesses in society around him, including the ongoing AIDS epidemic – and governmental indifference – wondering what more he can do to help his hurting friends, and if his music can ever actually make a difference.
In year jam packed with powerhouse musicals (In the Heights, Annette, Dear Evan Hansen, and Encanto, just to name a few) tick, tick… BOOM! easily propels itself to the top of the pack as a stupefying spectacle full of stunning sights, sounds, and soul that will leave any audience member in awe. From the frenetic opening number "30/90," dynamically delivered by the ever-entrancing Garfield, to the showstopping final scene, where the cast immaculately performs the iconic "Louder Than Words," tick, tick… BOOM! hardly lets up, fueled by Myron Kerstein (Crazy Rich Asians, In the Heights) and Andrew Weisblum's (Black Swan, The French Dispatch) explosively energetic editing and screenwriter Steven Levenson's (Dear Evan Hansen) stellar sense of pacing. Though this seems like it could be a story that would be small in scale or scope – centered around one man simply trying to write a musical – Miranda also maximizes the potential of the cinematic space he's working in, finding playful ways to place us in Larson's perspective as he constantly thinks in tunes and sees the world as his own Broadway stage. It all adds up to create one of the most entertaining cinematic extravaganzas of 2021.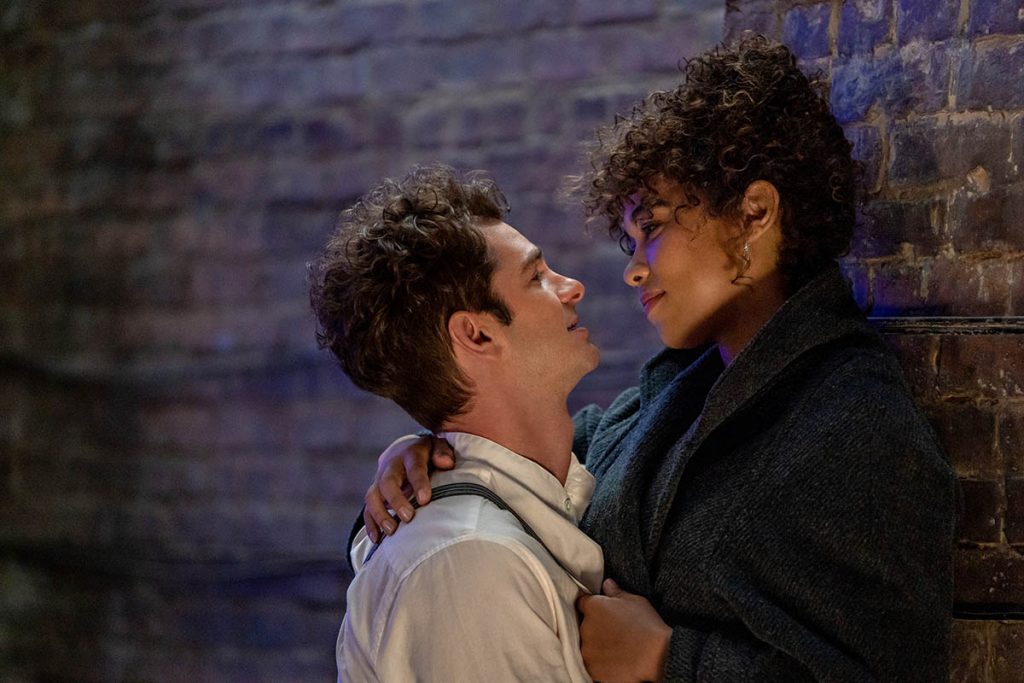 In a career-best turn, Andrew Garfield anchors this epically emotional odyssey with the elegant expertise of a performer who has been doing this their entire life; but, in fact, this is the first time Garfield has ever sung professionally – and he couldn't play the piano prior to filming either. When taking that context into consideration, it makes his gonzo, go-for-broke, tour-de-force performance all the more commendable, as there isn't a single second when he's onscreen where we don't wholly see the spirit of Jonathan Larson, with Garfield reverentially recreating not just his musical prowess but his endearingly eccentric personality as well. In this role, Garfield is a full-bodied force of nature, throwing every last inch of himself into his honorific portrayal of this prolific artist, and his complete commitment to the character is so crazily captivating that it's almost impossible to look away as he's soaring through each song-and-dance sequence with reckless abandon. Garfield leaves absolutely nothing on the table by the time tick, tick… BOOM! reaches its resonant resolution, and it's the kind of audacious acting awards were made for.
However, for as grand as Garfield is, his performance is undeniably enhanced by the presence of tick, tick… BOOM!'s excellent ensemble cast, particularly de Jesús as Jonathan's closest confidante, Michael. As an out queer Latinx man, Michael is shouldering all sorts of sorrows every second of the day – particularly when living at a time where he's losing friends on a weekly basis to AIDS – but he still manages to be a lively ray of light in Larson's life, with de Jesús injecting profuse pizzazz in the picture thanks to his ineffable charisma. Though, with that being said, he shines most of all in his blistering emotional beats, where painstakingly personifies the plight of gay men in the 90s with piercing poignancy. In comparison, Shipp and Vanessa Hudgens (High School Musical, Spring Breakers) – as choir girl Karessa Johnson – are ever-so-slightly underused and have a little less depth and dimension than their male co-stars, but each actress brings enough authenticity and passion to their performance that they manage to leave a mighty impression regardless.
See Also

Those unfamiliar with the musical – or musical theatre in general – may initially be caught off-guard by some of the more "inside baseball" references (such as the surplus of cameos during the "Sunday" scene, which will nevertheless delight Broadway devotees), and, at times, tick, tick… BOOM!'s bombast can feel constricting, occasionally neglecting to let certain crushing beats linger in favor of another operatic musical number, but, for the most part, Miranda and co retain the source material's sincere – yet sobering – soulfulness with style. What remains is a stark but inspirationally stimulating portrayal of the creative process with all its successes and struggles intact, reminding artistically inclined audiences that, while the pursuit of one's dreams is never a walk in the park, it isn't something that should be abandoned after one setback. It's a constant, yet crucial, war that must be waged to find the fulfillment one wishes for, but when you pursue such a goal for the sake of art instead of acclaim, it's a much more enriching experience entirely.
---
tick, tick…BOOM! was screened at the AFI Fest on November 10, 2021. The film will be released in theaters November 12 and on Netflix November 19.