West Side Story (2021) Review: An Unforgettable Cinematic Delight

Ariana DeBose and David Alvarez in WEST SIDE STORY. (Niko Tavernise. © 2021 20th Century Studios)
Starring an extraordinary Rachel Zegler in her film debut, Steven Spielberg's West Side Story is a cinematic experience that you'll never forget.
---

How on earth do you top the 1961 movie musical adaptation of West Side Story that won a whopping 10 Academy Awards (including Best Picture)? You should ask Steven Spielberg, because that's exactly what he and screenwriter Tony Kushner have done. West Side Story (2021) improves on its predecessor in nearly every way. The film has a solid script, amazing production design, stunning choreography, and a terrific cast led by newcomer Rachel Zegler as María. All of these factors combine to create something great and unlike any other movie musical adaptation ever made.
Adapted from the 1957 stage musical of the same name, West Side Story centers on teenagers Tony (Ansel Elgort) and María (Rachel Zegler), who fall in love in spite of their affiliations with rival street gangs, the Jets and the Sharks, in 1950s New York City.
The trouble with most remakes is that they replicate so much of their counterparts which ultimately makes them completely unable to stand on their own. It also doesn't help that, for most audiences, these replications usually pale in comparison to whatever it is they've seen before. West Side Story doesn't have that problem for several reasons. The script by Tony Kushner is closer to the 1957 musical than the 1961 film was. It also adds new dimensions like expanded backstories for Tony, Bernardo, and María, to name a few. Rather than trying to replicate the iconic Jerome Robbins chorography, Tony Award-winning choreographer Justin Peck creates something that feels like a blend of the old and new.
Speaking of that blend, Spielberg said in a 20/20 special that he wanted the setting of this film to feel like New York in 1957. With excellent production design, he manages to achieve just that. It's easy to forget while you're watching, because of the vintage signs, look of the buildings, and classic cars, that this wasn't filmed in 1957. Alongside cinematographer Janusz Kamiński, Spielberg creates a film that looks and feels like classic Hollywood. Their wonderful use of colors gives West Side Story an old school look, and they use creative modern camera work to construct cool shots that are a visual feast for the eyes.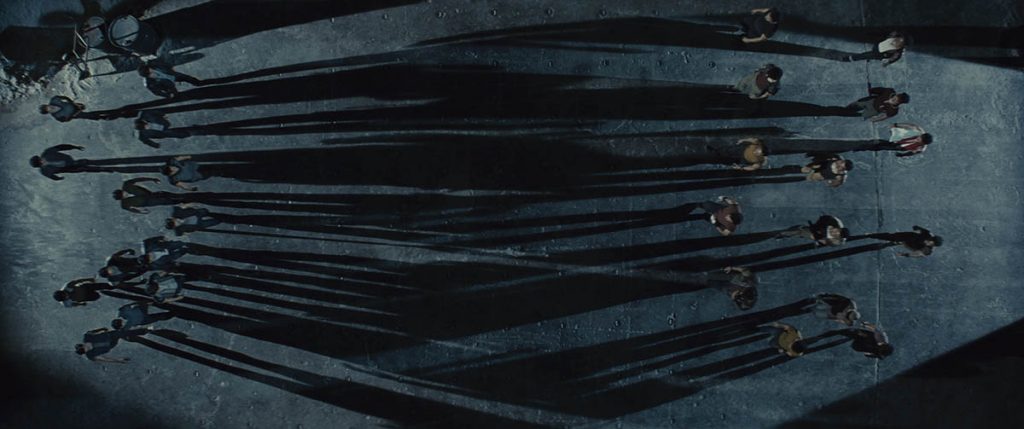 Kushner's script updates the story and gives it more depth, while also allowing things to feel closer to the original 1957 musical than the 1961 film. The song order, with the exception of three songs, plays out exactly as it did in the Broadway show. Some of the locations and contexts have been changed as well. "America" for example, takes place during the day in the streets of New York City rather than on a rooftop at night. This change suits the song, in my opinion, as moving through the streets allows everything to become more bombastic and celebratory, fitting the bouncy nature of the instrumental.
The sunlight makes the outfits worn by the Sharks pop, making the song even more entrancing. Kushner also gives each character a backstory, even the dancers, according to the legendary Rita Moreno, who played Anita, Bernardo's girlfriend in the 1961 film, and returns to star in the 2021 version as Valentina, a new character and Spielberg's version of Doc, the drugstore owner from the musical and original adaptation. Not all of these backstories show up, but they add more to the characters of Tony, Bernardo, and María in ways that make sense.
David Alverez's Bernardo, the Puerto Rican leader of the Sharks gang and María's brother, is an established boxer in this version, which feels natural given the popularity of the sport at the time and Bernardo's skills with his fists. María is less of this innocent girl and is more independent, having spent time taking care of her parents in Puerto Rico when Bernardo moved to the United States. These changes allow Zegler's María feels like more of a person than she has in previous versions, which make her feel like a naïve prize for Tony. As for the male lead of West Side Story, Tony's backstory is something that I won't spoil here, but it fits the nature of the character.
As expected, the music and lyrics by Leonard Bernstein and the recently departed Stephen Sondheim are still excellent. Vocally, Zegler is the standout of the cast of West Side Story, singing each song beautifully with what seems like angelic ease. If I had to pick a particular highlight, it would be the performance of "A Boy Like That/I Have a Love", a duet which sees Zegler pitted against Ariana DeBose's Anita, who has powerful and raw vocals. It's a beautiful back and forth between these characters, one with a sweet singing voice, and the other with deep booming power. The best part is the entirety of that number was, according to Zegler, sung live on set. So yes, their vocals are indeed that good, and their passion completely shines through.
To go along with the music, West Side Story has superb choreography by Justin Peck. As great as the dancing in the 1961 film was, it makes it fairly evident throughout that you're watching a musical. In contrast, the dancing in the 2021 version feels more fluid and natural. This allows you to get further invested in this world, because you truly believe that this is a normal occurrence in these character's day to day lives. While Peck gives audiences dance numbers that feel both old and new, what makes them feel real and thus better is the fact that he, along with most of the cast and dancers have experience in musical theater. Justin Peck won a Tony Award for Best Choreography for his work on the third Broadway revival of Rodgers and Hammerstein's Carousel. David Alverez (Bernardo), Ariana DeBose (Anita), and Mike Faist (the Leader of the Jets, alongside Tony) all starred on Broadway in "Billy Elliot the Musical", "Hamilton", and "Dear Evan Hansen", respectively. When Zegler was cast at 17, she was playing the lead role of Princess Fiona in Shrek the Musical at her high school. There are so many cast members with theater experience here, and they all know how to perfectly blur that line between musical and reality, creating something that feels authentic on the big screen.
If you don't know the name Rachel Zegler yet, you will soon. Her performance as María is magnificent, she has awe-inspiring vocals, and does an excellent job of capturing the character's innocence. Zegler also captures a more independent and sincere María, making her feel more well-rounded and like an actual teenage girl. She is a showstopper, stealing every scene in West Side Story that she is in with a performance that makes you feel her every emotion. While I'm not certain of it, I wouldn't be surprised to see her be nominated for an Academy Award when the time comes, Zegler is that great here.
The only two actors that come close to stealing the show from Zegler would be Ariana DeBose and Mike Faist. DeBose had big shoes to fill, given that Rita Moreno won the Oscar for Best Supporting Actress for her portrayal of Anita in 1961's West Side Story. Luckily, she manages to make the character her own with a fantastic performance. DeBose has just as much charisma as Moreno did in the role, and is clearly enjoying every second she's on screen. Her Anita is commanding, but she's also energetic, funny, and vulnerable when she needs to be. Much like the film itself, DeBose takes something old and creates something new, and turns in a performance that could net her an Oscar nomination of her own. Faist's Riff is by no means a likeable person, but the actor makes him quite riveting and tragic. His voice and facial expressions tell so many stories throughout, Faist essentially makes Riff into the star of his own movie, giving this character depth in a way that I've never seen done before. I imagine that Kushner's script also played a hand in this transformation of Riff, but Faist had to sell it, and he absolutely does.
West Side Story has such a talented cast all around and each member does their part to make the film as great as it is. They're part of why I think this is such a can't miss experience. Without them, the musical numbers wouldn't be as wonderful as they are and Kushner's script, as amazing as it may be, wouldn't be much if the actors telling the story weren't good. Another plus is that all of the Sharks are portrayed by Latino actors, rather than by white actors painted in brownface (Rita Moreno was the only actor of Puerto Rican decent in the 1961 film). This makes this story feel much more genuine, whereas watching the original film could make some feel uncomfortable, even if it was a product of that time period in Hollywood.
With its excellent story, production design, choreography, and cast, Steven Spielberg's West Side Story is unlike any other musical adaptation to date. There are a number of reasons for that: This includes the cast made up of mostly actors with musical theater experience, amazing sets that transport you back to 1957, the timeless music backed with interesting new choreography, Tony Kushner's terrific script, and of course, Rachel Zegler's sensational performance. All of these elements combine to create a new timeless classic, one that not only begs to be seen on the big screen, but will leave you in awe by the end.
---
West Side Story (2021) was released in theaters worldwide on December 10, 2021.