A Quiet Place Part II Sets a New Standard for Horror Sequels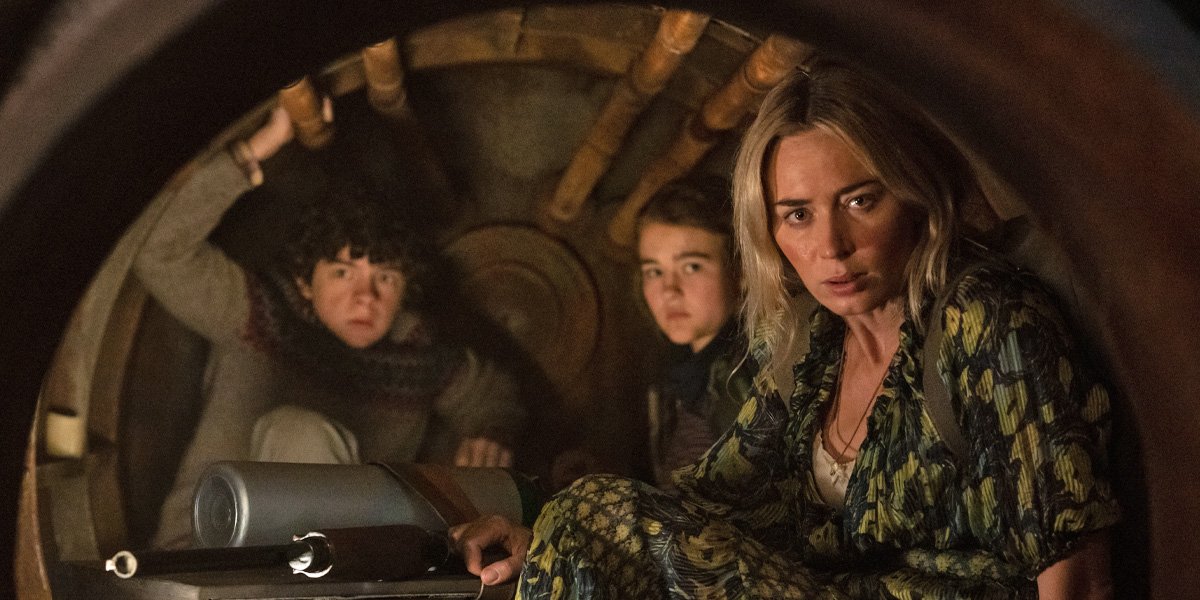 Emily Blunt in "A Quiet Place Part II." (Paramount Pictures)
A Quiet Place Part II doubles down on what made its predecessor so popular, delivering another ridiculously riveting feat of filmmaking from John Krasinski.
---

When A Quiet Place premiered in 2018, it was instantly hailed as a modern horror classic, receiving raves for its creative (and chilling) concept, its subversive scares, and its unexpectedly compelling emotional core, centered around the captivating connection between its stacked ensemble cast. Not only did the film reverentially recreate the suspense-driven storytelling of Steven Spielberg (with shades of Jurassic Park and War of the Worlds) and M. Night Shyamalan (sharing many similarities with Signs), but it also forged its own path ahead as an audaciously original creature feature that showcased spine-chilling setpieces we'd never previously seen in cinema.
And though the ferocious finale left the door open for a sequel, no plans were truly in place until critics and crowds had their say, showering the picture with praise and simultaneously clamoring for another adventure in this apocalyptic setting. However, just because the demand was there doesn't mean a second film was always in store; given the less-than-terrific track record for horror sequels (Halloween: Resurrection, Jason X, Saw: The Final Chapter, etc.), the foundation for a follow-up had to be as sound as possible for a sequel to even come close to matching the might of its predecessor. And, remarkably, director John Krasinski (The Office, Jack Ryan), has seemingly pulled off the impossible with the near-perfect A Quiet Place Part II.
After a pulse-pounding prologue that takes audiences back to the dreadful day when the aliens first arrived, A Quiet Place Part II picks up mere moments after the Abbott family – now consisting of mighty matriarch Evelyn (Emily Blunt, of Mary Poppins Returns and The Devil Wears Prada), her deaf daughter Regan (Millicent Simmonds, of Wonderstruck and Andi Mack), shivery son Marcus (Noah Jupe, of Ford v. Ferrari and The Undoing), and a newborn infant – discovered that these carnivorous creatures are vulnerable to high-frequency audio feedback as a result of their acute sense of hearing, subsequently massacring the monster that murdered their father, Lee (Krasinski).
From there, the family has no time to waste when seeking out new shelter, quickly packing up a small number of supplies and setting off towards a fire in the distance – seemingly a sign of other survivors. However, the man behind this signal is no stranger; it's Lee's former friend Emmett (Cillian Murphy, of Batman Begins and Inception), who used to regard the Abbotts with warmth but has now hardened his heart following the death of his wife and children.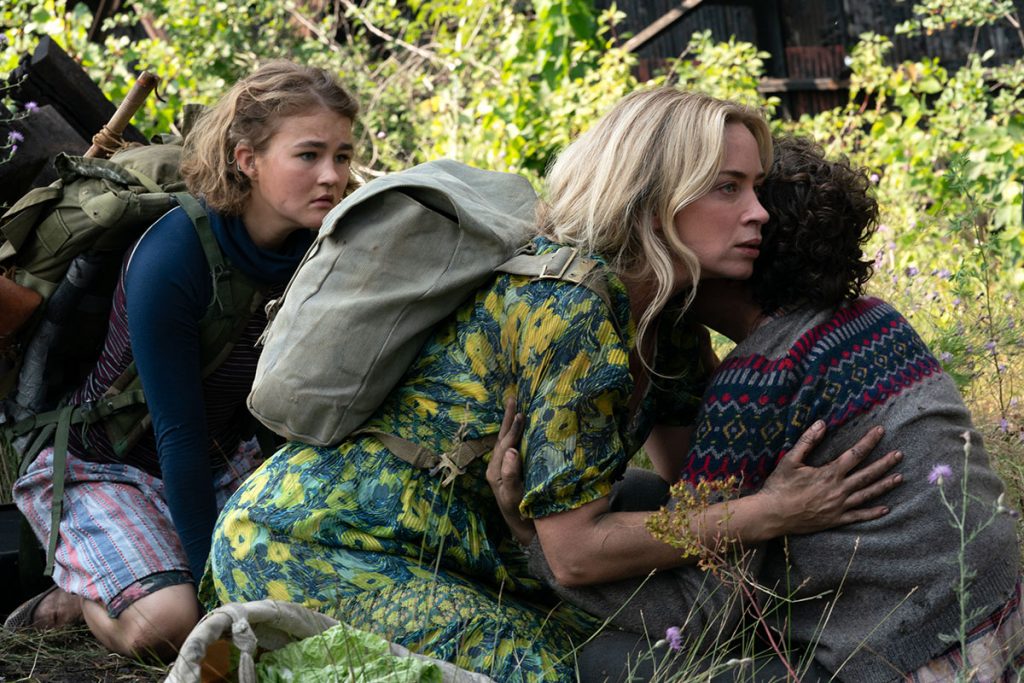 Embittered, Emmett states that the Abbotts can only stay for a day before being forced out, but while Evelyn tries to argue for more time, Marcus and Regan are preoccupied with the revelation of a secret signal on Emmett's radio – one that plays the song "Beyond the Sea" on a loop and originates from an island nearby. Immediately, Regan produces a plan to travel to this radio tower and transmit the high-frequency feedback from her hearing aid to radios throughout the land, allowing anyone listening to combat any further creature attacks.
Unfortunately, when Marcus threatens to tell Evelyn, Regan has no choice but to sneak off on this crusade alone. Upon eventually becoming aware of Regan's absence, Evelyn plaintively pleads with Emmett to find her and bring her back, as she stays behind to look after Marcus and her newborn baby. Begrudgingly, Emmett obliges, but when locating Regan at last, she instead convinces the curmudgeon to join her in this cause. Now, over the course of a day, the two must reach this tower as soon as possible, while Evelyn and Marcus strain to stay alive as more monsters skulk around their "sanctuary."
If A Quiet Place Part II doesn't feel as "innovative" as the first film – which is to be expected, now that we're familiar with this world – it's sure as hell just as intense as its predecessor, instantly re-immersing us into this anxiety-inducing atmosphere and causing us to catch our breath almost on impulse as we watch the Abbotts cross the country in search of solace without making a sound along the way. And while it may have been over three years since we've occupied this cinematic space, Krasinski makes it feel as if not a single day has passed. His deliberate direction sets the stage for the suspense in each scene so subtly that you don't even have time to think about consciously forcing yourself to focus on the events unfolding before your eyes – you're simply stupefied as soon as the film starts, lulled into a state of mesmerization that only a master of the medium can conjure up.
Additionally, he's once again enormously effective at toying with his audience's expectations, knowing exactly where to place his camera and make a filmgoer numb with fear at the chance that an object onscreen may cause noise. Is it going to be that creaky door? What about that twig? The whole way through, Krasinski refuses for viewers to become comfortable or complacent, as they wait in agony for the next audio-caused assault.
As was the case three years ago as well, Krasinski is aided significantly by his sound team, who continue to astound on an astronomical level. Though their work with the aural qualities of the aliens is as eerie as ever, it's actually their crisp conceptualization of everyday cacophony that stands out the most this time around, particularly in that aforementioned prologue, as each noise prior to the first alien attack sends shivers down our spines since we know what will soon arrive. The clamorous chime of the bell attached to a door Lee opens as he enters a convenience store. The booming crack of a baseball as it hits a bat. The thunderous applause of attendees at a Little League game.
All of this audio is accentuated to a deafening degree, further foreshadowing the chaos that is coming, and when it does, the sound team's proficiency only progresses, as they skillfully reuse the audio-shifting approach of the first film to alternate between placing us in the perspectives of the hearing Lee, Evelyn, and Marcus and the deaf Regan. This "trick" is pure genius for generating suspense, and although it's used elsewhere in other occurrences of anarchy throughout the movie, it surely stuns most in this opening stretch – which could stand on its own as one of the most astonishing live-action short films of all time.
With all this being said, it should honestly come as no surprise that A Quiet Place Part II is a technical triumph, given the already apparent talent of Krasinski and the reunion of the last film's Oscar-nominated sound crew. The real question most want to know is, how does the story stack up in this sequel? Initially, one may be skeptical of its strength, since screenwriters Bryan Woods and Scott Beck (Haunt) are absent this time, and Krasinski scripts alone. Can he properly forge a follow-up that honors the foundation they laid? The answer is absolutely.
Though Part II splits the Abbotts up – losing that tight-knit family dynamic that served as the emotional crux of the first film – the sequel is no less affecting, notably thanks to its thematic throughline centered around the children who will inherit this Earth and the development of their abilities to defend themselves. The idea that our parents won't always be around to protect us is a tough pill to swallow, but after already losing their father, Regan and Marcus have no time to waste with learning how to live as individuals, and Krasinski's sensitivity in shaping this storyline is nothing short of stunning.
There will be growing pains, and you'll never fully dodge those who doubt you (just as Regan has to rebel against the wishes of Emmett and Marcus, who initially warn her against pursuing her plan), but there comes a time in which you can't not step up and take matters into your own hands, and that maturation is manifested masterfully here. Equally as exhilarating is the parallelism in the personal growth we observe in both Regan and Marcus, a conceit that culminates in an expertly edited ending (courtesy of Black Panther and Creed's Michael P. Shawver), showcasing the similar evolutions of each character and how they've broken free of the fears that have guided their lives for far too long. And though Marco Beltrami's (Scream, Logan) stirring score is sensational throughout the entire film, it's at its most magical in the movie's ravishing resolution, stressing the sentiment of the sequence and supplementing the story wonderfully as it wraps up this adventure for the Abbotts and sets the stage for the next chapter of their conflict with the aliens.
We've seen strong horror sequels in the past – last decade's Scream 4 and Halloween quickly come to mind – but rarely do we find a work as riveting and resonant as A Quiet Place Part II, a film that synthesizes suspense with sentimentality to such a spellbinding degree that it almost feels like alchemy. If Krasinski's rumored Part III is as propulsive and passionately scripted as this second chapter, A Quiet Place could become one of the most iconic trilogies in cinematic history. At the moment, it'll just have to settle for setting a staggeringly high new standard for horror sequels – and one that shouldn't be surpassed anytime soon.
---
A Quiet Place Part II is now available to watch on digital and on demand.