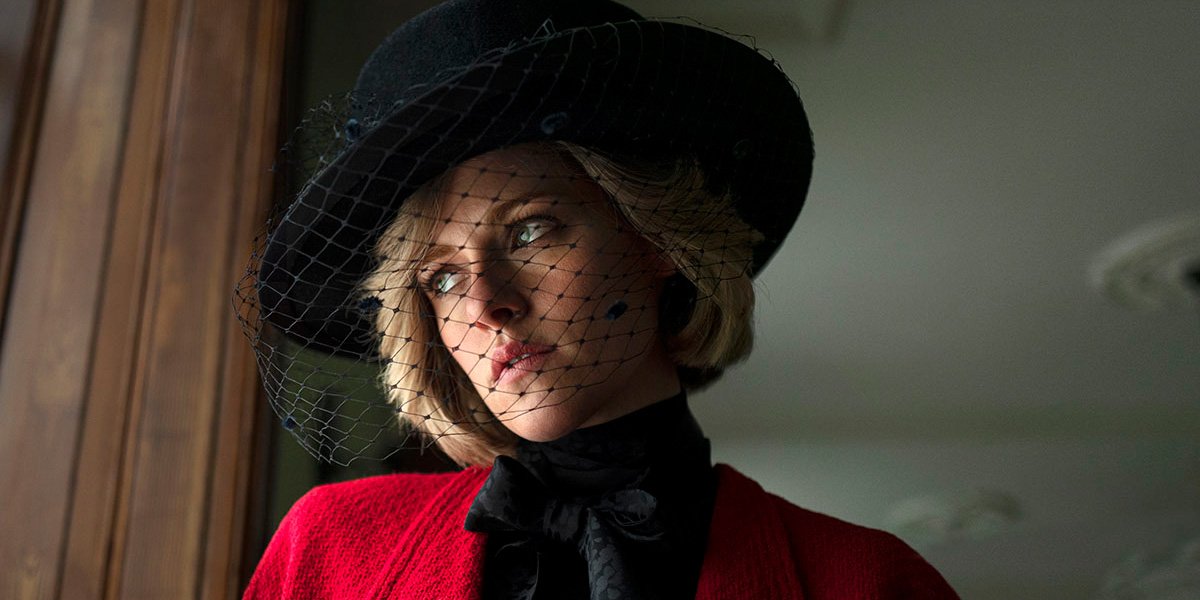 Kristen Stewart in Spencer (2021 Courtesy of Pablo Larraín / NEON)
In Spencer, Pablo Larraín blends past, present and future and crafts a "fable from a true tragedy" that is grounded in reality, giving us a completely new portrayal of Princess Diana.
---

Introduced by a title card that defines it as "a fable from a true tragedy," Pablo Larraín's Spencer is an imagining of the three days that Princess Diana (Kristen Stewart, of Happiest Season and Seberg) spent at the Queen's Sandringham Estate for the Christmas festivities in 1991, right before her marriage with Prince Charles (Jack Farthing, of The Riot Club) crumbled into pieces. But even though Larraín often uses surrealism and nightmarish visions to blend fiction and facts and give a voice to his Diana, Spencer is also grounded in reality, offering a heartbreakingly human portrayal of the Princess that brims with authenticity, and showing us a woman who's trapped in a cage and desperately longing for freedom.
Larraín's "fable" isn't constrained by boundaries of time, just like the protagonist herself remarks more than once. When Diana first arrives at Sandringham, ready to be subjected to the many demanding, neverchanging Christmas rituals of the family—from not being able to choose which clothes to wear or open the curtains in her own room to having to weigh herself on a scale upon arrival and departure, as having put on weight would mean having eaten well and therefore enjoyed the festivities—she tells her children that there is no future in a house where "the past and the present are the same thing."
In one of many highly symbolic scenes, the Princess plays with her children to find a little happiness in a lifetime of loneliness and frustration, and the issue of time is brought up again. In the scene, Diana pretends to be a general, asking her childen, "soldiers" in the game, a series of questions. When she enquires about the reason behind their sadness, one of them tells her that it's because of "the past," at which point the other remarks, "I think it's in the present," and the former corrects him again, "I think it's in the future." Diana's children are mirrors of her own emotions, and this is only one of many incredibly well-written, meaningful scenes you'll find in Spencer—an intimate, playful moment that reminds us that Diana is stuck in a neverending cycle where past, present and future collide into a single moment in time that keeps repeating itself, like a bad dream she can't wake up from, and that she's not allowed to avoid or escape.
There's certainly a lot of Larraín in Spencer's Diana, as the film often gives us visual projections of her emotional state that bring magic realism into the equation, but that doesn't make the director's portrayal of the Princess any less authentic. The horrific, nightmarish moments shown in the film only exist in the Princess' imagination, and often revolve around certain objects that assume a symbolic meaning. One of these objects is a pearl necklace that was given to her by her husband as a present, which Diana knows to be identical to the one he's gifted to his mistress in the past. The object feels alien to the Princess, almost like a collar that suffocates her more and more each day. In one of the most poignant and disquieting scenes of the film, Diana imagines herself pulling at the necklace till it comes off, with pearls flying on the table and even into her soup.
As the high-pitched sound of violins alerts us of all the anguish our protagonist experiences, as well as the danger she feels she's in, the Princess visualises herself eating one of the pearls with her soup, and later throwing it up. This symbolises her desire to rebel to a lifetime of people trying to repress her entire personality, with no way out and no other choice left but to "swallow" her own feelings and even her own identity, only to let them all out in private. Later in the film, Diana starts reading a book about Anne Boleyn, and the historical figure soon begins to appear to her (played by Amy Manson), accompanying her in her many attempts to find an escape. Aided by a foreboding score that becomes more frantic every time panic rises inside our protagonist, all these devices help the director portray Diana's agony, making this fictional portrayal all the more eye-opening and heartbreaking.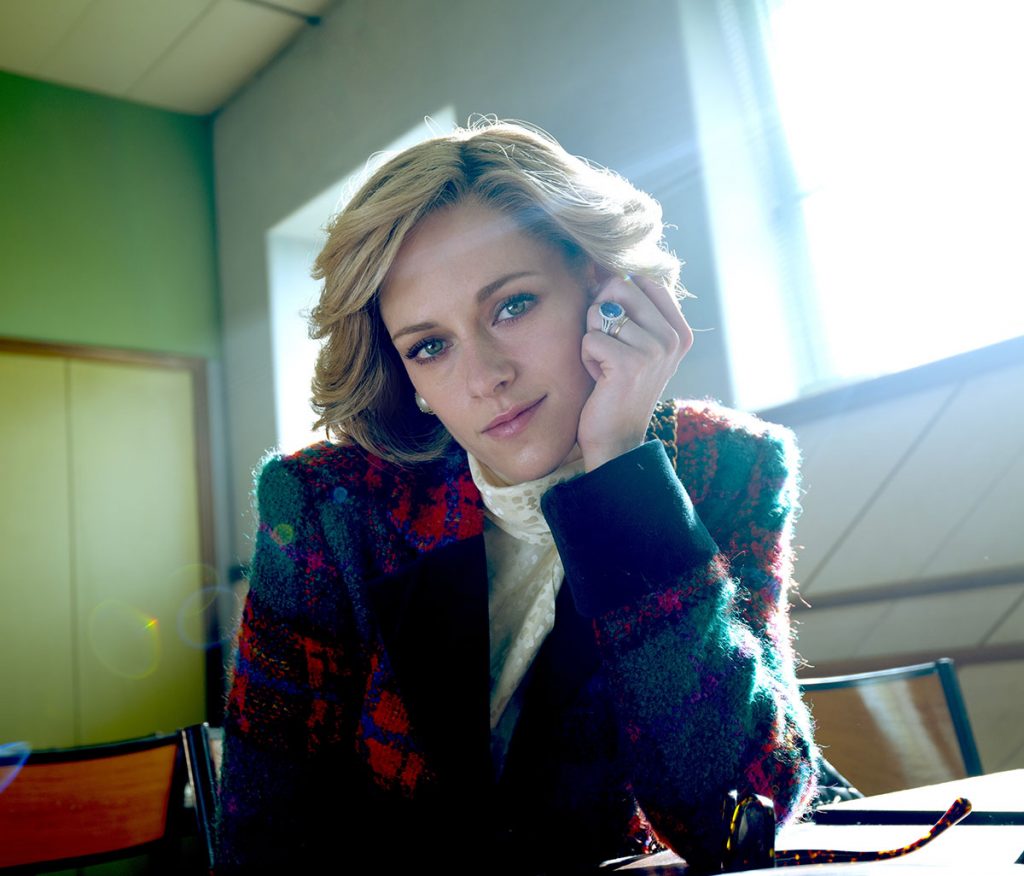 The success of the film is in great part owed to Kristen Stewart, who fully inhabits Larraín's Diana in a career-defining role that once again confirms her as one of the great actors of our time. Stewart's Diana convinces us from the very first shot, appearing to us as a woman who is burdened by the weight of many contrasting emotions that she keeps locked inside of her, but that are constantly there, under the surface, trying (and, at times, succeeding) to come out. Aided by a well-timed, clever screenplay, Stewart brilliantly manages to navigate between different tones and moods, showing us all the frustration, sadness and exhaustion experienced by Diana by means of exceptional body language and haunting facial expressions, which the camera highlights by often focusing on her face.
All this effectively presents us with a character who can take the form of a cheerful mother playing with her children one moment, and an exhausted, anxiety-ridden young woman on the verge of implosion the next. As a character-driven film, Spencer is always centered around its protagonist, and Stewart is the glue that holds together every single scene of a movie that often feels like an intimate theatre play, because of the intensity of it all, with a raw performance that shows us the many sides of a courageous and determined—but also heartbreakingly lonely—woman, never failing to connect with the audience on an emotional level.
Among the secondary characters, Timothy Spall (Mr Turner and The Last Bus) is flawless as Major Alistar Gregory, a character who is both an ally and an antagonist to Diana, in a beautifully ambiguous role that seems to have been tailor-made for him. Sally Hawkins (The Shape of Water and Blue Jasmine) is excellent as Maggie, the only lady in waiting Diana trusts, and is responsible for a memorable scene you won't see coming, and that will bring out yet another side of the Princess, making her all the more human. Even though she has very little screentime, Stella Gonet (The Crown) shines as the Queen, a character that helps highlight the role Diana is required to assume in a place that only sees them both as "currency", adding even more depth and meaning to the film by establishing a parallel between the two women's lives. Jack Nielen and Freddie Spry are also impressive as William and Harry, the former (in his debut role) bringing to life an essential character to the story with sensitivity and heart, showing us a young Prince who's also the only person who really gets Diana, and who sometimes has to assume the role of her carer so as to keep her afloat.
Pablo Larraín's Spencer shows us a prison that is made of rooms with thin walls where everyone hears everything, dresses that act as physical and emotional constraints, curtains that are closed shut to avoid anyone looking in, and a society that requires anyone who doesn't conform to it to bury their identities deep within themselves, depriving them of their freedom and ultimately driving them insane. It's a sad, desperate Princess we see in Larraín's film, but Diana also comes across as a strong, determined woman who is also more than capable to be "her own weapon," even if her brief moments of freedom come at a high price. Though Spencer does, at times, overdo it with the theatricality, the film is a thoroughly impressive, unforgettable character study that will surprise you and break your heart with the universality of its themes, and that you'll find yourself revisiting time and time again.
Spencer premiered at the 2021 Venice Film Festival on September 3, 2021. The film will be released in theaters worldwide from November 5.