Pixar's Luca is Practically Perfect (Review)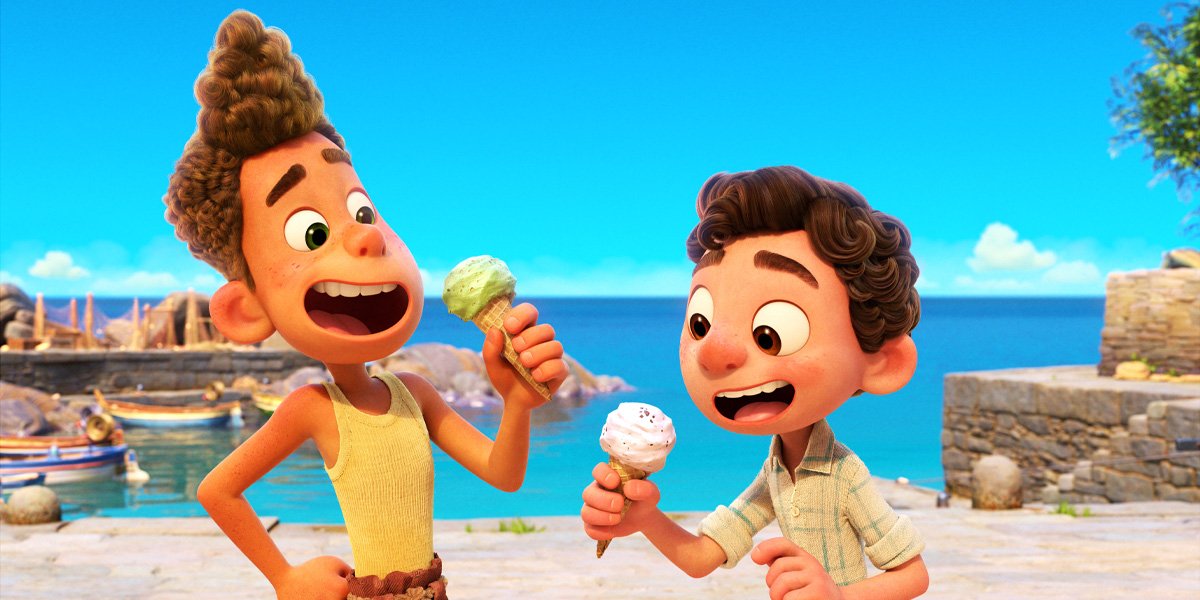 Jacob Tremblay as Luca and Jack Dylan Grazer as Alberto in Luca (© 2020 Disney/Pixar. All Rights Reserved)
Luca is Pixar at its most emotionally powerful, returning to the resonant storytelling that made the studio such a success to begin with.
---

When a studio has amassed 14 Academy Awards in its lifetime and its films have brought in over $14 billion at the worldwide box office, it's safe to say that each new project it puts out will be met with massive expectations. Such is the problem for Pixar, the gold standard for animation since the release of the revolutionary Toy Story in 1995, which stretched the boundaries of cinema so successfully that CGI storytelling could never be the same going forward. In the years that followed, Pixar churned out original animated odysseys that were adored by critics and crowds almost every year, from witty workplace comedies like Monsters Inc. to aquatic adventures like Finding Nemo to fast-paced superhero family dramas like The Incredibles and so many more.
No idea was too "idiosyncratic" for the studio, and no subject matter couldn't be infused with their signature sentimentality. Therefore, with such a terrific track record, it's no surprise that each new picture from Pixar has massive shoes to fill, and film fans waste no time when trying to assess where their most recent title fits amongst the studio's formidable filmography as soon as they've seen it, comparing it to those aforementioned classics and sizing up its strengths. Luca, the latest addition to their library, scales the scope of its story back significantly to tell a "slighter" coming-of-age comedy about two Vespa-obsessed sea monster boys and their "life-changing summer," and while charming, can such a "small" feature hold a candle to the films of their heyday?
In a word: yes. First and foremost, the beauty of Luca lies not in its ability to take some complex concept and contort it into a kid-friendly fable or address some formerly elusive inquiries about emotion or existence in an ingeniously innovative manner but instead in its serene simplicity, letting the movie's stars and settings speak for themselves and lure audiences in with little extra bells and whistles. As such, the central story is fairly straightforward. Near the Italian Riviera, sometime between the 50s and 60s, there lives a lonely sea monster boy named Luca (Jacob Tremblay, of Room and Wonder) who longs to see the surface but is restricted by his parents Daniela (Maya Rudolph, of Bridesmaids and The Mitchells vs. The Machines) and Lorenzo (Jim Gaffigan, of Hotel Transylvania 3: Summer Vacation and 17 Again), who fear of what the hateful humans would do to their son, should he ever step foot on land.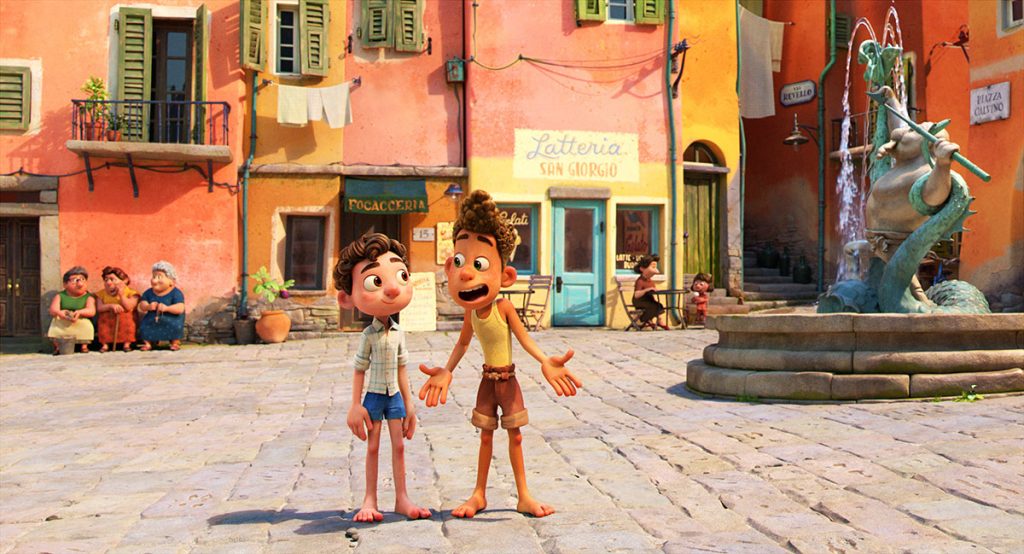 However, one day, Luca does take that leap, meeting another young sea monster boy with similar dreams named Alberto (Jack Dylan Grazer, of It and Shazam!). Alberto has been to land plenty of times before, and he introduces Luca to all sorts of objects that Italy has to offer, including the valiant Vespa, a scooter that comes to represent "freedom" to Luca, who feels locked-in to his underwater life by his "pushy" parents. One day when on land, Luca and Alberto befriend the gabby Giulia (newcomer Emma Berman), who tells them all about the Portorosso Cup Triathlon – a competition which provides a cash prize that would allow the boys to purchase their own Vespa. With their sights set on success – and on escaping their everyday existence – Luca and Alberto team up with Giulia to hopefully take home the Triathlon trophy, assuming they can stay alive that long with both Giulia's fisherman father Massimo (Marco Barricelli) and the local bitter bully Ercole (Saverio Raimondo) hot on their trail.
If it seems like there's little "going on" in Luca, that's the point; the plot isn't the primary focus here. Instead, audiences are asked to engage with the emotions of the characters above all else, seeing this wondrous new world through their eyes and experiencing all the highs and lows associated with the time they spend hiding who they truly are just to be accepted and included. Sure, the slapstick shenanigans of Luca, Alberto, and Giulia are appropriately amusing, and their escapades across Portorosso are always entertaining, but the internal plights of the protagonists are far more moving, and likewise, the stirring subtext in Luca's story is what really makes it special. Whether you choose to view Luca's journey as a simple metaphor for self-exploration/self-discovery or as something more specific (such as a symbol for one's queer awakening), there's so much substance beneath Luca's surface (no pun intended) just begging to be explored, and it's to the credit of writers Jesse Andrews (Me and Earl and the Dying Girl, Every Day) and Mike Jones (Soul) that this deeper meaning complements the movie instead of overshadowing it.
Whereas past Pixar films like Toy Story 4 or Soul spent too much time prioritizing their "profound" themes and forgot to simply tell a good story, Luca doesn't beat you over the head with its messages, allowing audiences to project their own perspectives onto its plot as it showcases the storybook-esque, summer-set exploits of its leads and highlights how they come to reconcile their seemingly incompatible identities. Andrews and Jones do just enough to keep us engrossed over the film's expeditious 95-minute runtime by writing bits of brilliant broad comedy (such as when Daniela and Lorenzo go about splashing every child in Portorosso with water to find Luca) or sidesplitting scenes where Luca and Alberto have to hilariously keep from revealing their sea monster skin in a suspenseful scenario, and they largely let the boys' parallel personal progressions push the plot forward instead of creating contentious drama for the sake of striking at some "greater truth."
The writers know that each person's experience with Luca will be different, and therefore, rather than telling you how to feel, they concentrate their attention on making a fun film and crafting compelling characters, suffusing the script with just the right amount of supplemental material to make moviegoers consider its more complex significance on their own, after the credits roll. And, in many ways, that's what makes Luca one of the strongest successors to Pixar's initial run of instantly iconic masterworks that we've seen so far. We come away caring about Luca and Alberto most of all, and though we're guided by Andrew and Jones to interpret the film's ideas in a certain way, we're left to luxuriate in our individual explanations for its events without having one set statement spelled out for us. The most meaningful art is that which is most adaptable, as it's likely to have the longest staying power with audiences, and such is the case of Luca, which is sure to mean a whole lot to anyone who has ever had to suppress their true self for the sake of feeling safe and fitting in.
Aesthetically, Luca is undeniably astounding as well, with its more artistically stylized animation representing a promising deviation from the photorealism we've seen most recently in Pixar movies like Toy Story 4 and Soul. While that work is unquestionably impressive, it's hard not to feel that Luca's unique and abstract design – said to be inspired by stop motion animation and the hand drawn delicacies of Hayao Miyazaki's Studio Ghibli – gives Pixar (and director Enrico Casarosa) more freedom to get "experimental" with their visuals, and going forward, it'd be terrific if they continued to toy around and give every story its own style in an effort to provide each picture with additional personality. After seeing Luca, it's almost impossible to think of the story without acknowledging its animation and the way it contributes to the physical characterizations of the lanky Luca or the athletic Alberto or to the conception of sumptuous settings of the picturesque Portorosso.
Another signature strength of Pixar is their ability to continually assemble captivating voice casts with actors who perfectly match their parts, and Luca is no exception. Tremblay excellently embodies Luca's youthful energy and earnestness, while Grazer aptly accentuates Alberto's audacious spirit. Berman shows a bright future in voice acting with her stunning debut here, giving Giulia a striking spunk that helps make her a standout in the film a whole. The adults all bring their A-game too, with Rudolph serving as a riot as the driven Daniela, while Jim Gaffigan can always be counted on to deliver on the comedic front, earning laughs left-and-right as the absent-minded Lorenzo, and Marco Barricelli also impresses as the mighty Massimo, Giulia's father who has a frightening figure but a heart of gold.
Just when people start to wonder if that "Pixar magic" still exists, the studio puts out a project as poignant and powerful as Luca, and all of those worries wash away. By taking such a seemingly simple story and suffusing it with so much subliminal meaning – without ever forgetting to make audiences care about the characters themselves beyond what they may "stand for" – Enrico Casarosa, Jesse Andrews, and Mike Jones produce a piece of art that is simultaneously supremely entertaining on the surface and also infinitely richer upon further analysis, allowing it to live on and grow as the years go by and more moviegoers infuse it with their own insights – the way the best works do.
---
Disney and Pixar's Luca is now available to watch on Disney Plus.