Shiva Baby: One of The Year's Best Indies (Review)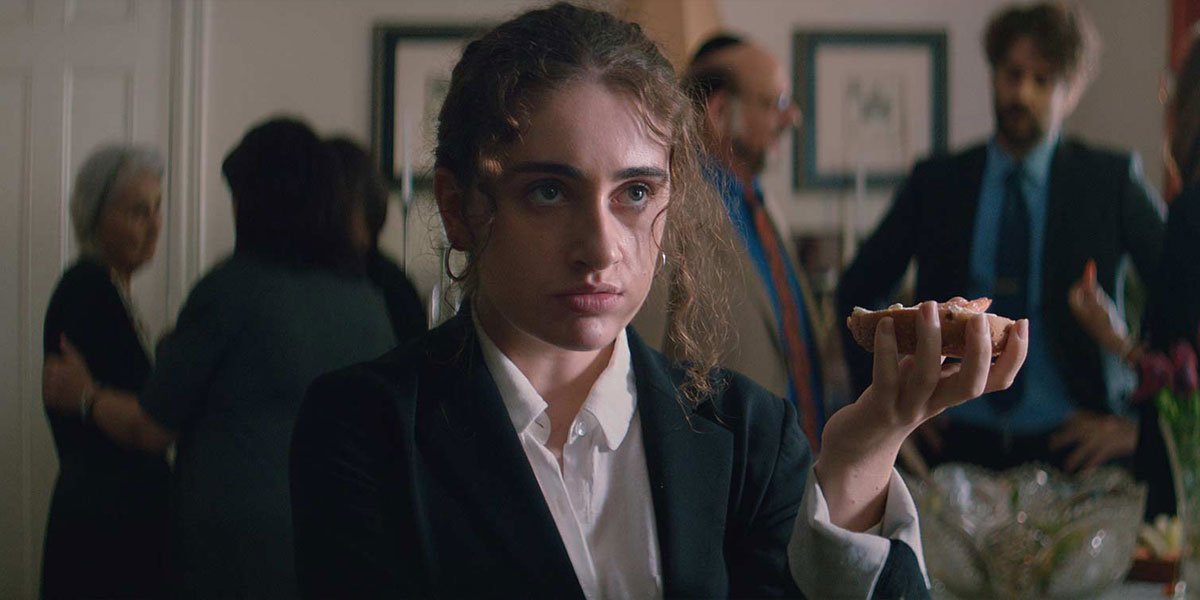 Shiva Baby (Courtesy of Indie Memphis Film Festival)
Shiva Baby 's jump from thesis short to feature film surpasses expectations thanks to a well-developed concept that is explored upon in this 77-minute anxiety trip.
---

It all began in 2017 when Emma Seligman, then studying film at New York University, wrote and directed Shiva Baby as her thesis project. This short film drew inspiration from two things: her own previous Shiva experiences, and her association with NYU students who had sugar daddies for support. By using these two ideas, Seligman builds an uncomfortable yet darkly entertaining situation that makes for an amusing short film. Fast forward to three years later. Seligman marks her feature debut with a direct adaptation of Shiva Baby: this new version is currently having a successful run at film festivals, and with good reason. Shiva Baby's example of a concept improved upon in a remake is rarely seen today, but director Seligman easily achieves this. She not only preserves the ideas of the original short but also expands on them with strong development of the characters and story, effortlessly creating one of this year's most hilarious, intense movies.
Things are not going so well for Danielle (Rachel Sennott). Despite settling on Gender Studies after changing degrees several times and having sugar daddy Max (Danny Deferrari) to aid her with money, she is undergoing a quarter life crisis. After a brief encounter with Max, Danielle heads late to somebody's funeral ("Wait mom, who died?") and is quickly suffocated by the prying relatives and friends, including her neurotic parents, all whom interrogate her about what future plans she has, as if she had a clue. She then encounters ex-girlfriend Maya (Molly Gordon), someone who is doing well for herself, having just entered law school and aceing final exams. If Maya's appearance wasn't a good reason for Danielle to enter panic mode, things get much worse when Max shows up at the funeral with his wife Kim (Dianna Agron) and their baby, both of whose existence she didn't know about. As things quickly escalate, and secrets are revealed, these challenges with test Danielle to confront her problems and learn to finally take a stand for herself.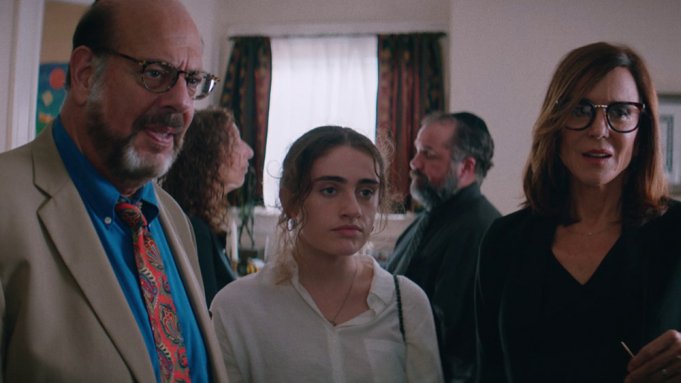 While both the short film and the feature are practically identical to each other, one of them only consists of about three scenes. In this feature, Seligman gets an opportunity to further develop what she's easily captured in ten minutes: unraveling chaos. With the camera pushed in on her in claustrophobic manner, Danielle feels threatened by every person in the room, all who give her a hard time about many things, in the most obnoxious and neurotic ways one can find at social gatherings. Even the presence of Kim, a beautiful Shiksa princess who owns many businesses, serves as an example of everything that Danielle is not. But perhaps no others give a bigger blow to Danielle than her own parents, whom are both aware of her directionless life, but don't really help as they try to push her to eat, look classy, and 'get a good degree' so they can just brag about their daughter to guests. These conflicts are all too relatable to audiences, but they are almost never as grave as Danielle's situation, who juggles many identities; hiding sugar daddies, lying about what she's studying and covering unspoken feelings about her ex-girlfriend.
Actress Rachel Sennott is not unfamiliar with the role of Danielle, in fact she was the original star of the 2017 short film, and she brings more to the table this time around. In the feature, we don't just see what's on the surface, but we finally get to truly understand Danielle's insecurity and crisis, and Rachel seals the character with authenticity. Jackie Hoffman and Fred Melamed perform exquisitely as Danielle's parents, as they look, talk and behave like anyone's pushy parents. The addition of Maya is not found on the short, but makes for a worthwhile inclusion thanks to her portrayal by Molly Gordon, giving a sense of the strong former friendship between Danielle and Maya. The only non-Jewish character in the room is Kim, played by Dianne Argon, who is actually Jewish in real life, but who finds no challenge in departing from their roots and culture to play the outsider in the Shiva.
Shiva Baby's Danielle may just come off as bratty to many, but she is simply a representation of many millennials who are just trying to figure things out, and the Shiva setting is just your typical awkward family gathering. The feature could have easily felt overexaggerated and overshadow its edge-of-your-seat suspense. Fortunately, Emma Seligman is in control of her craft. She holds back on the philosophy to focus on the absurdity of these situations, bringing out humor in them and refusing to deviate from her original concept, only improving on it with colorful characters and a colorful cast. Shiva Baby can be deemed a tragicomedy, a suspenseful ride, or just a devilish comedy, but what most agree on is that it is one of this year's best indies.
---
Shiva Baby was screened at the Indie Memphis Film Festival from Saturday, October 24, 2020. The film is now available to watch on Digital Platforms.