Last Night in Soho Film Review: The Monsters We Create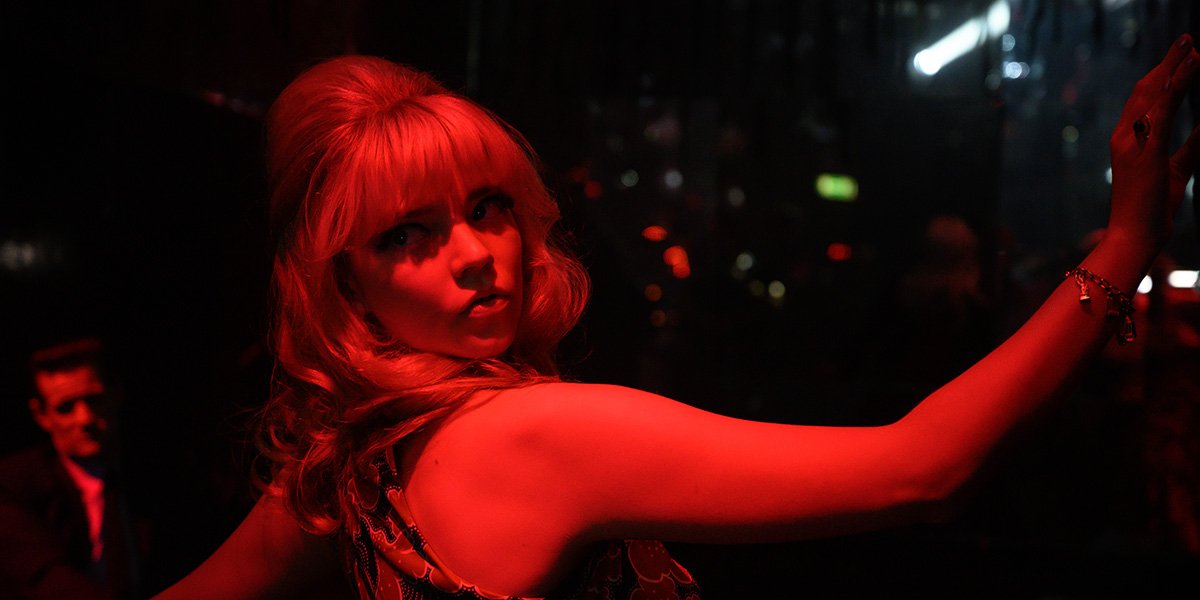 Anya Taylor-Joy in Edgar Wright's LAST NIGHT IN SOHO (Parisa Taghizadeh / Focus Features)
Part coming-of-age story and part psychological thriller, Edgar Wright's Last Night in Soho is a neon-fuelled journey to a London of another time that unveils the real horrors of our time.
---

"I don't care what they say, I won't stay in a world without love," sing Peter and Gordon in Last Night in Soho 's opening scene as our charming protagonist appears, wearing a dress of her own creation and dancing to her favourite music from the Sixties, and we instantly fall in love with her personality. Eloise (Thomasin McKenzie, of Leave No Trace and Jojo Rabbit) is a young girl with an old soul and big dreams, and those dreams have to do with a London that doesn't exist anymore, if it ever even existed at all.
The London Ellie dreams about is the glamorous, sophisticated world she's seen in old movies and heard about in the records she borrowed from her grandmother — music that has been accompanying her throughout her life, comforting her and helping her deal with difficult times, such as the loss of a mentally ill mother whose reflection she still sometimes sees in the mirror. When we first meet Ellie, she's making silly dance moves and pulling faces in the mirror as she rehearses different ways to introduce herself to the world as a fashion designer, which is what she'd like to become.
It's not long till her aspirations become a reality, as grandma Peggy (Rita Tushingham, of A Taste Of Honey) hands her a letter of admission from the London College of Fashion, confirming her enrollment at the university. And so, Ellie leaves for London, with a suitcase full of records, socks and dreams and the desire to experience a city whose glitz and glamour is already very much alive in her own mind.
Of course, when Ellie does get to London, she soon finds out that the city is not everything she hoped it would be, as the magical world of her dreams has been replaced by the student experience, complete with self-centered, backstabbing roommates, chaotic flat parties, competitive coursemates, gratuitous rudeness from strangers, and no place she can truly call her own. In the very place where she thought she'd fit in, Ellie feels incredibly out of place, so much so that, after a particularly trying evening, she leaves the university's halls of residence and moves into a room in the house of an old lady, Ms Collins (the late Diana Rigg, of Game of Thrones), where she feels more at ease.
In fact, the retro vibes of the room and the glowing light coming through her windows from the neon signs of the shops below inspire Ellie, who inexplicably manages to enter 1960s Soho, in a dreamlike dimension that feels more and more real by the minute, where she can not only witness the city come alive, but also interact with its dazzling inhabitants, starting from a mesmerising wannabe singer named Sandie (Anya Taylor-Joy, of The Queen's Gambit).
But Sandie is so much more than a fragment of Ellie's imagination: first appearing as Ellie's own reflection in the mirror and then taking control of the narrative, the aspiring singer feels very much like a real person, and Ellie watches her as she confidently strolls into a bar wearing fancy clothes, puts on a show to impress charming manager Jack (Matt Smith, of Doctor Who and The Crown), and eventually lets her personality shine while dancing, singing, and having a good time.
As Ellie's intriguing connection with Sandie grows, the two women begin to merge into each other, as not only does our protagonist borrow the singer's carefree attitude and use it as an inspiration for her own fashion creations, but certain aspects of the Sixties that live within Ellie's imagination inexplicably find their way into the girl's world. But just when Ellie seems to have finally found a sense of belonging, strange things begin to happen, and the girl soon realises that a dangerous, disquieting darkness is hidden beneath the apparent glamour of Sandie's world.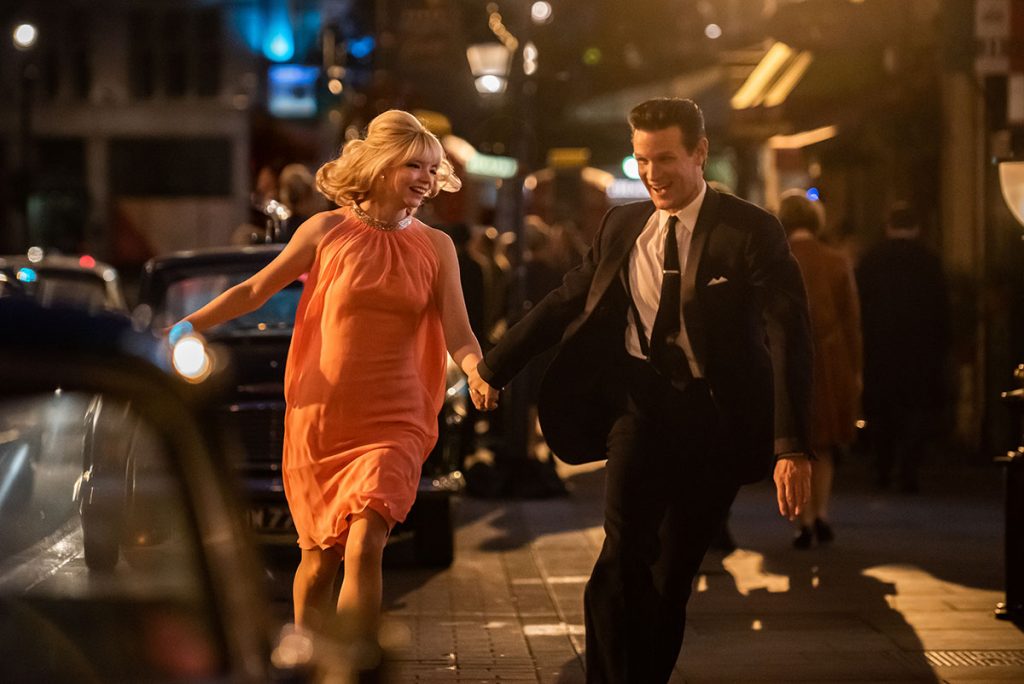 Last Night in Soho is many things at once. On one hand, it's a coming-of-age film that revolves around a girl who has only just begun to explore her own identity, and who learns to conquer her fears and stand her ground in a male-dominated society that doesn't value the ideals she embraces. If, when she first get to London, Ellie is a timid girl who's trying her best to ignore her coursemates' snarky remarks and endure a life that isn't her own, by the end of the film our protagonist has grown into a woman who has embraced her weaknesses and turned them into strengths, and who no longer needs a singer from the Sixties to tell her how to live her life.
By the time the credits roll, Ellie is an entirely different person: though she still carries the scars from her past, she has also learned how to survive a society that is built to undermine women, to fear diversity, to stigmatise mental illness, and to annihilate individuality. These are only some of the themes approached in a film that explores the horrors of our time in an entirely unexpected way, with the rhythm and pace of a psychological thriller and the undertones of a horror film whose bleakness you can't escape.
It's a movie that leaves you with an aftertaste, and ultimately blames the system for the broken dynamics that shape our existence, driving us to do terrible things in order to protect ourselves until we are left with nothing but a past that can't be forgotten. Though, in a way, Last Night in Soho is also a revenge film, there's also room for compassion, as Wright and co-writer Krysty Wilson-Cairns (1917) teach us that there's a way to rise above the darkness, even if this kind of freedom comes at a high price.
Needless to say, Last Night in Soho is also flawless in its execution. The film's desaturated colour palette, soft lighting and glowing neon lights give it a distinct look that is reminiscent of noir films, and its impressive production design (Marcus Rowland, of Scott Pilgrim vs The World), make up (Elizabeth Yianni-Georgiou, of The Mummy) and costumes (Odile Dicks-Mireaux, of Brooklyn) give us an instantly recognisable setting that effectively transports us to a London that is so vivid that we can almost breathe in the atmosphere.
See Also

The film's irresistible soundtrack makes the film highly immersive, inviting us to join Ellie on her journey, while the sound design (Jeremy Price, of Baby Driver) adds disquieting undertones that contribute to the film's mood and tone, making for exquisitely tense scenes and adding momentum to the movie's most terrifying moments, featuring well-choreographed chases involving realistic, unsettling figures without a face and dreams that blur with reality.
Thomasin McKenzie shines as a protagonist that is always believable and relatable, no matter how absurd her experiences become. Absolutely perfect for the role, McKenzie is able to switch between her character's many states of mind in a seemingly effortless way, delivering endearing moments one minute and highly distressing sequences the next, and ensuring we are on her side no matter how unlikely things are.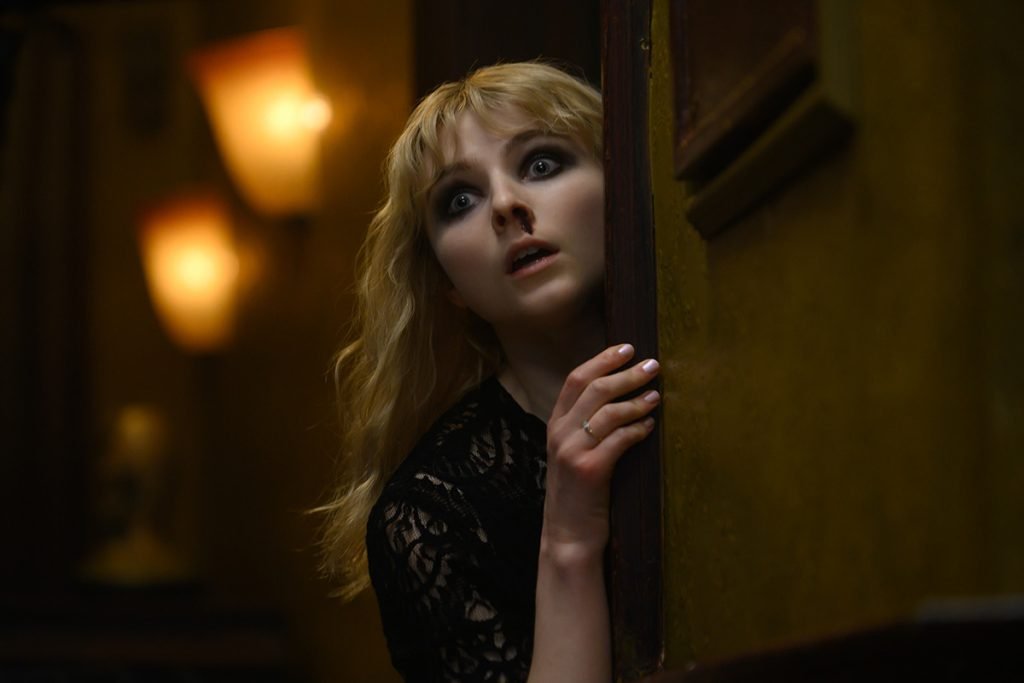 Also superb is Anya Taylor-Joy, who imbues the enigmatic Sandie with charisma and confidence as well as vulnerability, making the scenes shared with McKenzie all the more effective and meaningful. Among the film's other standouts are Michael Ajao (Attack The Block), who plays Ellie's only friendly classmate, a character that is also highly symbolic in more than one way, Terence Stamp, whose character is as eerie as he is intriguing, Matt Smith, who excels as a multilayered character that seems to have been written for him, and the late Diana Rigg, who gives us an utterly convincing portrayal of a woman who has witnessed a great deal of events in her lifetime.
Last Night in Soho is part psychological thriller, part coming-of-age story, part terrifying horror film with timely social commentary, and part ode to a specific time and place that lives within many of us. Whether you're a fan of Edgar Wright's directing style or you're looking for a well-crafted, genre-defying movie that has something to say, you won't be disappointed by Night in Soho, a film that will defy your expectations right till the very end, making you think about your own memories and demons while enthralling you with impressive technical execution and an utterly unique story that will stay with you long after the credits roll. Not to be missed.
Last Night in Soho premiered at the 2021 Venice Film Festival on September 4, 2021. The film was released by Focus Features on October 29, and is now available to watch on digital and on demand.