The French Dispatch Film Review: New Wes Anderson Cinematic Wonder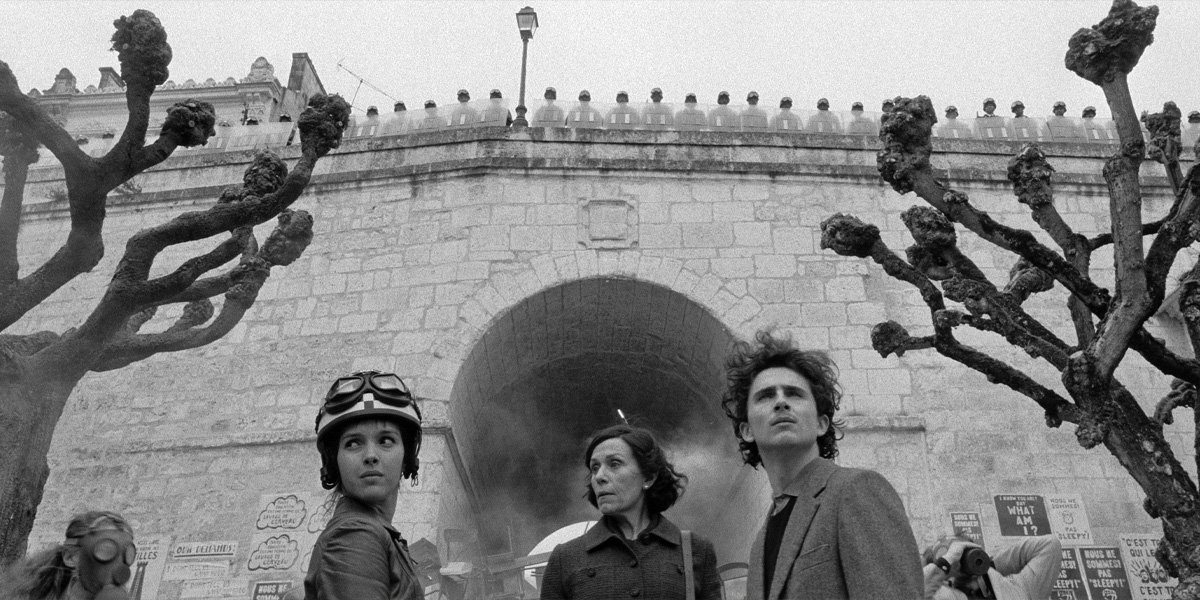 The French Dispatch (© 2020 Twentieth Century Fox Film Corporation)
The French Dispatch is the film equivalent of a Wes Anderson amusement park, captivating audiences with color, chaos, and countless curious characters.
---

Seven years. It's been seven long years since we last saw a live-action feature film from one of the cinephile community's favorite auteurs, Wes Anderson. When The French Dispatch was originally set for release in the summer of 2020, that six-year wait after 2014's The Grand Budapest Hotel felt insufferable – and then, COVID-19 had to add insult to injury and push the picture back even further, all the way to the fall of 2021. Sure, we had the animated Isle of Dogs in the interim – a mighty fine fable that still received rapturous critical acclaim and Oscar nominations for Best Animated Feature and Best Original Score – but with The French Dispatch being Anderson's live-action follow-up to his first major breakout hit on the awards circuit (to say nothing of the fact that it was set to star the Internet's Boyfriend, Timothée Chalamet), anticipation was understandably on a different tier for this title. And, rest assured, after all this time, Anderson admirers will find much to enjoy with The French Dispatch's eccentricities, even if the story's sumptuous sensory overload threatens to overshadow its substance from time to time.
The French Dispatch follows an anthology format, as the editor of the titular European publication, one Arthur Howitzer Jr. (Bill Murray, of Ghostbusters and Lost in Translation), is preparing a memorial edition of the literary magazine, featuring their three best stories from the last decade. The first sets its sights on an artist named Moses Rosenthaler (Benicio Del Toro, of Guardians of the Galaxy and Sicario), who was sentenced to life imprisonment and currently finds himself caught in a financial conflict with an aggressive art dealer (Adrien Brody, of The Pianist and King Kong), with all of this being observed by the beguiling J.K.L. Berensen (Tilda Swinton, of The Chronicles of Narnia and Doctor Strange).
The second story centers around a series of student riots led by young revolutionaries Zeffirelli (Timothée Chalamet, of Call Me by Your Name and Dune) and Juliette (Lyna Khoudri), chronicled by the lively Lucinda Krementz (Frances McDormand, of Fargo and Nomadland). And, last but not least, the final feature covers the kidnapping of a commissaire's son, solved by chef Lt. Nescaffier (Stephen Park, of Do the Right Thing and A Serious Man) and captured in print by the wise Roebuck Wright (Jeffrey Wright, of The Hunger Games: Catching Fire and No Time to Die).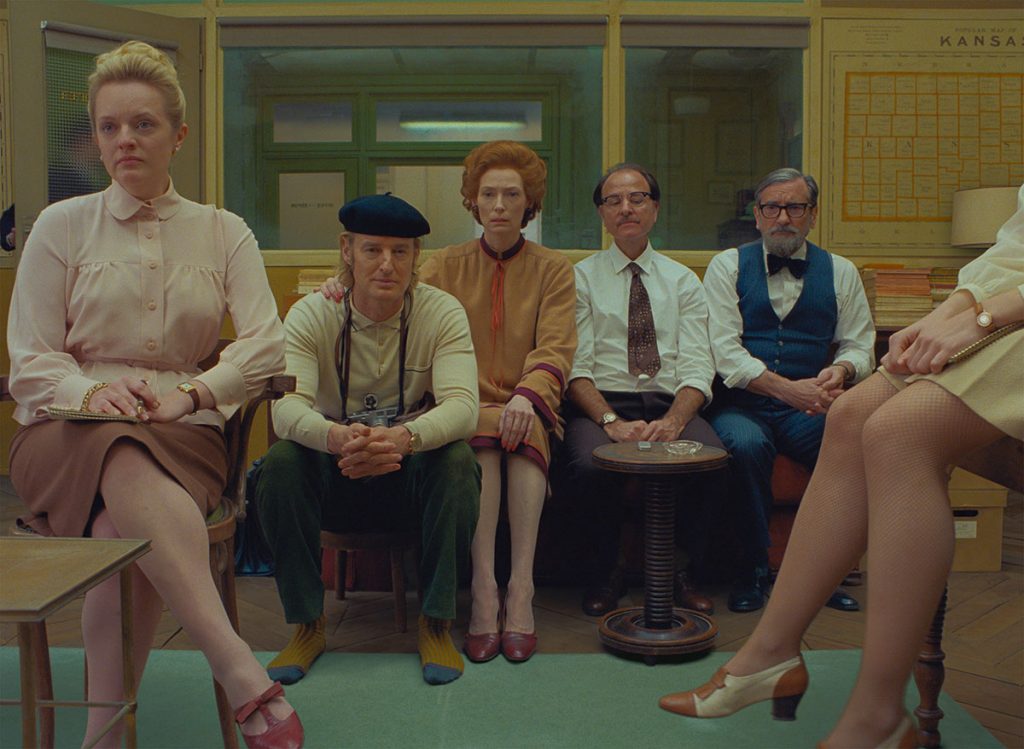 Just from that short synopsis, it's clear that Anderson has a lot of plates spinning in The French Dispatch, and that's without even taking into account all of the artistic flourishes he adds onto the film in every frame. Whether he's crafting entirely unique settings for each story (with the assistance of accomplished production designers Adam Stockhausen and Rena DeAngelo) or asking Robert Yeoman to continually alternate between colored and black-and-white cinematography (depending on what the movie calls for at a given moment), Anderson assures that the film is never anything less than a flashy visual feast, and while his eccentric aesthetic can at times almost be exhausting, he (mostly) always stops short of overstimulation, knowing how to charm his audience without crushing them underneath the weight of his chaotic cinematic concoction.
One could say The French Dispatch is an exercise in style over substance, but when the style is this striking – with scenes featuring a fantastical flight amongst the stars on a motorcycle and an animated car chase sequence, among others – it's hard to fault it in any considerable way. Wes Anderson is no "anonymous" filmmaker, and it's a true gift to see such a talent at the height of their artistic powers, taking risks and throwing everything at the wall to see what sticks.
Labeled as a "love letter to journalism" (and, more specifically, The New Yorker), The French Dispatch can also occasionally feel a tad less complete or "connected" than other Anderson odysseys due to its anthology structure, but each story – and particularly the latter two – is so singularly satisfying that one can mostly forgive the fact that the film may not make for the most meaningful "whole." Things get off to a semi-slow start with "The Concrete Masterpiece," the article about del Toro's incarcerated artist, as a result of its low stakes and slightly repetitive storytelling (despite the fun of del Toro and Brody's farcical feuding), but "Revisions to a Manifesto," the study of the student riots overseen by Chalamet's Zeffirelli and Khoudri's Juliette, is enormously entertaining and immediately gives the film an extra "jolt" of energy thanks to Anderson's comical characterizations of these revolutionaries and his delightfully diverting dialogue. And "The Private Dining Room of the Police Commissioner," told theatrically by Wright's Roebuck Wright, brings things home in terrifically fetching fashion, with this curious tale of cooks and criminals containing enough trademark Anderson twists and turns to keep us engaged the whole way through.
See Also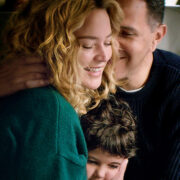 From top to bottom, this is an expectedly exceptional ensemble cast (and even stars relegated to near-cameos like Saoirse Ronan, Edward Norton, and Christoph Waltz get their time to shine), but two newcomers – Timothée Chalamet and Jeffrey Wright – stand out most of all, instantly assimilating into Anderson's acting troupe. Chalamet is a natural for not just Wes' world but the role of a young revolutionary, with Zeffirelli having shades of the subversiveness of his character from Lady Bird but balanced out by his more magisterial leadership qualities on display in Dune. His banter with McDormand's Krementz is additionally beyond brilliant, leading to some of the best comedic bits in the entire film. Wright's Roebuck, on the other hand, has a much more pensive persona but one that is just as stupefying all the same, and the actor finds the time amidst all the absurdist antics of his anecdote to explore the intricacies of his identity as a queer Black reporter in a monstrously moving manner. Benicio del Toro is a blast as the riotous Rosenthaler, while Owen Wilson gets a charming scene to survey the locales of the city where the publication is situated and Bill Murray is as divinely droll as ever, but you're definitely left remembering Chalamet and Wright above all else.
If The French Dispatch doesn't quite match the magic of Anderson's most beloved movies (The Royal Tenenbaums, Fantastic Mr. Fox, the aforementioned Budapest), it's still a mightily mesmerizing and memorable affair nonetheless, and it's sure to draw in Anderson's most ardent defenders no matter what. Thanks to the film's spellbinding style – complete with sensational set design and consuming cinematography – and its uniformly committed and charismatic cast, The French Dispatch asserts itself as one of the must-see cinematic spectacles of the year, and you'll be hard pressed to find someone who said they didn't have any fun with Anderson's artistic anarchy  – even if they leave a little exhausted.
---
The French Dispatch was released in theaters everywhere on October 29, 2021.