In The Heights: The Musical Sensation of the Summer (Review)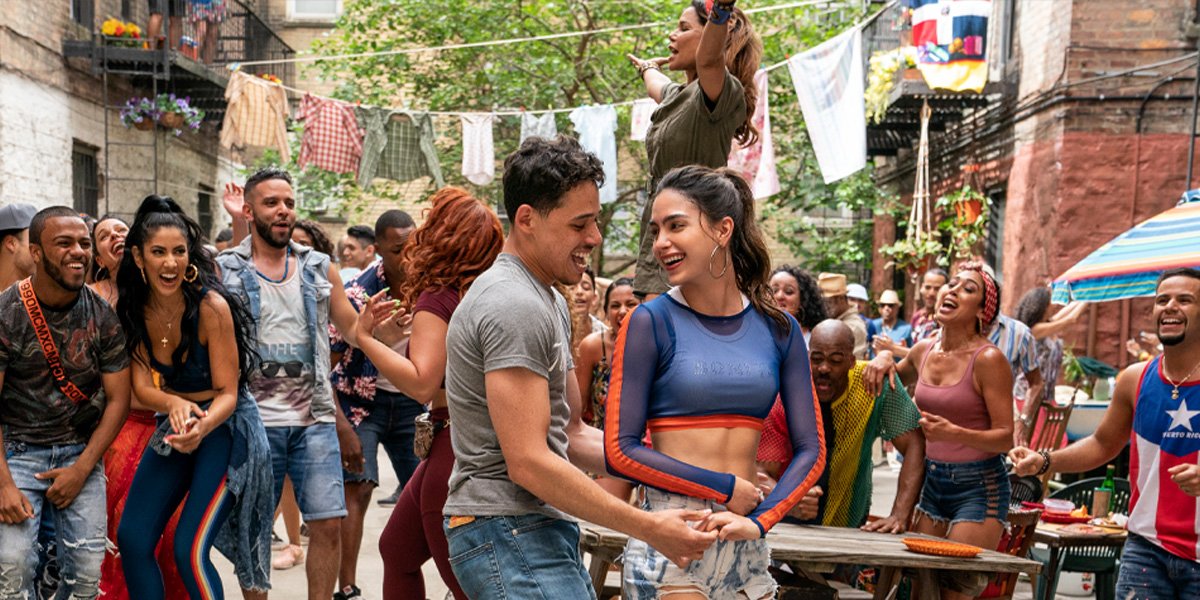 ANTHONY RAMOS as Usnavi and MELISSA BARRERA as Vanessa in "IN THE HEIGHTS" (Macall Polay © 2019 Warner Bros. Entertainment Inc.)
In the Heights is an emotionally resonant epic that masterfully reinvigorates the musical genre with its electrifying ensemble and captivating choreography.
---

Though most know singer-songwriter extraordinaire Lin-Manuel Miranda for his Tony Award winning smash sensation Hamilton, his first musical masterwork was actually 2008's In the Heights, an equally awarded achievement that centered around the colorful characters of the neighborhood of Washington Heights in New York City, chronicling their successes and struggles as they strain to break free of their surroundings and follow their dreams. While not as well-known as that heralded American Revolution-set hit, In the Heights is certainly no lesser musical by any means, smartly showcasing Miranda's capability to tackle contemporary subject matter with the same level of skill, style, and spirit he used to handle his historical reinvention. Likewise, just as Hamilton highlighted underrepresented voices in the arts, In the Heights similarly spotlights countless lives in the Latinx community – with the film prepared to present these perspectives as authentically as possible as well. And, with director Jon M. Chu at the helm – who also oversaw Crazy Rich Asians, a remarkable accomplishment for Asian representation in Hollywood – it's safe to say In the Heights is in good hands. So, with all of this in mind, is its jump from stage to screen as stellar as expected?
Luckily, within mere moments, it's apparent that Chu's adaptation of In the Heights is something special. Via the film's opening musical number, we're instantly introduced to its captivating cast, beginning with Anthony Ramos' (A Star Is Born, Hamilton) Usnavi de la Vega, a beaming bodega owner who spends most of his day seeing to the responsibilities of his shop, gawking at the gorgeous girl working at the beauty salon next door, Vanessa (Melissa Barrera, of Starz's Vida and the upcoming Scream), attending to the aging Cuban woman living nearby whom he fondly calls "Abuela" Claudia (Olga Merediz, reprising her role from the Broadway production), and saving up money behind-the-scenes to hopefully one day return to his native Dominican Republic. Meanwhile, Nina (singer/songwriter Leslie Grace), a childhood friend of Usnavi's has come back to Washington Heights after her first year of college, catching the eye of her former flame, the boisterous Benny (Corry Hawkins, of Straight Outta Compton and BlacKkKlansman), and also bearing bad news for her father who spent his life savings on her studies – she's run out of money and dropped out.
Given that her financially strapped family was relying on her to help provide for them upon her completion of college, Nina's father Kevin (Jimmy Smits, of Star Wars) is none too happy with her decision and her dishonesty. However, when it's revealed that Usnavi's bodega has sold a winning lottery ticket worth $96,000, everyone's world is turned upside down. Such a startling amount of money could help almost every family in the neighborhood, with Usnavi particularly interested in finally funding his travels, while a sum that significant could also help Nina continue college. Over the course of a chaotic three days, as they struggle to survive the heat and await to see who purchased the "perfect ticket," these characters will clash as they debate their dreams and desires for both their individual lives and the community of Washington Heights as a whole, learning lessons about love, life, and the legitimate meaning of "home" along the way.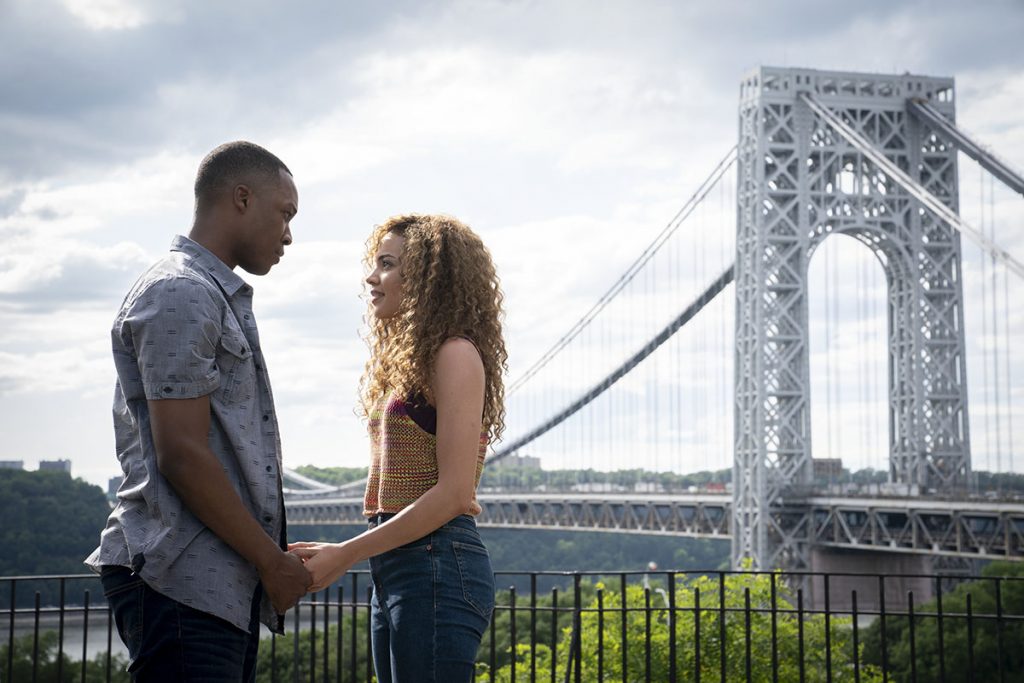 Aside from adapting the aforementioned Crazy Rich Asians, director Jon M. Chu is perhaps best known for his work on dance films such as Step Up 2: The Streets and Step Up 3D and dynamic documentaries like Justin Bieber: Never Say Never and Justin Bieber's Believe, and, as such, he comes equipped with the ability to infuse In the Heights with the same level of euphonious energy. Right off the bat, his camerawork in the introductory "In the Heights" is full of force and fervor, charismatically capturing the ebullient environment of Washington Heights and those who live there with vivacious vibrancy.
For those who still think musicals are stuffy, self-righteous bores, it's clear from the get-go that this film will dispel all those old-fashioned opinions. It's primarily to Chu's credit that In the Heights' pacing never lags either, with each musical number topping the next, from the show-stopping "96,000" to the blistering "Blackout" to commoving "Carnaval del Barrio" – he and his team never waste a single second of the film's hefty 143-minute runtime, making for a watch that is wondrously involving instead of wearisome. Equally as essential is editor Myron Kerstein (Crazy Rich Asians, Garden State), whose clever cutting here complements Chu's competencies behind the camera with incisive immediacy.
Thankfully, for all the drive Chu brings to his duties as director, his expert ensemble backs him up at each and every turn, matching his manic moxie with their passionate and poignant performances. After supporting turns in A Star Is Born and Honest Thief, Ramos gets the chance to finally prove himself as a leading man as our Usnavi, and with his bewitching blend of confidence, compassion, and chutzpah, he has absolutely no problem winning our hearts whatsoever. From his devotion to his dream to live in the Dominican Republic to his furtive flirtation with Barrera's Vanessa, Ramos' effortless inhabitation of this character assures that we're engrossed in every emotional beat, and he's essential to our engagement with the film as a whole. Grace is similarly stunning as the noble Nina, a young woman still finding her way in this world, and she sells her familial dilemmas with fervency, adding layers to what could have been a stereotypical "father vs. daughter" storyline. Hawkins' Benny has less to do than these two in comparison, but he's always an affable presence nonetheless, and his chemistry with Grace is wholly convincing.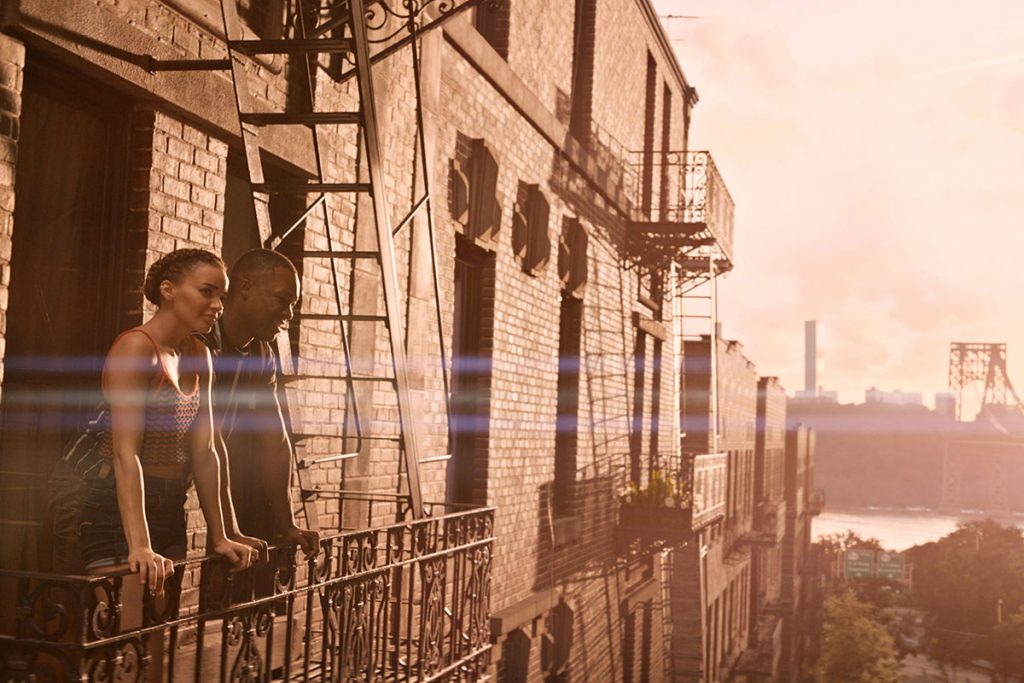 However, it is Barrera who outright steals the show as Vanessa, the apple of Usnavi's eye who desires to move downtown and become a fashion designer yet finds herself encountering financial obstacles with every attempt to pursue this profession. The stifling of her artistic spirit is painfully palpable, and much of this can be attributed to Barrera's barn-burning vocal talent, as her solos burst at the seams with spunk and sincerity. She brings this same raw power to Vanessa's relationship with Usnavi, imbuing this "will-they-won't-they" subplot with an invigorating intensity that insists on our investment.
See Also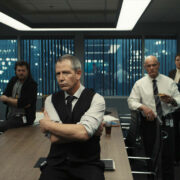 The ladies command the film's supporting cast too, as Merediz's "Abuela" Claudia serves as the story's emotionally affecting anchor (and there won't be a dry eye in the house during her "Paciencia y Fe"), and the terrific beauty salon trio of Daphne Rubin-Vega's (Broadway's Rent) Daniela, Stephanie Beatriz's (Brooklyn Nine-Nine) Carla, and Dascha Polanco's (Orange Is the New Black) Cuca liven the film up with their light and laughter.
Additional praise must be afforded to screenwriter Quiara Algría Hudes, who penned the original musical's playbook with Miranda over a decade ago and now ravishingly revitalizes the production for the 2020s. Fans of In the Heights will notice that certain storylines have been shifted or scissored out completely, but each change is clean and concise, never detracting from the development of the narrative in any capacity. Likewise, Hudes even takes the time to tackle new topical issues as well, detailing the discrimination Grace's Nina was subjected to whilst at Stanford and updating the character of Benny (Gregory Diaz IV, of Unbreakable Kimmy Schmidt) – Usnavi's cousin – by making him an undocumented immigrant. Such subtle alterations to the script may seem simple on the surface, but they succeed spectacularly at placing this plot in our present reality, reflecting the current crises that the Latinx community is combating.
After COVID forced most movie studios to sit out last year's summer movie season, it's hard to imagine a better way to welcome moviegoers back than with In the Heights, a musical epic with all the energy and entertainment that audiences search for in their big-screen spectacle. Thanks to the expert eye of director Jon M. Chu, a compelling ensemble cast of powerhouse performers, and a long-awaited look at the lives of Latinx community in cinema, In the Heights simply has it all – and it's hard to see how anyone won't be satisfied.
---
In The Heights will open the Tribeca Film Festival on June 9 after an early screening at the Los Angeles Latino International Film Festival on June 4. The film will be released in the US and Canada on June 11, 2021, where it will be available to watch in theaters and on HBO Max, and worldwide throughout the summer.