The 20 Best Films of 2022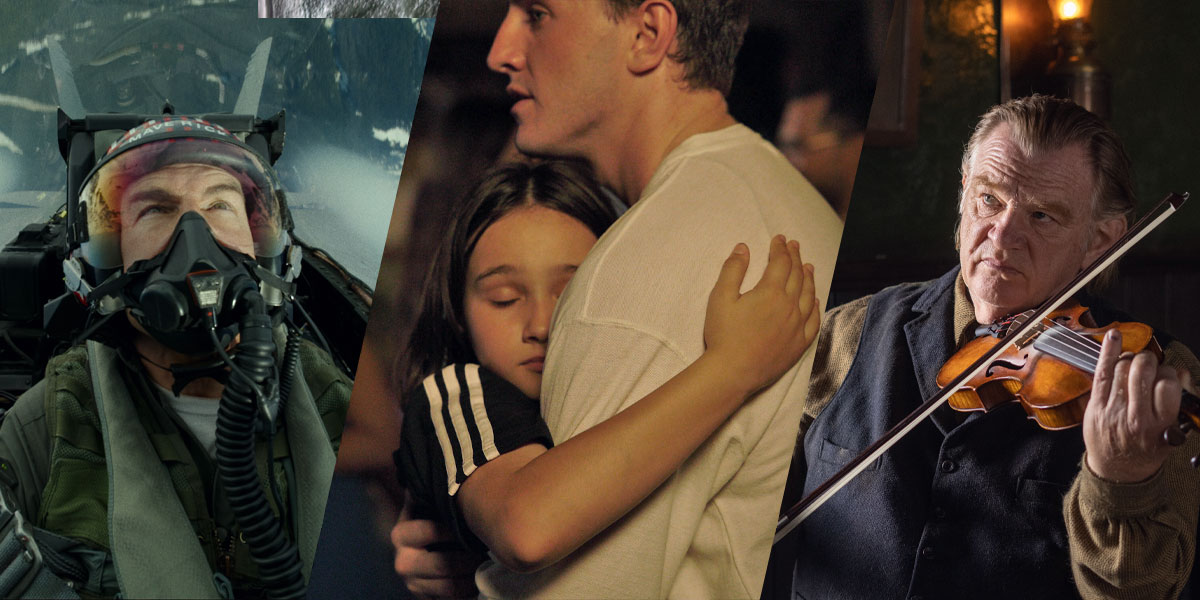 Top Gun: Maverick, Aftersun, The Banshees of Inisherin (Paramount Pictures, A24, Searchlight Pictures)
What were the 20 best films of 2022? Here are our favorite movies of the year, from box office hits to great debuts and hidden gems!

If coming up with last year's list of best films of the year wasn't easy, it was even worse this year, as 2022 saw the release of an incredible number of excellent movies, from box office hits and festival favorites to quieter releases that surprised us in all the right ways. Each and every single one of our writers has a different list of best films of 2022 (read their individual top 10s), which just goes to show what an incredible year 2022 has been for movies.
But 26 of our staff writers also put their heads together to come up with Loud and Clear Reviews' definitive list of the 20 best films of 2022. You can find it below: it only includes movies that have had their first U.S. or U.K. release in the year 2022, not counting film festival debuts, and we've also added links to our reviews and where to watch them.
---
THE BEST FILMS OF 2022:
11-20
20. Crimes of the Future (David Cronenberg)
19. Decision to Leave (Park Chan-wook)
18. Bodies Bodies Bodies (Halina Reijn)
17. Avatar: The Way of Water (James Cameron)
16. The Whale (Darren Aronofsky)
15. RRR (S.S. Rajamouli)
14. Guillermo Del Toro's Pinocchio (Guillermo Del Toro & Mark Gustafson)
13. Glass Onion: A Knives Out Mystery (Rian Johnson)
12. Babylon (Damien Chazelle)
11. Women Talking (Sarah Polley)
---
10. CHA CHA REAL SMOOTH
Writer & Director: Cooper Raiff
Full review: Cha Cha Real Smooth (Review): The Standout of Sundance 2022
Where to watch it: on Apple TV+
Judging by the trailer, you probably assumed that Cha Cha Real Smooth would be your standard romantic comedy/comedic drama. In some ways, you would not be wrong, considering that the film does check a few of those boxes. There is so much more to this film lurking beyond its trailer and the moments that it follows certain Rom Com tropes. Writer, director, producer, and star Cooper Raiff has crafted one of the most unique films of 2022, one that plays into and subverts expectations while being moving, heartfelt, and multilayered.
Raiff stars in Cha Cha Real Smooth as Andrew, a college graduate who recently moved back home. He eventually finds work as a "a party starter" at bar and bat mitzvahs, where he meets Domino (Dakota Johnson), a young mother to her autistic daughter named Lola (Vanessa Burghardt). The trio strike up an unlikely friendship as they deal with the difficulties of life. Where Cha Cha Real Smooth manages to stand out lies in Raiff's direction, writing, and the performances that he, Dakota Johnson, and Vanessa Burghardt deliver. This narrative finds ways to succeed as a coming-of-age story and a love story, while also challenging your expectations of both genres and making you feel for each of the characters in some way. The film winds up being so satisfying for these very reasons, and because the writing and acting make everything feel so true to life.
Johnson gives her most emotional and graceful performance as Domino, and has terrific chemistry with Raiff. Vanessa Burghardt, who is autistic, is the standout here as Lola in her film debut. Burghardt creates a character that is lovable and authentic, one that never comes across as a caricature because the actress and Raiff want you to see Lola as a person, rather than a burden. As an autistic person, Lola made me feel seen, to the point that I was in tears, and I could see traces of myself in her throughout Cha Cha Real Smooth.
While Cha Cha Real Smooth might have flown under your radar, it is worth checking out. This incredibly genuine story and these fantastic characters are bound to touch your heart in a multitude of ways, some of which you may not even see coming. (B.T.)
---
9. BONES AND ALL
Director: Luca Guadagnino
Writers: David Kajganich; Based on the novel by Camille deAngelis
Full review: Bones And All (Film Review): "Let's Be People."
Where to watch it: on digital and on demand
Based on Camille DeAngelis' novel of the same name, Luca Guadagnino's Bones and All is a love story between two young American cannibals who go on a road trip looking for their place in the world. Teenager Maren (Taylor Russell) leaves her father looking for her mother, of whom she has no memory. But the girl is hiding a terrible secret: she needs human flesh for nourishment. On the journey, she encounters a young man and fellow cannibal named Lee (Timothée Chalamet), who decides to help her in her quest; soon they both fall in love. Maren and Lee are teenage misfits looking for their own identity, sharing a common burden which marginalizes them from the rest of the world, and trying to find a place where they can really feel like they belong. Are cannibals evil or are they not understood by society?
Bones and All is a film about impossible loves, outcasts, and the dream of finding a place where one can feel accepted. Guadagnino masterfully crafts a romantic atmosphere permeated by a macabre sense of horror and succeeds in transposing the film's delicate theme of violence with extreme finesse. Cannibalism is a metaphor for diversity, and that is represented by two remarkable actors: Timothée Chalamet, wearing the crumpled shoes of a creature on the sidelines who's enlivened by special impulses, and a tormented Taylor Russell, whose character is full of unanswered questions.
Bones and All is a magnificent drama that both disturbs and tears your heart out with its romance. Luca Guadagnino's direction is outstanding, Arseni Khachaturan's cinematography is absolutely stunning, and Trent Reznor and Atticus Ross' score is constantly superb. Guadagnino is able to capture many contrasting features of Central America, from the warm beauty of golden hour over wheat fields and crumbling small towns to the dull, desolate loneliness and dust that blankets much of the Midwest. Bones and All is an utterly unique and disturbing experience: it's a bloody romance with plenty of memorable moments, and it ears its place in this Top 10. (I.F.)
---
8. THE BATMAN
Director: Matt Reeves
Writers: Matt Reeves & Peter Craig
Full review: The Batman (Review): The Dark Knight Is Back and Better Than Ever
Where to watch it: on demand, on DVD and Blu-Ray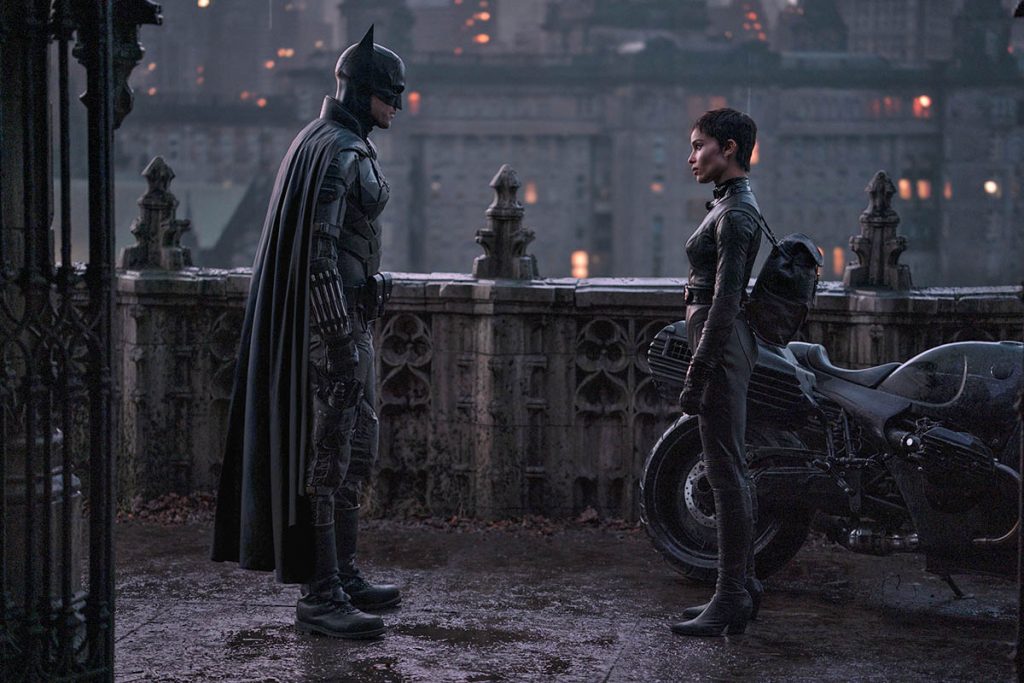 One of the best pleasures of going to the movies this year was having the ability to see directors have complete creative control of big-budgeted films. Noah Baumbach's White Noise and Damien Chazelle's Babylon are great examples of this, but The Batman easily proves more so than any other film this year that auteur filmmaking is still alive and well. The Batman finds Bruce Wayne (masterfully played by Robert Pattinson) in his second year of crime fighting, battling a masked serial killer whom we know as The Riddler (Paul Dano of The Fabelmans), who is murdering political figures in Gotham City. As the Caped Crusader starts to investigate these murders, he begins to uncover Gotham's corrupt underworld and how his family might be at the center of all of it.
The Batman truly has it all. It is the best constructed comic book movie ever made, and this can be easily seen by just looking at some eerily crafted murder scenes, or the bold and brimming cinematography (Greig Fraser) that keeps audiences constantly impressed. If being gorgeously drafted wasn't enough, The Batman is easily the best acted comic book movie of all time. Yes, Heath Ledger's performance in The Dark Knight is an all timer, but there has never been a superhero movie where every single actor gives some of the best performances of their careers. From Paul Dano's menacing turn as The Riddler, which makes one of the most disturbing portrayals of a serial killer to have come into cinemas in the last decade, to Colin Farrell's delightful and hilarious performance as the penguin, which gives audiences a much needed break the grittiness of this film as a whole, there is always something or someone on screen to be in love with.
I could go on endlessly singing the praises of The Batman, since it is truly one of the first modern masterpieces of this decade, but the most important takeaway from these paragraphs is to experience Matt Reeves' brilliance on the biggest screen possible. (J.V.)
---
7. NOPE
Writer & Director: Jordan Peele
Full review: Nope: Film Review
Where to watch it: on demand, on Blu-Ray and DVD
Social media dominates a large portion of our lives. If you're reading this article listing the best films of 2022, chances are you found us on either Facebook, Twitter, or Instagram. These tools can be great platforms to promote people's work, but it can also be a scary place that exploits pain and uncomfortable life experiences in exchange for a few, easy clicks.
Jordan Peele has demonstrated he's so in touch with what's going on in modern society. Get Out is a not so subtle exploration of race in America, his 2019 horror picture Us is about social classes, and his latest film Nope is about our growing obsession with spectacle. Whether it's spectacle on the big and small screen, animals being mistreated for our amusement, or terrible tragedies that the media capitalizes on to remain relevant.
Nope follows Haywood siblings OJ (Daniel Kaluuya) and Emerald (Keke Palmer) attempting to capture an unidentified flying object on video with the help of tech salesman Angel Torres (Brandon Perea), after random objects falling from the sky result in the death of their father. While our unlikely trio conduct their investigation, Jupiter's Claim theme park owner Jupe (Steven Yeun) seems to know more about the mysterious creature than he lets on.
Peele's latest is one of those special movies that'll only become richer the more times you watch it and spend time thinking about. Peele uses his alien creature here unlike anything seen in film before, portraying it more so as an animal than an actual spaceship invading earth. As if that wasn't good enough, the subtle way Daniel Kaluuya's storyline connects to Steven Yeun's character and his repressed childhood trauma is so beautiful in such a terrifying manner. The movie's themes may go over a lot of people's heads at first, but they're there if you look for them. Keke Palmer is the heart and soul of the film and Brandon Perea brings a great sense of humor without coming off as distracting. Nope has potential to become a classic of the sci-fi genre if cinephiles keep finding new things to discuss in this original and odd little movie. (E.O.)
---
6. THE FABELMANS
Director: Steven Spielberg
Writers: Tony Kushner & Steven Spielberg
Full review: The Fabelmans (Movie Review): A Tribute to Film and Family
Where to watch it: on digital and on demand
Steven Spielberg and Tony Kushner plumb the depths of Spielberg's childhood in The Fabelmans. What could have resulted in hagiography or a hackneyed "love letter" to cinema is instead complicated and enriching. Film is portrayed as not just a magical experience but also a weapon that dehumanizes, or a tool that erases uncomfortable memories, or a vessel that reveals uncomfortable truths. The film revolves around Sammy Fabelman (Gabriel LaBelle), who acts as the stand-in for a young Steven Spielberg. Sammy learns many of these harsh lessons, including that cinema can enlighten but it can also tear people apart. Not only does the film explore the complexities of devoting one's life to creating art (and how such devotion leads to fractured relationships with loved ones), but it also is a touching tribute to Spielberg's parents and a heartbreaking depiction of how families can slowly collapse.
Spielberg seems to be channeling his idol John Ford with The Fabelmans. There are several scenes that are among the best of the year because of how deeply layered and emotive they are. Time is given to every character and their colliding viewpoints are all given heft. Spielberg glides through various tonal shifts with elegance, creating an ever-shifting story that is nevertheless engaging and thoughtful, with some of his strongest images to date. Spielberg is operating at the height of his artistic prowess, and the cast is also uniformly excellent, with Paul Dano turning in the most memorable performance as Sammy Fabelman's father. He gives a quiet but complex performance, contrasting effectively with the exclamatory work of Michelle Williams. The Fabelmans is a deceptively rich film, using a simple coming-of-age story as a jumping off point to explore familial trauma, what drives people to create art, as well as the wonders and horrors cinema is capable of. (A.B.)
---
5. TÁR
Writer & Director: Todd Field
Full review: TÁR (Venice Review): The Downfall of a Narcissist
Where to watch it: on demand, on Blu-Ray and DVD
From its opening credits (cleverly played in reverse) to its cheeky final scene nearly three hours later, Todd Field's TÁR asserts itself as one of the most exacting character studies to hit the silver screen since All About Eve, and a true classic in the making. The film, Field's first since Little Children over fifteen years ago, chronicles the fall of Lydia Tár (Cate Blanchett giving a performance for the ages), a world-renowned classical composer and conductor whose past begins to catch up with her in the week before the performance of her career; setting off a slow psychological unraveling that asks that audience to gaze into the psyche of a woman who often treads the line between myth and monster.
Sporting lengthy dialogue scenes, static camera framing, and stellar performances across the board (Noémie Merlant and Nina Hoss especially), the film is like nothing else Hollywood has put out in recent memory. It does not hold your hand or spoon-feed you information, it demands your full, undivided attention, forcing you to lean in and dissect even the smallest vocal inflection or physical tic as its character strain and buckle under the will of a character who knows exactly what they want and how to get it. Vague enough to allow for multiple interpretations but clear enough that you'll never be confused as to how to feel towards the titular artist, TÁR is a true masterpiece in every aspect, and undoubtedly one of the best films of 2022. (E.H.)
---
4. EVERYTHING EVERYWHERE ALL AT ONCE
Writers & Directors: Dan Kwan & Daniel Scheinert
Full review: Everything Everywhere All At Once (Film Review): Loving Insanity
Where to watch it: on demand, on Blu-Ray and DVD
Though many audiences were familiar with Kwan and Scheinert's names from the extremely successful Swiss Army Man back in 2016, almost nobody could have anticipated that their absurdist comedy/action flick Everything Everywhere All At Once would achieve the levels of success that it's seen throughout the year. Within days of the film's wide release in April, its lengthy title was on every pair of lips around the globe – it's not often that films gather so much traction from primarily word of mouth, but the undeniable style and charisma of Everything Everywhere became a virus that couldn't be contained. The world was hooked, and thanks to the film's colorful boldness and poignant storytelling, Everything Everywhere very quickly became 2022's biggest surprise within movie spheres. Daniels' slapstick showdown is 140 minutes of unadulterated style and dynamism, taking the audience on a completely original journey through the multiverse that refused to contain itself to any particular genre, drawing influence from all corners of cinematic history and creating something genuinely new for the first time in a long while.
It's not often that audiences find comfort in the unbridled maximalism that Everything Everywhere displays, but Daniels know exactly how to make the most of their brash story and reign things in when necessary. The film begins just like any family drama, exploring everyday conflicts between Evelyn (Michelle Yeoh), her husband Waymond (Ke Huy Quan), and their daughter Joy (Stephanie Hsu), as they attempt to balance their complex relationships with their demanding jobs and responsibilities. But when things quickly take a dive into the absurd, the family finds itself torn apart by a multiversal threat that's wreaking nihilistic havoc on the fabric of existence itself.
This is where Everything Everywhere really shines, and nobody could have brought this story alive quite as effectively as Kwan and Scheinert; despite the eccentric quirks of their story, they somehow manage to maintain realistic stakes and craft a poignant, emotional third-act extravaganza that makes audiences remember why they go to the movies in the first place. In all honesty, there's never been a movie that more strongly deserved the worldwide popularity that Everything Everywhere experienced earlier this year, and it's hard to imagine there being another any time soon. (J.W.)
---
3. THE BANSHEES OF INISHERIN
Writer & Director: Martin McDonagh
Full review: The Banshees of Inisherin (Venice Review): It's Not Me, It's You
Where to watch it: on digital and on demand
The Banshees of Inisherin not only brings director/writer Martin McDonagh's skills in black comedy to the fore, but it also represents his most mature and elegant film yet. Working with Brendan Gleeson (Calvary) and Colin Farrell (After Yang) as a duo for the first time since In Bruges (2008), McDonagh utilises both actors' straight-faced wit, onscreen magnetism, and dramatic range to the absolute maximum. The result is something peculiar, melancholic, and perhaps McDonagh's best film to date.
Driven by the off-kilter despondency of Carter Burwell's (Fargo) original score and the sublime symbolism of Ben Davis' (My Policeman) cinematography, The Banshees of Inisherin follows lifelong friends Pádraic (Farrell) and Colm (Gleeson), with the latter suddenly deciding to end this companionship. McDonagh continues his bleak but funny streak in The Banshees of Inisherin, with one of the mightiest and most complex scripts of the year. An impressive acting quartet is completed by Kerry Condon (Better Call Saul) and Barry Keoghan (Eternals), with the four actors extracting the humour and misery from McDonagh's script even further. As Colm's depression deepens his existential crisis, The Banshees of Inisherin becomes a truly haunting, elegiac reflection on mental health and friendship – particularly surrounding men.
The Banshees of Inisherin doesn't have the same farcical elements as In Bruges, nor does it force its drama as much as Three Billboards Outside Ebbing, Missouri (2017) – and it's all the better for it. Impressively refined and with a wisdom not seen as consistently as this in McDonagh's previous films, The Banshees of Inisherin very gracefully morphs into one of the most memorable ruminations on despair of 2022. (W.S.)
---
2. TOP GUN: MAVERICK
Director: Joseph Kosinski
Writers: Jim Cash, Jack Epps Jr & Peter Craig
Full review: Top Gun: Maverick (Review): Tom Cruise's Long-Awaited Legacyquel Soars
Where to watch it: on Paramount+, on demand, on Blu-Ray and DVD
Legacy sequels and franchise films have had a tricky history. Most of them either show a misunderstanding of the original stories they're meant to continue, or they're so devoted to the past that they offer nothing new and take no chances. That's part of why Top Gun: Maverick is such a miracle of a movie. It's loaded with fan service and stays very faithful to the 1986 Top Gun, but it lets those callbacks come naturally and add dimension to a forward-moving story. It maintains the best aspects of the original film's cheesy, old-fashioned nature while seamlessly blending it with a more serious, timeless style. It brings back the incredible practicality of the original's flying sequences while using today's technology to enhance those kinds of stunts instead of replacing them. And it takes a relatively safe, digestible story and tells it in the most emotional, entertaining, perfectly paced way possible.
This sequel also boasts some of the best action filmmaking of the 21st century, unexpectedly terrific performances (especially from Tom Cruise), and the very rare trait of being able to please nearly every single type of audience member without sacrificing a shred of its heart, quality, or artistic identity. With how often fans go berserk when a franchise they love tries to challenge them, I was growing jaded over films that bask in their pasts and don't make any grand statements with their stories. But Top Gun: Maverick reminded me that such films can not only work, but are able to stand toe-to-toe with other cinematic greats as forces to be reckoned with. They just need people behind them who can strike the right balance between the best of what's old and the best of what's new. Top Gun: Maverick embraces its status as both a Top Gun movie and a legacy sequel, while also pushing itself far enough to transcend those labels. (J.T.)
---
1. AFTERSUN
Writer & Director: Charlotte Wells
Full review: Aftersun (Film Review): Sun, Sea & Melancholy
Where to watch it: on demand
It's the 1990s, and eleven-year old Sophie (Frankie Corio) and her father Calum (Paul Mescal, of Normal People) are going on holiday at a vacation resort in Turkey. As they reach their destination, we realise that the resort in question isn't exactly idyllic: not only is there only one bed in the room, which means that Calum has to sleep on the floor, but there's an air of decadence that can be perceived all around them. But our young protagonist isn't concerned with that, as she sees the world with the innate curiosity of a child and the trip itself as an opportunity to spend time with a father who not only loves her, but also cares about making her feel heard and spending quality time with her. And so, we watch them as they play, joke around and have deep conversations, and we're completely mesmerised by one of the healthiest and most authentic father-daughter relationships we've ever seen in a film. But we're not the only ones watching.
In fact, we realise pretty much right away that what we're seeing is a tape, and an adult Sophie (Celia Rowlson-Hall) is also watching, twenty years later, in an attempt to get to know a father who may or may not still be in her life. Because what she understands now, as an adult and as a mother with a newborn of her own, is that her father wasn't doing so well at the time: he was suffering from depression and really struggling to stay afloat, let alone care for someone else. As we watch these very same scenes from the point of view of both Sophies, we understand the fragility of Calum's mental state and the complexity of their relationship through the cracks in the narrative, and that's the true genius of Aftersun.
It doesn't even matter that key details about our characters' lives and future remain unexplained, because we don't even need to fill the gaps in the narrative. What matters is the feeling you'll be left with when Calum and Sophie dance to an instrumental version of Queen and David Bowie's "Under Pressure," in a scene that anticipates one of the best film endings of the year and show the true brilliance of Charlotte Wells' feature debut. Aftersun is a haunting, affecting, extraordinary film that uses what's left unsaid to paint an incredibly authentic picture of depression, fatherhood, memory, trauma, and humans' innate desire to find closure. It's unlike anything you've seen before, and it absolutely earns its place as the best film of 2022. (S.S.)
---
THE BEST FILMS OF 2022: RUNNERS-UP
The Northman, Marcel the Shell with Shoes On, Happening, The Eternal Daughter, She Said, Turning Red, Close, The Quiet Girl, Triangle of Sadness, Elvis, A Hero, All the Beauty and the Bloodshed, Three Thousand Years of Longing, White Noise, Armageddon Time.
---
READ ALSO: