Bones And All (Film Review): "Let's Be People."
Taylor Russell and Timothée Chalamet in BONES AND ALL, directed by Luca Guadagnino /Yannis Drakoulidis / Metro Goldwyn Mayer Pictures)
Luca Guadagnino's Bones And All is the story of two outsiders who are desperately trying to "be people" in a world that doesn't seem to have room for them.
---

Bones And All begins like your typical coming-of-age film would, with two high school friends, Sharon (Kendle Coffey) and Maren (Taylor Russell, of Waves), agreeing to meet at the former's house for a girls night. Since Maren is not allowed out in the evening, Sharon helps her devise a plan to trick her father (André Holland) into thinking she's asleep, and the plan works perfectly. On the evening in question, Maren bids her father goodnight and pretends to enter her room, and the man promptly gets up and locks her daughter in from the outside, following a routine we can't help but find a little puzzling. But Maren isn't in her room anymore. At Sharon's house, we find her lying on the floor next to her friend, completely at ease, chatting with other girls. At some point during the night, Maren turns around, leans on Maren in a gesture of affection, and… suddenly bites off one of her fingers. A wave of understanding hits us, and, just like that, her father's routine doesn't seem so baffling anymore.
And so, we learn that Maren's a cannibal at exactly the same time that Maren herself finds out. The girl runs home to her father only to discover that he's known for a long time: she looks at him for answers, like any teenager would, but the man doesn't have any. On the following morning, she wakes up to find him (understandably) gone, and the only reminder of him is a tape that he left her, which she's meant to destroy after she's heard it. "I'm not going to see you again" are the first words Maren hears when she plays the tape, and learns that she's supposed to "figure it out for herself, like her mother did." She also discovers that she's been having these urges for a very long time, and her father has documented them all in the tape. But Maren is not ready to take it all in yet, and embarks on a trip to find a mother she has never known, hoping to discover who she is and how to deal with her newfound urges.
It's a long journey that Maren embarks on, not only because she has to cross several states but also for how much she has to process in a relatively short span of time, as memories that were buried deep resurface and the world becomes even more alien and unfamiliar. The first person she meets is a well-meaning but weirdly disquieting man named Sully (Mark Rylance, of The Trial of the Chicago 7), who shows her how to feed (since "whatever [they] got, it's gotta be fed") and teaches her that "eaters" can smell one another. In Ohio, she's able to do just that, and meets a cannibal her own age who'll become her travelling companion.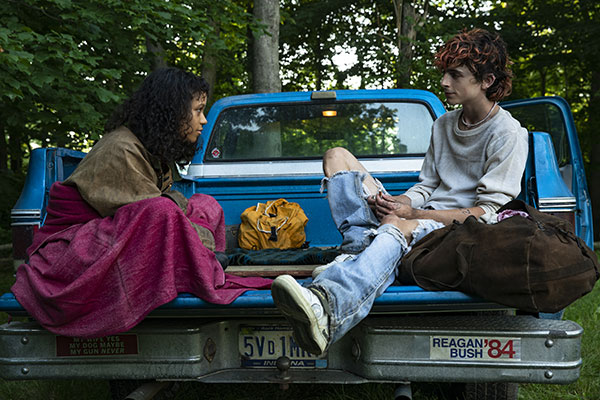 The young man in question is Lee (Timothée Chalamet, of Dune), who immediately gives us western vibes. As he walks towards the camera, in a supermarket's parking lot, covered in blood because he has just fed on a man we know to have been immoral, we see a solitary hero who has learned to survive at the fringe of society, in a hidden, unforgiving world that works by its own set of rules. And that's precisely what makes Luca Guadagnino's (Call Me By Your Name) adaptation of Camille DeAngelis's 2015 novel such a haunting, compelling watch. Bones And All 's plot is pretty straightforward, as not much actually happens in the film, but that's not the point of the movie. In the best Guadagnino tradition, this is a story that focuses first and foremost on its characters and their emotions, and that places us right there with them as we try to answer the same question that crosses their minds: how can Maren and Lee coexist with fellow humans if they have a condition that requires them to brutally kill other people to survive?
Bones And All is a love story at its core, but we experience it from Maren's perspective, and we follow her as she does exactly what we'd do if we were in her shoes: she looks for someone who can tell her the solution, be it her long-lost mother or the fellow cannibal she meets. But as the film goes on, she comes to realise that no one has any answers, and that she must look within herself, learn to process the trauma that haunts her, and ultimately write her own story.
There's a coming-of-age element in Bones And All that makes for compelling storytelling, and Taylor Russell and Timothée Chalamet both deliver incredible performances, portraying two characters we can instantly relate to. No matter how alien their predicament is, we can always find familiarity in their behaviour, and a scene involving a Kiss record is the perfect example of the two of them simply being their young, teenage selves, and enjoying each other's company. The chemistry between Russell and Chalamet is impressive, and one of the reasons why the relationship between their characters always comes across as authentic. Mark Rylance is just as effective at embodying an enigmatic character that disturbs us for reasons we can't quite grasp, and, though Chloë Sevigny isn't in the film for long, she absolutely makes a mark.
Technically speaking, Bones And All is just as impressive, with camera movements and sound design that work hand in hand to make the movie all the more immersive, delivering an equal amount of enjoyable scenes and highly distressing, sudden twists you won't expect. As the film progresses and new elements are brought in, we feel a range of emotions and follow its characters on a journey whose outcome we can never seem to be able to predict.
But it's in that unpredictability that the film's main flaw also lies, as Bones And All contains at least four different endings, each connected to a narrative thread that takes us further away from the central love story instead of bringing us closer to a coherent conclusion. There are energetic scenes but there's also plenty of gore, as well as a disquieting development that the film could have done without, and contradictory character choices that confuse us instead of adding more meaning. When the conclusion eventually comes, we're left with an incredible fondness for these characters, but also uncertain of what exactly the film was trying to tell us.
Though certainly impressive both technically and storytelling-wise, Bones And All is not Guadagnino's best work, but it's still absolutely worth watching for the highly symbolic, incredibly human tale of two outsiders who are simply trying to "be people" in a world that doesn't accept them, as well as a tender, unorthodox love story that always puts its characters first.
---
Bones And All premiered at the 2022 Venice Film Festival on September 2, 2022, and will be released globally in theaters on November 23, 2022.