Guillermo del Toro's Pinocchio (Film Review): Far From Wooden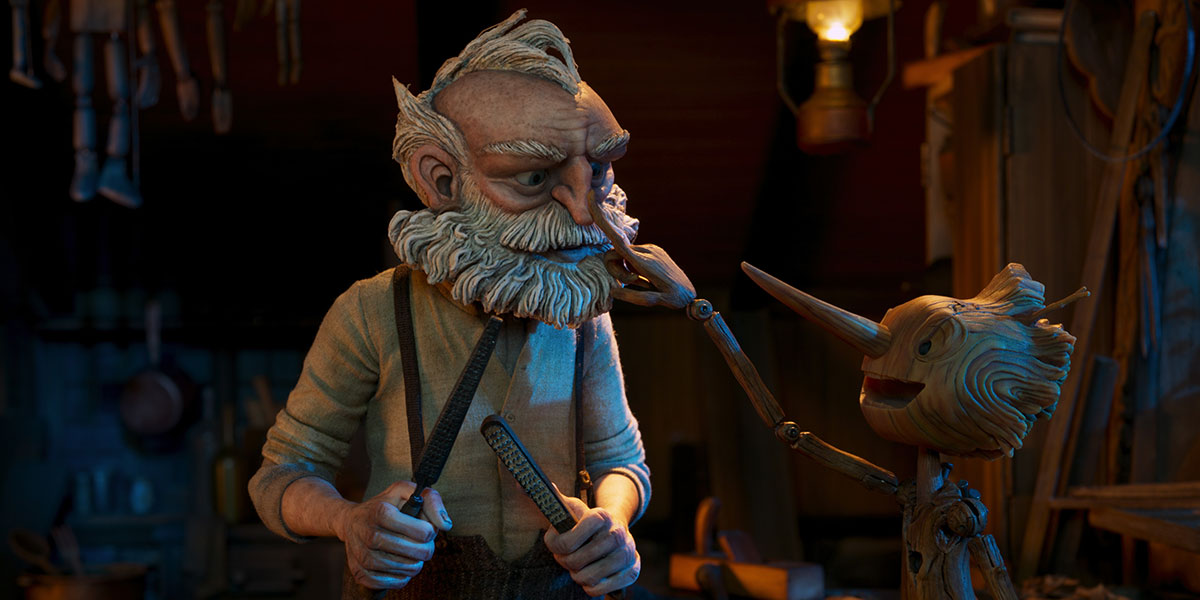 Guillermo del Toro's Pinocchio (Netflix)
Guillermo del Toro's Pinocchio is an utterly charming delight, thanks to some gorgeous stop-motion animation and a cast that breathes life into a familiar story.
---

It has taken years for Guillermo del Toro to make his version of Pinocchio, the children's story by Italian author Carlo Collodi. First announced in 2008, the film had been in development hell for several years as various studios were unwilling to finance it. Even after winning Oscars for his 2017 fish romance The Shape of Water, del Toro had to call on Netflix to get his project off the ground. Now, in 2022, he has finally brought the film to the big screen. In a massive coincidence, Guillermo del Toro's Pinocchio comes out the same year as two other adaptations (one a Disney live-action remake starring Tom Hanks, the other a direct-to-video animation starring Pauly Shore). But del Toro quickly sets out a different story, presenting a darker tale set in Italy during the reign of Mussolini.
As the film begins, elderly woodcarver Geppetto (the voice of David Bradley) is grieving the loss of his young son Carlo. He was killed during The Great War when an Italian bomb accidentally struck his village's church. As a result, Geppetto became withdrawn, never finishing its wooden Jesus statue. Years later, out of anger and drunkenness, he chops down a pine tree and begins to carve a boy out of wood. However, fate has something different in store. During the night, the mysterious Wood Sprite (Tilda Swinton) gives this wooden boy life – and promises Sebastian J. Cricket (Ewan McGregor) one wish if he can guide him onto the right path. And so, the boy comes to life.
His name is Pinocchio (Gregory Mann), and the townsfolk are not sure what to think of him. The authoritarian Podestà (Ron Perlman, a regular del Toro collaborator) believes he could be the perfect Italian soldier. Meanwhile, conniving carnival owner Count Volpe (Christoph Waltz) is ecstatic when he hears of this "living puppet," believing it will be his ticket to stardom once more. And after he is wooed by the promise of fame and money for his papa, Pinocchio agrees to join Volpe and his baboon sidekick Sprezzatura (Cate Blanchett). There is one more element to note. Every time Pinocchio 'dies,' he must spend a little longer with The Wood Sprite in the afterlife. Eventually, he can return to the land of the living, but only because he cannot die. Because he is not a real boy.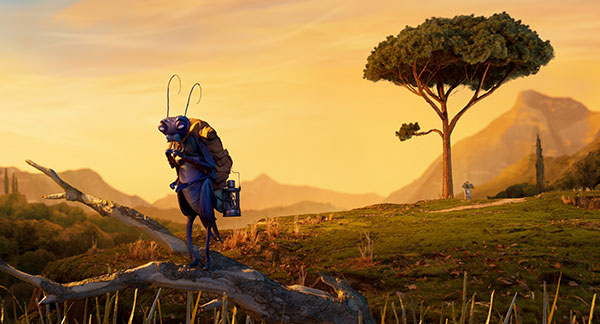 Guillermo del Toro's Pinocchio (also referred to as Pinocchio) is the Mexican filmmaker's first foray into animation as a director. His co-director is Mark Gustafson, best known for his work on Wes Anderson's stop-motion Fantastic Mr Fox. The two are the perfect combination – Gustafson's animation credentials combined with del Toro's vision and unique storytelling. There are no Disney-related strings to hold down this version of Collodi's story. Although classic bits of past adaptations are present (the giant sea monster, Geppetto's dead son), Pinocchio differs with more serious moments. Geppetto's initial carving of Pinocchio is framed and scored like something out of Frankenstein, as is the initial reaction of the townspeople. And del Toro uses violent and sinister moments throughout, making this children's film as dark as he can. Furthermore, we are in the age of Mussolini. Although the dictator is comically short here, his spectre looms over the film as Pinocchio grapples with the spreading and acceptance of fascism in 1930s Italy.
Whilst the story is familiar, the cast breathes new life into it. Take the rambunctious Pinocchio. He may be disobedient and mischievous, but he still manages to be earnest and lovable, and that is all down to Gregory Mann's performance. Elsewhere, David Bradley is a brilliant, sorrowful Geppetto, whereas Christoph Waltz is decidedly villainous as Volpe. The rest of the excellent ensemble includes Blanchett, Perlman and Finn Wolfhard as the Podestà's son Candlewick (which turns out to be an unaffectionate nickname). Then there is the wonderful Ewan McGregor as Sebastian, the cricket acting as Pinocchio's conscience. Looking to write his memoirs, he is wise, unknowledgeable – and keeps getting squished. The role also gives McGregor the chance to show off his singing voice.That is because this, surprisingly, is a musical, with songs written by del Toro, McHale and the film's composer Alexandre Desplat.
Stop-motion animation is a meticulous, hand-crafted and precise form. When it pays off, it looks spectacular, as it does in Pinocchio. It is all down to production studio ShadowMachine (alongside The Jim Henson Company), who create fluid character movements that work alongside long tracking shots from cinematographer Frank Passingham. The sets and architecture are intricately detailed, giving the impression of a wooden world. And I love the Pinocchio puppet, with his chipper smile, the nails sticking into him and the back of his head being a smooth stump. He is the colour of wood, brown like the bark he was created from. And whilst his nose still grows every time he lies, it also turns into a massive pine tree branch. The whole design is cute and endearing.
Guillermo del Toro's Pinocchio is a delight, an utterly charming film with its fair share of laughs. The stop-motion animation is gorgeous, and the cast (particularly Mann, Bradley and McGregor) are superbly spirited. And whilst the film is serious, it is not cynical because it isn't cynically made. Del Toro has always excelled in finding and creating magic from the bleakest of places. That has been present from Pan's Labyrinth to Nightmare Alley, dark movies that nevertheless look amazing and feel fantastical. Here, for a project he has devoted years to developing and making, he has designed an intrinsically good character. Pinocchio may be a scamp, but in the end, he is good-hearted and helps find the good in others as they stand up to their cruel masters. That uplifting quality is one of the reasons del Toro's Pinocchio stands out.
---
Guillermo del Toro's Pinocchio premiered at the 2022 BFI London Film Festival on October, 2022. The film will be released globally in select theaters on November 25 and on Netflix on December 9.
Read our list of films to watch at the London Film Festival this year.