RRR Film Review: Blockbuster Cinema Is Back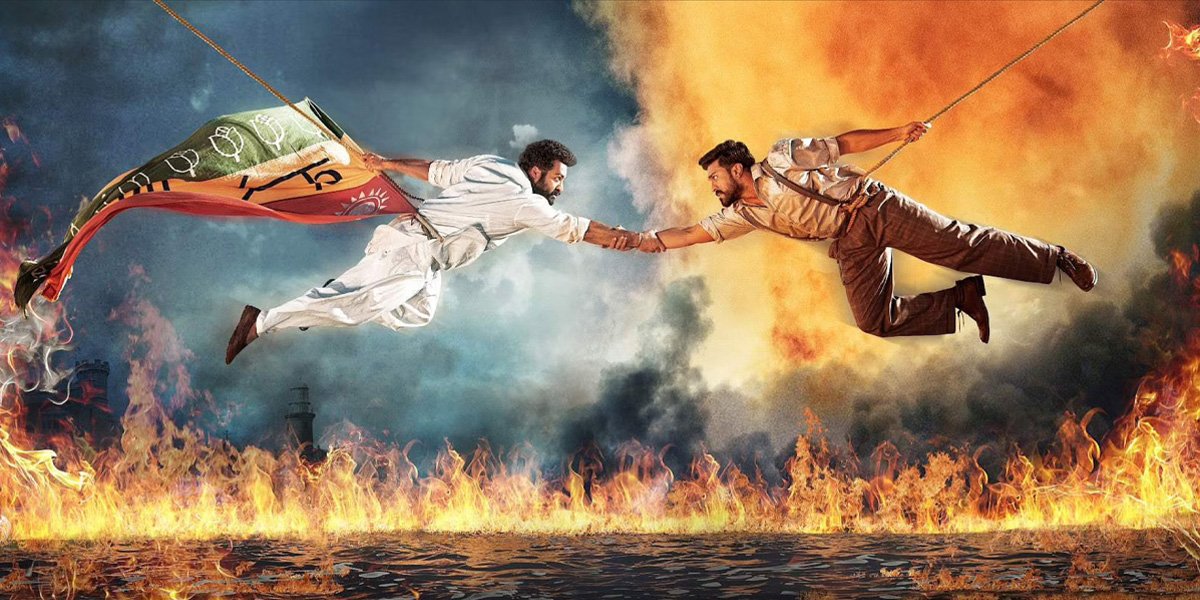 RRR (Rise Roar Revolt) (DVV Entertainment)
At just over 3 hours long, S.S. Rajamouli's bombastic action epic RRR (Rise Roar Revolt) is a gleefully entertaining return of extravagant blockbuster cinema.
---

No action movie released this year will be as massive and satisfying as Rajamouli's historical epic, RRR (Rise Roar Revolt). At a sprawling 3 hours it never fails to be entertaining and riveting, leaping from one enormous set-piece to the next, while also throwing in musical numbers and the greatest dance sequence since Spielberg's rendition of "America" from last year's West Side Story. It is also, sadly, not as popular overseas as it is in India, having been one of the highest grossing films ever in the country's history. Filmgoers would be remiss if they didn't get a chance to see RRR on the big screen, as it is one of the most memorable, imaginative, and thrilling blockbusters in recent memory.
Our story begins 1920, with a little girl, Malli (Twinkle Sharma) kidnapped from her village by a monstrous British governor and his wife. However, the village has a protector, named Bheem (Nandamuri Taraka Rama Rao Jr.) who travels to Delhi with a few comrades to rescue. However, the British are tipped off that Bheem is coming to rescue Malli and enlist the help of an Indian soldier, Alluri Sitarama Raju (Ram Charan), who will stop at nothing to detain Bheem and gain power within the British ruling class. 
Both characters are given bombastic introductory scenes that are only the tip of the iceberg in terms of gleefully violent action Rajamouli has in store for his audience. When we first meet Bheem, he is running from a lion in hopes of trapping it. The scene is exhilarating and tense, full of spectacular leaps, stunts, and frighteningly close calls. Raju's introduction finds him proving his worth to a British officer by fighting through hundreds of protestors: punching, kicking, crawling, and burying his way through a massive crowd of people all to detain just a single man. The camera in both these scenes whirls and spins, aided by the exciting score and solidly integrated visual effects that showcase a staggering sense of scale, especially in Raju's first action set-piece.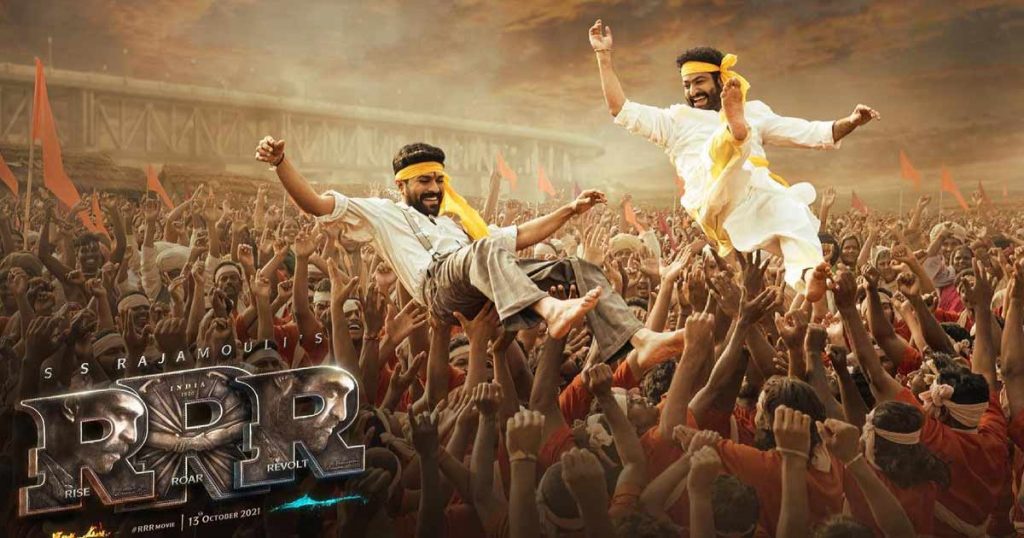 While RRR opens with two of the most satisfying action scenes of the year, it only gets bigger and more extraordinary from there. The film also throws in a twist: Raju and Bheem become friends. In one of the film's standout sequences, Bheem and Raju happen to be the only two men brave enough to save a young boy stranded in the water after a train exploded on a bridge (long story). Through stoic ingenuity, the two men engage in spectacular acrobatics, after which the title thrillingly reveals itself and all the film's parts are finally set in place. It takes a good while for the title sequence to take place but every minute is with it. Rajamouli takes his time to set up the story and characters which only enhances the emotional impact of the diametrically opposed Bheem and Raju to become friends. It turns out, they may have more in common than anyone would have thought.
Going any further into the narrative would eventually reveal too much of what RRR has to offer, but suffice to say it is unlike any massive blockbuster that will come out this year. Even if the second half has less thrills and emotional impact, the film as a whole is resoundingly exciting, with so many creative, surprising choices that one leaves the theater rejuvenated by the infinite possibilities cinema holds. It is a shame that RRR is a rarity, at least here in the U.S. No other mainstream blockbuster as of late is as enjoyable, original, or gleefully entertaining as what Rajamouli and his team have accomplished with RRR.
---
RRR (Rise Roar Revolt) was released theatrically in select countries on in March 25th, 2022 and is now available to watch on digital and on demand.