The Quiet Girl: Film Review

The Quiet Girl (Curzon)
Colm Bairéad's The Quiet Girl is one of 2022's best films so far, thanks to its moving narrative, perfectly realised performances and evocative cinematography.
---

As its title suggests, The Quiet Girl (An Cailín Ciúin) is quiet: from the titular child to Stephen Rennicks' (Room) soft score, right through to the simmering, potent emotions, everything about Colm Bairéad's feature film directorial debut sings with a peaceful power. This stripped-down tone might very occasionally be to The Quiet Girl's detriment, but come its ending – which is a dizzying mix of hope, happiness and melancholia – the emotional wallop and connections with the central characters is immense; at the end of 2022, there will be few films that top The Quiet Girl in the standings for strongest drama.
The rural 1980s Irish setting goes hand in hand with this moving tale of 9-year-old Cáit, who moves from her dysfunctional, busy family to live temporarily with foster parents during one summer. As the main character, Catherine Clinch brings a near-silent sadness to proceedings, with her dirty knees, tired clothing and long hair which always hides part of her face. In the earlier stages of The Quiet Girl, Clinch impressively portrays more with her eyes – often downcast – and sullen face than she does with her words, which are few and far between.
Cáit's life takes on new meaning though when she moves to live with her mother's cousins for the summer; The Quiet Girl makes no suggestions that this move will be permanent, so there is always that inevitable sad ending lurking in the background like a party crasher. After adjusting to her new world, Cáit begins to speak, smile and even move more, with Clinch's impressive physicality still shining through amidst the increased dialogue that she has.
The Quiet Girl is made up of small moments that have big ramifications: Cáit having her hair brushed by foster mother Eibhlín (Carrie Crowley); foster father Seán (Andrew Bennett) wordlessly leaving her a biscuit as he walks past; sunlight drifting through the leafy trees. Bairéad places meaning and value on these little occurrences, highlighting them further in a beautiful montage late in The Quiet Girl. Kate McCullough's cinematography is so jaw-dropping it could work as an advertisement to visit Ireland, but her work also has so much depth and symbolism to it. She frames Cáit and Eibhlín walking hand-in-hand in a large field, for example, switching between wide shots of the figures and close-ups of their hands, thereby highlighting this new found love flourishing in a rural setting. Again, the countryside world surrounding Cáit is not different to when she was living with her real parents, but in her new, temporary family unit, it takes on a new life and its beauty is incorporated into Cáit's fresh experiences.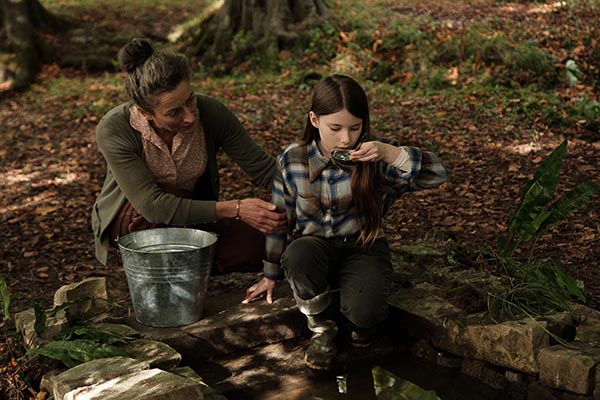 The pared-down nature of The Quiet Girl does dilute some of the emotion, but the feelings of each character is still clear, even if it often has to remain inside. As the foster parents, Crowley and Bennett are wonderful; the former is openly welcoming to Cáit, her maternal warmth on show from the very beginning, whilst Bennet perfectly plays the initially gruff man who morphs into a true father figure for Cáit. Their backstory, like so much of The Quiet Girl, is handled with respect and care, unravelling through small moments and delicate clues but never losing its tragic angle.
There is an almost never-ending list of superlatives to describe the authentic, gentle atmosphere of The Quiet Girl. Bairéad's impressive fictional film debut, clocking in at 94 minutes, holds more emotional potency that many two hour plus dramas. Similar to Petite Maman (2021) in its refined focus on a young girl navigating a difficult, alien situation, The Quiet Girl will break your heart, put it back together again, and repeat this process more than once, before its sumptuous ending will shatter it completely with its perfect, paradoxical combination of feelings.
---
The Quiet Girl (An Cailín Ciúin) was released in UK cinemas and on Curzon Home Cinema on 13 May, 2022. In the U.S., the film will have a limited theatrical run in NY and LA from December 16, before opening in select theaters nationwide in February 2023.