The Best Original Film Scores of 2022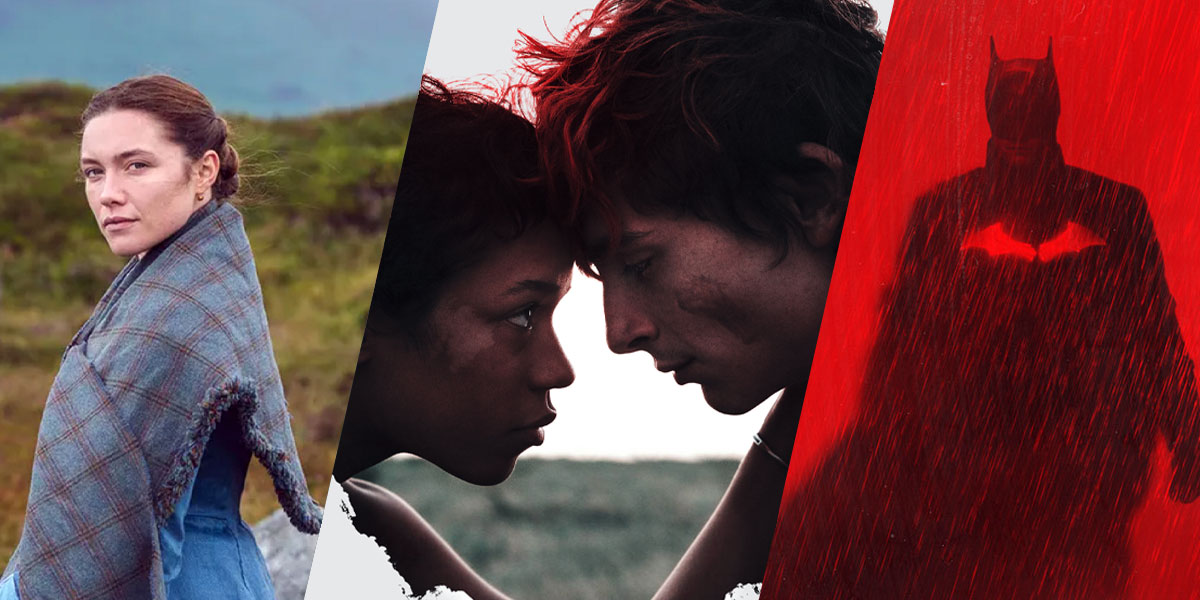 The Wonder, Bones and All, The Batman (Netflix, MGM, Warner Bros.)
We look back at what has been a thoroughly moving, frequently mysterious, often action-packed year for original film scores and rank the 10 best to emerge from 2022.
---
It is never an easy task to create a 'Best Of…' list, and ranking the greatest original scores of 2022 is no different. It has been a remarkable year for film music, perhaps even more so than usual, as cinema roars back to life after the effect of the past couple of years. In particular, there have been some wonderful original songs written in 2022, but for original scores on the whole, this year has been something special. We have trawled our way through the best music to grace our speakers and reach our ears this year, ranking them below in what we think is their deserved order. Read through, think on your own ranking, and then watch these wondrous pieces of cinema and listen to their equally exquisite aural accompaniments.
---
10. AFTERSUN
Film review: Aftersun (Cannes Review): Sun, Sea & Melancholy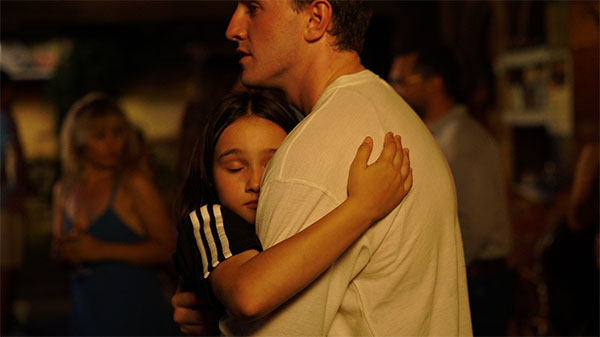 It has been a good year for Charlotte Wells, who has directed and written arguably the best British film of 2022 in Aftersun. It has also been a good year for cellist and composer Oliver Coates who, after working as a musician on Under the Skin (2013) and Phantom Thread (2017), has this year written the original scores for The Stranger and Wells' debut. The latter is an infinitely moving, melancholic wonder, one which has a similar subtlety to the film but also bears the same reverberating power.
Coates' original score is heavily string-based, fading in at the most necessary moments to add further impetus to Aftersun's most affecting scenes. It is a persistent, quiet reinforcement of the film's emotions. A remixed version of Queen's "Under Pressure" in the film's finale is also a tremendous achievement that highlights the unbridled and vast power that music can have on a film and its messages.
---

9. CRIMES OF THE FUTURE
Film review: Crimes of the Future (Review): Cronenberg's Cinematic Comeback Divides
Howard Shore is best known for his influential original music for The Lord of the Rings trilogy (2001-2003), but he is also a favourite of body horror maestro David Cronenberg, scoring all of his films since 1979's The Brood (with the exception of The Dead Zone (1983)). Crimes of the Future might in fact be one of his best original scores yet, a distorted, haunting amalgamation of baleful strings and pulsating electronic music.
Whilst the theme first heard in the original score's opener, "Crimes of the Future", might be slightly overused, it remains a dark reflection of the deteriorating, unforgiving new world that Cronenberg creates onscreen. Welcome variation comes in the form of "Caprice", "Surgery Is the New Sex" and "Odile", which seem to be, like the origins of the film's world, formed in the dark recesses of an unknown, frightening place, contorting and twisting outward into new forms and terrors.
Ranging from dangerous to frightening to mournful within this original score, Shore provides further evidence – if we even needed it – that he bears one of the most imaginative minds working in film music today. Whilst both film and original score are nowhere near the same level of Crash, Cronenberg's 1990's masterpiece about a group of people who find car crashes sexy, they retain an indelible mixture of sadness and odd hope within a dangerous futuristic world.
---
8. RRR
Film review: RRR (Film Review): Blockbuster Cinema Is Back
This hit Indian Telugu-language action epic would still be pretty fearsome even without M. M. Keeravani's (Annamayya) ecstatic original score, but it most definitely wouldn't have the same charm. Keeravani drives the mind-blowing action forward with style and poise, but his biggest achievements come out in the original songs composed for RRR: most notably, "Dosti", "Naatu Naatu" and "Sholay".
The first is a pivotal moment in the film, played after dynamic duo Komaram Beem (N. T. Rama Rao Jr., Simhadri) and Alluri Sitarama Raju (Ram Charan, Magadheera) first meet and work together to save a child from a train wreck. It's a scene which ends with a huge crowd celebrating their achievement, backed up by the booming voices and playful guitars of "Dosti".
"Naatu Naatu" is the crowning achievement in Keeravani's original score and features in one of RRR's most memorable scenes – Beem and Raju defeating a British coloniser with a wild, scintillating dance off. Here, Keeravani's catchy vocals and drumbeats reinforce his original score as an invaluable part of RRR's success. Across the film's end credits plays "Sholay", as the characters come together to form this equally catchy, hugely upbeat tune, reflective of the revolutionary epic that has just finished.
---
7. WOMEN TALKING
Film review: Women Talking (TIFF Review): "The Sun is Setting, and Our Light is Fading"
Icelandic composer Hildur Guðnadóttir is becoming something of a trailblazer for women in the oft male-dominated world of film music; with her Oscar, BAFTA and Golden Globe awards in 2019 for Joker, she became the first solo female composer to win all three awards. It certainly isn't out of the question that with her original score for Women Talking, she could repeat that feat again.
Largely gone are the distorted notes and weightily depressive tones of Joker or Chernobyl (2019), although the strings that have informed so much of Guðnadóttir's work – both in and out of film – remain. They bear similarities to the work of the late, great Jóhann Jóhannsson (Sicario, Arrival) and provide an elegiac base for imaginative guitar riffs to take flight, which are used to solidify Women Talking's subtle but sublime power. Her evocative, wholly moving original score is reflective of the film's deep emotional core and immense social commentary.
---

6. THE BANSHEES OF INISHERIN
Film review: The Banshees of Inisherin (Venice Review): It's Not Me, It's You
One of the best and most imaginative film composers of the past few decades, Coen brothers' (Fargo, No Country for Old Men) favourite Carter Burwell returns again to score another Martin McDonagh film, after writing the original scores for In Bruges (2008) and Three Billboards Outside Ebbing, Missouri (2017). Perhaps the best film of the year, The Banshees of Inisherin is a melancholic, often odd rumination on male friendship and the Irish Civil War.
Burwell's original score is a mirror image of this haunting weirdness and simmering sadness. The opening song, "Walking Home Alone", sets the mood and tone of The Banshees of Inisherin perfectly, with its off-kilter percussion work tinkling along as woodwind notes float in the background. Burwell also finds danger with moments such as "The First Finger" as he moves to more broody heights, but he also extracts great sadness from scenes with songs such as "Padraic Leaves the Church". As The Banshees of Inisherin rounds off in a wholly satisfying, chilling and unforgettable way, so too does Burwell's original score, again reflecting the film's exquisite peculiarity and refined despondency.
---

5. GUILLERMO DEL TORO'S PINOCCHIO
Film review: Guillermo del Toro's Pinocchio (LFF Review): Far From Wooden
Alexandre Desplat's mythical, resplendent original score for Guillermo del Toro's (Pan's Labyrinth) reimagining of this famous fable is as warm and cosy as the film itself. It has the whimsical singularity of his scores for Wes Anderson as well as the twinkling piano seen in his works for films such as The King's Speech (2010); it feels like a sumptuous concoction only a master composer such as Desplat could create.
Elegant instrumentals such as "Carlo's Theme" and "Friendship with Candlewick" help add emotional depth to the characters and reinforce the exquisitely rendered world, but there is further variety in the form of songs with lyrics. These renditions are written by Desplat, Roeban Katz, Patrick McHale and del Toro; "Ciao Papa" is written solely by the director and may well be nominated for Best Original Song at next year's Academy Awards.
These memorable numbers are brought to life by the actors – Ewan McGregor's "Better Tomorrows" is a particular highlight – but it is Desplat's gorgeous and sincere compositions which drive the sparkling, unerring kindness of Pinocchio.
---

4. TOP GUN: MAVERICK
Film review: Top Gun: Maverick (Review): Tom Cruise's Long-Awaited Legacyquel Soars
If ever there was a 5 second opening to a song that could portray a mood so succinctly, it would be the first track in Top Gun: Maverick's original score: "Main Titles (You've Been Called Back to Top Gun)". This wonderful opening to one of 2022's best films instantly captures the unmistakeable 1980s nostalgia of Tony Scott's original Top Gun (1986). The slow drums, careful bells and background synth build up one by one, forming in unison and rising in effect before the soaring guitar notes light up – played by Johnny Marr, most notably known for his guitar work alongside Hans Zimmer on Inception (2010). It is an instant classic, especially when Kenny Loggins' "Danger Zone" plays straight after, reused after its success in the first film.
The original score is composed by Zimmer, Harold Faltermeyer, Lorne Balfe and Lady Gaga, and consists of driving, forceful drums and cacophonies of horns and drones throughout, encapsulating the excitement in the airborne action sequences and the emotional angle of Maverick's journey. "Darkstar" stands out as a reflection of this poignant, wholly riveting journey that encapsulates everything from the past, present and future. Joseph Kosinski's (Oblivion) breathtaking action film is both an ode to the original film and a celebration of new life, and it is compounded by Faltermeyer, Zimmer, Balfe and Gaga's stunning original score.
See Also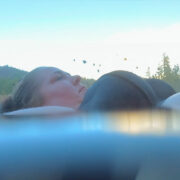 Just when you think it couldn't get any better though, it does. Rounding off the resonant finale, Gaga's song "Hold My Hand" – co-written with Michael Tucker – is a perfect accompaniment to the film's closing credits, which does that fabulous thing where moving images of characters become frozen in nostalgic snapshots as the actors' names flash up. Gaga embraces the cheesiness, melodrama, and downright ecstasy of this riotous modern sequel, holding nothing back as she sings of holding hands and crying as the fear lifts, all the while driven by pounding instrumentals in this buoyant, tear-jerking ballad.
---
3. THE BATMAN
Film review: The Batman (Review): The Dark Knight Is Back and Better Than Ever
Michael Giacchino's (Up) original score for The Batman is as dark and moody as the film itself. A scintillating, exalting cacophony of cyclical piano notes and blaring brass, the maestro's original score is an intense driving force for the film and one of the main reasons behind its success. After Hans Zimmer's perfect score for the Christopher Nolan Batman trilogy, it was a big ask to create something similarly propulsive yet necessarily different, but Giacchino succeeds with intensified aplomb.
The star of the show in his original score is undoubtedly "The Batman", a sublime 6-minute plus number which contains perhaps the catchiest, most hum-worthy leitmotif of the year and works as a perfect companion piece to The Batman's unforgettable climax. A piano-focused, string-backed theme for Catwoman and an eerie, distorted tune for The Riddler are further examples of the influence that Hollywood greats such as Max Steiner (Gone with the Wind) have had on Giacchino, in terms of his use of recurring melodies. He even finds time for more poignant, hopeful moments, with gliding strings in "The Batman" and mournful piano in "Sonata in Darkness" emphasising the emotion behind Bruce Wayne's journey – and then the horns return, and the danger of Gotham City is alive once again.
It might not be an original piece of music, but we can't help but cheekily mention the use of Nirvana's "Something in the Way". This angsty song plays at pivotal moments, both at the beginning and ending of The Batman, showing that Nirvana and Batman are apparently a gloomy match made in heaven.
---

2. BONES AND ALL
Film review: Bones And All (Film Review): "Let's Be People."
If we are being reductive, all you really need to know about the original score for Bones and All is this: it has the twanging guitars of Brokeback Mountain (2005), the creepy distortion of Midsommar (2019), and one of the best original songs of the year. However, that simplifies Trent Reznor and Atticus Ross' phenomenal achievement, as they release perhaps their greatest original score since Gone Girl (2014).
Their first work for Luca Guadagnino (Call Me By Your Name) is perhaps the original score from this year that most resembles and reflects the film it accompanies: the slow, laidback acoustic guitar mirrors and emboldens the vastness of 1980s Reaganite Americana; the droning, disturbing electronica so often applicable to Reznor and Ross reflects the horror and danger of Bones and All's cannibalism elements; the lighter synth work gives an uplifting, hopeful slant to this story of loneliness, love and disenfranchisement.
Reznor and Ross' original score becomes deeply embedded both in the film itself and the American landscapes that are depicted. It takes only one note to effectively set the film's tone, with a solitary guitar twang playing at the start of "I'm With You (A Way Out)" as the gorgeous opening credits roll. The most memorable track comes in the form of "(You Made It Feel Like) Home", a piano-driven composition with vocals that is one of the main reasons for the emotional resonance behind Bones and All's ending. It's a glorious climax to one of the most haunting but emotionally sweeping original scores of 2022.
---

1. THE WONDER
Film review: The Wonder (Film Review): The Act of Belief in a World of Deceptions
Director Sebastián Lelio's (A Fantastic Woman) long-time collaborator Matthew Herbert – the two have now worked together on Lelio's four most recent features – delivers the best work of his career with the spellbinding, downright eerie original score for The Wonder. A Netflix gem of a film led by Florence Pugh (Little Women), The Wonder is one of the most unique releases this year; the same can be said of Herbert's original score.
Herbert's score is an eclectic concoction of ethereal voices, chiming bells, melancholic strings, and droning synths. The opening track, "Calling", couples perfectly with The Wonder's own intriguing start, which places us in a warehouse sound stage, slowly zooming into the set of The Irish Midlands in 1862, thus beginning this fascinating fable. The utilisation of more modern instruments and vocals are a constant reminder that this is, very knowingly, a story from the 1800s being told to an audience in the 21st Century.
As Pugh's English nurse Lib Wright struggles to adapt to the religious ways of this new world that she finds herself in, Herbert's original score becomes increasingly shrouded in mystery – and yet he still finds time for hopeful tangents, most notably in the climactic "Reunion". Utilising similar instrumentals from earlier in the film but in a marginally different way, Herbert builds to a tremendous finale and also introduces a new tune which mirrors Lib Wright's positive fresh direction. The same choral work takes on renewed meaning. The culmination to Herbert's original score provides an optimistic and touching tangent to the beguilement that has preceded it, reinforcing it as the best score of 2022.
---
RUNNERS-UP: