She Said: LFF Film Review

She Said (Universal Pictures)
Maria Schrader chronicles the story surrounding the wider emergence of the Me Too movement in She Said, her seismic investigative film.
---

It has now been five years since journalists Jodi Kantor and Megan Twohey widely revealed sexual abuse allegations from numerous women against Harvey Weinstein, so a filmic retelling of the monstrous mogul's downfall was always imminent. She Said is that film, focussing on the journalists' work in bringing these instances to light and giving a further voice to those women who Weinstein victimised. A film of this magnitude dealing with such important events needs to have a justification to its existence, rather than just operating as cheap entertainment, and its motives need to be clear. She Said largely succeeds with this: these women's stories are ones that need to be widely told again; the film acts as an educational tool even for those who might think they are clued into the scandal. For She Said to move to the next level of gravitas, however, should it not have to inspire some change, either in the film industry or wider society? That metric is harder to measure, but if any film can do it, it would be one as unerring and powerful like She Said.
Slickly executed and straight to the point, She Said focusses on the investigative process of Kantor (Zoe Kazan, The Big Sick) and Twohey (Carey Mulligan, Promising Young Woman) as they seek out the many people that Weinstein abused, a process which resulted in the Me Too movement, first started in 2006, getting more exposure. Their lead tracking sees them go from Silicon Valley to London, and they begin to realise that the abuse was not only restricted to the 1990s and to Weinstein, but is in fact still prevalent in the present day throughout Hollywood's film industry. Based on the book of the same name by these two journalists, Rebecca Lenkiewicz's (Ida) impressive screenplay never loses sight of what is important in this story: the women who were abused as well as the two women who, with the aid of others, brought their suffering to the public eye. Lenkiewicz also ensures She Said is never bogged down by excessive journalistic or legal jargon, instead cutting right to the core of the systemic issues that the film portrays.
Director Maria Schrader (Orthodox, I'm Your Man) executes the screenplay in a similarly immediate way, and through this considered but direct treatment, She Said becomes a rousing statement which mirrors the urgency of the story it's telling and the themes it is handling. She Said never falters in momentum; it is tremendous to witness a film that is so completely compelling from its very first frame to its last. Even with this frankness, the film still has a real empathy for the story it is telling too. The women – standouts include Jennifer Ehle (Saint Maud) as Laura Madden and Samantha Morton (Synecdoche, New York) as Zelda Perkins – are given time to tell their stories as well as a real depth and diversity. Schrader also, thankfully, doesn't show any of the assaults that took place: we see the aftermath and the trauma; we see the items – clothing discarded, half-eaten lunches – whilst the events are described, underlining the horror of the situation against the everyday. An opening of jolting juxtaposition is a prime example of Schrader's deft hand at handling stories of this enormity with compassion and respect, a skill she utilises throughout She Said.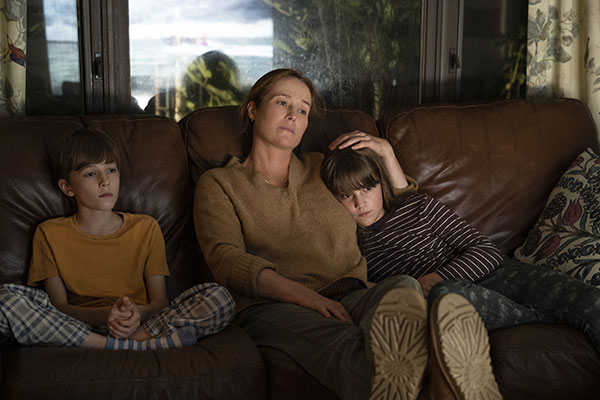 Taking up much of the screen time are the supreme duo of Kazan and Mulligan. Both bring a steadfastness and fierceness to the role – few moments will be more satisfying than Mulligan's Twohey telling a lecherous man in a bar to leave her alone very explicitly. They capture the immense bravery of these two journalists who made notable sacrifices to bring these stories to light. It is also refreshing to see these sorts of characters portrayed in film: proud mothers with impressive careers, not defined by their matriarchal duties. Mulligan's portrayal of Twohey's struggles with postnatal depression and Kazan's steeliness and emotional connection help create an engaging and emotive portrait of two hugely inspirational people.
She Said's heightened focus on the subject sometimes means its visuals come off as uninspiring and secondary, but this matters less when these important true stories are being handled so well. Despite very obviously following the well-laid formula of other biographical investigative dramas (Nicholas Britell's original score is sublime at times and laughably predictable at others), She Said sits above many others of this subgenre thanks to its urgency and emotional connection.
Schrader's film feels as momentous as the time when these allegations were made public, and it also impressively situates the investigation into a wider societal context, not just limiting it to Hollywood. With abusers such as David O. Russell still making films without facing any repercussions, the question of whether She Said can inspire actual change remains to be seen, and it is a query given further impetus by the unsavoury appearance of Brad Pitt's name in the credits as Executive Producer. That being said, this question does not diminish She Said's seething passion, righteous anger, or vital immediacy.
---
She Said premiered at the 2022 BFI London Film Festival on October 14, 2022 and will be released globally in theaters on November 18.
Read our list of films to watch at the London Film Festival this year.