Cha Cha Real Smooth (Review): The Standout of Sundance 2022

Cooper Raiff and Dakota Johnson in CHA CHA REAL SMOOTH (Courtesy of Sundance Institute)
Cha Cha Real Smooth is the smash hit of Sundance 2022 – a charming crowdpleaser with a sensitive and side-splitting script and an exceptionally cast ensemble.
---

Cooper Raiff burst onto the scene in a big way two years ago with his directorial debut Shithouse, winning the Grand Jury Prize for Best Narrative Feature at the 2020 South by Southwest Film Festival and instantly establishing himself as a riotous new voice on the rise in comedy. His aimless yet amusing slice-of-life style called to mind the early works of Richard Linklater (with Shithouse coming across as a college-set Before Sunrise) blended with the dryly witty humor of the first features from Noah Baumbach. And yet, in spite of his obvious influences, Raiff completely transcended these comparisons and invented a cinematic identity of his own, finding many fans in the process, all of whom were eagerly awaiting his sophomore feature to see how he'd follow up such a staggering success as Shithouse.
And with the premiere of the profusely charming and supremely stirring Cha Cha Real Smooth, Raiff has not only caught lightning in a bottle once more but even perhaps surpassed his prior film festival smash hit, demonstrating an even stronger grasp on his screenwriting with a near pitch-perfect synthesis of heart and hilarity and directing his stacked cast to several powerhouse performances, from his own tender turn in the lead role to supporting standouts such as the delightful Dakota Johnson, lovely Leslie Mann, and breakout newcomer Vanessa Burghardt. In short, it's the kind of crowdpleasing sensation Sundance was made for.
Raiff plays Andrew, a recent Tulane graduate whose post-college plans are, frankly, pretty pitiful – he moves back in with his mother (Leslie Mann, of Knocked Up and Blockers), gets a job at the local Meat Sticks, and can't stop stalking his Fulbright Scholar girlfriend Maya (Amara Pedroso) on social media as she studies in Barcelona, all while struggling to find a fitting profession for himself in this new era of "adulthood." However, everything seems to come together one fateful night when he has to chaperone his younger brother David (Evan Assante) at a bat mitzvah.
There, his successful and endearing efforts to get timid teens to dance is noticed by a plethora of Jewish parents, who recruit him to be a professional party starter. Yet, this job opportunity proves to be the least exciting part of Andrew's evening, as he's more mystified by a mesmerizing young mother named Domino (Dakota Johnson, of Fifty Shades of Grey and Suspiria), who is in attendance with her autistic daughter, Lola (a brilliant Vanessa Burghardt). By dialing his charm up to an eleven and being one of the few people to not displease her daughter, Andrew strikes up a sweet bond with Domino and falls hard for this older woman, despite her current engagement to another man and their places in vastly different points in life. Will Domino and Andrew defy the odds and make it work, or is she merely a distraction from the pressures of post-college malaise?
The secret to Cha Cha Real Smooth lies in Raiff's simply sublime screenplay, which subverts expectations at every turn and refuses to take the easy way out when it comes to resolving its central relationships. Even when you think you can guess the endgame, Raiff ignores the inclination to give us clean-cut conclusions, reveling in his characters' complexities and contradictions and mirroring the chaos of post-collegiate life in the meantime.
Everyone's looking for simple solutions to their problems and a clear strategy for how to be "successful," but the truth is, no one in their twenties has all – or any – of the answers, and, as is made clear with Domino, you may never find the "secrets" you're so desperately searching for; you just keep making mistakes and trying to learn from them day after day, letting life guide you and not the other way around. Such messaging is never conveyed outright too, instead being subtly suffused into the very fiber of the film so that these realizations wash over you in the final stretch of the story, when the catharsis accompanied by the culmination of Cha Cha's themes washes over you like a tidal wave.
It also helps that, as Raiff is indulging in the honest and heartfelt, he never forgets to be hysterically hilarious, distracting us with laughter as the larger significance of his story and what it has to say sneaks up on us. Almost every line of dialogue is dynamite, with Raiff's awkward observations about the world around him being continually amusing the whole way through, assisted by his brilliantly bumbling delivery. There's a self-awareness to Andrew – and Raiff – that's pleasing without ever feeling pretentious; he's very much perceptive of his place as a "different" kind of male comic protagonist, but his performance lacks the pompous sense of superiority that has caused some of his peers to stumble.
He's also just a genuinely good guy without the need to constantly remind audiences of his affability or routinely emphasize his enormous empathy for those around him – he lets his affecting actions do the work and rightfully so, as that's all we need to be authentically invested in Andrew and his aimless adventures in young adulthood. With another actor in the role, it's easy to see how his supremely sensitive personality could've felt phony (Andrew is a near carbon copy of the "I just have a lot of feelings" girl in Mean Girls), but Raiff roots his character in convincing realism, earning our engagement until the end.
However, while it's easy to spend almost all of your time praising Raiff to high heaven – considering he's the lead actor, writer, and director – Cha Cha Real Smooth excels even more thanks to the utterly exceptional ensemble that surrounds him. This is one of the key distinctions between Smooth and Shithouse; while the latter featured a captivating co-lead turn from the dashing Dylan Gelula, the former has so many stellar supporting parts that you can't even count them on one hand.
Johnson is easily the biggest name in the cast, and, as is to be expected at this point following her polished performances in films like Suspiria and The Lost Daughter (to say nothing of her unfairly maligned work in the Fifty Shades trilogy), she serves as the standout overall, making us just as attracted to her natural allure as Andrew is with her mesmeric magnetism (she and Raiff have crackling chemistry) but additionally slowly probing Domino's psyche to dissect her deep-rooted depression and analyze her continual ambivalence towards life and painful regret over opportunities that passed her by.
See Also

It's wonderfully nuanced work – never giving into grandiose histrionics – and it may very well be a career-best for Johnson, who evolves as an actress with every year, always finding new ways to make her characters even more multidimensional than they are on the pages of the spectacular scripts she chooses. No matter how good the material is that she's given, she never fails to elevate it exponentially.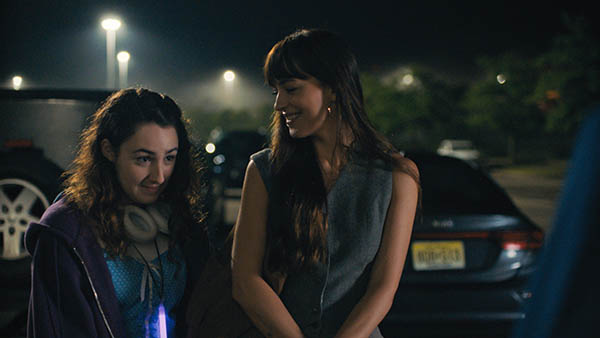 The aforementioned Leslie Mann and Vanessa Burghardt are right behind Johnson in terms of emotional (and comical) impact amongst the supporting cast, with Mann skillfully switching between side-splitting and sincere depending on what the scene demands, standing in as a playful and supportive presence in Andrew's life while also doling out weighty words of wisdom when he needs it most. Meanwhile, autistic actor Vanessa Burghardt – in her feature film debut – adds an air of authenticity to the autistic Lola and acts as a supremely pleasant scene partner for Raiff, proving to be a perfect match for his dry humor.
She's no doubt aided by Raiff's warm writing for her character, but she brings her own beaming brilliance to Lola as well, truly making the role her own. Evan Assante is another name you'll want to remember, delighting as Andrew's younger brother David, with their compassionate conversations serving as one of Cha Cha Real Smooth's many highlights; there's a naturally resonant repartee between the two that makes you wonder if they're really siblings – their connection is just that credible. Raiff deserves all the acclaim in the world for writing so many compelling characters who are all afforded such affection and attention, but the cast completely meets the challenge of imbuing them with life, allowing his vision to blossom to its brightest capabilities.
It's impossible to overstate just how overwhelmingly optimistic Cha Cha Real Smooth is. In spite of engaging with a wide range of emotions over the course of its runtime – varying from exuberant euphoria to debilitating dejection – it always manages to maintain an admirably animated aura, offering a much needed respite from the wildness in the world today. Though it has the "bones" of a basic Sundance dramedy, Cooper Raiff refuses to buckle to convention, creatively contorting clichés until he crafts an entirely original concoction for audiences to enjoy. Bolstered by his own lively lead turn and a tremendously talented supporting cast, Cha Cha Real Smooth is the definitive example of what a life-affirming crowdpleaser should be, a reverberating reminder that we're all going to be okay in the end, and the undeniable standout of the 2022 Sundance Film Festival.
---
Cha Cha Real Smooth will premiere globally on Apple TV+ on June 17, 2022. Read our interview with Cooper Raiff, Dakota Johnson, Vanessa Burghardt & Odeya Rush.