The 100 Best Films of All Time

Singin' In The Rain, 2001: A Space Odyssey, Mulholland Drive (MGM, Studiocanal)
From influential classics to crowdpleasers and cult movies, here are the 100 best films of all time, according to Loud and Clear 's staff.
When it comes to selecting the best films of all time, where does one even start? Of course, the classics cannot be forgotten: so many movies deserve to be recognised for shaping cinema as we know it, with the German Expressionism, Neorealism, the French New Wave and many more movements that had, and continue to have, a huge influence on moving pictures. But film is an art form, and, as such, it's also subjective. Some movies speak to us simply because there's something in the way their stories are told that reaches us at our very core, while others are just so enjoyable that, even if they don't have any profound meaning, we'd watch them over and over again.
No list of best films of all time is the same, and that is because so many movies out there deserve to be praised for one reason or another, and not only can nobody (besides Quentin Tarantino?) aspire to have seen them all, but it's ultimately also a matter of taste. But the Loud and Clear staff decided to try and put together our very own list of recommendations, and 21 of our staff writers put their minds together to come up with a series of films that reflected our tastes and recognised the influence certain movies have had on the industry. We ended up with a total of 471 films, but we managed to narrow it down to 100.
Here are the 100 best films of all time according to us, and selected by the following staff writers: Aaron Murray, Adele Campisi, Amelia Cameron, Anthony Bowmer, Arthur Goyaz, Bethany Lola, Branyan Towe, Cameron Fairchild, Daniel Allen, Elisa Teneggi, Hector A. Gonzalez, Jack Walters, Joseph Flockhart, Joseph Tomastik, Jonathan Vargas, Michael Carvelli, Nils Gollersrud, Olivia Savage, Serena Segheroni, Susanna Norbiato, William Stottor. If you'd like to read our individual critics' lists of best films of all time, don't forget to check our our favorite movies in this article!
---
THE 100 BEST FILMS OF ALL TIME: 51-100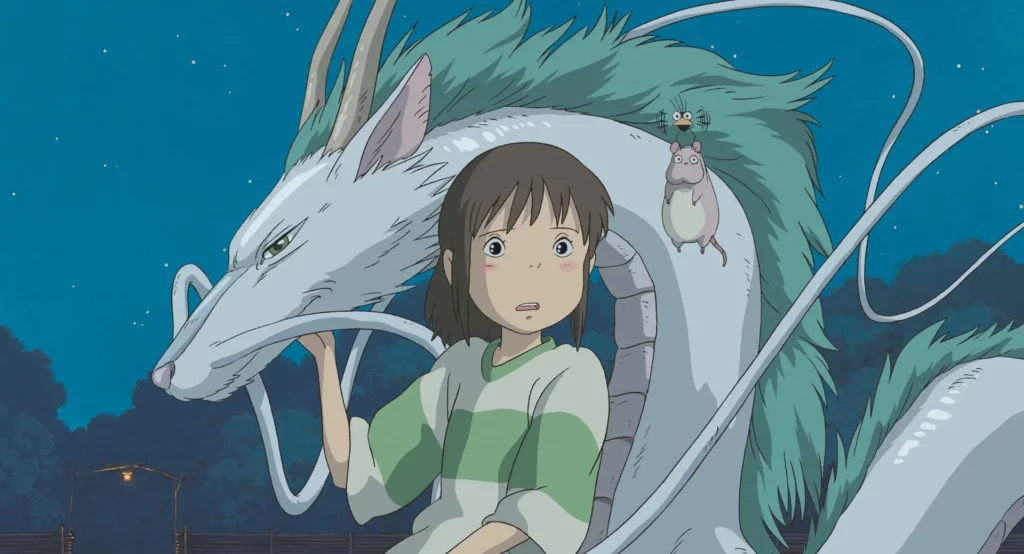 100. Eternal Sunshine of the Spotless Mind (Michel Gondry, 2004)
99. The Texas Chainsaw Massacre (Marcus Nispel, 2003)
98. Arrival (Denis Villeneuve, 2016)
97. The Wolf of Wall Street (Martin Scorsese, 2013)
96. The Social Network (David Fincher, 2010)
95.There Will Be Blood (Paul Thomas Anderson, 2007)
94. Get Out (Jordan Peele, 2017)
93. Modern Times (Charlie Chaplin, 1936)
92. One Flew Over the Cuckoo's Nest (Milos Forman, 1975)
91. The Wizard of Oz (Victor Fleming, 1939)
90. Raiders of the Lost Ark (Steven Spielberg, 1981)
89. Oldboy (Park Chan-wook, 2003)
88. Nosferatu (F.W. Murnau, 1922)
87. Rocky (John G. Avildsen, 19769
86. Se7en (David Fincher, 1995)
85. The Matrix (Lana & Lilly Wachowski, 1999)
84. The Third Man (Carol Reed, 1949)
83. Jeanne Dielman 23 Quai Du Commerce, 1080 Bruxelles (Chantal Akerman, 1975)
82.The Silence of the Lambs (Jonathan Demme, 1991)
81. In the Mood for Love (Kar-Wai Wong, 2000)
80. Halloween (John Carpenter, 1978)
79. The Young Girls of Rochefort (Jacques Demy, 1967)
78. No Country for Old Men (Joel & Ethan Coen, 2007)
77. La Haine (Mathieu Kassovitz, 1995)
76. Rome, Open City (Roberto Rossellini, 1945)
75. Taste of Cherry (Abbas Kiarostami, 1997)
74. A Brighter Summer Day (Edward Yang, 1991)
73. Jules and Jim (François Truffaut, 1962)
72. The Cranes are Flying (Mikhail Kalatozov, 1957)
71. Parasite (Bong Joon Ho, 2019)
70. Barry Lyndon (Stanley Kubrick, 1975)
69. Annie Hall (Woody Allen, 1977)
68. The Exorcist (William Friedkin, 1973)
67. Rosemary's Baby (Roman Polanski, 1968)
66. Beau Travail (Claire Denis, 1999)
65. Spirited Away (Hayao Miyazaki, 2001)
64. A Clockwork Orange (Stanley Kubrick, 1971)
63. Dr. Strangelove or: How I Learned to Stop Worrying and Love the Bomb (Stanley Kubrick, 1964)
62. The Thing (John Carpenter, 1982)
61. Battleship Potemkin (Sergei Eisenstein, 1925)
60. The Dark Knight (Christopher Nolan, 2008)
59. Le Mépris (Jean-Luc Godard, 1963)
58. Some Like It Hot (Billy Wilder, 1959)
57. Jurassic Park (Steven Spielberg, 1993)
56. The Wages of Fear (Henri-Georges Clouzot, 1953)
55. 12 Angry Men (Sidney Lumet, 1957)
54. Once Upon A Time in America (Sergio Leone, 1984)
53. Back to the Future (Robert Zemeckis, 1985)
52. Metropolis (Fritz Lang, 1927)
51. Sunset Blvd. (Billy Wilder, 1950)
---
THE 100 BEST FILMS OF ALL TIME: 11-50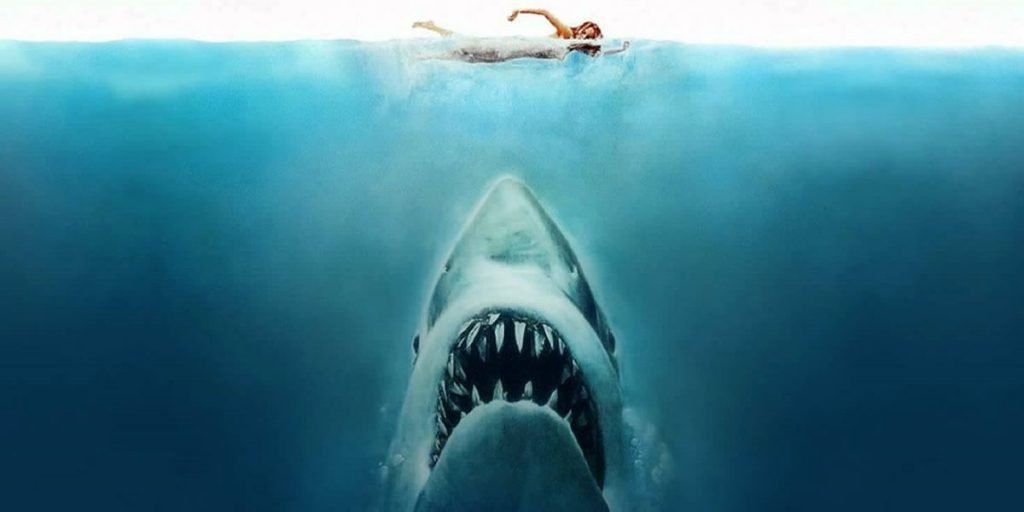 50. Star Wars (George Lucas, 1977)
49. Yi Yi (Edward Yang, 2000)
48. Blue Velvet (David Lynch, 1986)
47. Koyaanisqatsi (Godfrey Reggio, 1982)
46. 8 ½ (Federico Fellini, 1963)
45. Alien (Ridley Scott, 1979)
44. It's A Wonderful Life (Frank Capra, 1946)
43. All About Eve (Joseph L. Mankiewicz, 1950)
42. Touch of Evil (Orson Welles, 1958)
41. The Apartment (Billy Wilder, 1960)
40. M (Fritz Lang, 1931)
39. Chinatown (Roman Polanski, 1974)
38. The Good, the Bad and the Ugly (Sergio Leone, 1966)
37. Paris, Texas (Wim Wenders, 1984)
36. City Lights (Charlie Chaplin, 1931)
35. Boogie Nights (Paul Thomas Anderson, 1997)
34. Brief Encounter (David Lean, 1945)
33. Blade Runner (Ridley Scott, 1982)
32. La Dolce Vita (Federico Fellini, 1960)
31. The Passion of Joan of Arc (Carl Theodor Dreyer, 1928)
30. Man with a Movie Camera (Dziga Vertov, 1929)
29. Mirror (Andrei Tarkovsky, 1975)
28. Tokyo Story (Yasujirô Ozu, 1953)
27. Jaws (Steven Spielberg, 1975)
26. Bicycle Thieves (Vittorio De Sica, 1948)
26. Gone with the Wind (Victor Fleming, 1939)
24. Raging Bull (Martin Scorsese, 1980)
23. Late Spring (Yasujirô Ozu, 1949)
22. Eraserhead (David Lynch, 1977)
21. Schindler's List (Steven Spielberg, 1993)
20. Casablanca (Michael Curtiz, 1942)
19. Stalker (Andrei Tarkovsky, 1979)
18. Pulp Fiction (Quentin Tarantino, 1994)
17.The Seventh Seal (Ingmar Bergman, 1957)
16. Do The Right Thing (Spike Lee, 1989)
15. Seven Samurai (Akira Kurosawa, 1954)
14. Rear Window (Alfred Hitchcock, 1954)
13. Persona (Ingmar Bergman, 1966)
12. Goodfellas (Martin Scorsese, 1990)
11. Apocalypse Now (Francis Ford Coppola, 1979)
---
10. TAXI DRIVER
(1976)
Director: Martin Scorsese
Writer: Paul Schrader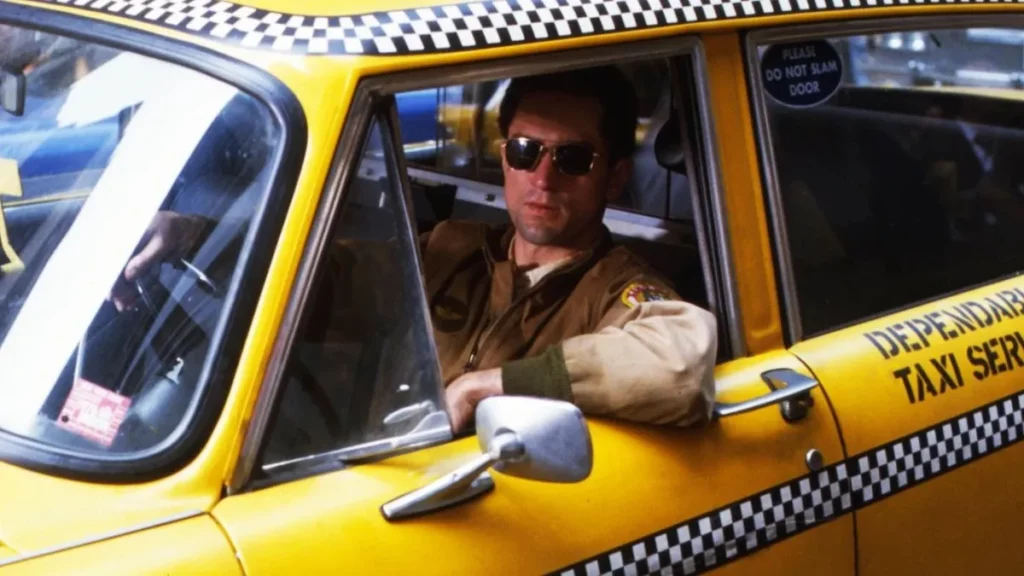 "Are you talkin' to me?". Travis Bickle's (Robert De Niro) words are what probably comes to mind when one thinks about Taxi Driver, but there's also so much more that makes Martin Scorsese's 1976 film deserve a spot on this list. Taxi Driver is the story of a lonely, well-meaning veteran who spends his days working as a cab driver, growing more and more alienated from the real world while at the same time slowly becoming a victim of it. New York City is very much a character of its own in the film, its neon-lit, gritty streets acting like an urban nightmare that Travis can't escape, taking him further and further away from reality to the point that his mission to make the world a better place soon turns into an assassination attempt that marks the beginning of his downfall.
Undoubtedly one of Martin Scorsese's greatest achievements, Taxi Driver tackles not only loneliness and alienation but also justice, identity, toxic masculinity, life's purpose, and how difficult it can be to do good things when you're so profoundly depressed, isolated, and at the mercy of a ruthless, selfish world. Robert De Niro is magnificent in a noir film that's as thematically rich as it is aesthetically striking, where the rules of time disappear and leave room to the haunting character study of one of cinema's quintessential antiheroes. (S.S.)
---
9. SINGIN' IN THE RAIN
(1952)
Directors: Stanley Donen & Gene Kelly
Writers: Betty Comden & Adolph Green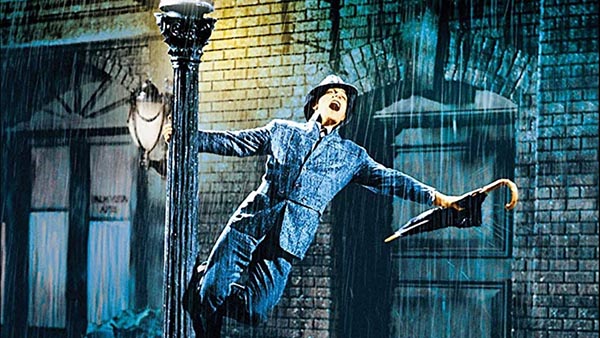 When I watched Singin' in the Rain for the first time, it was absolutely not what I had expected it to be. I was prepared to watch a musical with memorable songs and well-choreographed routines, but I was not ready for a 1952 movie whose sense of humour, pace, and storytelling craft hasn't aged a day. Starring a larger-than-life Gene Kelly and an inhumanly flexible Donald O'Connor, Singin' in the Rain is one of those films they don't make anymore, combining a superbly crafted screenplay that acts as a clever analysis of film as a medium with a series of hilarious skits, heartwarming beats, and hypnotic musical numbers that will have your eyes glued to the screen. Singin' in the Rain is quite simply an irresistible film, and one to want to revisit over and over again. (S.S.)
---
8. THE GODFATHER: PART II
(1974)
Director: Francis Ford Coppola
Writers: Francis Ford Coppola & Mario Puzo
Read also: The Godfather: The Father, The Son, and The Family Legacy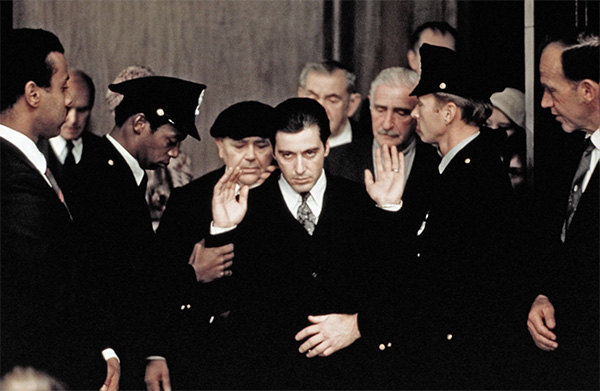 When you have a film that is as much of a success — financially, culturally, and purely as a cinematic achievement — as Francis Ford Coppola had in The Godfather, there always is a certain level of expectation that becomes difficult to reach when a sequel comes out.
But still, with The Godfather Part II, Coppola found a way to properly use the perfect execution of his first film to lay the groundwork for the greatest sequel in the history of film. Part II is the quintessential American tale. A generational story about coming to the country, chasing the fabled "American Dream," and the way capitalism corrupts. Every move made by Al Pacino's Michael in this film is a perfectly executed game of chess and parallel stories between Michael leading the family in the present day and Robert De Niro's Vito in his early days in America is perfect storytelling.
There's no wrong answer in the debate over which Godfather film is the best. But in terms of the way the story is told, the richness of these characters and the tragic story of a family chasing that ever-elusive dream, Part I has always felt like just the prologue to Coppola's true masterpiece two years later. (M.C.)
---
7. PSYCHO
(1960)
Director: Alfred Hitchcock
Writer: Joseph Stefano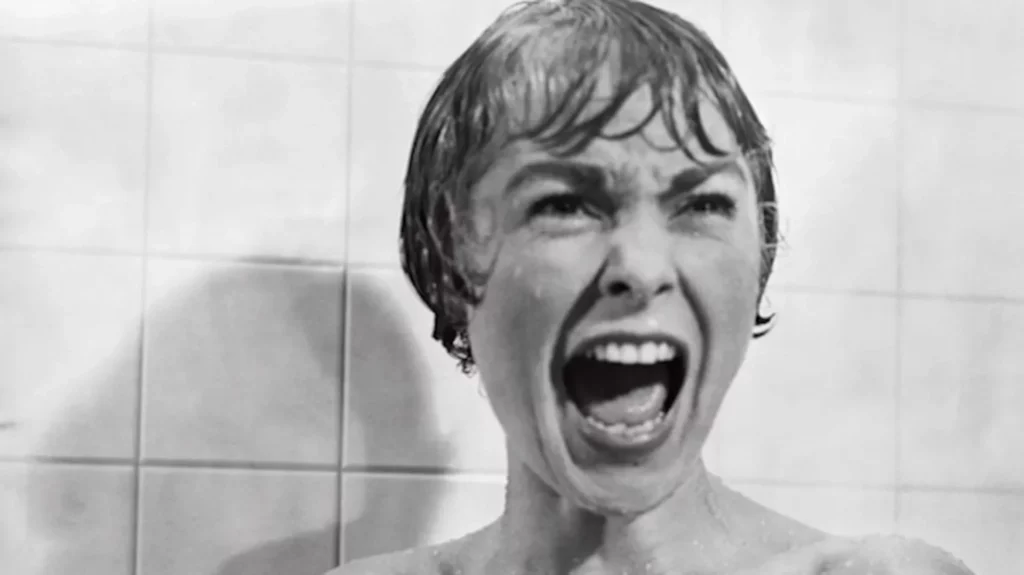 It's fairly uncontroversial to say that Psycho has defined the last 62 years of horror films. The film completely shocked the studio system, introducing audiences to the kind of violence and pervisity that would become a mainstay in horror (especially slasher films) from then on. With Psycho, Hitchcock is at his height; each cut, each camera movement is used to turn the screw of tension ever further. He marries some of the gothic lighting and deep shadows from his film Rebecca with his most frank look at sexuality and pervisity to date (until four years later with the release of Marnie, Hitchcock's most brutal and revealing film). The Bates Motel is shrouded in darkness, looming over our heads, seemingly blending into the starless night sky. The camera sometimes feels like it moves of its own accord, looming above the heads of the film's characters, peering away from Marion Crane's dead body and observing a quiet room where, moments before, unspeakable violence occurred.
The infamous shower scene retains its power after all these years because it tears apart the film's tension and explodes into violence. Hitchcock alternates between placing the camera between Marion's point of view and the point of view of the knife, implicating the viewer in the murder while also making the viewer feels as if they're the one being murdered. By using the camera to identify with both the killer and the victim, Hitchcock creates a queasy moral tension within the sequence. Future horror films would continue to exploit the camera's gaze, would further exploit the viewer's own identification with the camera, but Psycho remains the epitome of its genre, and the ultimate example of film's own horrifying abilities. (A.B.)

---
6. CITIZEN KANE
(1941)
Director: Orson Welles
Writers: Herman J. Mankiewicz, Orson Welles & John Houseman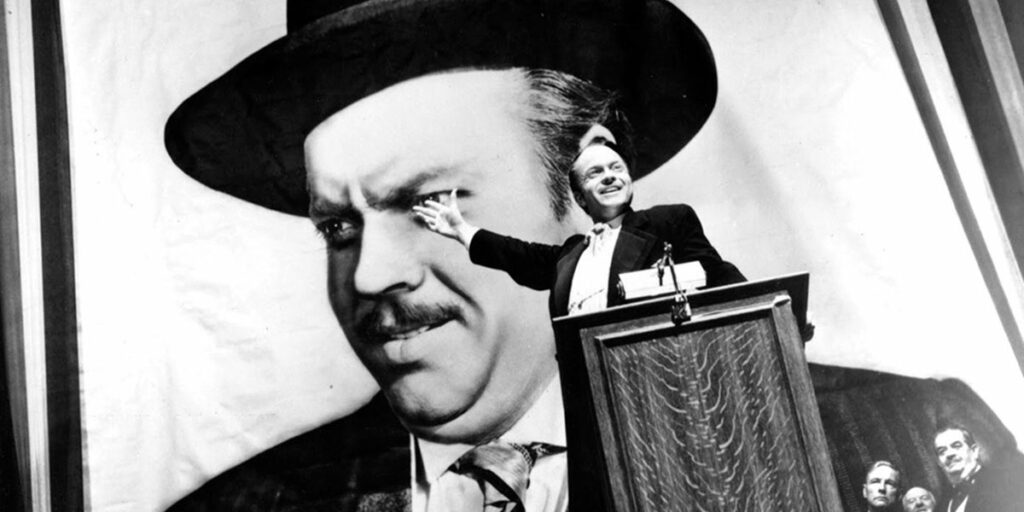 It may be a little clichéd to include Citizen Kane on this list of the greatest films of all time since every publication has included it on their lists. Notably, Sight and Sound had the film at the top of their famous critics' poll for half a century. But Citizen Kane deserves all those accolades and more because it is one of the most innovative, influential movies ever made.
Gregg Toland's camerawork is exquisite with a heavy reliance on deep focus. The editing from Robert Wise (who would later direct The Sound of Music) takes cues from Soviet montage cinema. And the screenplay utilises newsreels and non-linear flashbacks to tell this story of a complex American figure in a novel and interesting way. It is staggering to think Citizen Kane was the debut for Orson Welles, who was given carte blanche by RKO Pictures to create the film he wanted with the cast and crew he wanted. It is even more staggering that what Welles made was so confident and composed, a drama epic that has earned its place in the annals of cinematic history. (D.A.)
---
5. THE SHINING
(1980)
Director: Stanley Kubrick
Writers: Stanley Kubrick & Diane Johnson
Read also: Why You Need a 1980s Horror Movie Marathon This Halloween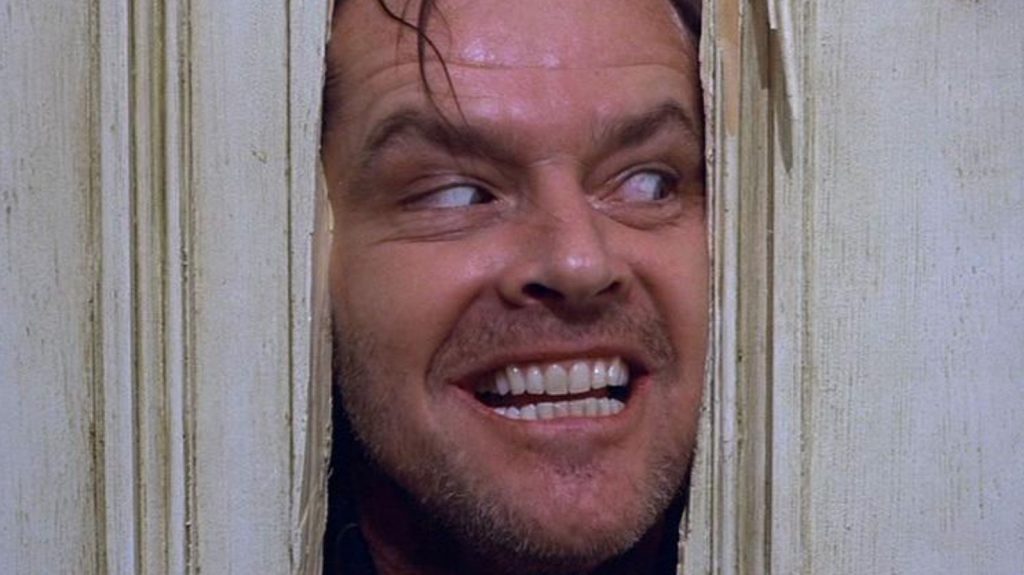 If you look at almost any collection of iconic images from cinema, there is no doubt that you will find at least one shot from The Shining. This 1980 psychological horror film is about an aspiring writer named Jack Torrence (Jack Nicholson) who takes a job as the winter caretaker of a secluded hotel in Colorado for 5 months. As the Torrence family stays in the depths of winter, a sinister presence starts impacting everyone, but most importantly Jack, as we slowly watch his descent into madness. The Shining is a masterpiece in almost every way possible. Within its 150-minute runtime, this Kubrick classic exposes us to so many sequences that have become important staples of pop culture, from the iconic twins tormenting Jack to the blood pouring out of the elevator, and, of course, one of the best-known lines of any film, "Here's Johnny!," uttered by Jack in one of the most bone-chilling climaxes any horror movie has ever had.
The two leading performances are some of the most impactful acting turns we have seen throughout the horror genre. Shelley Duvall gives one of the best frightened performances of all time: especially towards the climax, you can see how hopeless and scared she really is, and experience the sheer terror with her. Jack Nicolson is just as powerful if not better in his extremely expressive and truly horrifying display of madness. Without these two giving their absolute all into their characters, there is no way that this film would have been nearly as effective or memorable as what we know and love today.
At the end of the day, there has not been any other movie like The Shining, nor it is likely that there will be. Having a very slow-burn psychological horror film with no jump scares and a single on-screen death wouldn't seem like a recipe for success, but with Stanley Kubrick's unique directing choices and a brooding score, it's almost impossible to take your eyes off the screen, half terrified about what will come next, half fascinated at the pure movie magic that you are experiencing. (J.V.)
See Also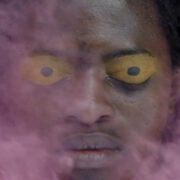 ---
4. VERTIGO
(1958)
Director: Alfred Hitchcock
Writers: Alec Coppel & Samuel A. Taylor
Full review: Vertigo (Review): Hitchcock's Perfect Descent into Madness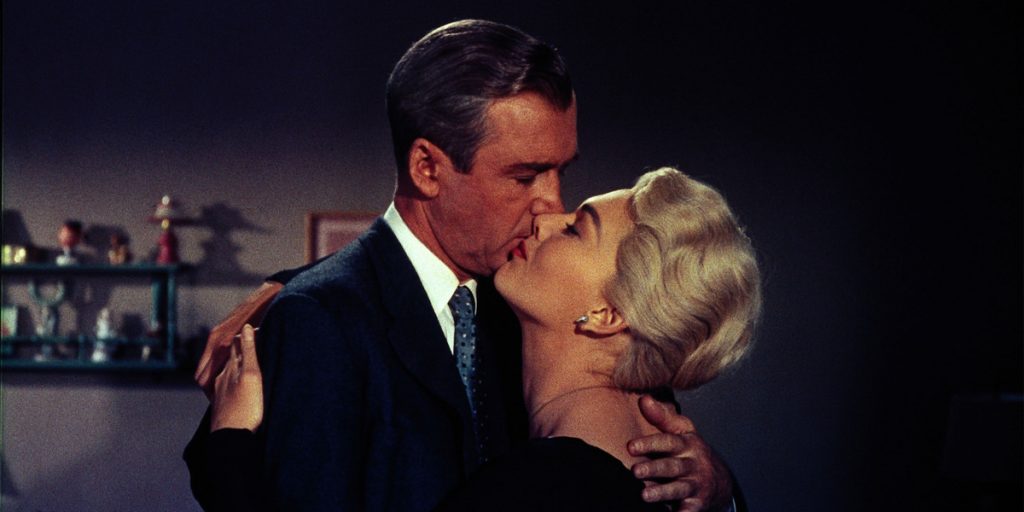 Few films can flip the viewer's expectations on their heads with as much stomach-churning success as Alfred Hitchcock's 1958 classic, Vertigo. The story stars James Stewart as former detective Scottie, who investigates the strange behavior of a friend's wife (Kim Novak), only to find out that things are very different than they appear.
The first half of Vertigo is a really solid hybrid of supernatural mystery and romance that gets you invested in every character, setting you up perfectly for when the script is flipped and everyone's true nature is either slowly or suddenly revealed. Stewart's performance is utterly terrifying as his initially sympathetic character descends into obsession-driven madness. He's played for a fool by multiple parties, which feeds into a psychological vertigo that's more frightening than the literal vertigo he also suffers from. The buildup of these two character's relationships, the way the film twists our perception of events as it twists Scottie's, and the deep-dive into a man's desperate, toxic entitlement, lead to one of the most tense and uncomfortable finales you'll see in any thriller.
Add on top of that some effective visual flourishes from Hitchcock, including the now-iconic dolly zoom, and Vertigo succeeds on every front imaginable to the highest caliber possible. A first viewing demands near-total blindness to get the most out of how it toys with you and evolves in ways you likely would have never predicted. It's at the top of many lists of the greatest films ever for very good reason. (J.T.)
---
3. MULHOLLAND DRIVE
(2001)
Writer & director: David Lynch
Full review: Mulholland Drive (Review): Lynch's Twisted L.A. Romance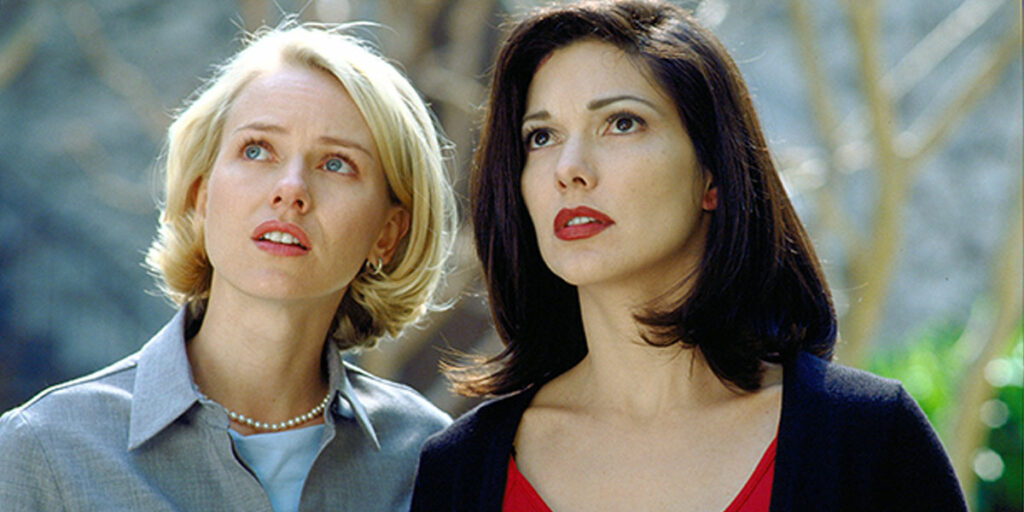 What can be said that hasn't been said already about David Lynch's masterpiece, Mulholland Drive? What began as a failed television pilot ended up being his magnum. Although he has made multiple great pieces of work, like The Elephant Man, Blue Velvet, and the underrated Twin Peaks: Fire Walk with Me (all of which can be called some of the best films of their respective decades), none of Lynch's works compare to Mulholland Drive. You might ask yourself, how can a movie that is this unconventional, hypnotic, and soporific be considered one of the best films of all time? Well, it is hard to describe the exquisitely disorienting and transcendent experience caused by watching this film. And the rewatches that come after because you can't get it out of your head inspire more thought as you pick up on the slight details you may have missed. There's a mastery at the craft of capturing the illusiveness of imagination and the haunting duality of life that only Lynch could capture on screen.
Mulholland Drive is, at the same time, a mixture of recollections of his past and implementations of the future that was being prepared for us to behold during that time. It all goes back to his fixation with the hallucinatory and surrealistic conflicts of dreams and reality – fantasy and fiction – giving us insight into our framework for understanding the world around us versus the world we imagine in our heads. The only way we tend to get a grasp of this strange world is by redundancy, filtering it through fantasies in mediums of fiction. This divergence between past and future or dreams and reality help implement an attraction to the ambiguity and exploration of Mulholland Drive.
Watching a David Lynch feature is always a unique experience, but this one feels as if we are going through his subconscious while meditating and seeing what pops up in his wondrous mind. You lose track of time and space the more it dwells in the Hollywood stratosphere. There's no genuine or absolute answer to what this film beholds in the grand scheme of things (referring to Lynch's proposition), but that's what makes Mulholland Drive a masterpiece. Its multiple layers of mesmeric and sedative proportions affect the viewer, making them go as mad as the characters in the story. It puts you front and center, as if you were also a character in the film trying to uncover the mysteries of its morbid setting. In the end, Lynch makes us think about our real-life personas influenced by the fiction we partake in daily. Mulholland Drive is not only one of the best films of all time but also the film that has sparked the minds of many who have indulged in viewing it. It leaves them pondering how the film maneuvers through its central themes of our fascination with imagination and the medley of reality within fiction, and vice versa. (H.G.)
---
2. THE GODFATHER
(1972)
Director: Francis Ford Coppola
Writers: Francis Ford Coppola & Mario Puzo
Read also: The Godfather: The Father, The Son, and The Family Legacy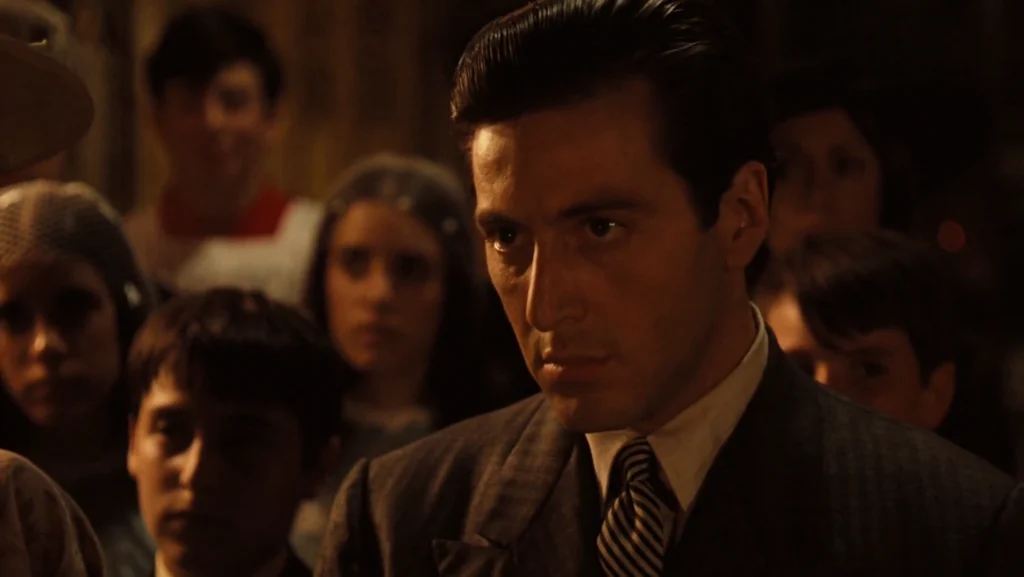 Concepts of power, conflict, and legacy all go hand-in-hand in Francis Ford Coppola's timeless masterpiece The Godfather – perhaps the most critically-acclaimed and frequently-referenced film in pop culture history. The story, based on Mario Puzo's award-winning novel of the same name, chronicles the crumbling decline of the Corleone empire, one of New York's most notorious crime families. As Michael (Al Pacino) gradually begins to work his way up the family ladder, external forces threaten to take advantage of the Corleones' internal conflicts and tear down everything that Michael, his brothers, and his father have worked so hard for. The Godfather pretty much birthed the gangster genre as we know it today, holding the existence of an inconceivable portion of cinematic history firmly in its debt; without Coppola's visionary tale of corruption and toxicity, an unimaginable number of films that we hold as classics today simply wouldn't exist in the same way – and that's the magic of The Godfather.
It's impossible to cite one particular aspect of The Godfather as its shining feature because they all excel in their own way – whether it's Coppola's astute direction and unbreakable focus behind the camera, Puzo's timeless story and fully-developed characters, Gordon Willis' glossy and stylish cinematography, the career-best performances from the entire cast, or even Nino Rota's masterful score that works so symbiotically with the rest of the film, there isn't a single aspect that falters behind the rest. It truly feels as though the stars aligned perfectly with The Godfather, gifting audiences with one of the most unforgettable cinematic experiences ever put to film. (J.W.)
---
1. 2001: A SPACE ODYSSEY
(1968)
Director: Stanley Kubrick
Writers: Stanley Kubrick & Arthur C. Clarke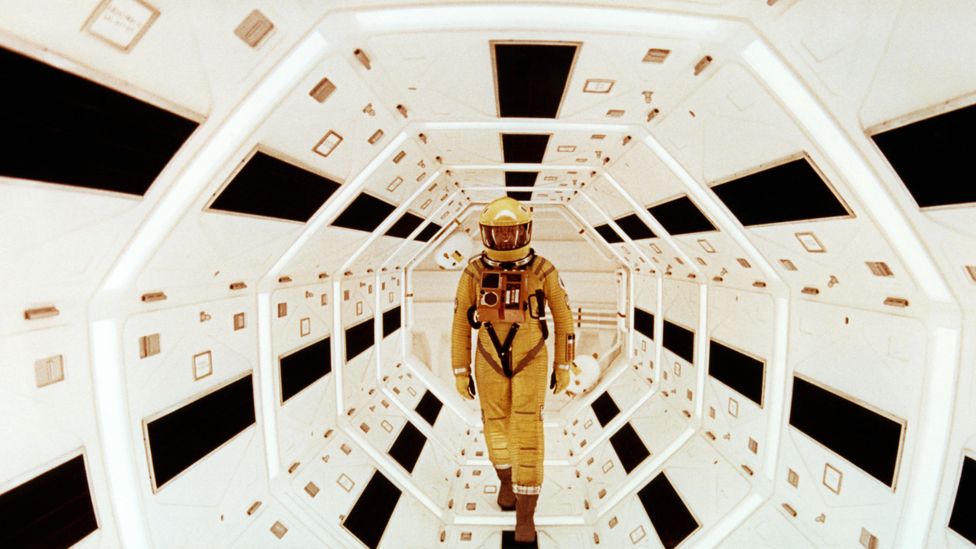 Beyond its reputation as a philosophically rich science fiction epic and one of the most influential and acclaimed films ever made, 2001: A Space Odyssey is above all a triumph of cinematic imagination and spectacle, immersing us on an unforgettable journey through the wonders, terrors, and mysteries of the universe. With a story spanning thousands of years (seamlessly leaping from the prehistoric era to the age of space travel in an iconic time- jumping cut), 2001 takes us from Earth to the moon to beyond Jupiter and on a mind- bending journey through dazzling cosmic dimensions, best summed up in a tagline on one of its posters as "the ultimate trip."
Director Stanley Kubrick's stellar cinematic craftsmanship and vision are on full display here, as 2001 features sublime compositions boasting an incredible use of color, framing, and visual scale, as well as some of the most impressive practical effects work ever put to screen. After more than fifty years, images like the celestial Star Child, imposing shots of the black Monolith, chilling closeups of Hal 9000, and Douglas Trumbull's psychedelic Stargate sequence remain among the most mesmerizing moments committed to celluloid.
Also a feast for the ears, 2001 displays an impeccable pairing of music to its images, from the triumphant brass and timpani of Richard Strauss' Also sprach Zarathustra in the opening title sequence to the graceful "An der schönen blauen Donau" waltz in the balletic docking sequence to the chilling, otherworldly choral compositions of György Ligeti. There's little more that needs to be said about this timeless classic, other than it deserves to be witnessed on the largest screen possible, in total surrender to its breathtaking sights and sounds. (N.G.)
---
THE 100 BEST FILMS OF ALL TIME: RUNNERS-UP
A Man Escaped, Army of Shadows, The Battle of Algiers, Before Sunrise, Bonnie & Clyde, The Breakfast Club, Brokeback Mountain, Carrie, The Conversation, Die Hard, Dog Day Afternoon, Donnie Darko, E.T., Eyes Wide Shut, Fight Club, Forrest Gump, The Graduate, The Grand Budapest Hotel, Groundhog Day, Her, Inception, Inglorious Basterds, Interstellar, L'Avventura, Léon, The Lord of the Rings, Lost in Translation, News from Home, The Night of the Hunter, Pan's Labyrinth, Reservoir Dogs, Saving Private Ryan, Scream, The Searchers, The Shawshank Redemption, Star Wars: The Empire Strikes Back, Synecdoche, New York, Titanic, Toy Story, Trainspotting, Trust, The Truman Show, Whiplash, Women on the Verge of a Nervous Breakdown, Y Tu Mamá También.