The Best TV Shows of 2022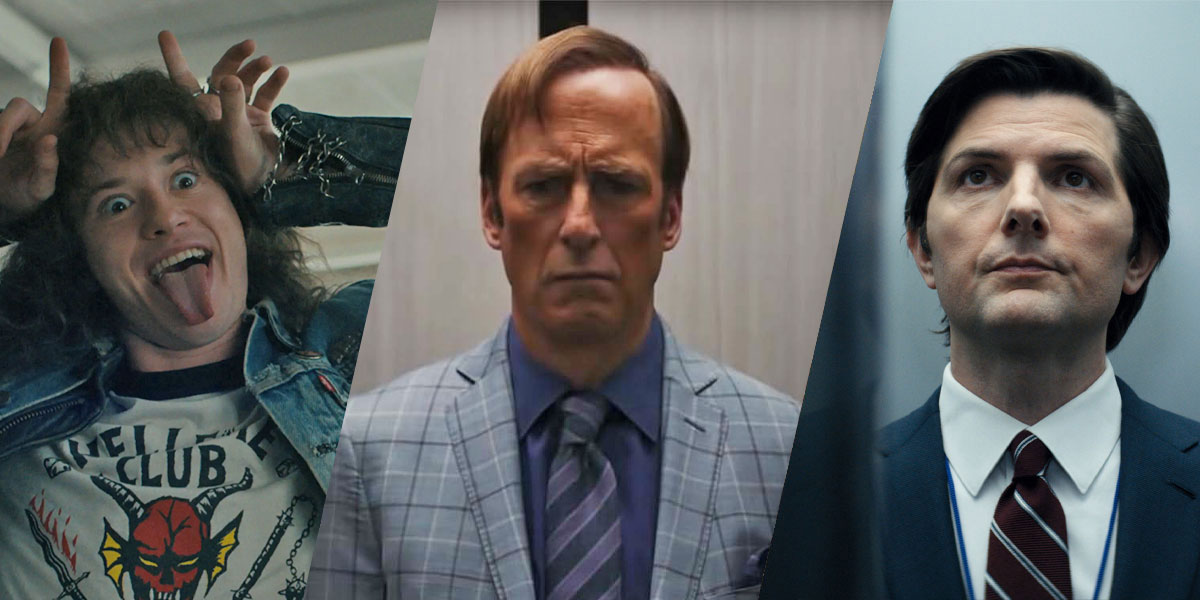 Stranger Things, Better Call Saul, Severance (Netflix, AMC, Apple TV+)
What were the best TV shows of 2022? Here are 15+ great series that came out this year, from Andor to House of the Dragon and more.

2022 was an incredible year for movies (and our list of 20 best movies of 2022 proves it), but it was also a fantastic year for TV shows! So many great series came out this year, from much-anticipated returns of fan favorites like Stranger Things, Barry and Better Call Saul to new prequels and adaptations, epic season finales, and wonderfully original, clever series that held our attention from beginning to end. But what were the best TV shows of 2022?
Below are 15+ great series that were released this year, recommended by 11 of our staff writers! Scroll till the end for more recommendations and other articles to check out, and happy watching!
---
ANDOR: SEASON 1
Creator: Tony Gilroy
Full Review: Andor Season 1 Review: Cyberpunk, Politics, and Sparking a Rebellion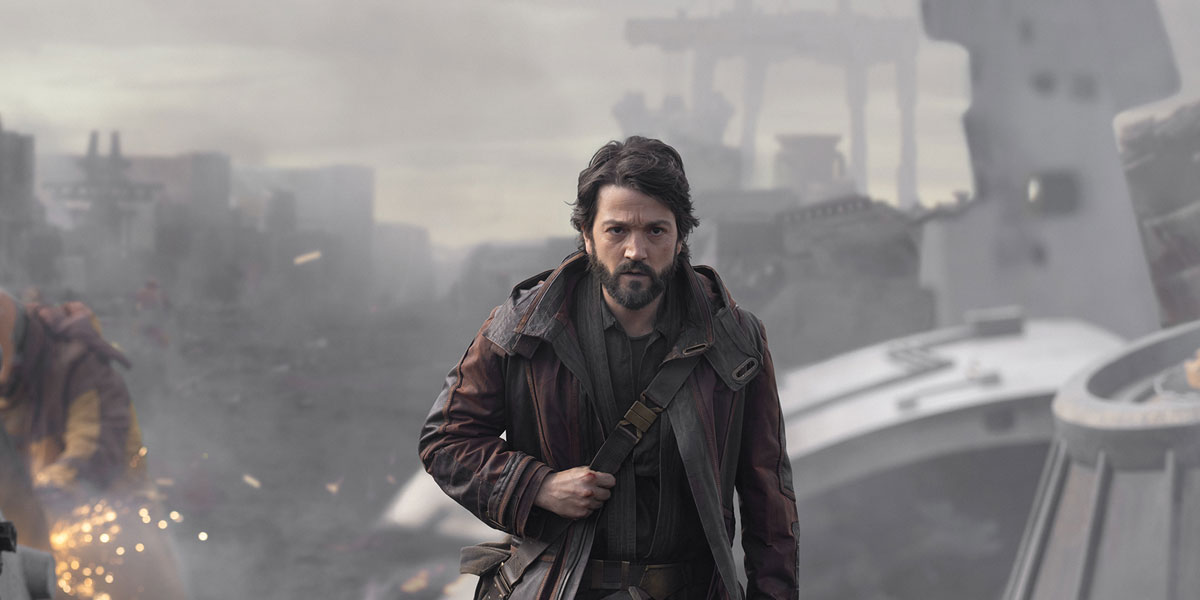 Many of us thought that the Star Wars spin-off we'd remember from 2022 would be the highly anticipated Obi-Wan Kenobi, telling the story of its titular character's journey leading up to A New Hope. And yet, as the year has come to an end, the only series in this franchise that truly left a mark turns out to be Andor, following Rogue One: A Star Wars Story's Cassian Andor (Diego Luna) as he takes on a bigger and bigger role in the rebellion. The series takes place five years before the events of Rogue One and A New Hope, at a time when the Galaxy is ruled by the Empire but a Rebel Alliance is quietly assembling, and slowly becoming more of a threat for Imperial Security Supervisor Dedra Meero (Denise Gough), Deputy Inspector Syril Karn (Kyle Soller), and the many villains of the series.
But this is not just a show about good versus evil. What makes Andor such a fascinating, gripping watch is that the main focus is on the politics of it all, and each character is given a compelling arc that makes them an essential piece of a puzzle whose pieces are slowly revealed, one episode after the other. Among these characters are rebel operative Luthen Rae (Stellan Skarsgård), acting behind the scenes while posing as an antiques dealer, senator Mon Mothma (Genevieve O'Reilly), who's secretly funding the rebellion, mechanic Bix Caleen (Adria Arjona), who's also a black market dealer, and many more.
With every episode of Andor, all of these characters become much more complex and layered than we thought they were, and you'll get attached to each and every one of them because of their humanity and courage. Everyone has different opinions on the series, as there is just so much to take in, but my favourite episodes are those that take place at an Imperial factory facility where Cassian finds himself at some point in the series. There, Andy Serkis completely steals the show as fellow prisoner and floor manager Kino Loy, perhaps the character with the most epic character arc in the series together with Cassian's adoptive mother Maarva Andor, played by the equally superb Fiona Shaw.
Whether you're a Star Wars fan looking for another chapter in the franchise or you like slow-burning series with multilayered characters, complex politics, and a strong emotional core, we guarantee you'll love Andor.
---
BARRY: SEASON 3
Creators: Alec Berg and Bill Hader
Reviews of all Episodes: Barry Season 3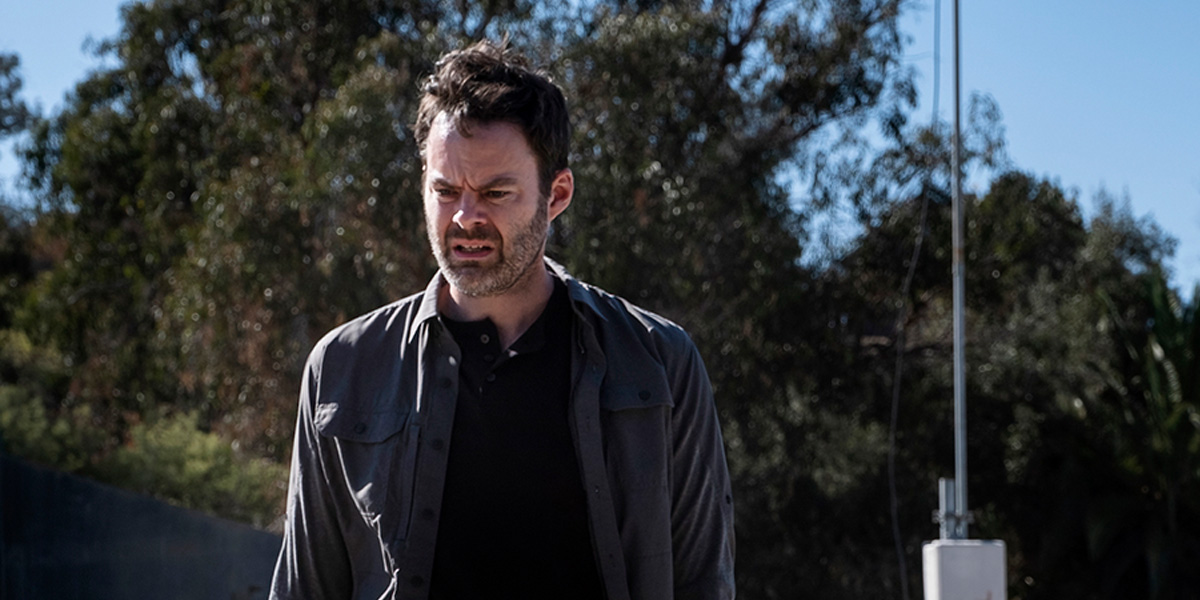 Returning after three years off the air, the third season of Barry is the most emotional and gripping yet. Barry (Bill Hader) is still desperate to leave behind his old life as a hitman to become a professional actor, but his outstanding prowess in his old field is still causing old associates to chase him up. Secrets are suppressed and lies linger as Barry's life – and, by extension, the lives of his loved ones – becomes increasingly stressful and dangerous. Although Bill Hader and Henry Winkler (playing Gene Cousineau, Barry's acting mentor) are renowned for comic roles. their performances evolve perfectly in accordance with their respective characters' evolution. Season 3 is the darkest season yet, but it's still not without some hilarious moments – usually sandwiched between tragedy and upset. Don't miss out – that would be tragic.
---
THE BEAR: SEASON 1
Creator: Christopher Storer
Making food to the satisfaction of your customer can be a difficult task and despite the grueling journey that can present, there's something deeply impactful about creating a work of art that, even when it completely disappears from that plate, the impact still lingers on within the belly of the consumer. Set almost entirely in a restaurant enduring the struggles of small business ownership and the task of continuing a family legacy, The Bear presents itself as a stressful and demanding television series as the world and characters it places within itself navigate through these tough work environments and their jobs within the culinary arts.
At first, it's a television series that takes its sweet time to establish each and every layer of character but as the story continues and we begin to see the pay off, what we finish with is a story spiced with a deeply personal and honest authenticity that shatters the viewer as quickly as it does putting them back together. The final two episodes of the eight episode season feature an extremely breathtaking but taxing one take and a quietly devastating monologue that both demand your attention in entirely different ways. Balancing these contrasting energies is a tough task for any show yet the commitment to present both the stresses and absurdity of life in a time where we all have struggled acclimating to the new menu of troubles it presents is what helps The Bear truly sing in every waking moment through its short length.
---
BETTER CALL SAUL: SEASON 6
Creators: Vince Gilligan and Peter Gould
The grand finale of Breaking Bad's critically-acclaimed prequel Better Call Saul finally hit our television screens earlier this year, marking the (apparent) end of this fifteen-year-long crime saga that's taken the world by storm. It was a momentous occasion for the show's huge fanbase, and whilst expectations for the series' conclusion probably couldn't have been higher, Better Call Saul managed to round off its narrative in the most exciting and fulfilling way possible. Every single episode of the season managed to outshine the last, crafting an intricate game of danger and chaos that kept audiences on the edge of their seats right until the explosive finale. Better Call Saul was a jigsaw of unpredictability – whilst the joy of the show was in its construction and complexity, nothing was certain until we were able to stand back and observe the full experience once it was over.
Better Call Saul also proved once again that the weekly-release format of television will always be the most engaging way to interact with a show; each episode ended with plenty of questions and loose ends that wouldn't be answered for another week, leaving audiences with a tantalizing sense of excitement that lasted from April to August. Ultimately, Better Call Saul was a show that refused to ever lose momentum, with each season building upon the strengths of the last and forging a narrative that simply got steadily better over the years. Season 6 was the show's strongest outing of them all, sending the series out with an unforgettable shine that truly epitomized the outstanding writing, performances, and direction that made Better Call Saul the worldwide sensation that it was.
---
HEARTSTOPPER
Creator: Alice Oseman
Full Review: Heartstopper (Review): The Show Queer Youth Need Now More Than Ever
Read Also: 5 Coming-of-Age Films to Watch if you Liked Heartstopper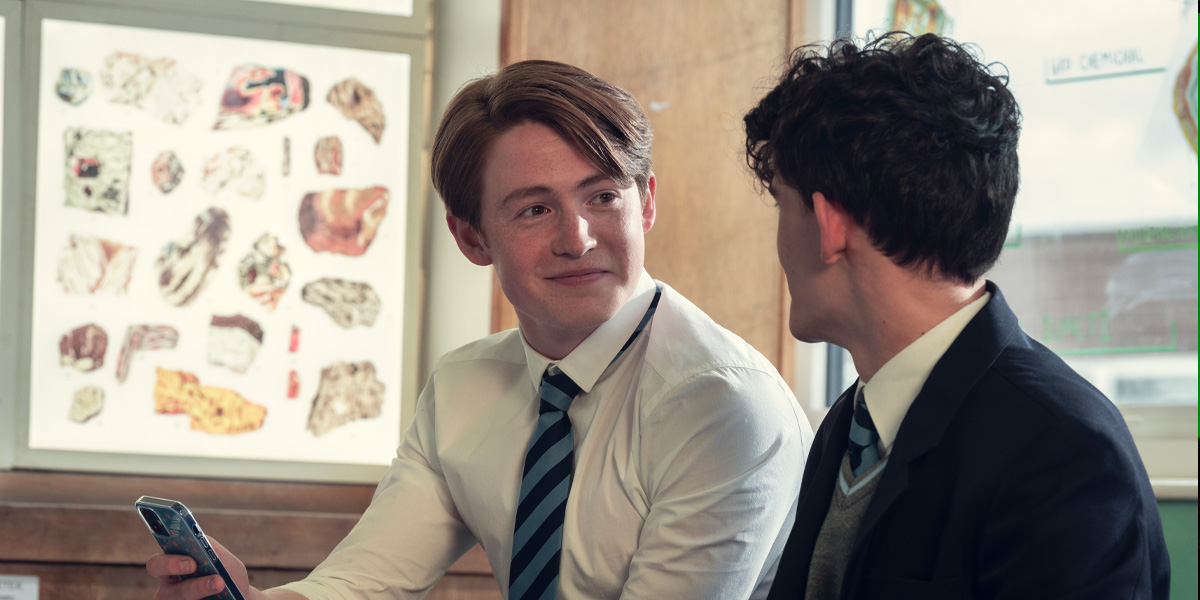 I knew next to nothing about Heartstopper before I pressed play on Netflix. Close to four hours later, my roommates and I were all sobbing on the couch in complete wonder of what we had just seen. Based on the graphic novel series of the same name, Heartstopper follows British teens Nick (Kit Connor) and Charlie (Joe Locke) as they form a deep friendship with each other, and as time goes on, it starts to become something more. In the past, when LGBTQ+ characters were displayed on screen, their stories either commonly ended up in tragedy, or had enough graphic content to make them unsuitable for all audiences. Heartstopper is so beautiful in part because it is simply an innocent love story between teenagers. There is nothing mature or inappropriate that goes on where there is any reason to shield away from younger viewers.
Having shows such as Heartstopper is such an important step in LGBTQ+ representation, but, while watching the show, the portrayal of young love is just so full of heart that you hardly even recognize how revolutionary the show even is. Kit Connor and Joe Locke excel in their subtle display of emotions when figuring out who they love, making it such a joy to see such star-making turns from these young individuals. Netflix gave a show like Heartstopper a chance to be seen, and this has the chance to help millions of young LGBTQ+ people see themselves in any one of the characters. These characters are full human beings instead of the butt end of a joke or just one dimensional side characters, and this sort of representation can help many understand their own identity. Having a positive portrayal of this community has already helped so many, and the fact that there will be at least two more seasons of Heartstopper makes my heart soar, certifying this series as one of the best shows of 2022.
---
HOUSE OF THE DRAGON: SEASON 1
Creators: Ryan Condal and George R.R. Martin
Reviews of all Episodes: House of the Dragon
Read Also: Why You Should Be Excited for House of the Dragon
HBO's Game of Thrones prequel series was proof that not even a controversial ending could stop this fantasy world from being successful. House of the Dragon gets many things right. Showrunner Ryan Condal managed to add a lot of nuance to a book that had a lot of great spectacle and drama, but not much depth or context. As a result of changing things from "Fire & Blood," the show attracted attention from newcomers and old viewers who brought a lot of their expectations into a series that was trying to do something new, while respecting George R.R. Martin's source material.
House of the Dragon introduced us to two new talents in Milly Alcock and Emily Carrey, both having a bright future ahead of them as they astonished audiences with their demanding roles during the show's first five episodes. Paddy Considine shocked the world with the amount of vulnerability he brought to King Viserys I Targaryen, while Matt Smith stole everybody's hearts with his now iconic Prince Daemon. Then we have Olivia Cooke, who perfectly captures Queen Alicent's bitterness that comes as a result of sacrificing her own interests for the good of the family. Emma D'Arcy, on the other hand, portrays the hardships women often face due to the misogynistic rules men place in the world.
The series does suffer from its constant time jumps, not allowing us to see how certain dynamics develop, and from the fact that characters get reduced roles despite the show having a very real opportunity to expand what's on the page. All things said, House of the Dragon is a great start to a brand new journey. Future seasons guarantee shocking events, exciting battle sequences, and tragedies that will leave more than enough fans speechless.
---
IRMA VEP
Creator: Olivier Assayas
Full Reviews: Episodes 1-4 | Episodes 5-8
It is incredible that, almost three decades past the release of 1996 critic's darling Irma Vep, director Olivier Assayas found new ways to reinvent the film's metatextual jabs at the movie-making industry via a bigger canvas and different medium. And he does so with incredible ease. Within each episode, the HBO limited series grows into something more significant, exploring the various strands and issues regarding modern cinema and the importance of making art.
Of course, the series has some moments of pretentiousness. Still, its critiques and ostentation are poured onto the scenery for satirical purposes filled with irony and flair. It's a pretty hilarious journey through the vanity and anxiety of actors, directors, and producers who all try to make a project work as it falls apart. Assayas contains his usual sharp writing with stylistic direction to get the audience thinking about the future of cinema and whether or not what arrives will be great for those who love the art form.
While Irma Vep didn't get the attention it truly deserved around its release, it is easily one of the best limited series of the year. As the obsession for greatness drives the characters' mindsets, the crazier and more self-referential the series gets. And that's one of the many reasons why I love Assayas' latest gift to us cinephiles.
---
JULIA
Creator: Daniel Goldfarb
Julia is a true feel good series that begins with an 'Omelette' and ends with a mouth-watering 'Chocolate Soufflé,' for a treat that will warm your heart. The series focuses on the origins and making of The French Chef, Julia Child's (Sarah Lancashire) 101 French cooking show which premiered in 1963 and pioneered the modern development of cooking shows.
Who doesn't like a cooking show or a good tv program about cooking? In a world where culinary acts and series have saturated the screen, we still can't have enough of them, and Julia has all the best ingredients, making it the equivalent of a warm simmering pot of Boeuf Bourguignon.
Sarah Lancashire (Everybody's Talking About Jamie) portrays the iconic Julia Child in all her wit, warmth and vivacity and is so much fun to watch. She doesn't try to replicate Julia's voice or mimic previous interpretations of her. Instead, she brings a newer and more vulnerable version of Julia to the screen, maintaining her brassy humour and undeniable charm and making her somebody you absolutely want to have dinner – or be cooking – with.
David Hyde Pierce, as Julia's devoted husband Paul, and Fiona Glascott (Fantastic Beasts: The Secrets of Dumbledore), as editor Judith Jones, are delightful and a real treat to watch as they team up and embark in farcical bread-baking scenes for the love of Julia's project.
This show brings a lot to the table (pun intended) and I guarantee that it won't take you until the end of the series to wonder if you, too, could master the art of French cooking. In no time, you'll find yourself googling Child's The French Chef (most episodes available on YouTube) and heading to the kitchen. Once you do so, and while you await Season 2, enjoy the experience and, as Julia used to say: Bon Appétit!
---
PRETTY LITTLE LIARS: ORIGINAL SIN
Creators: Roberto Aguirre-Sacasa and Lindsay Calhoon
Ever since the ending of the original Pretty Little Liars in 2017, I've been patiently waiting for another fix of high school murder drama. There have been countless teen screams, including the Scream TV series (which quite frankly is amazing) and new recent love, I Know What You Did Last Summer (2021), but nothing has quite hit the spot. Pretty Little Liars: Original Sin is a perfect binge-worthy show that you can easily get through in one weekend. It's a little different to the original Pretty Little Liars, but it taps into the same murder elements, and of course includes the infamous killer A.
Imogen (Bailee Adams) is a high school student who's recently fell unexpectedly pregnant. Her mother has committed suicide due to a rocky past, but Imogen doesn't believe that it was a suicide, as she would never have left her daughter stranded. Whilst at school in detention, Imogen befriends a group of girls, which turn out to have mothers who were all also friends in high school (the usual cliché). As all the girls navigate their day to day lives, including exams, relationships and friendships, there's a killer walking the streets. Each of the girls must work together and separately, making a trip to Rosewood (the hometown of the original PLL) to find out who's targeting them all. If you want a show full of suspense and murder and are missing Pretty Little Liars, this is a must see. It can also be watched as a standalone show and you don't need any prior knowledge of the PLL universe.
---
RAMY: SEASON 3
Creators: Ari Katcher, Ryan Welch, Ramy Youssef
There isn't a show quite like Ramy. And there isn't a television protagonist who frustrates you as much as aspiring jeweler Ramy Hassan (Ramy Youssef), as you watch him continuously mess up and embarrass himself. And yet, we ultimately root for his "path" to redemption, even after he did some truly irredeemable stuff in the second season. Sleeping with your cousin the day before you get married? Yeah…
Now he's trying to rebuild his life with his uncle (Laith Nakli) in the Diamond District, and things don't go as well as he seems to hope. Making shady deals without his uncle, his family rifting itself apart, and his best friends distancing themselves from Ramy bring him new challenges he doesn't want to tackle while trying to make amends with Zeinab (MaameYaa Boafo) who doesn't want to talk to him after the aforementioned season two events cost him his marriage. Watching Ramy make a fool of himself (such as saying "congratulations" to someone for surviving the Holocaust in the second episode) is both exasperating and terrifically funny. You're exasperated at seeing Ramy continuously fail, and can't help but yell out, "oh my god dude shut up!!!!" in front of the TV as he keeps adding things to justify his "congratulations". But you also can't help but laugh at his predicament. The writing is razor-sharp, drawing incredibly relatable situations, not just for Ramy but for the side characters, who have more time to shine in this third season than in the previous two.
May Calamawy and Hiam Abbass are a major highlight of this season, as it deepens Ramy's sister, Dena's (Calamawy) relationship with her mother, Maysa (Abbass), in a hilarious yet thoughtful light. But the show-stealer of this season is Laith Nakli, who continues to bring his A-game to Uncle Naseem: he's funnier than he's ever been, but he also opens himself in a way we had never seen before. Rarely do we ever see a queer character written the way Youssef does in any piece of media, and Nakli portrays Naseem's anguish brilliantly. It baffles me that most audiences are sleeping on this show. It's not only the best-written comedy series of the year but the best television series of 2022. There isn't a show like Ramy, and there will never be another one like it.
---
THE SANDMAN
Creators: Neil Gaiman, David S. Goyer, Allan Heinberg
Full Review: The Sandman (Netflix) Review: Neil Gaiman 's Dream Come To Life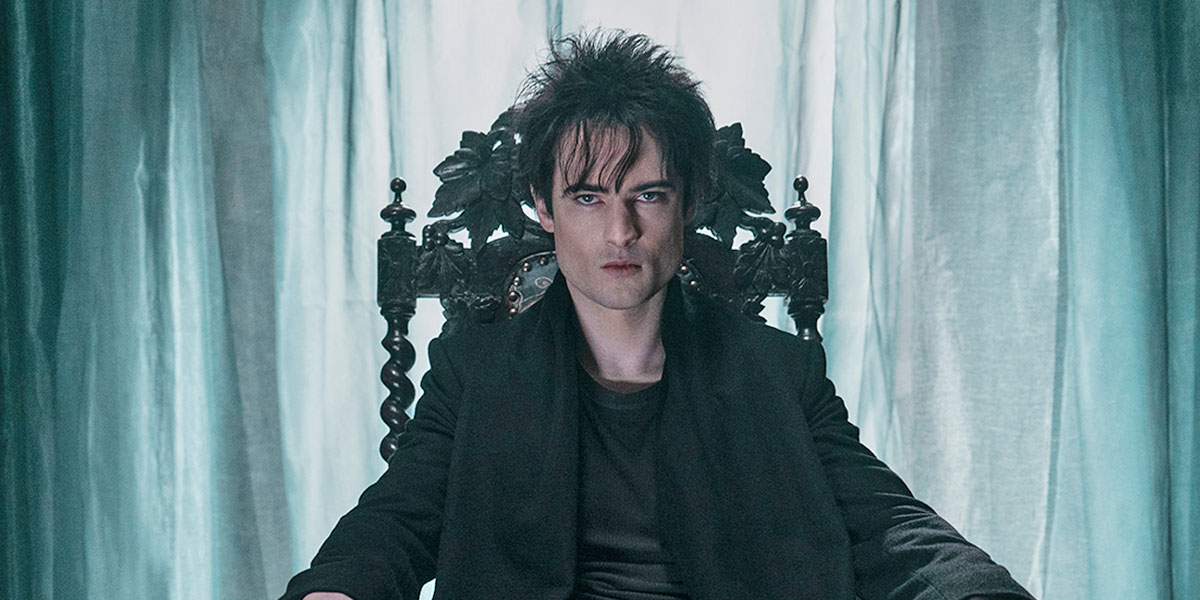 There are several things that we grow out of as we get older overtime, but what always remains behind throughout our lives are dreams. Literal dreams that we have while we're sleeping, or dreams in the sense of what we hope to do with our potential prosperous future. This is precisely what Netflix's The Sandman explores.
Based on Mike Dringenberg, Neil Gaiman, and Sam Kieth's "The Sandman" DC comics, the series follows Morpheus (Tom Sturridge), also known as Dream, after he escapes from his decades long imprisonment by a mortal wizard, as he embarks on a journey to retrieve tools that were stolen from him over the years while he was locked away.
The Sandman isn't just a straightforward fantasy that goes big for the sake of seeming to be an epic story. It is an epic tale, but from a much more intellectual and personal perspective. Every episode feels like its own contained story, while being part of a larger narrative that tackles a vast of different themes and ideas. Having Morpheus as our lead, who doesn't fully understand humanity's purpose in the universe, makes for some deeply touching character arcs, as he encounters different kinds of individuals who show him the best and worst of mortal beings.
From seeing humanity's power hungry ambitions to the most beautiful examples of simple kindness and courage, The Sandman is a thought provoking and ambitious show with some of 2022's best performances on TV by David Thewlis, Kirby Howell-Baptiste, Boyd Holbrook, and more. Neil Gaiman and crew will take you on a dreamy adventure about life, death, and everything in between filled with nightmarish visuals and fascinating character work.
---
SEVERANCE: SEASON 1
Creator: Eric Heisserer
Full Review: Severance Season 1 Review: The You You Are
What if one day you were to wake up, lying down on a table in a locked room and dressed in smart clothes, with no recollections of who you are and how you got there? And what if the only thing you had to help you find your memories, or at least some familiarity in the aseptyc environment around you, was a creepily optimistic voice from a speaker asking you to take surveys and answer a bunch of questions? That's what happens to Helly (Britt Lower) in the very first scene of Apple TV's Severance, which also happens to be one of the best opening scenes we've seen on television this year, if not ever.
It turns out that the voice belongs to a young man named Mark (Adam Scott, of The Good Place), and that both of them are at a company named Lumon Industries, where they spend every single minute of their lives, without ever getting to go home. This is because, at some point in their lives, they both decided to undergo a procedure called severance, which surgically divided their memories between their work and personal lives. As a result, their days begin the moment they enter the office and end when they leave, which is the exact moment when their other selves' lives begin.
The severance procedure itself is an incredibly interesting concept to explore, as the series, directed and executive produced by Ben Stiller and created by Dan Erickson, gives us two sets of personalities for each of its characters, which leads to highly compelling dynamics. But that's not all. With every episode come new mysteries and coincidences whose real significance only begins to become clear at the very end, when the puzzle is finally solved in all its unsettling glory. It's the journey to that final reveal that will have you hooked, with gorgeous cinematography (Jessica Lee Gagné), eerily symmetric shots, and distinctive color palettes for each of its environments.
But that's not all: the acting is excellent, and the entire cast delivers memorable performances, from Scott and Lower to Zach Cherry, John Turturro and Christopher Walken as their co-workers, Patricia Arquette as their disquieting boss, Dichen Lachman as the mysterious wellness counselor, Yul Vazquez as a ghost from Mark's past and many more. And the real standout here is a screenplay that has just enough mystery, humour, disquieting developments, heartwarming moments, horrific twists and irresistible characters (not to mention one of the best queer relationships on TV this year!) to make Severance one of the most gripping, clever, timely, original, geniunely entertaining shows to have come out in 2022.
---
STRANGER THINGS: SEASON 4
Creators: Matt and Ross Duffer
Full Reviews: Volume 1 | Volume 2
If you were to think of a series that defined the year of 2022, chances are Stranger Things 4 would come to mind. If, back in 2016, the Duffer Brothers' series began as a Goonies-meets-ET show about a young boy named Will (Noah Schnapp) who is abducted by a creature from an alternate dimension and the friends and family who are looking for him, the series has since then evolved into something else entirely.
Season 1 introduced us to Eleven (Millie Bobby Brown), a psychokinetic girl who saves the day with her newfound superpowers and catchphrases, all while learning about the meaning of friendship from lovable nerds Mike (Finn Wolfhard), Dustin (Gaten Matarazzo) and Lucas (Caleb McLaughlin) and many more characters. Season 2 gave us bigger monsters and new characters, from videogame genius Max (Sadie Sink) to Lucas' wonderfully snarky sister Erica (Priah Ferguson), and saw the team unite to defeat the Mind Flayer. Season 3 entertained us with Soviet laboratories in shopping malls, hot lifeguards, surprisingly accurate translations, a girlfriend who may or may not exist, the Steve Harrington (Joe Keery)-Robin Buckley (Maya Hawke) friendship we didn't know we needed, and an unforgettable NeverEnding Story moment.
But Stranger Things 4 marked a complete tonal shift, with the Duffer Brothers delivering a series that's not only in two volumes, but where each episode is twice as long and gets darker and darker as the show goes on. The sci-fi direction and 80s nostalgia of the previous seasons are replaced by references to horror staples like A Nightmare On Elm Street, Hellraiser, Candyman, The Silence of the Lamb, Carrie and even The Ring, with genuinely horrifying twists, disturbing scenes, and a terrifying villain that uses your past trauma as a weapon and traps you in your dreams. But the reason why the show still works, perhaps even better than it did in the past, is that it still has the same heart as what came before, with plenty of character growth, team bonding moments, nostalgic references, fantastic music, and epic scenes for the entire team.
Everyone gets a chance to shine in a series that takes place across four different locations until our characters eventually reunite with one another, making for deeply affecting storytelling. Joseph Quinn shines as Hellfire Club leader Eddie Munson, whose rendition of Metallica's "Master of Puppets" is one of the most memorable, epic moments of the series. But Stranger Things 4 is also the season where Joyce (Winona Ryder) and Murray (Brett Gelman) team up, Hopper (David Harbour) saves the day, and Max faces her demons while "Running Up That Hill." Not only that, but we also learn something meaningful about Will, we find out all there is to know about pineapple pizza, and Eleven finally faces Papa (Matthew Modine). Stranger Things 4 answers questions we've had since Season 1, and it does so with huge scope, enthralling storytelling, memorable quotes, great character moments, and the right dose of heart and nostalgia.
---
THIS IS GOING TO HURT
Creator: Adam Kay
Full Review: This is Going to Hurt (Review): Brutality, Bravery and a Broken System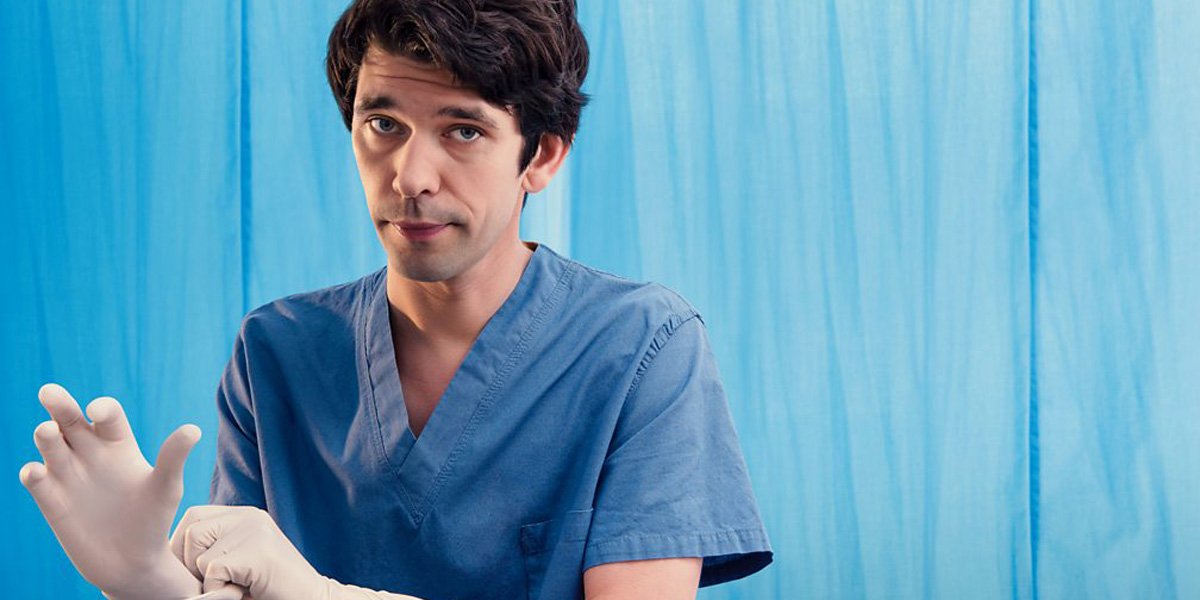 Forget about Grey's Anatomy and House: this medical show is something else entirely. Based on Adam Kay's 2017 memoir of the same name, This Is Going to Hurt takes us to London, 2006, where a group of junior doctors are working at an obstetrics and gynaecology ward in an NHS hospital. But unlike other series that take place in hospitals, this BBC/AMC medical drama doesn't sugarcoat their everyday struggles, showing us just how draining the job can be and how much of a toll it can take on one's mental health. As we follow Adam Kay (Ben Whishaw) and Shruti Acharya (Ambika Mod) try to juggle the stress of their job with their personal lives, exhausted and constantly misunderstood by the people around them, we are right there with them, and we understand that what's asked of them is way more than a single individual can handle.
But don't get me wrong: This Is Going to Hurt is not one of those soppy, manipulative shows that want you to feel sorry for their characters. This medical drama is also hilarious, with both Adam and Shruti often breaking the fourth wall in an effective way that doesn't try to mimic Fleabag, and the screenplay giving us just as many absolutely heartwrenching moments as it does much-welcome absurdity, which makes tor truly hilarious scenarios. Anchored by Ben Whishaw and Ambika Mod and more than one twist you won't see coming, This Is Going to Hurt manages to be both an enjoyable and even entertaining series and a brutally honest look at the hardships that NHS workers go through that urges us to improve our healthcare system. Not to be missed.
---
WEDNESDAY
Creators: Alfred Gough and Miles Millar
Full Review: Wednesday (2022) Netflix Series: Season 1 Review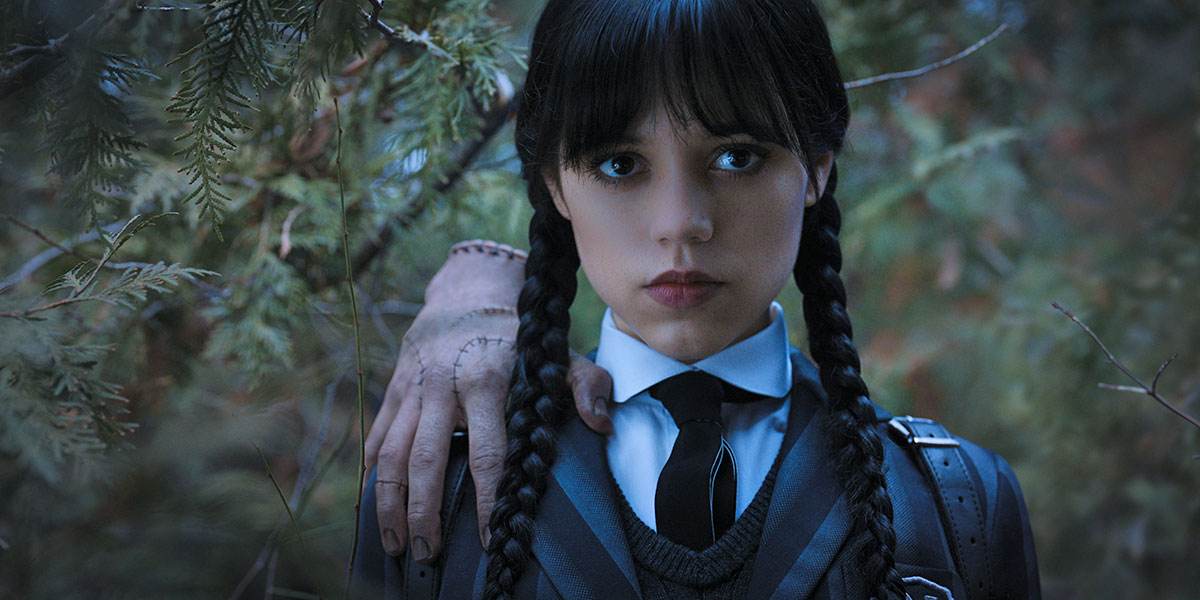 2022 was the year of Jenna Ortega. She gives one of the most authentic performances of a Gen Z teenager in The Fallout, gave audiences one of the most iconic screams we have seen in horror when she played Lorraine in X, and confidently took the reins of co-protagonist in Scream. Even with all of these great acting turns, she will probably be best known as playing the titular Wednesday in Tim Burton's latest project. Wednesday follows Ortega as she begins her studies at Nevermore Academy while trying to solve a mystery that brings up her parents' past and master her newly discovered psychic abilities.
Jenna Ortega gives one of her best performances that perfectly adds to her already seasoned resume. She is able to convey so many emotions through just her eyes, and make what could have been a stale and emotionless character full of life. On top of that, both the crafts and the cast of Wednesday are at the top of their game. We get the iconic Tim Burton aesthetic, but see it catered to fit a teen television mystery. This combination is extremely refreshing, giving audiences something fun to always look at. The supporting ensemble is great as well, with standouts from Christina Ricci and Catherine Zeta-Jones, who play the head of Wednesday's dorm and Morticia Addams respectively. There is a reason why Wednesday became as popular as we have seen recently. It is genuinely one of the best series to come out this year, and if you haven't seen it yet, join the fun so you can be a part of what will be seen as a pop culture phenomenon's legacy.
---
THE WHITE LOTUS: SEASON 2
Creator: Mike White
Full Review: The White Lotus (HBO) Season 2 Review: One Hell Of A Vacation
If you can read the title of The White Lotus without singing the theme tune, what are you doing? The White Lotus Season 2 is easily the most memorable series of 2022 and will be one I carry with me forever. It's witty, mysterious and full of suspense. When a show opens by alluding to a couple of deaths, you spend the entire series guessing who has died from the main cast. It's the most perfect opener ever. We're introduced to an array of characters, including Tanya (Jennifer Coolidge), her assistant Portia (Hayley Lu Richardson) and Tanya's new husband Greg (Jon Gries), whom we meet in season one. Everyone has already fallen in love with Tanya from season one, so I was so excited to see her again in season two. It's one of those shows, similar to American Horror Story, where you don't really need to see the first season to make sense of the second (but it does work better if you've seen the first).
In the first season of The White Lotus, the main cast are in Hawaii in a White Lotus resort, and in season two, they've made the venture to Italy. Alongside Tanya, there's an array of new guests. This includes Harper (Aubrey Plaza), Ethan (Will Sharpe), Cameron (Theo James), Daphne (Meghann Fahy) and hotel manager Valentina (Sabrina Impacciatore). Each guest is so rich and so excited to be on holiday. They've packed the most luxurious outfits and a different bikini for every day of the week. The all inclusive breakfast and dinner, which includes unlimited wine and champagne, means every guest wants to stay within the walls of the hotel to make the most of the trip. But, if you're accustomed to what goes on in the White Lotus hotel chain, you know all is not what it seems. Mystery is around every corner, and so is death. If you're in need of a new murder mystery, or just want to enjoy peering in on rich people on holiday, this is the show for you.
---
WINNING TIME: THE RISE OF THE LAKERS DYNASTY
Creators: Max Borenstein and Jim Hecht
Ever since the Los Angeles Lakers captured the 2020 NBA Championship, the product on the basketball court has not been easy to watch. So, you can imagine why it was so easy for a longtime fan of the team to latch onto this sports comedy drama from HBO that centers on a much more exciting period of Lakers basketball. Created by Max Borenstein and Jim Hecht, the first season of Winning Time: The Rise of the Lakers Dynasty centers on the 1980s "Showtime" era of the Los Angeles Lakers basketball team (beginning in late 1979).
The series is a fictionalized dramatization of this period in basketball history, based on the book "Showtime: Magic, Kareem, Riley, and the Los Angeles Lakers Dynasty of the 1980s" by Jeff Pearlman and executive produced by Adam McKay (Director and co-writer of 2015's The Big Short). Winning Time: The Rise of the Lakers Dynasty gives fans a look into the action on the court, the journey taken by team owner Dr. Jerry Buss (John C. Reilly) to build the Lakers that we know today, and the lives of superstar players like Earvin "Magic" Johnson (Quincy Isaiah) and Kareem Abdul-Jabbar (Solomon Hughes).
While the accuracy of Winning Time has been the subject of scrutiny and debate, particularly by the Lakers organization and players from the "Showtime" era such as Magic Johnson and Kareem Abdul-Jabbar: It is such a fascinating show to watch. The casting is incredible, perhaps the best ever for a show of this nature, with most of the actors being dead ringers for the management, coaches, and players of the time. Even if the story is not the most factual thing in the world, the writers have crafted a solid comedy, with heightened dramatic moments. One that captures the excessiveness and magic of what the "Showtime" Lakers appeared to be from the outside, right down to some excellently recreated basketball sequences.
What really pushes this series over the top to be one of the best shows of 2022 is the excellent performances. It is one thing for these actors to look like who they are portraying, but the key is to make audiences believe they are these people. Quincy Isaiah is superb as Magic Johnson, right down to capturing Magic's signature smile, and Adrien Brody's Pat Riley made my jaw drop. To borrow a phrase from the late Lakers announcer Chick Hearn: Winning Time: The Rise of the Lakers Dynasty is sensational, it's dazzling, it's showtime.
---
THE BEST TV SHOWS OF 2022: 15 MORE SERIES
Atlanta Season 3
Euphoria Season 2
Hacks Season 2
---
READ ALSO: