5 Coming-of-Age Films to Watch if you Liked Heartstopper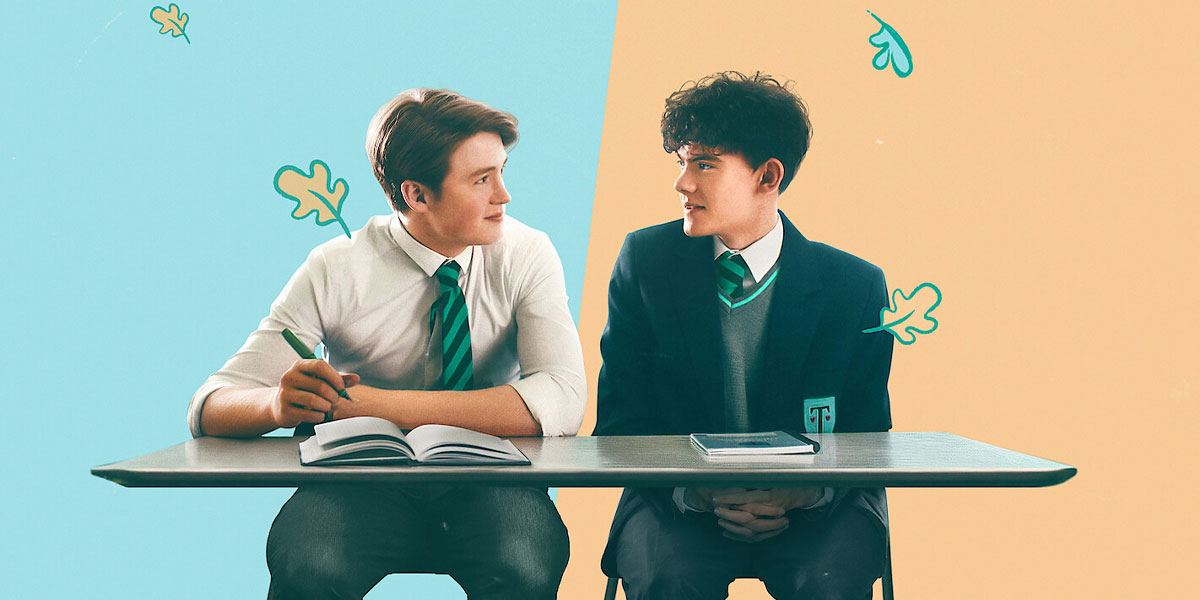 Heartstopper (Netflix)
Loud and Clear Reviews' recommendations of 5 coming-of-age films to watch if you liked Heartstopper (so you can fill the void).
Netflix's Heartstopper, a new show that primarily follows the love story between two teen boys Charlie (Joe Locke) and Nick (Kit Connor), has had the world in a death grip since its release on 22 April 2022. Heartstopper has been praised for its vibrant cast of characters, fresh-faced performances, and a whole range of LGBTQ+ representations that have been grossly neglected up until this point. Although it's been confirmed that Heartstopper has been renewed for two more seasons, the wait might be lengthy, and we're in desperate need of some good teen flicks to help us through. Well, here at Loud & Clear, we've got you covered as we've compiled together a list of 5 coming-of-age films to watch if you liked Heartstopper.
---
1. HANDSOME DEVIL
Director: John Butler
Year: 2016
Formulaically, John Butler's Handsome Devil may be the closest you'll get to Heartstopper's predecessor. Set in Ireland, ostracised Ned Roche (Fionn O'Shea, from Normal People) is forced to share his university dorm room with newbie Conor Masters (Nicholas Galitzine, Cinderella). Just like Heartstopper's Nick at Truham, Conor is at the height of popularity at Wood Hill College, due to his sharp rugby-playing skills.
In Heartstopper, Charlie often retires to his drum kit when he is feeling anxious. Handsome Devil's Ned also finds comfort in his guitar, and idolises alternative bands such as The Housemartins, Big Star, and The Undertones. Ned's interests set him apart from the other boys at Wood Hill college where rugby is nothing short of a religion. Enter Conor Masters, muscly, athletic and the savour of the school rugby's team. For Ned, being a rugby-lad and a nice person are not synonymous, so he is quick to build the 'Berlin Wall' in their shared dorm room. However, it soon becomes apparent, with a little encouragement from English teacher Dan Sherry (Andrew Scott, from Fleabag), that there is more to Conor than meets the eye. Eventually, both the physical and emotional walls come down between the boys.
Handsome Devil differs from Heartstopper only in its tone, which is a lot darker and gritter than the Netflix show. Any colour comes exclusively from Ned's over-dyed orange hair, or the garish yellow and blue kit colours of the rugby team. Beyond that Handsome Devil, for the most part, feels bleak. This is perhaps a fitting backdrop for the homophobic abuse that strays beyond the few comments Charlie endures in Heartstopper. Where the Netflix show can sometimes appear escapist, with theatrical party scenes and whimsical animations, Handsome Devil is a lot less forgiving.
Nevertheless, despite some of the distressing events that happen in Handsome Devil, it's endnote is one of hope and encourages the celebration of oneself. Predictable as it may be its storyline is a touching tale of self-acceptance and the battle to find a place in a hyper-masculinised society where outdated stereotypes still thrive. In Ned, we see an outcast turn guiding force to Conor, who although seems more confident, is much less self-assured. This reflects the relationship of Nick and Charlie, one that we look upon so fondly, as Nick too allows Charlie to lead him into the light. After all, as Andrew Scott's Dan Sherry tells his class; 'if you spend your whole life being someone else, who is going to be you?'
---
2. EIGHTH GRADE
Director: Bo Burnham
Year: 2018
Bo Burham's directorial debut Eighth Grade received high praise after its release, appearing on Barack Obama's list of 'favourite films of 2018.' This is undoubtedly due to Burnham's ability to capture the experience of an introverted teenager struggling to survive the daily pressures of socialising and school. Although Eighth Grade is set in America, it transcends country and gender restrictions by representing a universally felt teen experience.
Kayla Day, played masterfully by Elsie Fisher, lives two separate lives, one of which she is a confident YouTube influencer (despite having no viewers), who gives out advice on how to be yourself, and the other is the anxiety-ridden, awkward thirteen-year-old who finds it impossible to fit in. These two contrasting personalities feel familiar, as we see Heartstopper's Nick Nelson separate different parts of himself to get by at school. Although Nick never conforms to the boisterous nature of his friend group, he sometimes sits idly by as the rugby lads torment the 'alternative' kids, such as Charlie and Tao (William Gao). However, later in the show Charlie confesses to his friend Imogen (Rhea Norwood), that '[he's] not sure [he] fits with [her] or other people in [their] friend group.' But with Charlie, he feels like he can be his true self and longs for the confidence to always be this version of himself.
In Empire's review of Eighth Grade, they express that '[the film] doesn't capture the world ending, but never discredits the moments when Kayla feels like it could.' This perfectly encapsulates what makes a coming-of-age teen drama so effective and is something that is not just done in Eighth Grade but done in Heartstopper as well. Kayla can perhaps be most comparable to Heartstoppers' Tao Xu (Gao) in this way, who with one of his best friend's moving schools, and another falling quickly in love, feels as if he is being abandoned by the one's he cares for the most. Although Tao is the king of dramatics, we can't deny we've all experienced self-doubt when it comes to the shifting of dynamics in a friendship group.
In Eighth Grade, we see a return of Heartstopper's vibrant colour palette that so perfectly reflects the optimism of youth. Eighth Grade's high saturation is also ironic, a nod towards the parent's favourite, 'your teenage years are the happiest years of your life' statement, which rarely turns out to be true.
---
3. GIANT LITTLE ONES
Director: Keith Behrman
Year: 2018
A dividing film, Giant Little Ones follows two teen boys Franky (Josh Wiggins) and Ballas (Darren Mann), who have been best friends since childhood. However, on the night of Franky's 17th birthday, everything they thought they know about themselves is challenged when an incident occurs between the two of them. Freaking out after the event, Ballas starts spreading rumours about Franky, and therefore ostracising him. Franky also has problems at home, having distanced himself from his recently-out father Ray (Kyle MacLachlan) who left his mother for another man. To get some respite, Franky finds himself seeking out an old friend, Natasha (Taylor Hickson), who just happens to be Ballas' younger sister. This reunion results in a tender relationship, in which the pair both respect each other's trauma.
It's true, Giant Littles Ones can be a little frustrating at times. The films biggest flaw is perhaps the misguided characterisation of Franky's transgender-curious friend Mouse (Niamh Wilson). Out of all the films we considered for this article (and there were many), Mouse was the only character that came close to a portrayal of a transgender person, which also speaks to the scarceness of trans representation in youth film. Unfortunately, director Keith Behrman's characterisation of Mouse appears to be ill-considered. Although every transgender experience is different, Mouse feels like a misstep in comparison to Heartstopper's Elle (played delightfully by transgender actress Yasmin Finney).
Nevertheless, Giant Littles Ones feels like a modern-day rumination on the fluidity of gender in today's adolescents. Indisputably, it is refreshing to see a plethora of representations of queerness in Heartstopper, from gay, bisexual, to transgender. In fact, the show and its beloved characters have prompted a tidal wave of queer teens coming out to their loved ones, and it is amazing to see. However, there are still those who feel unable to label themselves. And who's to say you should have to? The ambiguity of sexuality and gender in Giant Little Ones is where its beauty lies, and what elevates it past the clichés of queer coming-of-age films.
---
4. SING STREET
Director: John Carney
Year: 2016
Directed by John Carney, Sing Street follows Conor (Ferdia Walsh-Peelo, from this year's Academy Award Best Picture Coda), a boy growing up in Dublin during the 1980s. Crippled by financial struggles, Conor's parents send him to the local comprehensive school, where he is bullied by classmates and the headmaster alike. In a bid to escape his bickering parents at home, and frustrations with his school, he decides to start a band to impress the mysterious Raphina (Lucy Boynton, Bohemian Rhapsody).
See Also

What follows is undoubtedly one of the most vibrant and memorable coming-of-age films of recent times. With the perfect mix of comedy and vulnerability, Sing Street feels like a blueprint for every teen drama that follows it. Much in the same way, Conor and Raphina stick in our mind as the teenage love story that feels destined to outdo the 'young love doesn't last' comment, passing the baton onto our next hopefuls, Nick and Charlie.
Where the soundtrack to Netflix's Heartstopper amalgamates all the latest TikTok bops, Conor's 'futurist' band Sing Street take inspiration from the likes of Duran Duran and The Clash, firmly situating itself in the eighties. Conor's appreciation for music comes from Brendan (played affectionately by Jack Raynor), who acts not only as Conor's educator, but as his mentor and father figure. This relationship between Conor and Brendan is also at the heart of Sing Street, and Brendan's protectiveness reminds us of a certain Tori Spring (who we hope to see more of in Season 2).
---
5. ELLIE AND ABBIE (AND ELLIE'S DEAD AUNT)
Director: Monica Zanetti
Year: 2020
If you loved Tara and Darcy's relationship (played by Corinna Brown and Kizzy Edgell, respectively) in Heartstopper, Ellie and Abbie (and Ellie's Dead Aunt) is going to be just the ticket for you. Set in Sydney, Australia, Ellie and Abbie follows the former title character Ellie (Sophie Hawkshaw), as she struggles to find the courage to ask her classmate, Abbie (played by nonbinary actor, Zoe Terakes), to the formal. The coming-of-age, queer drama adds a unique and comedic flare with the inclusion of Ellie's Aunt Tara (Julia Billington), a dead lesbian, who frequently turns up to offer Ellie advice.
In Zoe's Heartstopper review for Loud and Clear, she writes that the show is 'more notable for telling a queer love story that isn't defined by trauma or tragedy.' The same could be said for Ellie & Abbie at first, as the film begins with a utopian feel to it. With a room covered in manifestations and positive thoughts, Ellie appears to have her life together. She also seems to have avoided the 'realising-I'm-gay-and-freaking-out-about-it' phase, as despite Aunt Tara's concerns, she tells her, '[being gay is] really not that big of a deal' because 'there's like five other gay kids in [her] year.' However, Ellie is about to find out it may not be that simple after all.
Although Aunt Tara's presence is initially intended as comedic relief, her presence both educates Ellie and the viewer about our queer ancestors, who fought to pave the way for them, so they can exist in a world where being gay is more accepted. Tara also feels, at times, like the projection of Ellie's anxieties surrounding her sexuality, it being easier for her to separate herself from these negative feelings rather than admit that she is scared. What began as asking her classmate a simple question ends up as a journey of introspection and self-discovery.
Despite the trials and tribulations Ellie experiences throughout the film, her coming-out ultimately brings her closer to her family and the girl she likes. In her Heartstopper review, Zoe highlights the importance of the show's queer representation as those in the LGBTQ+ community 'deserve to see themselves experiencing the same romantic elation their straight classmates enjoy, because it is possible for them too.' The same could be said for Ellie and Abbie, who when attending the formal together, almost mirror Tara and Darcy at their classmate's birthday party.
---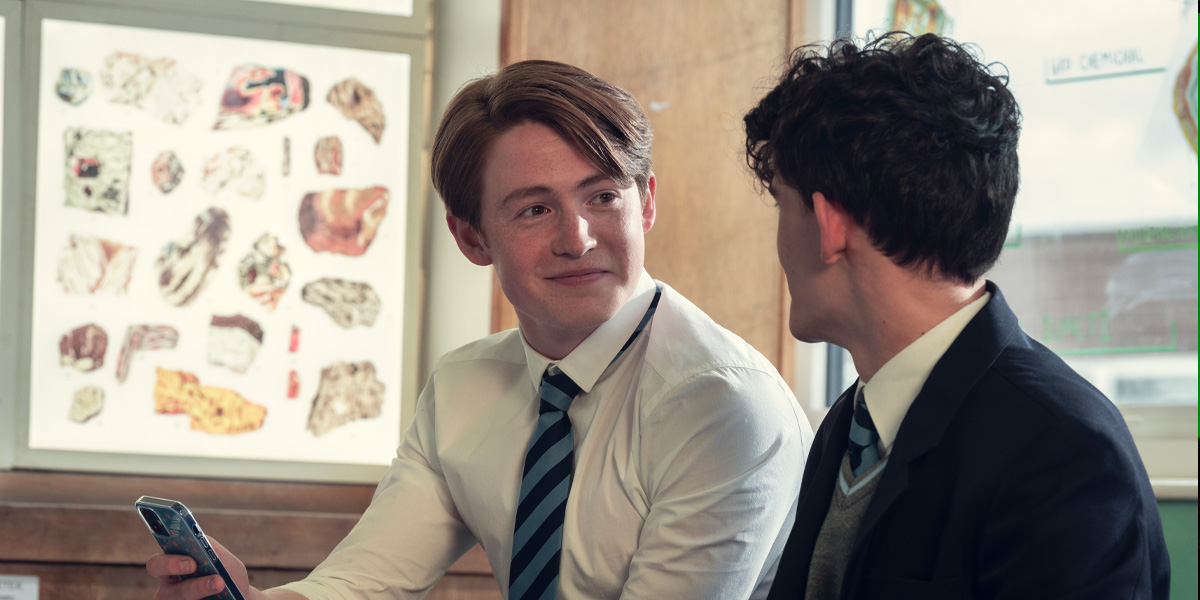 Heartstopper is now available to watch on Netflix. Read our review of Heartstopper!