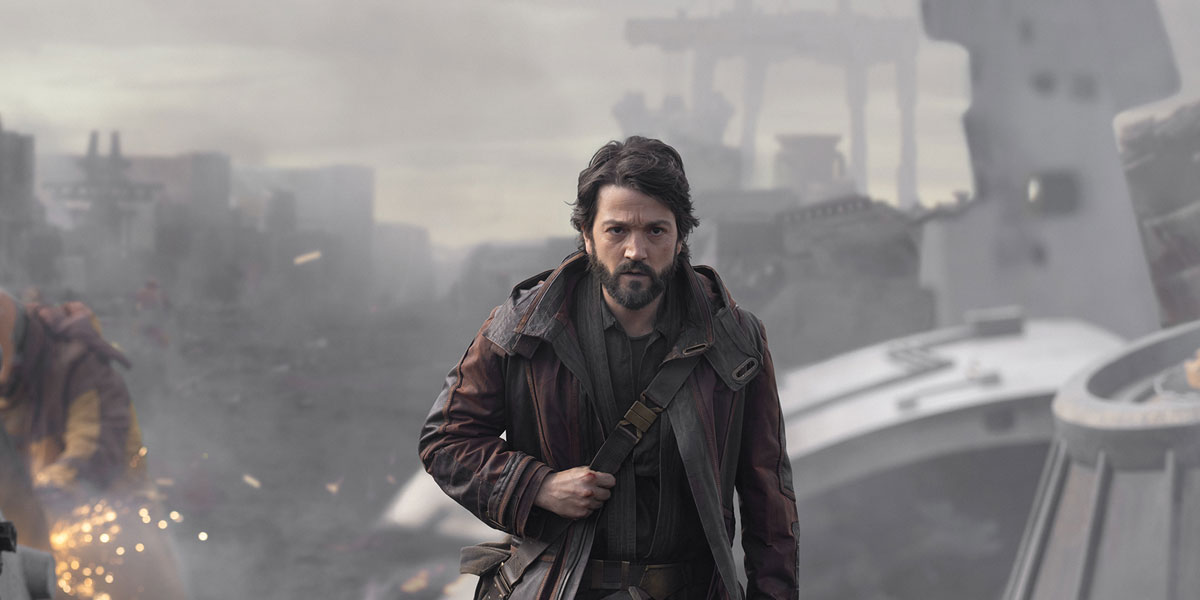 Diego Luna is Cassian Andor in Season 1 of andor, exclusively on Disney+. (© 2022 Lucasfilm Ltd)
Season 1 of Andor, the new Star Wars spinoff show, is slow-building, methodical, and presents the rebellion at its most grimy and compelling.
---

The first episode of Andor, the Star Wars spinoff starring Diego Luna as his character from Rogue One: A Star Wars Story, quickly establishes that the series will be nothing like the shows that have come before it in a galaxy far, far away. The show sets an early tone, one that feels dark, gritty, and appropriate for its story about isolation, totalitarianism, and rebellion. Andor begins with its titular character, Cassian Andor (Luna), on a planet named Morlana One, a destination that feels plucked from the set of a Blade Runner film. Its rainy streets and cyberpunk-style atmosphere fit the character of Andor perfectly, as his story begins with him in a rather dark place. He's cold-hearted, he lies, and he kills. His character is at the perfect starting point to undergo a redemptive transformation.
Andor begins the show by searching for his lost sister, an endeavor that leads to a conflict between Andor and two Imperial security officers. Andor accidentally kills one officer before murdering the other to cover his tracks. The rest of the series shows Andor on the run, while being placed in the middle of a brewing attempt to rebel against the Galactic Empire. Along the way, he makes several enemies, and finds a few allies who show him the importance of what one person can do to spark revolution.
The cast includes several standouts, including Denise Gough as Dedra Meero, an Imperial Security Bureau (ISB) supervisor who becomes the show's main antagonist, and Stellan Skarsgård as Luthen Rael, a rebel who poses as an antiques dealer on Coruscant. Genevieve O'Reilly reprises her role as Mon Mothma from Revenge of the Sith and Rogue One, a Senator who secretly supports the Rebel Alliance. Andy Serkis also appears as a prisoner who helps Andor execute a large-scale escape.
Many of the characters in the show, including Andor himself, muddle and complicate a world that has its basis in a black-and-white moral binary (the dichotomy between the Jedi and the Sith is the most obvious example). The show's thesis is that morality is not as clear cut, with good people often doing bad things in order to serve a greater purpose. It dares its audience to ask itself whether this position is correct, making it one of the most philosophically interesting stories told in the Star Wars universe.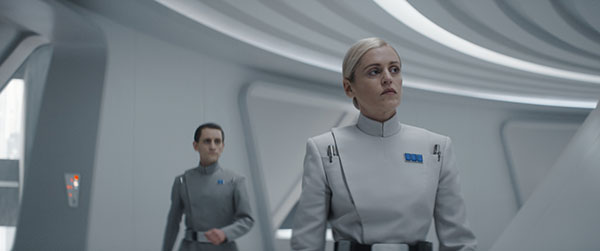 The show also works partly because of its ability to focus its more action-packed moments while building a compelling narrative around those few explosive scenes. Episode 6 ("The Eye") features a fun infiltration sequence, while the prison break in Episode 10 ("One Way Out") and the climactic riot on the planet Ferrix in the season finale ("Rix Road") are also stirring tension releases. While the bulk of the show is more dialogue-driven and methodical in its pacing, these episodes give fans of taste of the Star Wars action they have come to expect. The flashback scenes in the early episodes are also exciting, and prove important to the plot, as they set up the most important relationship in the show.
There are many moving parts in this first season, but the emotional glue holding everything together is the character of Maarva (Fiona Shaw), Cassian's adoptive mother. While Andor's connection with other characters, including Bix Caleen (Adria Arjona), a friend and black-market dealer, and Brasso (Joplin Sibtain), a fellow miner on Ferrix, serve important functions, his relationship with Maarva carries the most significance. Despite her old age, Maarva is determined to serve the Rebel Alliance in its fight, and her rallying posthumous speech in the finale sparks not only a riot against the Empire on Ferrix, but also helps Andor complete his arc from lonesome, angry nomad to full-fledged rebel fighter, a mantle that will continue in the upcoming second season as well as one fans will recognize from his character in Rogue One.
See Also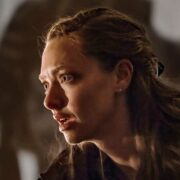 Despite some good sporadic action scenes and great character development, the season's slow pace and multiple storylines may prove taxing for some viewers. Jumping back and forth between planets and characters can become confusing, especially when much of the conversations seem to overstay their welcome and often include political jargon that does not truly move the plot forward. Some characters and storylines, especially the one revolving around Deputy Inspector Syril Karn (Kyle Soller), do not feel fully fleshed out and seem inconsequential to the overall story. Even though the show's methodical approach is more virtue than vice, there are some elements that could have been cut with little-to-no consequences for the overarching narrative at work.
The first season of Andor is dark, patient, and contemplative. It is a far cry from the likes of The Mandalorian or Obi-Wan Kenobi in its tone, which may be exactly what a portion of the Star Wars fanbase has been clamoring for. The show works more as an introspective neo-noir than the traditional space opera and utilizes its structure as a character study to explore important, timely topics such as the complexity of morality and what it takes to confront evil. Season 2's success will likely hinge at least partly on the continuation of these poignant ideas.
---
Season 1 of Andor is now available to watch on Disney Plus.