Ms. Marvel Episode 1 Review: Welcome to the MCU, Kamala Khan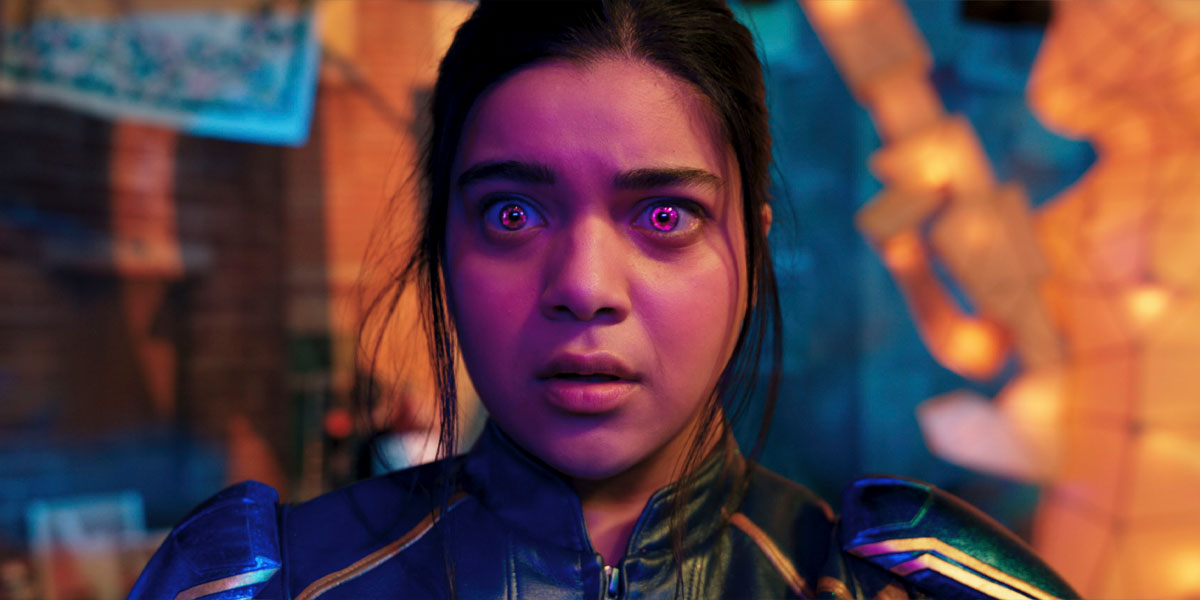 Iman Vellani as Ms. Marvel / Kamala Khan in Ms Marvel. (Daniel McFadden. © Marvel Studios 2022.)
Ms. Marvel Episode 1 serves as the beginning of a coming-of-age tale and introduces Iman Vellani's Kamala Khan to the MCU in a way that's fun and refreshing.
---
Full disclosure: I've been a fan of Kamala Khan since her solo comic series, Ms. Marvel, hit stands in February 2014. I distinctly remember asking my local comic shop to pull each issue for me and then getting my mother to pick them up since I was away attending college. Those of you that don't know me won't know that I consider myself as someone that loves representation in film, television and literature. As an adult, I've been very passionate about people young and old, getting to feel seen in various forms of media. This stems from the magic of feeling seen at a very young age when I first picked up a Spider-Man comic book and saw myself in Peter Parker. That is experience I want for not only every kid, but also for anyone that hasn't felt that joy. It's exactly why I was so excited to read a comic about the first Muslim Marvel character to headline her own comic book, Kamala Khan.
The character is different from me, which was exciting to read, but I also found things about Kamala that I could relate to. She's an avid Captain Marvel fan (much like myself) and takes on the Ms. Marvel moniker previously used by Carol Danvers after discovering she has superpowers. Kamala in her early comics is also on a journey of figuring out who she is as a person: She's struggling with fitting in and with her Muslim faith, now you throw powers into that mix. At that time, I was in college, and trying to do a little fitting in of my own. Naturally, that helped me connect with Kamala more and ultimately helped me fall in love with her character.
Fast forward to now and Kamala Khan is being introduced to the juggernaut that is the Marvel Cinematic Universe (MCU). While the slight changes to her origin and powers did have me slightly worried, if Episode 1 of Ms. Marvel on Disney+ is any indication, the character will be done justice on the small and big screen. Kamala is being introduced in this series prior to making the leap to cinemas in 2023's The Marvels, which will see the young hero team up with Brie Larson's Carol Danvers/Captain Marvel and Teyonah Parris as Monica Rambeau. This is arguably the most connected Disney+ MCU show since WandaVision in 2021, which tied directly into Doctor Strange in the Multiverse of Madness (2022) and had Elizabeth Olsen's Wanda Maximoff/Scarlet Witch play a key role in both the show and film. While that may change, as of right now, we haven't really felt the impact of the MCU television series on the films outside of that. Loki Season 1 (2021) did not play as big a role in Multiverse of Madness as you would think, given how that show ended. The second Doctor Strange film seems more directly tied to the aftermath of Spider-Man: No Way Home (2021) rather than Loki. At this point, Ms. Marvel is the best chance to reenforce the "It's all connected" nature of the MCU and make these shows feel like essential viewing. Most of the MCU television shows released post WandaVision have been teased to have connections, but they haven't shown on the big screen to date.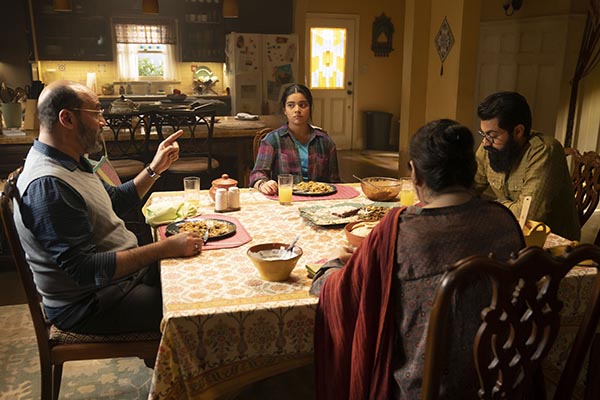 Ms. Marvel centers on Pakistani-American teenager and high school student Kamala Khan (Iman Vellani) from Jersey City, New Jersey. Kamala is a superfan of the Avengers, and Carol Danvers/Captain Marvel (Brie Larson) in particular. She lives with her father (or abu), Yusuf Khan (Mohan Kapur), her mother (or ami), Muneeba (Zenobia Shroff) and older brother, Aamir (Saagar Shaikh). Her parents are very strict and faithful to the Muslim teachings, which creates friction with their daughter. Episode 1, titled "Generation Why", sees Kamala attempting to attend the Avengers convention "AvengerCon" with her best friend, Bruno Carrelli (Matt Lintz) in spite of the rules set in place by her parents. While Kamala's ultimate goal may be to win a Captain Marvel cosplay contest while at the convention, putting that outfit together, is going to ultimately change her life forever.
The biggest highlight of Ms. Marvel Episode 1 is without question, Iman Vellani's performance as Kamala Khan. She perfectly embodies this character that both she (as A Fan's Guide to Ms. Marvel, the documentary short on Disney+ showed) and audiences have grown up loving. In her first major acting role ever, the 19-year-old Vellani commands the screen and immediately makes you want to see her Kamala succeed. She's bursting with energy and adorable charm, and feels every bit like a teenage Avengers superfan. Embodying the character goes beyond that, obviously, and Vellani does a great job of capturing the beginnings of Kamala's struggle with her parents, and with her faith.
Episode 1 tells a story that feels more "coming-of age" than any other MCU project to date. Spider-Man: Homecoming (2017) comes close, but at the end of the day, Tom Holland's Peter Parker still had more advantages and felt less like a real teenager. Kamala Khan feels more like a teenager that has been plucked out of the real world and placed into the MCU. Her only real advantage is having a friend in Bruno who is sort of a tech whiz, and her intense superhero knowledge. That to me screams real teenager dealing with teenage problems more than Peter, who has connections with the other Avengers throughout his trilogy of films. Kamala deals with her problems (mostly) like any teen in the real world would throughout the first episode of Ms. Marvel. The best part of the story told here is that it gives us time to not only get to know Kamala, but also her family and friends. We go through a day or so in her life in Episode 1 before she even gets her powers and it feels perfectly paced. It's a solid origin story with a coming-of-age flair and gets you even more excited for what's to come because you're into these characters.
See Also

While I'm not exactly the biggest fan of Ang Lee's Hulk (2003), I can say that I did enjoy the attempts that were made to make the film seem more like a comic book. Ms. Marvel takes a page from Lee's book and features multiple comic book-esque visuals, including panels, for example. Said visuals pair well with the idea that Kamala is a teenager lost in the world of superheroes and look pretty solid when used. Much like with WandaVision, and its use of classic sitcoms, using that fantasy element of Kamala's mind helps create a unique looking show that is visually unlike any MCU media to date. Those of you suffering from "Superhero fatigue" may find Ms. Marvel to be refreshing because of the unique approaches that they take with the characters, story, and visuals.
It should be interesting to see how Marvel manages to tell the rest of this story, because Episode 1 of Ms. Marvel is definitely worthy of the title character. Iman Vellani is certainly going to bring her all every week, that much I'm certain of. Will the series be able to maintain that coming-of-age charm as things get further ingrained into the MCU? That I'm not as certain of, WandaVision didn't have a perfect landing despite being fantastic overall, the finale wound up being typical Marvel. I really hope that Ms. Marvel avoids that and maintains that sense of uniqueness throughout its 6-episode run. One thing is certain, I'm very excited to see where the story and the character of Kamala Khan go from here.
---
Ms Marvel 's Episode 1 is now available to watch on Disney Plus.