Wednesday (Netflix): Season 1 Review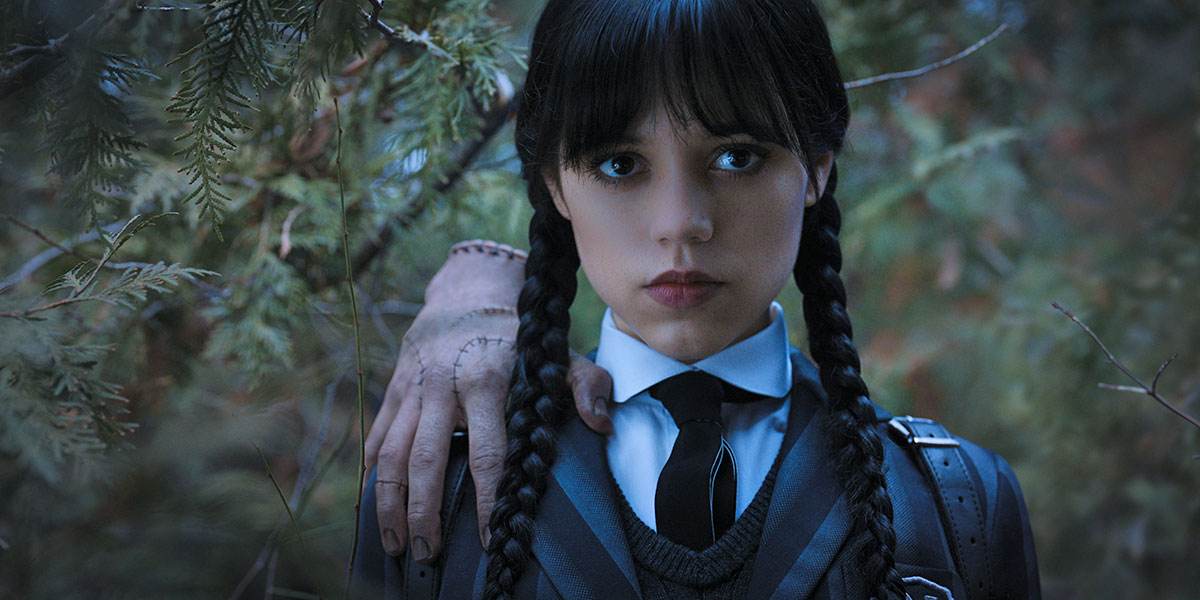 Thing and Jenna Ortega in episode 104 of Wednesday (Netflix © 2022)
Starring an astonishing Jenna Ortega as Wednesday Addams, Season 1 of Netflix 's 2022 series Wednesday is quite the mysterious and spooky delight.
---

Let's be honest, The Addams Family, created by American cartoonist Charles Addams, have had a long running up and down adaptation history in the years leading up to the release of Netflix's Wednesday. The first of which was known simply as The Addams Family and ran from 1964 to 1966 on ABC. That led to a telefilm called Halloween with the New Addams Family in 1977 and even an animated series unrelated to either of these properties produced by Hanna-Barbera in 1973.
The franchise received a revival in the 1990s on the big screen, with The Addams Family (1991) starring Anjelica Huston and Raul Julia as Morticia and Gomez Addams becoming a huge hit at the box office. However, its 1993 sequel, Addams Family Values, despite receiving a better critical reception, did not perform as well. These films inspired another Hanna-Barbera animated series, which ran from 1992 to 1993 and was set within the same universe.
In the years that followed the theatrical films, The Addams Family received two reboots, the first of which came in the form of the direct-to-video film entitled Addams Family Reunion (1998), which received a short-lived television spin off of sorts, The New Addams Family. The characters returned to the big screen in animated form many years later when The Addams Family (2019) hit theaters and much like its live-action adaptation counterpart, made gangbusters amounts of money (the 2019 film grossed $203.7 million against a budget of $24 million). As you might expect based on that success, a sequel, The Addams Family 2, was released in 2021.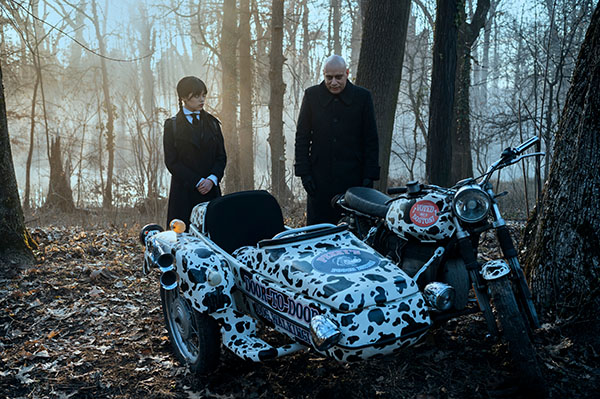 My exposure to the franchise largely stems from limited reruns of the 1964 series, the 90s films, and whatever I could find on dial up internet related to the original cartoons that were published by Charles Addams mostly in The New Yorker. I do not hold the same fondness for the films directed by Barry Sonnenfeld in the 1990s as most of my generation. Some elements, particularly Christina Ricci's performance as Wednesday Addams, do hold a special place in my heart, but to me those films were just okay. However, I do not consider the 1964 television series to be a perfect adaptation that cannot be surpassed either, even if it was utterly fascinating to my young mind.
When a series focusing on Wednesday Addams was announced to be coming to Netflix, I naturally was curious, especially with acclaimed director Tim Burton, who has a knack for supernatural comedy, on board as a producer and even slated to direct a few episodes. My responses to Burton's work have been haphazard, but my thought was that if anyone could reinject life into these characters and their world, it would probably be him. There was also the chance that this latest project of his would crash and burn, putting the final nail in the Addams Family coffin, at least for me. Imagine my shock when I discovered that along with series creators Alfred Gough and Miles Millar (who cocreated the Superman prequel television series Smallville), Tim Burton has managed to successfully bring Wednesday and members of her eccentric family into the modern age with Netflix's Wednesday (2022).
Wednesday focuses on the titular character, Wednesday Addams (Jenna Ortega) as a high school student at Nevermore Academy, home to various supernatural beings. Wednesday must learn to master her budding psychic powers, deal with a monstrous killing spree impacting the nearby town of Jericho and solve a decades old mystery with ties to her parents, Gomez (Luis Guzmán) and Morticia Addams (Catherine Zeta-Jones). If that is not enough, Wednesday must also navigate perhaps the most terrifying thing of all, relationships with her peers and instructors at Nevermore.
Before anything else, there's one thing that Netflix's Wednesday series absolutely had to get right to be successful. That would be the casting of one Wednesday Friday Addams, not only because many consider Christina Ricci's version of the character from the 90s Sonnenfeld films to be iconic, but also because you are building this entire series around this character. If this latest version of Wednesday had been miscast, the series likely would have been an absolute disaster. The pressure was on Fiona Weir, who oversaw the casting of Wednesday to get this right and once you have seen the cold open of Episode 1, it will become undoubtably clear that Weir nailed it.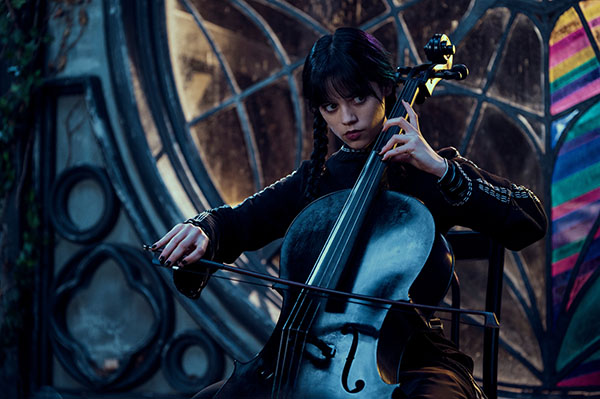 Jenna Ortega (who has been on a tear in 2022, starring in films like Scream, The Fallout, and X, among others) is incredible in the role. She does not try and copy what has been done before, but instead takes her own approach to bringing the gothic teen to life. Ortega's monotoned voice and piercing eyes pair well with the tiny details such as her pale complexion on screen and the fact that her version of the character does not blink often (which makes her appear lifted right from those original The New Yorker cartoons). In Wednesday, the characterseems to take a more sadistic pleasure in everything dark and creepy, with her some of her biggest smiles emerging during incidents that would terrify normal people. She's also fiercely protective of those very few people that she chooses to let in. I use the term "let in" loosely because Wednesday is still very cagey and emotionless, something that Ortega brings to the screen in a way that is not too corny.
The creative team and Ortega have worked to create an inquisitive version of the character, one with various hobbies and skills, and a charm that makes her frustrating, understandable, and nearly impossible to not root for. Without Ortega in the titular role, Wednesday would be nowhere near as wonderful as a series. Her performance is part of what makes this Netflix original that should only appeal to teenagers reach over that isle and become something that reminds older, more nostalgic audience members like myself how interesting the world and characters of The Addams Family can be when done right.
So, I've mentioned that this story veers towards a teenage audience, but in all honesty, I found this narrative more compelling than something like Riverdale, even as a 27-year-old. This coming-of-age supernatural horror comedy can get a little predictable at certain points, but it is not the worst thing in the world. You can sort of feel the Smallville influence from Gough and Millar, who put a focus on finding out just who Wednesday Addams is, while also introducing audiences to the new world/setting filled with familiar characters/elements, as well as new additions. Rather than a villain of the week format like Smallville, Gough, Millar, and the creatives behind Netflix's Wednesday introduce a supernatural mystery, one that unfolds as the character of Wednesday Addams discovers more about herself, her family, her powers, and the world of Nevermore Academy.
I was honestly impressed by how well they blended the mystery with Wednesday's coming of age journey. Part of the mystery is just dark enough without going over the edge, and it makes sense that Wednesday would be fascinated by a monster going on a killing spree. The other half of it, which revolves around Gomez and Morticia Addams, is good enough to set off the detective in Wednesday and the audience. As things move along on both ends of the mystery, you will see our protagonist and some of the characters around her grow.
How do you do a coming-of-age story centered on Wednesday Addams? By putting her in a place where she does not exactly have an advantage. The world of Nevermore Academy is just as dark as Wednesday herself because it is filled with supernatural beings. She no longer has the advantages that she would have in a normal high school, everything and everyone around her is mostly just as bizarre as she is. How she deals with that, and then solves the mystery that appears, makes for a more compelling story than seeing Wednesday interact with normal people for an entire season. This new setting and mystery give the character a better opportunity to come of age in a way that we haven't seen before. Audiences are so used to seeing Wednesday and her family interact with normal people, but we have not seen them really deal with something as unique as they are. That's not to say we don't see elements of satire, and others finding Wednesday bizarre or frightening, those are still present in Wednesday. Think of this narrative as sort of a best of both worlds.
One negative of the story is that there are characters that I struggled with caring about. Say what you want about Riverdale, but at least when I watched that show, I always cared about the characters no matter how ridiculous the story got. Caring about Wednesday's peers, like Bianca Barclay (Joy Sunday), became a chore when they weren't involved with the main mystery or helping to further Wednesday's development. This is not the fault of actors like Sunday, who does an excellent job in the role, but her character's side plot just comes out of nowhere in a critical episode and is pushed aside just as quickly (at least for now). You cannot just under develop characters and then give them a side plot out of nowhere: it harms the overall experience, and Wednesday has multiple cases of this issue, along with some dropped plot threads. I took little interest in Xavier Thorpe (Percy Hynes White) as well: he has minimal traits and his arc is incredibly predictable, to say the least without diving into spoilers. That's a shame because I enjoyed Hynes White in Fox's television series The Gifted.
Another negative is that even if the mystery is compelling, it can get a little predictable. I would have appreciated it if the writers had taken a few more risks to set the mystery apart. The overall narrative and mystery start off so well, by setting the character of Wednesday in a different space than we have ever seen her in, but at certain points it feels like they were trying to play it safe. At the very least though, I was mostly satisfied with where Wednesday Season 1 ended, and especially with Wednesday's overall arc.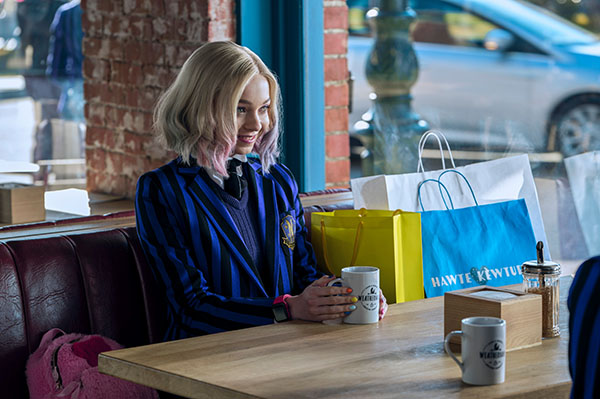 The character in Wednesday that I love as much as Wednesday Addams and the one that has the most thought-out arc is without question Enid Sinclair (Emma Myers), Wednesday's roommate. Enid is the ideal person to pair with Wednesday, even though on paper these two could not be more different. She's a cheery and friendly werewolf, and Wednesday obviously clashes with her at first. Seeing their friendship grow is one of the most rewarding things about Season 1 and I'll be honest, when Enid first appeared, I was right there with Wednesday in a state of loathing her. However, as I learned more about the character, I found myself growing fonder of Enid and I loved her interactions with Wednesday.
See Also

Jenna Ortega and Emma Myers also have terrific chemistry, and watching the two play off each other is awesome. Of all the teenage characters besides Wednesday, Enid gets the most development, plays a key role in Wednesday's arc, and is the most likeable. Her journey is satisfying enough on its own that it could be part of a separate show without ever upstaging Wednesday Addams and her coming-of-age story. Emma Myers is a joy whenever she is on screen and will likely make you fall in love with Enid Sinclair. Myers makes Enid much more than your typical opposite roommate: she finds the person within the character and brings Enid's every emotion to the screen brilliantly. It is hard enough to bring an authentic portrayal of a teenager to life, now imagine being a teenage werewolf. Emma Myers somehow, someway, succeeds at creating a teenage werewolf that makes you feel her joy, her sadness, and her anger throughout Wednesday.
Ortega, like Myers, commits to the role of Wednesday Addams, and creates a version of the character in Netflix's Wednesday that feels like a teenager. Previous versions of Wednesday did not feel as authentic. As iconic as Christina Ricci's performances in the 90s films were, her Wednesday felt like she was portraying a character. Ortega, while maintaining Wednesday's trademark emotionlessness and even while looking less normal (due to the fact that she does not always blink), takes the character to a more human place. Her subtle vocal inflictions and facial expressions make Wednesday feel less like a robot. Wednesday's smile is the perfect example of why Jenna Ortega's version of the character is the most human. She does not make it look forced: whenever Wednesday Addams smiles in this series, it looks so genuine, like she is a teenager absolutely reveling in whatever sadistic or strange thing has brought her a fleeting moment of happiness.
Luis Guzmán and Catherine Zeta-Jones, too, bring wonderful versions of Gomez and Morticia Addams to life in Wednesday. They still adore the macabre, and express their love in ways that are excessive, but Guzmán and Zeta-Jones look like the characters as they appeared in the original cartoon forms, a first in terms of live action. They play their supporting roles in the story centered around Wednesday's growth perfectly and never take away from her. While more of the two would be welcome, you're not going to be screaming for them to stay. Wednesday and the narrative are enough to keep you invested, with Gomez and Morticia acting as a little treat for coming on the ride, along with Pugsley Addams (Isaac Ordonez), and Lurch (George Burcea).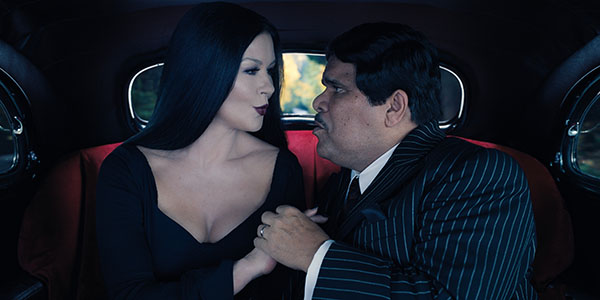 Uncle Fester (Fred Armisen, who I believe is the best version of the character to date) also appears, but he too supports Wednesday and serves as fantastic comic relief. Speaking of comic relief, Wednesday uses Thing (Victor Dorobantu) in a lot of fun and creative ways. Believe it or not, the living hand and the Addams family's servant is probably my third favorite character in Season 1 after Wednesday and Enid. The additions and references to the wider Addams Family lore are solid and help further establish this universe as the new status quo for the kooky characters.
The direction by Tim Burton and others throughout the 8 episodes of Netflix's Wednesday fascinates me. Everything is dark, and yet vibrant, and I wish I could dive into spoiler territory to discuss some of the great shots that Season 1 has to offer. One of my favorite sequences is in the trailer though, when Wednesday is playing her cello outside her bedroom, it is beautiful to watch. As far as special effects go, Wednesday is not always on the caliber of say, Stranger Things, in terms of quality, but for a teenage supernatural show, I have seen worse. Certain effects have a more throwback look in the vein of classic monster movies and others are more modern. When the show is not making things spooky, the direction, score by Danny Elfman and Chris Bacon, and the effects can lend a hand to keep you on your toes.
Wednesday offers an interesting new take on the titular character, with Jenna Ortega portraying what is the best version of Wednesday Addams to date. Executive Producer/Director Tim Burton's keen horror influence is felt and helps transition The Addams Family into the present day, where creators Alfred Gough and Miles Millar have built a spooky coming-of-age story around a mystery that sticks the landing despite being predictable at times. Netflix has crafted something that will absolutely delight audiences, no matter their age.
---
Wednesday is now streaming globally on Netflix.