Stranger Things 4 (Vol. 2) Review: Wins & Losses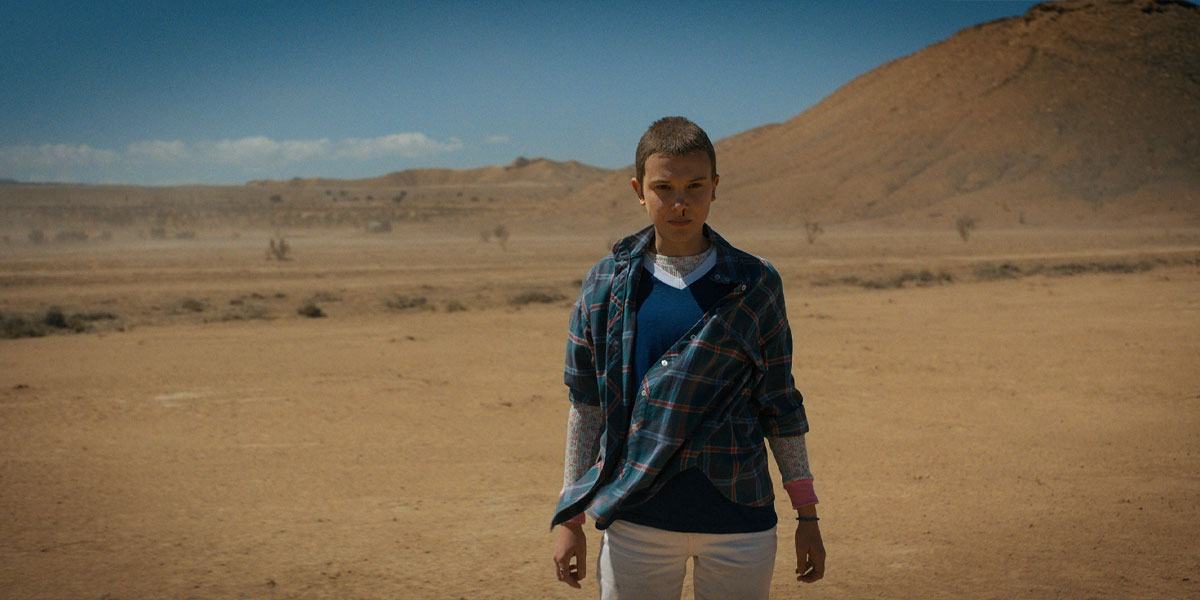 Millie Bobby Brown as Eleven in STRANGER THINGS 4 Vol. 2 (Netflix)
Despite some baffling writing decisions, Stranger Things 4 Vol. 2 is absolutely incredible, and sets the perfect stage for the final season of the Netflix series.
---

Well, that was a lot, and for the most part, it was sensational. The second set of episodes that make up Stranger Things 4 had a lot of things to follow up on and it also served as the lead in to what will be the final season of the series. There's a lot riding on what The Duffer Brothers and the creative team do here, because who'll want to stick around for the final season if the ending of the fourth season isn't satisfying? Sure, Stranger Things is a global phenomenon, but you have to keep everyone's attention.
The Duffer Brothers and the terrific cast are back with the supersized episodes that make up Stranger Things 4 Vol. 2. Episode 8 runs about 1 hour and 20 minutes long, while Episode 9 is a feature-length 2 hours and 20 minutes. So much is packed into Vol. 2 that you honestly can't even blink for a second and if we're being honest, it gets so intense at certain points that you will likely either be shaking or frozen in place. Questions are answered, we get some great character moments, and the visual effects are superb throughout both episodes. Even though I have issues with some of the writing, Vol. 2 is a fantastic capper to the nearly perfect fourth season.
Stranger Things 4 Vol. 2 picks up almost immediately where Vol. 1 left off with Steve Harrington (Joe Keery) and the gang attempting to escape the Upside Down and Vecna/Henry Creel/One's (Jamie Campbell Bower) grasp. Meanwhile, Mike Wheeler (Finn Wolfhard), Will (Noah Schnapp) and Jonathan Byers (Charlie Heaton) are continuing their search for Eleven (Millie Bobby Brown) who is being held by Dr. Martin Brenner (Matthew Modine) as she attempts to regain her powers. Finally, Jim Hopper (David Harbour) has reunited with Joyce Byers (Winona Ryder) and the duo must escape the Russian prison alongside Murray (Brett Gelman). Each group will have a role to play as a battle with Vecna looms for the fate of Hawkins and the world.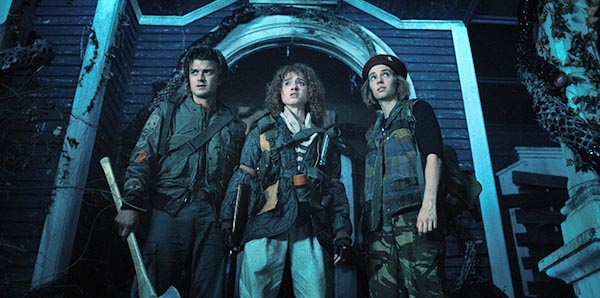 Let's go ahead and get the writing out of the way first, because there are positives and negatives to what the Duffers did in Stranger Things 4 Vol. 2. While they managed to expand on the lore of the Upside Down and set up what should be an insane final season, there were missteps. In my review of Vol. 1, I mentioned a returning character that only got one scene with a potential new love interest. Said love interest gets about as much screen time in Vol. 2 and, while it seems like the Duffers want us to root for this new pairing, it doesn't work at all because the love interest isn't even really a person. This newcomer is a prize to be won, and therefore we can't be happy for our hero when they connect again. It's especially difficult when you consider that this same main character had great chemistry with another lead throughout Vol. 1, so much so that certain audience members began hoping THEY would get together. It's just disappointing, because this fan favorite deserves so much better than what the Duffer Brothers are giving.
Then there is the pointless Jason Carver (Mason Dye) subplot, which continues to be a cliché take on the "Satanic Panic" of the 1980s. It could've been cut in the beginning, and you could've used all that airtime to not only develop Lucas Sinclair (Caleb McLaughlin) but also other characters like our previously mentioned fan favorite's new love interest. Lucas gets a solid arc and character moments that are satisfying to watch, but it doesn't feel that we needed this Jason subplot to reach that point.
Another issue with the writing of Stranger Things 4 Vol. 2 is the dropped plot threads: while some of them could be revisited in the final season, some crucial points/characters just disappear completely from the narrative of Season 4 as if the Duffers think that we'll just forget about them with enough time. Some of the other writing decisions don't make much sense either but I can't really get into specifics without diving into major spoilers that would ruin the experience. Let's just say that there are head scratching moments here for sure.
In terms of positives with the writing, there are a lot! The Duffers do manage to balance and finish off 3 different stories, which is impressive given the number of characters involved in each. They also find interesting ways to have some of our characters interact, even if they may be far from each other. Vecna is still quite menacing, thanks to the writing, and Jamie Campbell Bower's performance. He's clearly a villain, but the Duffer Brothers have expanded on what we learned about him in Vol. 1, and given us a proper glimpse into his motivations, which will now allow audiences to make our own proper judgement of him. Several of our main characters have moments that will make you, laugh, cry, and cheer. This is fantastic because when you're dealing with a large ensemble like this, it can be easy for characters to get sidelined. The writing in Stranger Things 4 Vol. 2 mostly doesn't allow that to happen.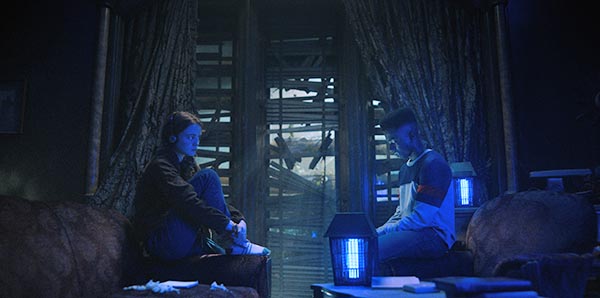 Of the main characters, Max Mayfield (Sadie Sink) and Millie Bobby Brown's Eleven are the standouts. Both actresses crush their pivotal and emotional scenes, which are some of the most tearjerking segments in all of Vol. 2. Their arcs are also complex, and they make perfect sense considering where we left these characters in Vol.1. It's impressive seeing both Sink and Brown take these characters that they've been portraying for years and take them to new heights with their performances. The writing obviously plays a part in that evolution as well, but the actresses must bring Max and Eleven to life at the end of the day.
The visual effects showcased in Stranger Things 4 Vol. 2 are outstanding, it really helps you get further immersed in this world. They also make the fight scenes that much more intense, because you believe that the characters are fighting in the vast, dark, creepy world of the Upside Down. Not only that, but the visuals on Vecna are so wild and really make him look and feel like the ultimate villain from your nightmares.
I'm honestly impressed that the Duffers managed to put audiences through the same emotional ringer that Avengers: Infinity War (2018) did, at least to an extent. Stranger Things 4 Vol. 2 feels like the beginning of an ending and yet manages to stand out well on its own. Episode 9 is bombastic and very cinematic from start to finish; it finishes most of our main arcs and leaves our heroes in a place that we haven't seen them before. This should make for a great jumping off point for what I hope will be a final season for the ages.
Stranger Things 4 Vol. 2 is epic and just as good as Vol. 1 was. Both have their issues, but ultimately work together to craft what is the finest season of Stranger Things to date. My biggest question that I have is: "How are The Duffer Brothers going to top this?" It's going to be difficult, for sure, but I trust them to finish out this story the right way.
---
Stranger Things 4 (Vol. 2) is now available to watch on Netflix. Read our review of Stranger Things 4: Vol. 1.