Golden Globes 2021 Film Predictions: Who will win, and who should win?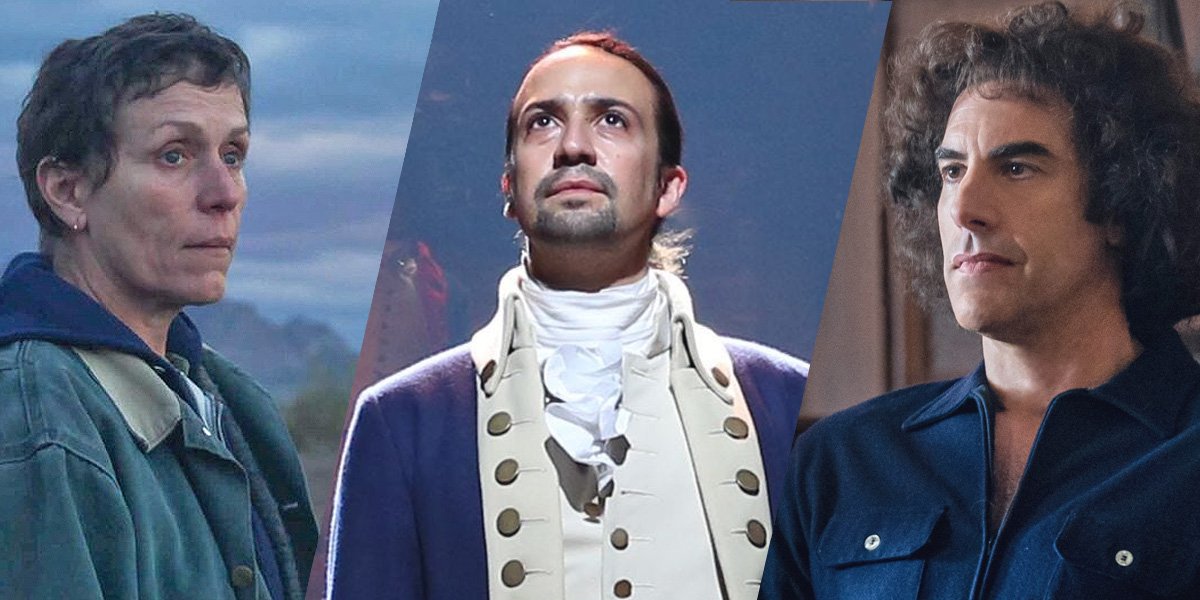 Nomadland, Hamilton, The Trial of the Chicago 7 (Searchlight Pictures, Disney+, Netflix)
The televised awards season starts Sunday, and we at Loud and Clear weigh in with our predictions on who will win in the film categories at Golden Globes 2021.
---
Authors: Bernard Ozarowski & Zoë Rose Bryant
After what seems like eons, we've finally arrived at the start of the televised ceremonies of awards season with Golden Globes 2021, set to be held this Sunday. For the most part, the usual frontrunners are all present – Mank leads the film nominations with six total, while The Trial of the Chicago 7 nabbed five nods, and Nomadland, Promising Young Woman, and The Father all earned four each. Sadly, as seems to always be the case, the Globes have generated a bit of controversy as well, as many (rightfully) admonished the HFPA for overlooking multiple acclaimed, Black-led films – with less-than-stellar showings for One Night in Miami… and Ma Rainey's Black Bottom, and a complete shutout for Da 5 Bloods. However, voters did at least make progress with their Best Director picks this time around, nominating three women for the first time ever (Nomadland's Chloé Zhao, Promising Young Woman's Emerald Fennell, and One Night in Miami…'s Regina King).
Though the Golden Globes' decisions don't always align with the larger narratives of awards season (Aaron Taylor-Johnson over Mahershala Ali, anyone?), they can still prove essential in influencing certain contenders' trajectories for success all the way to the Oscars, and, as such, we absolutely have to pay attention to what pictures piqued the HFPA's interest this year. Below, our senior staff writers Bernard and Zoe will offer their predictions on who will win in the film categories at the 78th Golden Globes, and tomorrow, they'll be back with an analysis of the television awards as well.
Do you agree with our picks? Let us know on Facebook, Twitter, or Instagram!
---
BEST MOTION PICTURE – DRAMA
Bernard: Zoe has a rosier view of the Globes than I – think of me as the Ricky Gervais-level cynic. As a recent LA Times expose points out, the Hollywood Foreign Press Association is a deeply corrupt organization that has long been credibly linked to pay-for-play awards and all sorts of other nasty bits of self-dealing. Cynicism is the name of the game for me in my picks. Chicago 7 will win because it has the starriest cast and a tone and subject matter that most appeals to the 87 (mostly) old white men who make up the voting body (the group does not have a single black member). This year, more than any other in recent memory, the HFPA holds enhanced influence because we have no real metrics of box office or audience engagement. In addition, these Golden Globes will take place before Oscar nominations are even submitted. My "should've been" picks are always going to be "by the standards of the HFPA" which is to say they need a certain element of stargazing and weathered white privilege.
Zoe: At this juncture, barring any late season surprises, it truly feels like the Best Picture race is between Chloé Zhao's empathetic American epic Nomadland and Aaron Sorkin's terrifyingly timely courtroom drama The Trial of the Chicago 7. Whichever film you prefer seems to say a lot about what you find most important in the industry at this point in time – Nomadland showcases an accomplishment of indie filmmaking from an Asian female director, while The Trial of the Chicago 7 is a comparatively "old-school" odyssey from an established icon. To make matters even more complicated, one has to consider whether voters will support traditional studios with Nomadland or side with streaming services in Chicago 7's case. Given their shine towards Sorkin (and the scorching social message his film sends), I'll go with the latter for now, but this could be close.
---
BEST MOTION PICTURE – MUSICAL OR COMEDY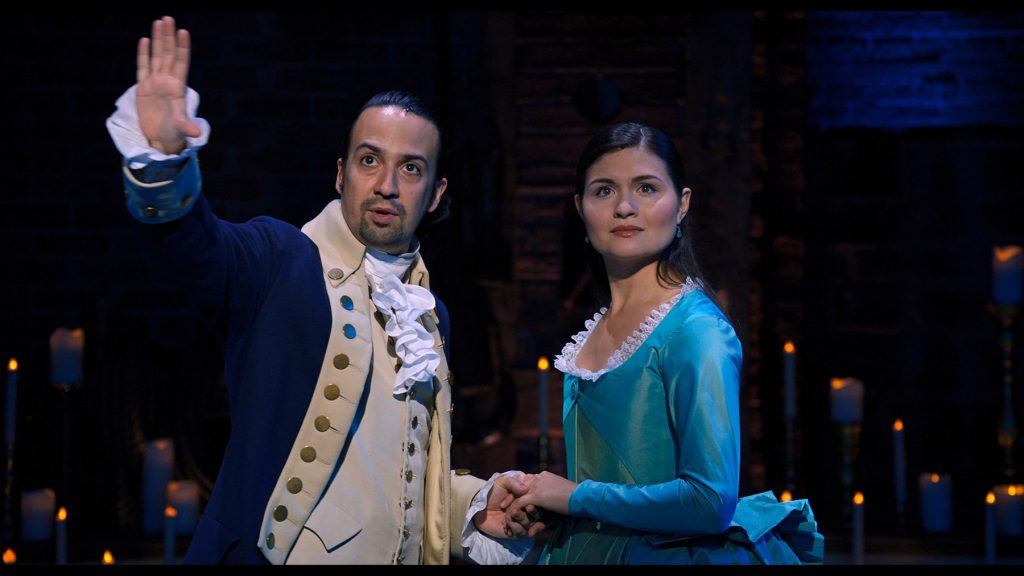 Bernard: Hamilton is the biggest "movie" of 2020 and it isn't particularly close, hence why it will win here (much as Avatar once won best picture and best director at the Globes). The HFPA won't pass up the opportunity to give Lin-Manuel Miranda's masterpiece a few more plaudits. Since the moment its eligibility was confirmed, I was certain Hamilton would win and I see nothing about this field that will change that. (Also, a special aside to note that Music is one of the very worst films ever nominated for either best picture category at the Globes – a movie that is offensive both in content and quality, it's a blight on this field.)
Zoe: We can gripe all we want, but Hamilton is here, and as such, I find it hard to believe that the Globes will resist the opportunity to award one of the most significant artistic achievements of the past decade. Borat Subsequent Moviefilm's topicality could also prove too tantalizing to ignore, but that film may find more success in the individual acting categories, as opposed to besting the might of Disney's musical here.
---
BEST MOTION PICTURE – FOREIGN LANGUAGE
Bernard: A surprising tough category to call, but with the HFPA, the smart money remains on the most popular nominee. This is a very strong field for the Globes – including the underseen but very moving Two of Us – but Minari is the buzziest film based on the many weeks of sellouts of A24 virtual screenings; it's as sizable a hit as an art film can manage in the 2020-21 marketplace. However, even when they nominate strong films, they seem unable to get out of their own way inadvertently courting controversy – it is perhaps bitterly ironic that the HFPA will award "Best Foreign Language Motion Picture" to an American made film telling a deeply American story.
Zoe: Another Round probably has the edge in the International Feature Film race at the Oscars, but since Minari is (controversially) eligible in this category at the Golden Globes, I suspect that the Globes will want to bypass any further backlash by appropriately honoring Lee Isaac Chung's affecting American drama about a family of Korean immigrants attempting to assimilate into the country's culture. However, keep an eye out for The Life Ahead, Italian icon Sophia Loren's comeback vehicle.
---
BEST MOTION PICTURE – ANIMATED
Bernard: If Wolfwalkers were presented by a studio with a longer track record of awards season success than Apple, the film might have a shot at the upset. As it stands, I think Soul is the easy winner in what's very clearly a two-horse race.
Will Win: Soul
Could Win: Wolfwalkers
Should Win: Soul
Should've Been Nominated: These are the right 5 nominees.
Zoe: The Globes can certainly throw a wrench in our predictions with this category (How to Train Your Dragon 2 over The Lego Movie in 2014, Missing Link over Toy Story 4 just last year, etc.), but I predict that Pixar will have no problem prevailing with the stirring Soul this time around. Wolfwalkers is primed for an upset, but Soul has steamrolled almost every animated feature competition thus far, and I don't see that stopping here.
---
BEST DIRECTOR – MOTION PICTURE
Bernard: The narrative case for Fincher has remained strong all season with a son filming his own father's dream project. While it appears Mank has failed to connect with a number of guilds and critics groups, it appears to have resonated with the HFPA. Fincher has long been a favorite of the group, and I suspect that long relationship will be rewarded here.
Zoe: Chloé Zhao has dominated the critics circuit, racking up wins for Best Director left and right, but while I still think she's in a good place for the Oscars, I'm not sure she can topple Fincher at the Globes. He's a favorite of the HFPA (they gave him the win for The Social Network and a Best Director nom for Gone Girl when he was snubbed elsewhere), and Mank is the most-nominated movie of this year's ceremony. Will they really resist giving it one award?
---
BEST ACTOR IN A MOTION PICTURE – DRAMA
Bernard: As Zoe points out below, Hopkins has a wonderful HFPA centric narrative of being long overdue. Hopkins' performance is my personal #1 for the year, but Boseman does titanic work and would be a perfectly worthy winner here (and will be a perfectly worthy winner at the Oscars in April). Nevertheless, let's be kind and say history suggests it is better to be a white nominee before this voting body.
Zoe: The late, great Chadwick Boseman could very well prevail here – deservedly so – but The Father's overperformance across-the-board leads me to believe that Hopkins will provide some serious competition. Though this is his eighth nomination at the Golden Globes, Hopkins has yet to actually win an award from the HFPA, and given that he turns in what many deem to be his career-best work in The Father, I'm thinking that the voters will find that narrative too enticing to neglect.
---
BEST ACTRESS IN A MOTION PICTURE – DRAMA
Bernard: The awards season heat seems to be coalescing around Mulligan, and I suspect the Globes would like to beat the Oscars to the punch on christening the extremely deserving actress. I think both McDormand and Davis have a credible shot here, but the margin is small enough that who has campaigned the most may make a real difference. Mulligan appears to have been putting in the most campaign work of the three and thus is my pick.
Zoe: For much of awards season thus far, many have assumed that the Best Actress race was between veterans Viola Davis and Frances McDormand. However, Carey Mulligan started to steadily build up momentum on the critics' circuit, and when the Golden Globes nominations were announced, Promising Young Woman dramatically overperformed, earning previously unpredicted nods in Picture, Director, and Screenplay. With such a show of strength for the scathing social thriller overall, it's clear that the HFPA are big fans of the film, and this could be the best place to reward it (and the magnificent Mulligan).
---
BEST ACTOR IN A MOTION PICTURE – MUSICAL OR COMEDY
Bernard: One of the hardest picks of the night for me is between Cohen and Miranda here. I think the Hamilton love will win out for him in large part because Cohen has already been awarded by this body for this character. Any other winner here would be a genuine shocker.
Zoe: While I've predicted Hamilton to carry the Motion Picture – Musical or Comedy category, I think its star may struggle to surpass Sacha Baron Cohen, reprising the role that won him this same award 14 years ago. It's by far and away the showiest work in the line-up, and Baron Cohen has spent months in the spotlight for both his part here and his supporting turn in The Trial of the Chicago 7 (more on that later). I won't be surprised if Miranda takes the trophy in the end, but for now, Baron Cohen has the upper hand in my eyes.
---
BEST ACTRESS IN A MOTION PICTURE – MUSICAL OR COMEDY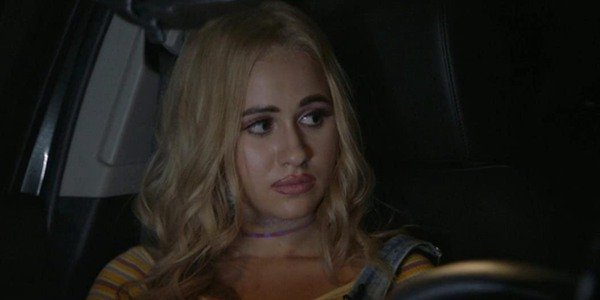 Bernard: While I could see the Globes wanting to "anoint" Taylor-Joy as a star on the rise here, she's a shoo-in winner for The Queen's Gambit elsewhere in the evening. Bakalova is the heart of Borat Subsequent Moviefilm and a deserving winner.
Zoe: It's Bakalova, baby. Pike is a devilish delight in I Care a Lot, and Pfeiffer is turning in a performance for the ages in French Exit, but Borat Subsequent Moviefilm's Maria Bakalova is a supernova star unlike any other at the moment, and I can't imagine the Globes snubbing such a barn burner of a breakout role. Her comedic acting sensibilities are right up their alley.
---
BEST ACTOR IN A SUPPORTING ROLE IN ANY MOTION PICTURE
Bernard: There's almost always at least one "WTF" moment each Golden Globes and I think Leto pulling the upset here clicks. It seems that Leto has been putting in the campaign season work, and his performance is showy and loud in a way that historically is well rewarded in awards season. I'm also confident that every HFPA member actually watched a Denzel Washington serial killer movie and Leto easily steals the show – I'm not so sure they've even booted up those Judas screeners. Even if they have, I struggle to imagine Kaluuya breaking through with this voting body. Beyond their overwhelming whiteness, there's something essentially American about the presentation of Judas and the Black Messiah that I suspect might not resonate with the group as it could. Cohen is the fallback here.
Zoe: Daniel Kaluuya's titanic turn as Fred Hampton in Judas and the Black Messiah is clearly #FilmTwitter's favorite in this category – understandably so – but I think the Globes' captivation with Baron Cohen won't stop with Borat, especially since Chicago 7 is a much stronger player than Judas overall (the former scoring five nods, while the latter only nabbed two). Kaluuya could very well begin a sweep here, but if Baron Cohen wins, he may soon be unbeatable.
---
BEST ACTRESS IN A SUPPORTING ROLE IN ANY MOTION PICTURE
Bernard: The HFPA seems to like Mank more than other awards groups, and I think that love will extend to its brightest shining star, Amanda Seyfried. Seyfried is simply radiant here in a performance well steeped in classic Hollywood that should resonate with the great many octo and nonagenarians in the voting body. Unlike the Oscars where Close has overwhelming "she's due" energy, the acting legend won Best Actress from the HFPA just two years ago.
Zoe: It's Close v. Colman v. Seyfried. Close has the narrative, but Colman and Seyfried are in stronger films. Plus, Seyfried has that "ingenue" sheen that sometimes hypnotizes the HFPA. Right now, I'm inclined to go with Close – it's a strong, showy performance, and there's a general sense that this is finally "her time" for the Oscar at the end of the season. That being said, since both she and Colman just won here two years prior, don't be surprised to see Seyfried on top when the dust settles.
---
BEST SCREENPLAY – MOTION PICTURE
Bernard: The HFPA has nominated four lovely, nuanced, textured screenplays this year, and also Aaron Sorkin's fantasia of liberal virtues. The showy pitter-patter of Sorkin's banter – he's crafted a courtroom drama as quippy as an Avengers film – has always resonated with the HFPA and I suspect the pattern continues this year. When Sorkin writes for a masterful director like Fincher or Boyle, his words seem to bring vibrant life to staid proceedings. When he writes for himself, it all feels like masturbatory navel gazing… so that makes it the perfect screenplay for the HFPA.
Zoe: As much as I'd love to see Emerald Fennell honored for her searing script, the HFPA absolutely adores Aaron Sorkin; they've now nominated him eight times in this category, and they've given him two wins – 2010's The Social Network and 2015's Steve Jobs (for which he wasn't even nominated at the Oscars). Since I'm predicting The Trial of the Chicago 7 to take home the Motion Picture trophy too, I don't see how Sorkin slips here.
---
BEST ORIGINAL SCORE – MOTION PICTURE
Bernard: Soul has dominated the various precursors and, having clearly included Jon Batiste's work (he's responsible for the jazz), the Globes seem apt to follow in the trend. Göransson has a bit of added heat from The Mandalorian's extremely well received score, but I don't think it's enough to topple Soul.
Zoe: Soul has commanded the critics' awards, but this feels like anybody's game. Desplat and Howard are legends, Göransson's score is the most striking in the line-up, and Mank being the most nominated movie overall means there could be considerable passion for it here as well. I'll stick with Soul at the moment due to its momentum, but I'm still somewhat skeptical.
---
BEST ORIGINAL SONG – MOTION PICTURE
Bernard: Leslie Odom Jr. is all over the Globes this year from his star turn in Hamilton to his supporting turn in One Night in Miami… to whatever Sia did to trick him into doing Music, and I suspect this is the category where the HFPA recognizes his immense talents. Best Song is always an unpredictable category and I'd be unsurprised if we find out the eventual winner spent the last month giving private Zoom concerts for each voting member.
Zoe: One Night in Miami… landed some key nominations at this year's Golden Globes (Best Director for Regina King and Best Supporting Actor for Leslie Odom Jr.), but I think this is where it stands its best chance to win. As Odom Jr.'s second nod, he clearly impressed the HFPA in some regard, and that should give him a bit of a boost here. However, don't discount Diane Warren's work in The Life Ahead's "Io sì (Seen)."