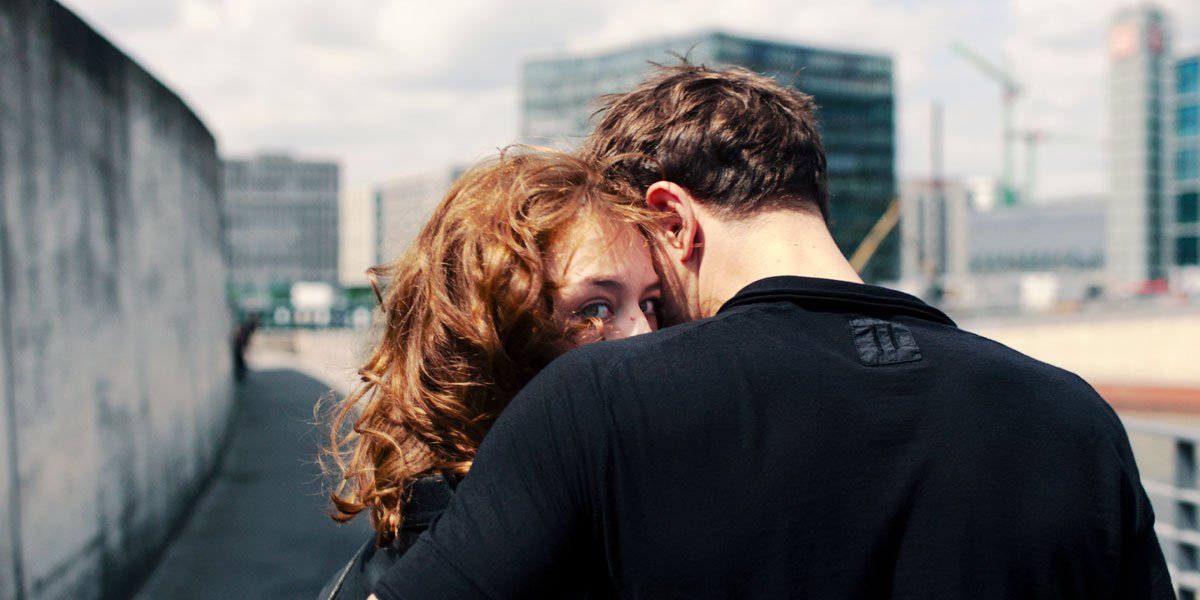 Undine (Courtesy of BFI London Film Festival)
Undine is a splendid fantasy love story that deftly uses mythology as a way to analyze the very city of Berlin.
---

Undine is a modern reimagining of the long-standing mythological tradition of water faeries or mermaids that date back to the ancient Greek and Roman traditions, but have appeared in some form in nearly every Western culture.  Everything from Ovid's Metamorphoses to Disney's The Little Mermaid derives from the same tradition.  The basics of the story see a woman of the water drawn to a man of the land, their love blessed until the man's eye wanders.  Any break in faith between the couple generally sees the man's death and the selkie's return to the water.
Undine takes a unique spin on this mythos by picking up at the end of the classic version of the story.  This film's version sees its Undine dumped by an unfaithful lover in a crisply structured opening sequence.  Rather than take her fated vengeance, as is apparently required, Undine meets cute with another man at the site of her heartbreak.  And thus she decides to ignore tradition and pursue intimacy.
Paula Beer (Never Look Away) and Franz Rogowski (A Hidden Life) play the fated couple. Beer is an actress of great introspection and depth, and a splendid fit here. The role largely plays small and muted, especially considering we're dealing with mythological creatures, but director Christian Petzold – reuniting the stars of his own Transit – wisely gives his actors ample room to feel each scene. Petzold oft focuses on Beer's eyes, and the furrow of her brow, as she processes the world around her – a wise decision, as Beer's eyes are tremendously expressive.
When the film needs to transition locations or pass time, Petzold constructs fast, clinical, efficient cuts between scenes, and when our lovers are together the film takes on a more languid, intimate quality. The everyday grind of life passes by quickly while time together feels almost divorced from the passage of same. Petzold achieves this effect in part by positioning the camera more intimately – it crawls into bed or leans into an embrace – while cuts disappear. It's a wonderfully inclusive manner of filmmaking.
Rogowski, playing an industrial SCUBA diver named Christoph, manages a sort of dorky first love intimacy that with many under actors might feel cloying. Here, it feels delightful, and appropriate. He pines over Undine in a way that captures the heightened intimacy of a new couple – his extra stolen kisses or grandiose declarations of love feel like someone smitten. But, even when perspectives shift, the film remains committed to Undine's agency and choices. She is the one taking the risk, and perhaps flaunting fate, in the romance, and thus she is the one who holds the power dynamic. Even the couple's intimacy is depicted with the scope of the dynamic: the first intimate scene we see between the two sees Undine ask Christoph to resume oral sex, or later by Undine initiating intercourse.
See Also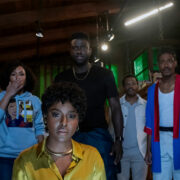 Undine works as a historian and tour guide of Berlin. In multiple scenes, she is shown explaining the city's history to listeners – in each speech, she manages to convey history through the lens of something unseen or forgotten, much as the old mythology has been left behind. Petzold is clearly captivated by the way Berlin has come together over the centuries and how, as a port city, Berlin has served as a melting pot for so many different cultural elements. Christoph is seen multiple times SCUBA diving among the wreckage of a sunken areas, his welding is quite literally crafting new construction upon the body of Germany's past.
I could certainly quibble with some slight missteps, including a sense of awkwardness that seems to pervade the more magical moments of the film. Nevertheless, I found the whole experience enchanting and Beer and Rogowski's chemistry intoxicating. Undine ends on a lovely note of saudade – mythology both embraced and subverted at the same time.
---
Undine was screened at the 2020 BFI London Film Festival and is now available to watch on digital and on demand.