Hamilton: the Most Magical Thing on Disney+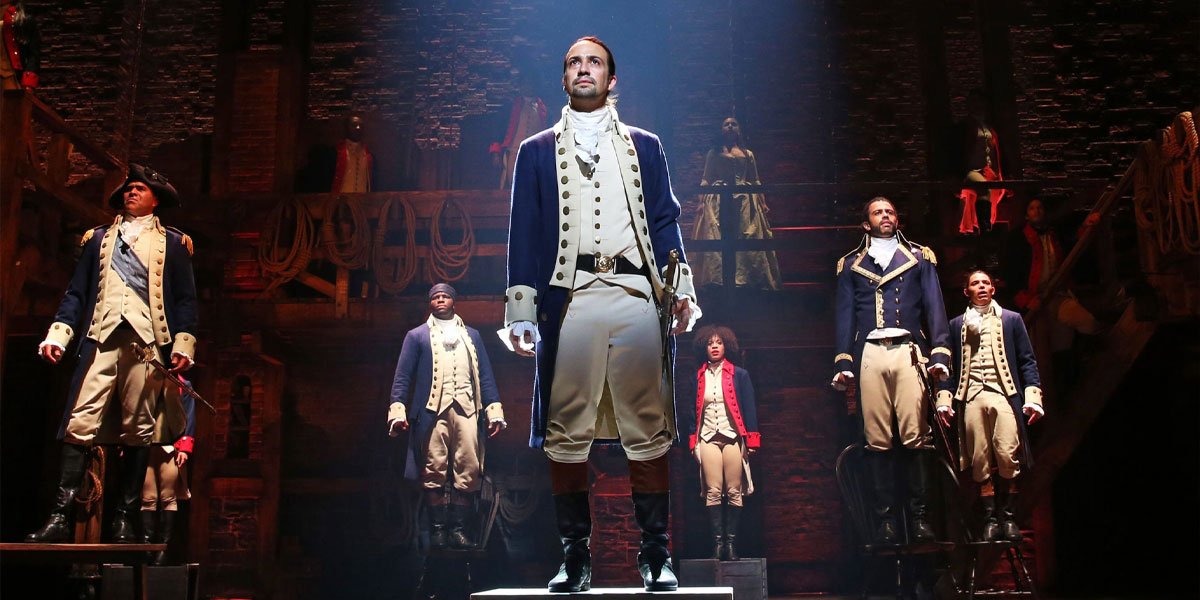 HAMILTON, the filmed version of the original Broadway production (Disney+)
Hamilton is the greatest filmed stage show ever, and serves as a universal showcase for the musical's brilliant wit and unforgettable music.
---

Weeks ago, I had passed on the opportunity to review Hamilton. Please do not get me wrong – I love the stage show. I probably know every word in the entire soundtrack. For months of my son's life, Lin-Manuel Miranda's brilliant musical was the only thing that would get him to fall asleep at night. I was a history major in college too, which invariably helped deepen my appreciation for how vibrantly Lin-Manuel Miranda has brought the Founding Fathers to life. And yet I was worried that a filmed presentation would drain the essential energy from the show.
I could not have been more wrong. So many filmed adaptations of stage shows feel staid and lifeless regardless of the quality of the performance on stage. Somehow Thomas Kail (director of the original Broadway show and a goodly chunk of FX's Fosse/Verdon) has managed to find a way to use camera placement and editing to capture both the grandeur and intimacy of Miranda's vision. It is a resoundingly cinematic visualization without losing the immediacy of a live performance.
Let us talk about that vision. What started as a rap concept album about a forgotten Founding Father evolved into one of the most important shows in Broadway history. Reimaging late 18th and early 19th century American history as a world of color – all the show's American characters are played by black, Latin, or Asian actors – Miranda (who wrote the show's music, lyrics and book) plays homage both to the history of theater, but also to the standard bearers in hip hop and black music.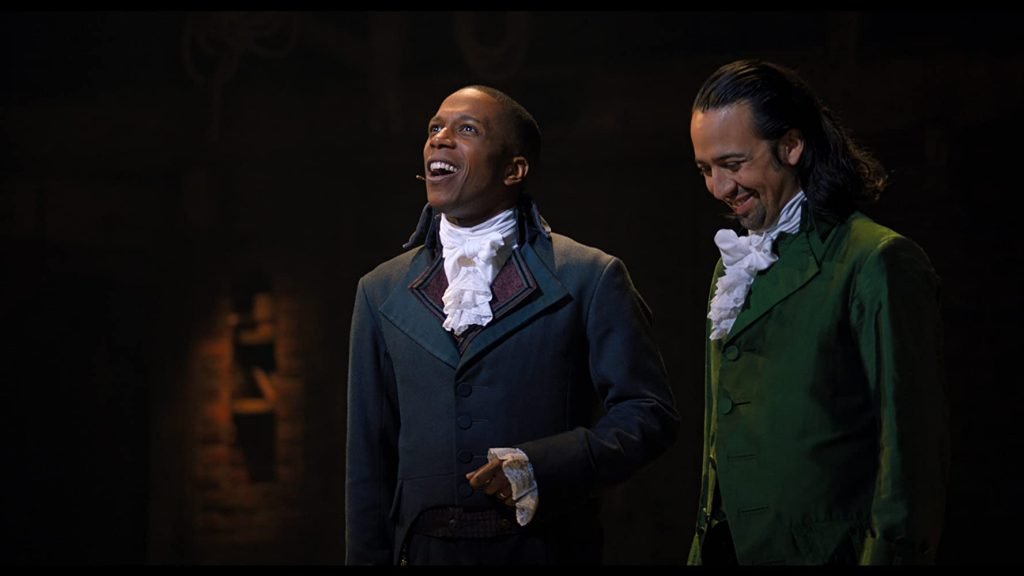 Most American leaders of the time would have taken immense pride in their knowledge of classical history. Skill at debate and encyclopaedic knowledge of great literature were marks of culture and intellect. Talent at the written word could change one's station in life. Miranda embraces this ethos: in his American history Washingtonian cabinet meetings become rap battles, as Alexander Hamilton and Thomas Jefferson engage in verbal duels over the assumption of state debt. In concept, this is patently absurd. In reality, it serves as a striking way to bring to life seemingly small moments with vast ramifications throughout American, and global, history. Miranda uses actual letters and speeches by the show's historical figures regularly. It is noteworthy how direct the line between a barbed letter from Aaron Burr is to a modern diss track. Education and wisdom are the prerequisites for leadership. Miranda leaves the viewer with the inescapable conclusion that Hamilton's greatest skills and means to advancement were his indefatigable writing acumen and his sharpened mind.
In the world of Hamilton the greatest evil is not a disagreeable view – it is ambition untethered to earnestly held positions. It is a pointed shot across the bow of so much of modern polity. Odious views honorably presented are preferable to vacuous blather, that blather signified here in the personage of Aaron Burr. I am not the first and will certainly not be the last to remark on the resonance of the image of people of color presenting these historical figures, not just in the final year of the Obama presidency when the show was filmed, but even more so today in Trump's America. As we sit in the midst of the most trying year in at least the last five decades of American history, one would need to be willfully blind to avoid the contrast between the grandiose intellectual clash of monumental ideas by the Founding Fathers and a president who operates in 280 characters of slander.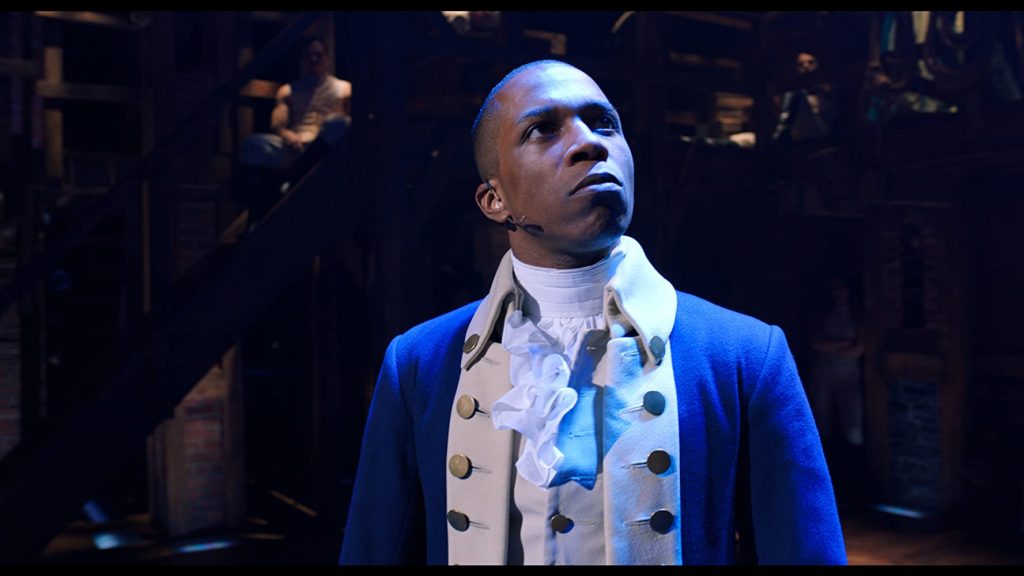 Miranda does not shy away from the complexity of Hamilton's personal life either. Hamilton's marriage, his intellectual affair with his wife's sister, and his literal affair with a neighbor – perhaps the first sex scandal in American history – all receive treatment here. Hamilton's greatest virtue, his workaholic nature, also ends up a tragic flaw as it directly conflicts with his roles as a husband and father.
The structure of the shows sees Hamilton as reflected through his various relationships. We view his role as a revolutionary hero through his friendship with fellow fighters John Laurens, Marquis de Lafayette, and Hercules Mulligan. His politics through the lens of his rivalry with Thomas Jefferson and James Madison. His ambition through his near father-son relationship with George Washington. His charm, and his flaws, through his relationships with women. And his tragedy through the film's core relationship: Aaron Burr.
Leslie Odom Jr. (Harriet) owns the camera like a young Denzel Washington as Burr. His face can convey an astounding range of emotions in just a glance, and he carries the same sort of rakish charm and confidence that led to Denzel's ascension. Burr serves, in large part, as the show's narrator and as the unprincipled, ambitious narrative counterbalance to Hamilton. The tragedy of their friendship and bitter rivalry shines a light both on Hamilton's brilliance and his ego. The show's first song "Alexander Hamilton" serves as a sort of outline for the protagonist's life. The first hint of what a visual treat the adaptation will be occurs late in the song as the camera cuts tight to Odom as he sings the words "I'm the damn fool that shot him." Odom is remarkable – the life appears to drain entirely from his face in just a few brief seconds.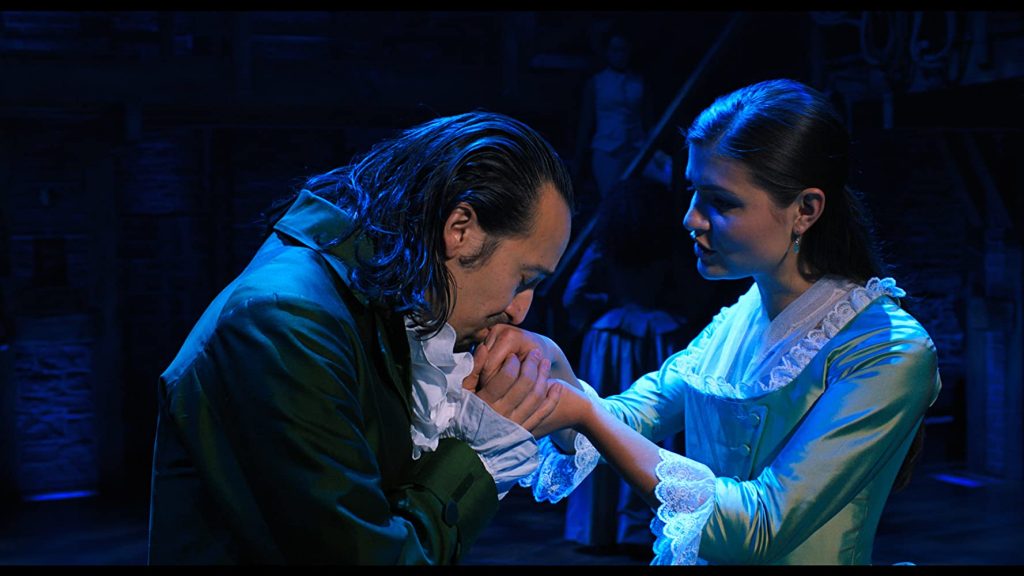 At each stage of Hamilton's life; Burr is used as a comparison point. In perhaps the show's most moving song "Dear Theodosia" at the end of the first act, the pair each sing about their love for their newborn children. In a brilliant bit of writing Miranda subverts their character roles, Burr becomes a man of passion for the first time – Odom channels so much emotion into so few words. Conversely, Hamilton is, for the first time, at a loss for words. His usual eloquence and verbal wit dissolves away, and all of a sudden Hamilton is rhyming son and sun as he literally admits to his inability to find the words he needs to express himself. Hamilton's struggle as a family man and Burr's easy found dedication to his family lay out the motivations that will inform their climactic duel.
See Also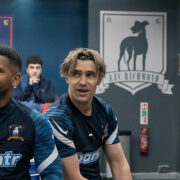 When I first saw the show, I was confused over why the end of the Revolutionary War did not serve as the intermission, but thematically the shift to fatherhood in Burr and Hamilton's lives serves as the clear hinge point in their relationship. The second act sees Hamilton's political ascension and decline in scandal mirrored against Burr's frustration at his initial exclusion and his later attempted political ascension.
I have barely mentioned the rest of the cast and that is a tragedy. Daveed Diggs (Blindspotting) exudes effortless charisma and charm in the dual roles of Thomas Jefferson and Marquis de Lafayette. His ability to rap at hyper speed is unleashed by Miranda and It allows the show to shift effortless between musical genres. Renée Elise Goldsberry (Waves) is majestic as Hamilton's sister-in-law. Her key song, "Satisfied", sees her play out her flirtation with Alexander in a brilliant montage of little flashbacks beautifully directed by Kail, and she has perhaps the shows most beautiful voice. Phillipa Soo, Alexander's wife Eliza, benefits from the proximity of the camera as her songs tend to be more internal. "Burn", which sees her handling the fallout of her husband's infidelity becomes a true showstopper when you can see the emotion in her face up close. Perhaps the performer who most benefits from the filmed experience is Anthony Ramos (Monsters and Men). His effortless joy as John Laurens radiates each moment he is on stage as his giving reactions to all of his castmates helps craft a lovable presence.
And I would be remiss if I did not mention Jonathan Groff (Mindhunter) as King George IV. He has only a few minutes of screen time, but is used as an uproarious device to turn the British monarchical perspective on the American experiment into that of a jilted lover. Groff, hilarious, sings in haughty tones as a rage over the perceived lack of gratitude by his subjects boils beneath the surface.
I have barely mentioned Hamilton's sense of humor, but it is absolutely one of the funniest and most inclusive musicals I can recall. I never could have expected one of 2020's best films to be the recorded version of a years old stage show, but here we are. Who would have thought that the most magical thing on Disney+ would have nothing to do with Disney?
---
The Broadway Production of Hamilton is now streaming exclusively on Disney+.