The King of Staten Island: Apatow returns to his comedy throne (Review)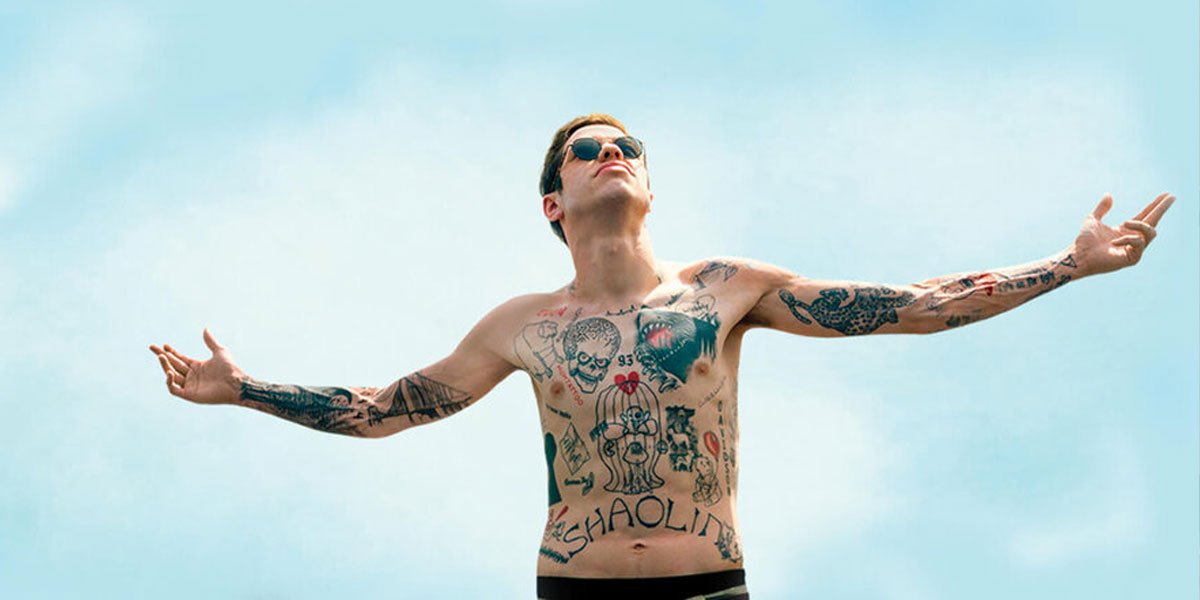 Pete Davidson in The King of Staten Island (Universal Pictures)
The King of Staten Island is a smart, funny, well-acted comedy that acts as a surprisingly deft reflection on regrettable behavior.
---

Sometimes a final shot can recontextualize everything you have seen during your time with a film. The King of Staten Island ends with a real picture of a very young Pete Davidson (Big Time Adolescence) in the arms of his dad, Steve. Steve Davidson is seen in his full-dress firefighter uniform and looks profoundly content. Pete's father was last seen on September 11, 2001 running up the stairs at one of the Twin Towers searching for survivors to help, a fact known to most who have watched Saturday Night Live in the last decade. A quasi-autobiographical picture like this need not include such a detail – there is no smiling picture of Eminem and his mom at the end of 8 Mile – but the choice carries weight here. The petulant behavior displayed by Pete Davidson's character throughout the film shifts in just one still shot from a typical Apatow man-child to a meta-narrative of someone grappling with his own feelings of regret, a notion only heightened as Davidson's writer credit appears moments later. Somehow, Pete Davidson has taken the bathos of the Apatow formula and given it the pathos of Honey Boy.
The King of Staten Island is the story of a twentysomething screw-up named Scott (Davidson) who lives at home with his mom in the titular borough. Scott is struggling to process the heroic death of his firefighter father when he was a boy. His days are spent smoking weed and shooting the shit with his knucklehead buddies; his professional prospects are dim – his dream is to someday set up a chain of tattoo parlor restaurants. Even his tattoo artistry is lacking, as showcased in one of the film's best sight gags. This is a typical set-up for director Judd Apatow (The 40-Year-Old Virgin): he is drawn to people struggling through arrested development (please read Zach's wonderful write-up of Apatow's oeuvre).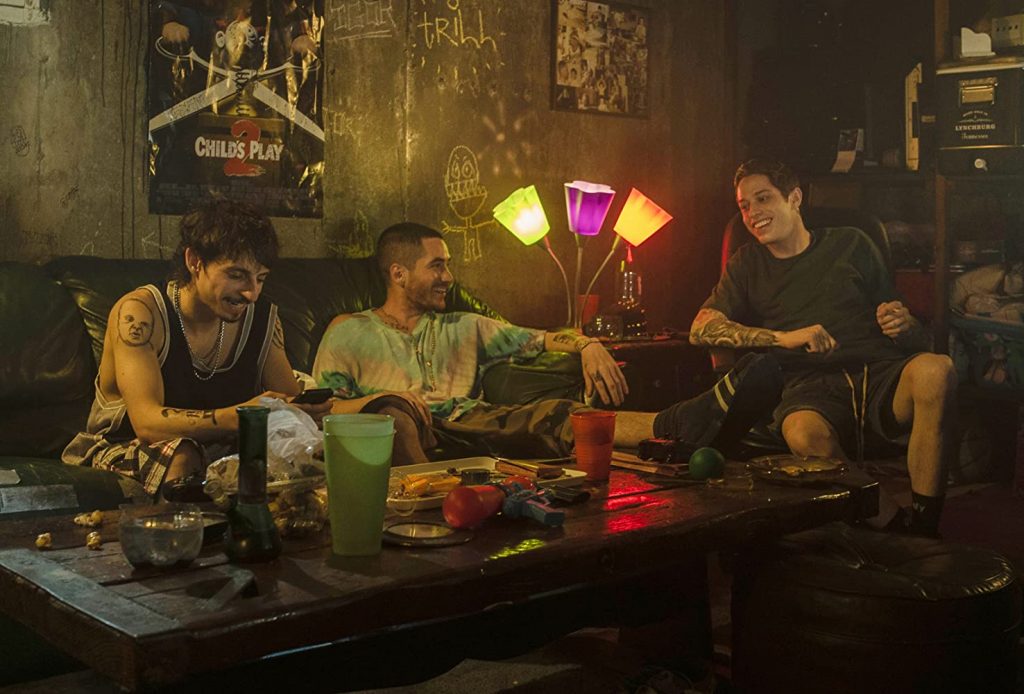 My best friend in law school had a habit of saying that his greatest achievement in life was escaping Staten Island. In banter over a beer, the Island became less a physical location than a sort of specter of failure and limitation. And, yet, the Island remained a part of him. Graduation from law school resulted, naturally, in his family hosting a giant Italian celebration with his friends and family back on the Island. All the people in my friend's old life appeared in an outright display of congratulations with a not so subtle subtext of reminding him from whence he came. Apatow and Davidson beautifully capture this sort of Staten Island dichotomy. A party at a wealthy family friend's house sees Davidson ask why on earth someone with money would live in Staten Island, and yet he has an instant comfort with the family despite the class gap. It is smart, lived-in detail that gives the film more credibility – Staten Island is a universe onto itself.
The film employs a structure typical of films with a far younger protagonist: Scott's mom begins dating someone new and Scott is forced to interact with a new paternal figure. The structure works, here, because the actors are so effective. Scott's mom is played by the ever-wonderful Marisa Tomei (returning to Staten Island for the first time since The First Purge, which the film alludes to in a cute meta-joke) – she manages to convey both warmth and frustration towards her son effortlessly, often simultaneously. Her line readings here are wonderfully acidic; she exudes a sort of no-nonsense approach that feels extremely Staten Island. Her suitor is another firefighter played by Bill Burr (The Mandalorian) much to her son's dismay. Primarily known for his stand-up work, Burr is tasked with carrying a lot of the film's emotional weight and shows himself more than up to the task. Sweeter and less cruel than his persona would suggest, Burr is an able foil for Davidson. Never cloying, his character's fundamental decency makes the film work.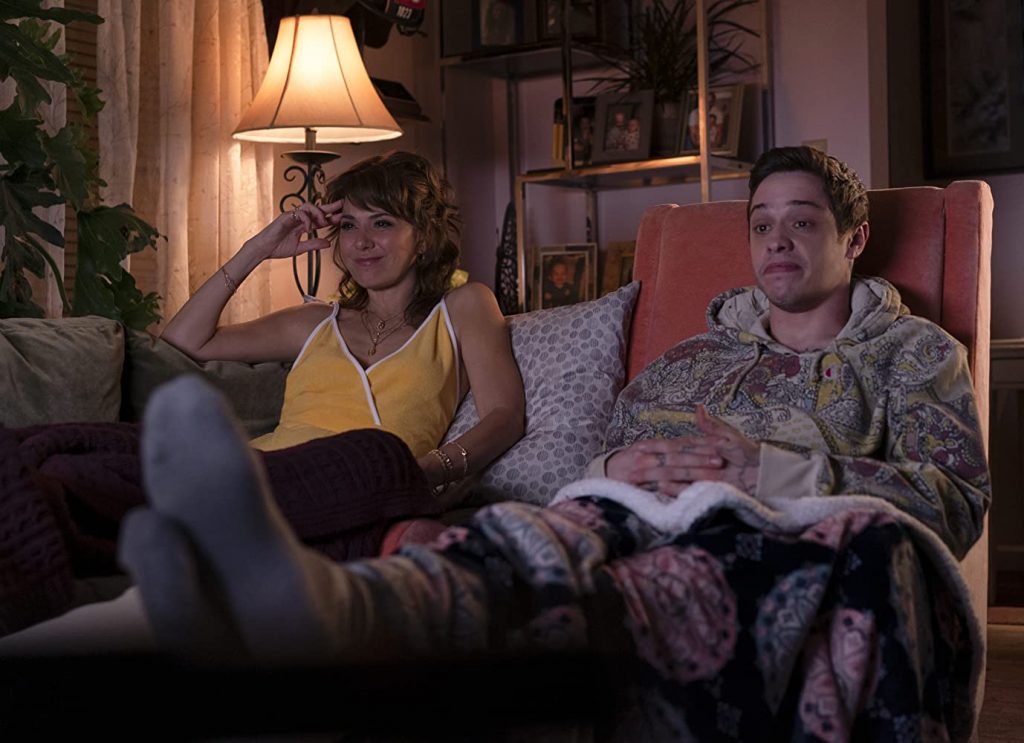 Perhaps more than anyone else in Saturday Night Live's recent casts, Davidson is accused of only playing himself. While he is not exactly confronting that criticism here, Davidson is extremely effective in an autobiographical role. He is funny and nervy with the same sort of self-deprecating edge he brings to his stand-up. Throughout much of the film, I found Davidson's more childish outbursts at his mother's dating habits more frustrating than effective, but that feeling dimmed with the film's final shot. The character's arc is more incremental than grandiose, which makes sense and feels true. To Davidson's credit, I could not help but feel moved at the film's ending. The King of Staten Island is also clearly Davidson's way of confronting, critiquing, and contextualizing his own behavior – it is smart and moving introspection.
As per the norm with Apatow's film, the movie runs a bit long and tends to meander into a hangout vibe. As a director, Apatow clearly lets his movies run long because he has captured a lot of funny moments of talented people riffing off one another. Here, Apatow has wisely surrounded Davidson with a pack of talented comedic performers. Bel Powley (The Diary of a Teenage Girl) stands out as Scott's friend-with-benefits who has big dreams for the future of Staten Island. She brings a burst of energy to each of her scenes. I would happily watch a spinoff that sees her get the This Is 40 treatment from Apatow. Pamela Adlon (FX's Better Things) brings lived-in wit to what could have been a thankless role as Burr's ex-wife.
See Also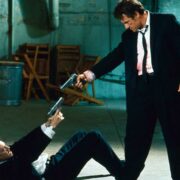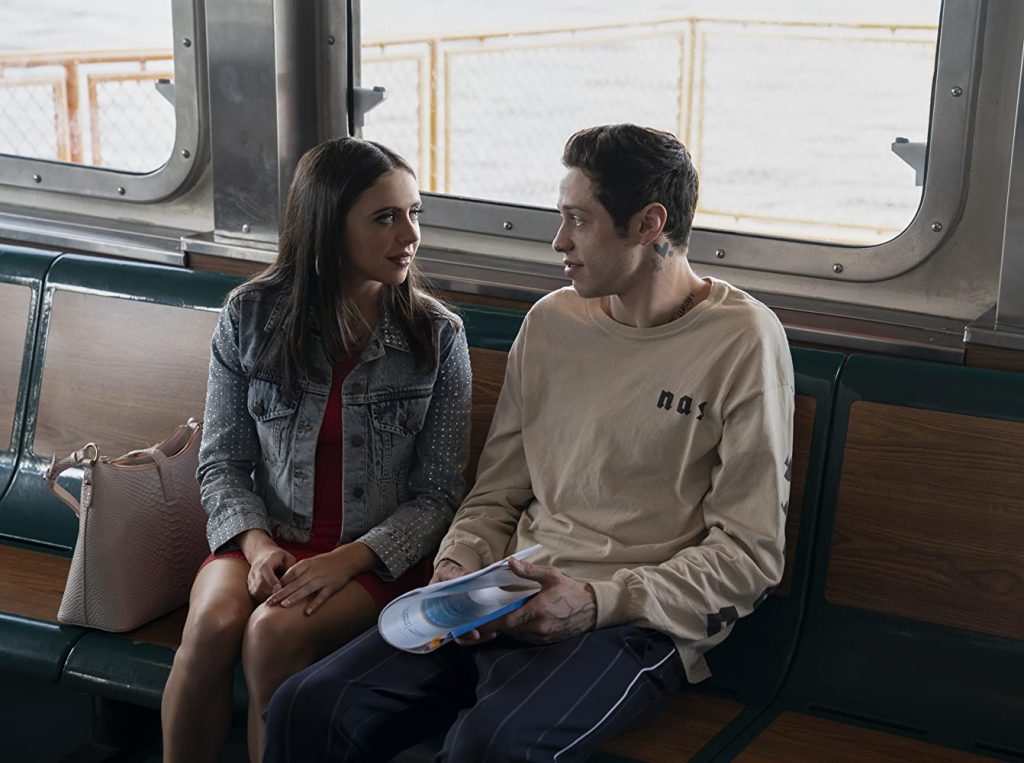 I cannot help but wonder how The King of Staten Island might have played in theaters absent COVID. At home it is funny, but more frequently it elicits smiles rather than guffaws. I have to imagine that the shared experience of a communal audience would only have helped some jokes land harder. Still, Apatow and Davidson have crafted a funny and surprisingly touching character study.
---
The King of Staten Island is available to watch on Demand.
---
STREAM THE KING OF STATEN ISLAND:
---
JOIN US!
Don't miss our monthly updates with film news, movie-inspired recipes and exclusive content! You'll only hear from us once a month. #nospam