On the Rocks: Film Review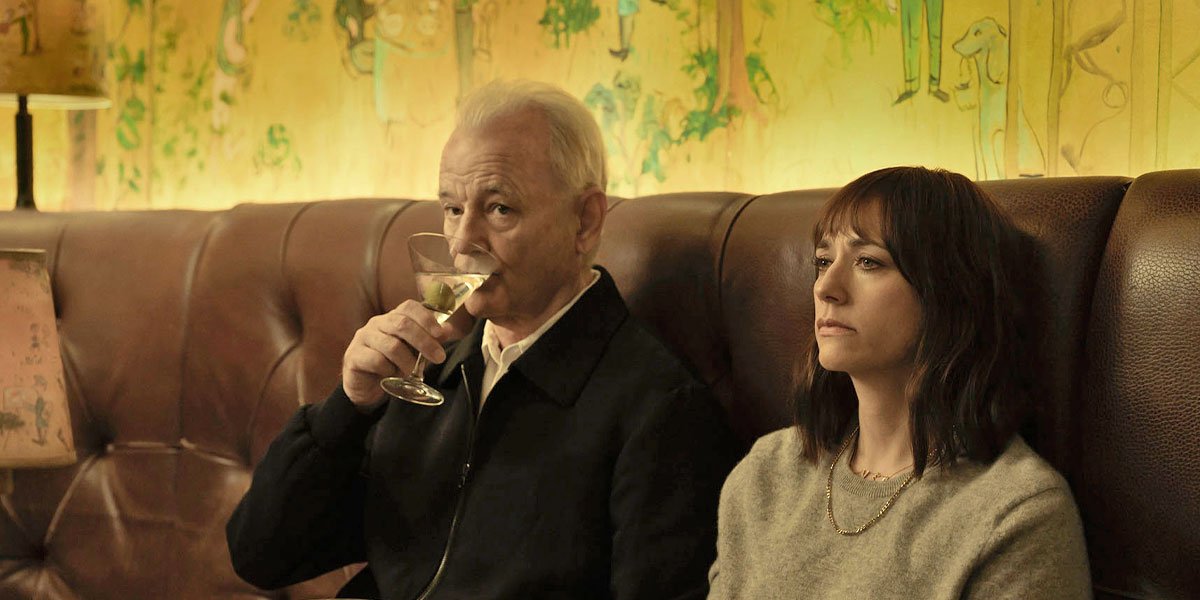 Bill Murray and Rashida Jones in "On The Rocks," premiering October 23 on Apple TV+ (Courtesy of Apple)
On the Rocks is light but lovely, dripping with delicious dialogue and capturing captivating chemistry between Rashida Jones and Bill Murray.
---

As the daughter of famed film director Francis Ford Coppola (The Godfather trilogy, Apocalypse Now), one might think that writer-director Sofia Coppola would struggle to break out of the shadow of such an illustrious icon in the movie industry. In Hollywood, few surnames are as instantly recognizable as "Coppola," and with such widespread recognition comes equally extravagant expectations. Fortunately, Ms. Coppola not only met but enthusiastically exceeded these expectations with her feature directorial debut, 1999's The Virgin Suicides – and that was just the beginning of her brilliance. She similarly avoided the infamous "sophomore slump" with 2003's Lost in Translation, earning an Oscar for Best Original Screenplay alongside nominations for Best Picture and Best Director.
Though her career has yet to hit such lofty heights again, she's turned in consistently commendable work over the past two decades (from 2006's marvelous Marie Antoinette to 2013's boisterous and brilliant The Bling Ring), and her latest lovely lark, On the Rocks, shows that she's lost none of her signature sardonic wit. It also may very well feature one of her sharpest scripts since Lost in Translation shot her career into the stratosphere.
On the Rocks is centered around the worries and woes of Rashida Jones' (The Social Network, Celeste & Jesse Forever) Laura, an acclaimed author currently suffering from writer's block as she attempts to work away on her latest novel while simultaneously fighting off fears that her husband, Dean (a surprisingly strong Marlon Wayans, of Requiem for a Dream and Scary Movie), may possibly be having an affair with his attractive younger assistant named Fiona (Jessica Henwick, of Underwater and Netflix's Iron Fist).
When Laura finds Fiona's toiletry bag in Dean's suitcase after a business trip, Laura finally caves and turns to vent her vexations to her smarmy yet suave father, Felix (Bill Murray, of the aforementioned Lost in Translation and the Ghostbusters duology). Felix – who assumes every man is as flirty and frisky as he is – instantly deduces that this is a disaster in the making, and through a series of screwball schemes, the two attempt to investigate Dean's supposed infidelity and additionally overcome some deep-rooted obstacles in their own relationship.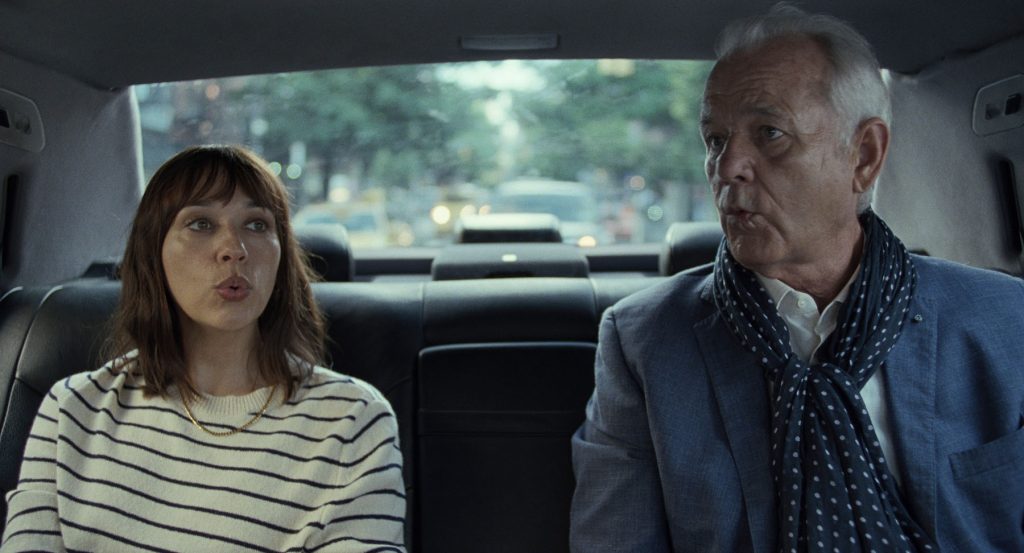 Coppola is known for occasionally scribing semi-autobiographical scripts (with many speculating that Lost in Translation is a fictional depiction of the demise of her marriage with fellow filmic auteur Spike Jonze), and On the Rocks is no different. Almost immediately, one begins to sense the similarities between Coppola and Jones' Laura. Aside from the fact that the two are both accomplished artists aiming to cultivate new creative output and striving to build off of prior staggering successes, there's also their correlative connections with powerhouse patriarchs. Given that the conflicts in Laura's communications with Felix take center stage here, it feels fitting to consider that Coppola may potentially be commentating on her own "distinguished" dad. Though it's hard to imagine that Francis Ford Coppola is anywhere near as flighty and flippant as Murray's Felix, it's nevertheless quite compelling to compare how both Laura and Sofia have grappled with being raised by – and feeling pressured to live up to – such fantastical father figures, and this discussion adds significant substance to On the Rocks' story overall. How much do our parents shape our personalities – and our pains – and can we ever escape their influence?
Jones brings a relatable world-weariness to the role of Laura, which is sure to resonate with women around the world. Though her lifestyle may be a bit more luxurious than most, it's easy to empathize with her regardless, because Jones avoids any and all arrogance or pretension in her portrayal. She faces a familiar anguish about aging, she passionately pushes herself to be the best parent possible, and she struggles with a self-doubt that is painfully perceptible; therefore, when the idea of infidelity arises, we too feel this budding brutal betrayal, and that is due to Jones' intricate intentions to make Laura an identifiable individual for all, while still retaining her singularity.
Furthermore, though Laura is certainly the most "mature" character in this chronicle, she has a wry wit that makes her a pleasing presence nonetheless, and Coppola's writing prevents her from ever coming across as a "Debbie Downer" on any of her daring deeds with Murray's Felix. Jones' interactions with Wayans' Dean are also surprisingly sound, adding authenticity to their attraction to one another and strengthening the comical Wayans' credibility as a "serious actor," as are her entertaining one-way exchanges with Jenny Slate's (Obvious Child, The Secret Life of Pets) vapid and vociferous Vanessa, a mouthy mother at her daughters' school who can't help but gush about her grievances with her life.
See Also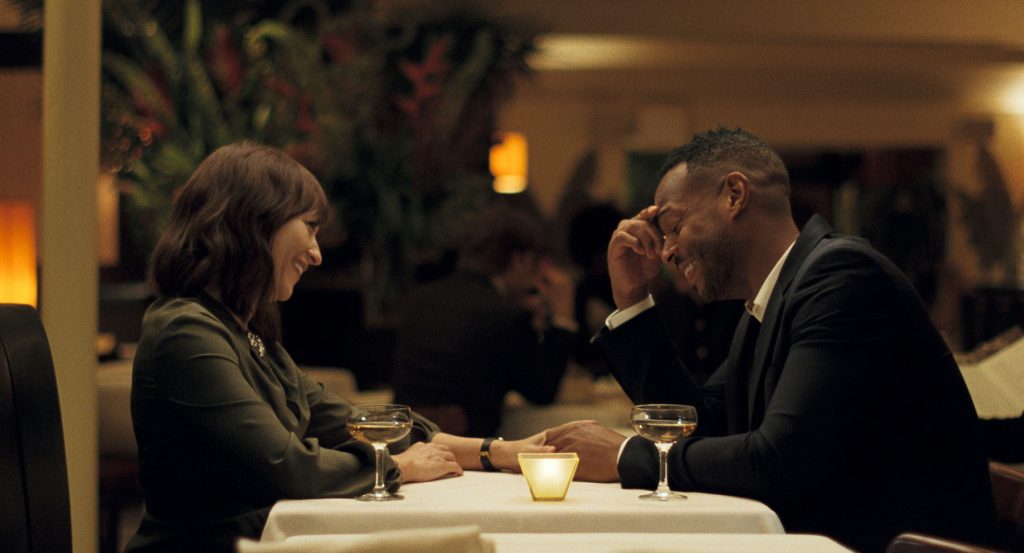 Without ever overshadowing Jones, Murray's Felix is the star of the show as soon as he arrives, and although he is playing a character who isn't at all comparable to Lost in Translation's Bob Harris, it's quickly clear that nobody can better capitalize on his tremendous talents like Sofia Coppola. As a provocative and pushy playboy, Murray is able to indulge in immodesty, spewing out some scathingly sexist remarks that would be otherwise unbearable if it were not for Jones' Laura to consistently counter his archaic claims. And even in spite of his "old-fashioned" opinions, Murray manages to make Felix into a fascinating and farcical figure that we simply can't scorn, largely due to the layers to his lasciviousness. Underneath his salacious surface lies a significantly sadder and much more melancholy man, and Coppola provides Murray with several moving monologues that cut to the core of his philandering persona. A standout scene between Murray and Jones highlights the way in which his distasteful decisions have directly affected Laura's own anxieties, and it is here that the sheer power of Murray as a performer is on full display – a stirring synthesis of humor and humility that confirms Felix is more than mere "comic relief."
Coppola's overall aesthetic is as appealing as ever, but in On the Rocks, she trades in her "edgier" sensibilities (formerly explored in films like Marie Antoinette and The Bling Ring) and offers up a more earnest environment in exchange, almost evoking the feel of Nancy Meyers films, in a way. There's something so quaint and cozy about the mise en scène Coppola conceives here, and you'll get lost in her lush and lavish look at life in New York City. His current controversies aside, Woody Allen was widely admired for his captivating and compassionate representation of New York City in films like Annie Hall and Manhattan, and Sofia Coppola definitely follows in his directorial footsteps, laying out a love letter to "The Big Apple" that is bewitchingly bursting with beauty. From strolls on the city's streets to high-speed car chases in screwy set pieces, Coppola is able to find majesty in both the mundane and the manic. Philippe Le Sourd's (The Beguiled, Seven Pounds) comforting cinematography captures this same sense of splendor and sumptuousness, and in the end, you'll wish you had more than 96 minutes to spend in this sparkling settling.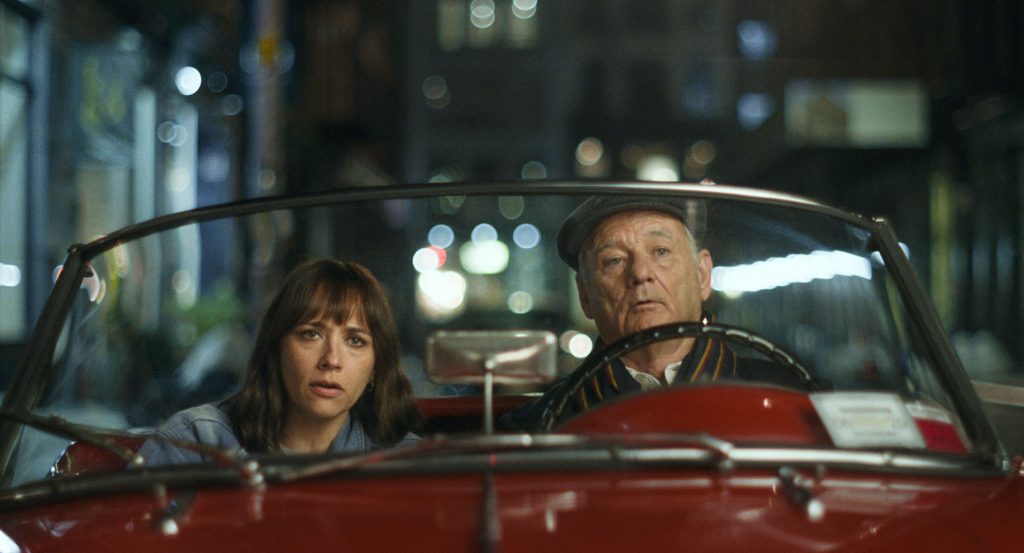 Though perhaps the most simplistic story in Coppola's oeuvre so far, On the Rocks is still stupendously satisfying, sharp, and sweet, investigating middle-age insecurities and fraught family relations with dutiful delicacy, all while additionally immersing audiences in the alluring and absorbing atmosphere of New York City throughout this amiable adventure. Thanks to some delightful dialogue delivered by a radiant Rashida Jones and a biting Bill Murray, On the Rocks is a caper comedy that is both charming and clever, serving as a smart and soothing reprieve from the struggles of the real-world.
---
On The Rocks is now available to watch on digital and on demand. Watch On The Rocks!