Bill & Ted Face the Music: Film Review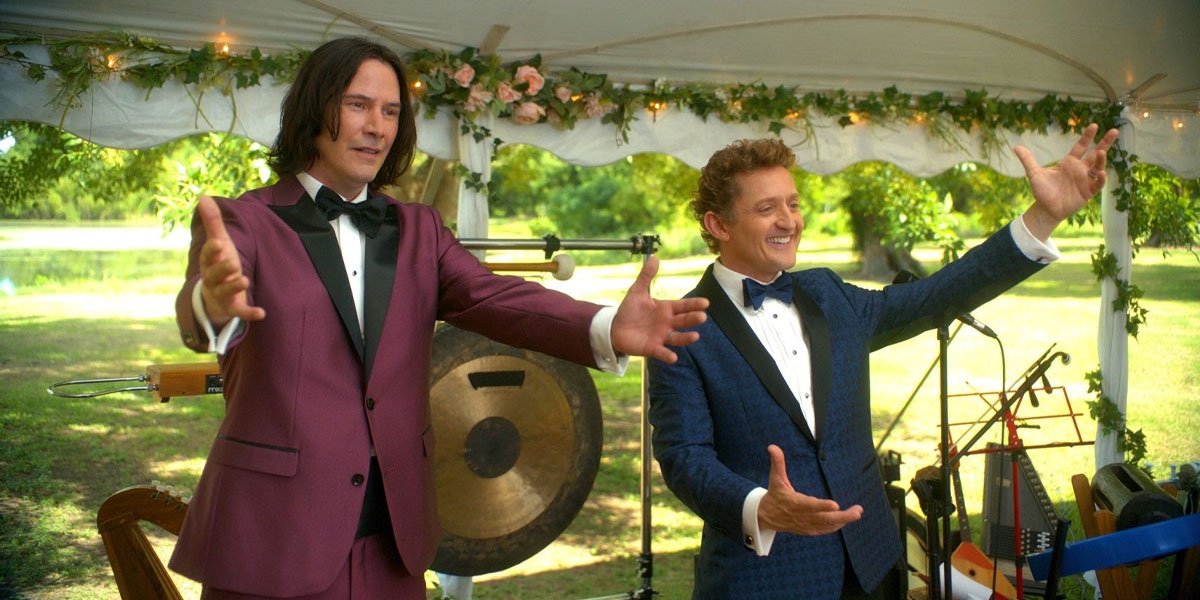 Keanu Reeves and Alex Winter in Bill & Ted Face the Music (Orion Pictures)
Bill & Ted Face the Music recaptures the comedic charm of the original film while adding additional depth to the titular dynamic duo.
---

After 29 years of false starts and broken promises, fans of the Bill & Ted franchise have finally received their long-anticipated third installment, which again showcases the shenanigans of the rambunctious rocksters who have a tendency to turbulently travel through time. Though initially intended for release on August 21, 2020 (with that date's digits – 8, 21, 20, and 20 – adding up to "69," as a reference to a well-known wisecrack from the first film), in light of the COVID-19 pandemic, Bill & Ted Face the Music has been repeatedly moved throughout the month of August before settling on a combined theatrical and video-on-demand premiere on August 28.
In contrast to recent releases like Unhinged, The New Mutants, or Tenet, Bill & Ted's prioritization of audience access with a dual theatrical and digital debut assured that major movie theater chains such as AMC, Regal, and Cinemark would not play the film, but the cast and crew have maintained that they made the right decision in the end. In the wake of this controversial choice, many will be watching Bill & Ted Face the Music's financial performance quite closely, but additionally, the threequel still has to justify itself as an artistically satisfying successor to its two prized predecessors. Almost three decades later, can this continuation stick the landing?
At the start of Bill & Ted Face the Music, William S. "Bill" Preston, Esq. (Alex Winter, of The Lost Boys and Freaked) and Theodore "Ted" Logan (Keanu Reeves, of The Matrix and John Wick) are making their way through a bit of a "mid-life crisis." Although they still adore their princess wives (Jayma Mays, of Glee, and Erinn Hayes, of Kevin Can Wait, respectively) and devote plenty of time to their darling daughters (Samara Weaving, of Ready or Not, and Brigette Lundy-Paine, of Bombshell, respectively), they feel that their musical success has stagnated significantly. While they were always told that their songs would "save the world," they have yet to make these "miraculous" melodies, and since their band – the once wondrous "Wyld Stallions" – has split up, it seems unlikely that these accomplishments will ever be achieved.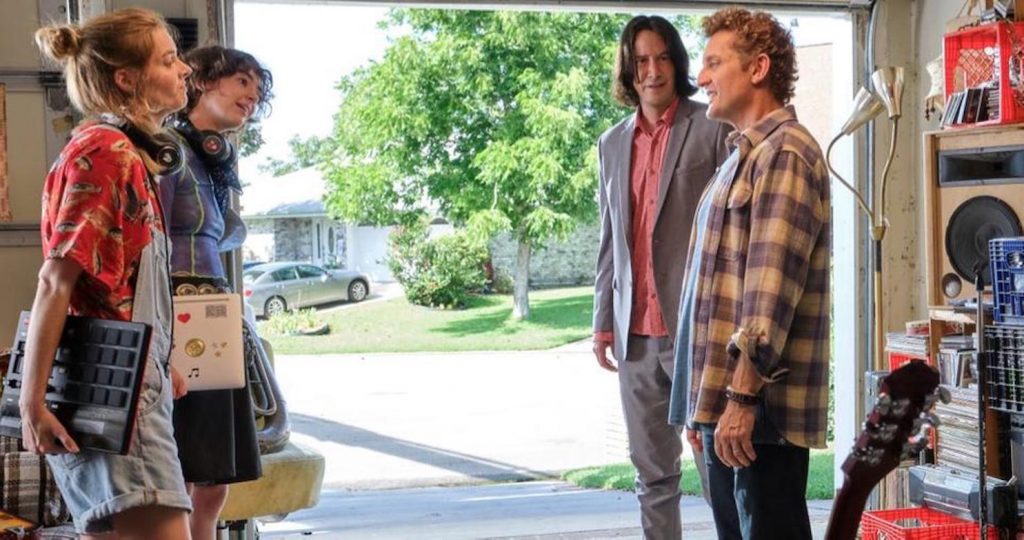 However, the "triumphant" twosome receives some major motivation to get their act together when a messenger from the future named Kelly (Kristen Schaal, of Bob's Burgers and Gravity Falls), who also happens to be the daughter of George Carlin's Rufus, from the first two films, arrives to announce that Bill and Ted have 77 minutes to finally shape the song that will save all humanity, or else a plethora of time periods will intersect with one another and tear a hole in time and space as we know it. Yet, instead of writing the song on their own, these savvy slackers devise a scheme to use Rufus' iconic phone booth and fly off into the future to steal the completed song from themselves. At the same time, their daughters Wilhelmina "Billie" Logan (Lundy-Paine) and Theodora "Thea" Preston (Weaving) aim to assist on this adventure by embarking on their own escapade to assemble the "best band ever" to play alongside their fathers, made up of much-appreciated musicians from the past, such as Jimi Hendrix, Louis Armstrong, and Mozart.
To a newcomer to the Bill & Ted series, it may look as if this story is a bit too scattered for its own good – two simultaneous trips throughout time, a plot packed with a profusion of peculiar personalities, and a mid-film detour to visit Death himself? How can returning screenwriters Chris Matheson and Ed Solomon possibly maneuver through all of this mania? The answer is simpler than you might think – the two just do what they've always done and ardently accept this absurdity without a second thought, crafting a comedy that retains the carefree and cheerful charm of its predecessors without getting bogged down in second-guessing its idiosyncratic twists and turns. Is the film's time-travel science up to snuff? Absolutely not! And if that's a dealbreaker for you, well, then, you might find yourself frustrated by the film's flimsy fantasies. But those who can stomach the film's strangeness will be compensated with a comical and considerate chronicle about the importance of friendship and family that allows all of its stars to shine and also finds time for killer robots, the Grim Reaper, and even Kid Cudi.
Winter and Reeves immediately re-inhabit the roles of Bill and Ted as if they've never left, reminding audiences of the characters' celebrated charisma and chemistry, right off the bat. In addition, in a cinematic environment where Reeves has once again attained the acclaim he received in the late 90s/early 00s (thanks to a captivating career resurgence spurred by the John Wick franchise), it would've been easy to envision a film that placed a greater priority on Ted to capitalize on Reeves' "cache," but it's to the crew's credit that this threequel very much feels like a two-hander the whole way through, with equal attention afforded to both leading men. Reeves is as gloriously goofy as ever, but Winter expertly matches his energy, and the two continue to play off one another with panache. Both Reeves and Winter are even given more creative comedic opportunities in Face the Music than in the former films, as they continually portray personas of their future selves throughout their twisted travels (with their "imprisoned" identities stealing the show) and partake in an amusing series of "what if?" sequences regarding their characters' futuristic fates.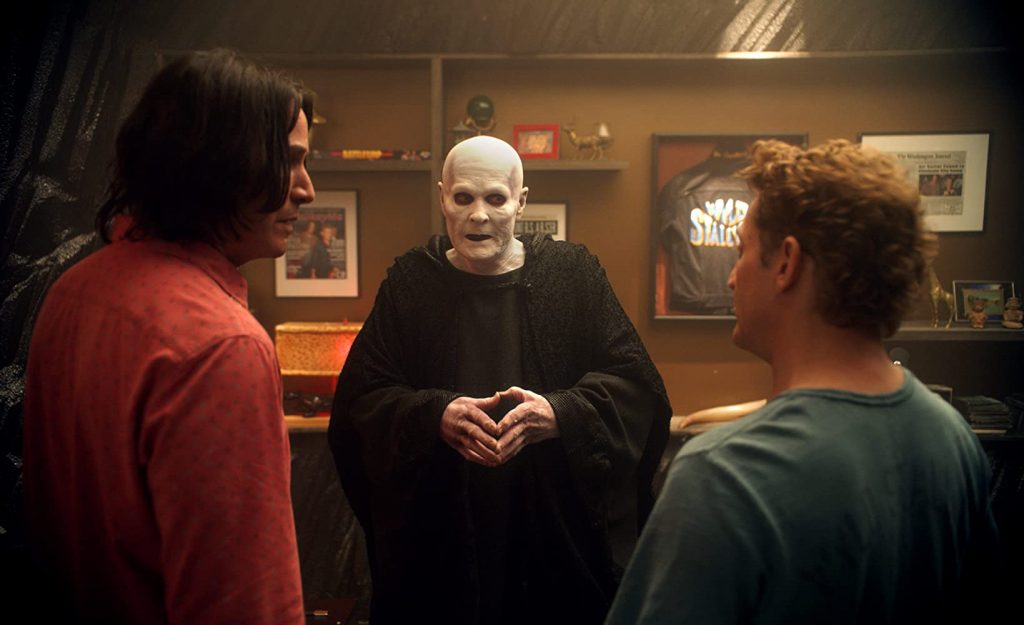 Furthermore, while never losing sight of their whimsicality, Bill & Ted Face the Music provides this delirious dynamic duo with more depth than ever before, as it uses the passage of time between sequels (and their incessant interactions with their future selves) to explore past mistakes they may have made in their lives and help them realize how to make things right. Bill and Ted may be primarily searching for a plan to prevent the end of existence, but on a more intimate level, they're figuring out how to keep their families together as well and learning what moments matter most in what little time we have in this world. Ultimately, this contemplative arc concludes in quite a moving manner, and a touching last-minute twist assures that the film's thematic aims are as affecting as possible.
See Also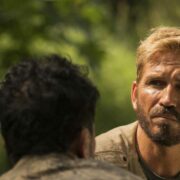 Lundy-Paine and Weaving both "excellently" embody the eccentricities of their fathers to engaging effect, and the two sufficiently carry their storyline without ever either overshadowing Bill and Ted's trips or causing the audience to see their subplot as "superfluous." Billie and Thea are genuinely a joy to be around, and their effervescent enthusiasm throughout their exploits is downright contagious. Weaving is always a pleasant onscreen presence, but it is Lundy-Paine who truly leaves the most impactful impression, as they effortlessly embrace the mannerisms of Reeves' Ted – their fictitious father – to create a character that completely and convincingly feels like his legitimate child (or clone). It's almost eerie how authentic their acting is, and if there was any justice in Hollywood, this should serve as a springboard to even greater gigs in the years to come.
The rest of the film's supporting cast is just as stellar, with William Sadler's Grim Reaper as the standout, yet again. His derisive delivery simply never gets old, and he too hasn't lost of a bit of his wit in the past 30 years. Anthony Carrigan is an additional delight as a self-conscious robot on a murder mission, while Jillian Bell predictably conjures up some chuckles as a tired marriage therapist. Mays and Hayes are unfortunately given little to do as Bill and Ted's wives, but the film still finds room for supplementary female representation with Holland Taylor's two-faced "Great Leader" – the wife of Carlin's Rufus and a foe from the future – and the aforementioned Kelly, who benefits immensely from Kristen Schaal's sardonic sensibilities.
Bill & Ted Face the Music isn't as instantly iconic as Bill & Ted's Excellent Adventure, but it is more satisfying than that film's silly yet scatterbrained sequel, and it offers some of the most earnest and easygoing entertainment that's been released all year. As we seemingly suffer through new struggles each and every day in 2020, Bill & Ted Face the Music provides a nice 92-minute reprieve from this madness and leaves audience with a much-needed message of hope that we too will one day escape this Hell and regain our happiness – and really, what more could you ask for?
---