The Croods: A New Age: DreamWorks' Stellar Sequel is a Delight (Review)

The Croods: A New Age (DreamWorks)
The Croods: A New Age retains the cheerful comedic charm of the franchise's first installment while still feeling fresh and fun for 2020.
---

In their heyday, DreamWorks continually challenged Disney/Pixar for critical acclaim and audience interest in the animation industry. Just as the Mouse House was churning out modern-day classics like Monsters Inc., Finding Nemo, and The Incredibles in the early aughts, DreamWorks was nipping at their heels with hits such as Shrek, Madagascar, and Kung Fu Panda. Unfortunately, when the once sterling studio started shifting their deals for theatrical distribution around (beginning at Paramount, then transferring to 20th Century Fox, and now partnered with Universal), they struggled with some commercial stumbles along the way, allowing the burgeoning behemoth Illumination Entertainment (of Despicable Me fame) to steal their spotlight as Pixar's prime competitor. Nowadays, DreamWorks can sometimes feel like an afterthought to younger viewers who aren't as familiar with their former favored franchises, but, although their output has decreased drastically since the mid-2000s, their showmanship remains as strong as ever. Case in point – The Croods: A New Age, a fantastic follow-up to their 2013 Academy Award-nominated adventure that picks up right where that surprise smash left off and maintains the magic and mirth that so many were magnetized by seven years ago.
The Croods: A New Age begins by charting the continued journey of the titular caveman clan as they carry on with adapting to survival outside of their once carefully cherished cave. After Guy (Ryan Reynolds, of Deadpool and Pokémon Detective Pikachu) showed the family the excitement of existence in the open world, they've since been eager to explore and live life without limitations – even if patriarch Grug (Nicolas Cage, of National Treasure and The Rock) took a bit longer to get used to Guy's aspirational ambitions. And yet, just as the family seems to be settling into a new routine, they find themselves faced with an unprecedented threat – another family.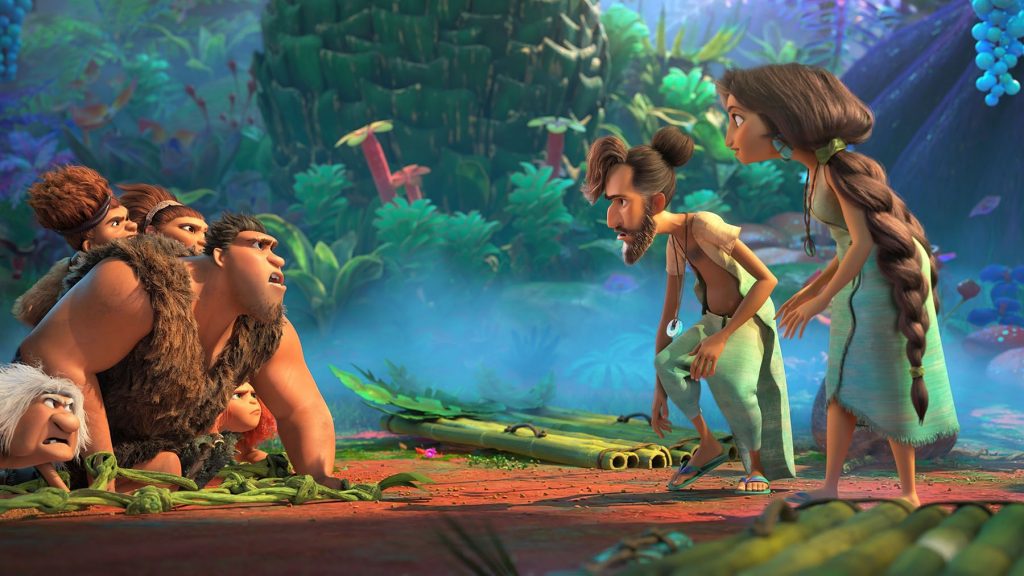 The Bettermans – comprised of father Phil (Peter Dinklage, of HBO's Game of Thrones and Avengers: Infinity War), mother Hope (Leslie Mann, of Knocked Up and Blockers), and daughter Dawn (Kelly Marie Tran, of Star Wars: The Last Jedi and the upcoming Raya and the Last Dragon) – appear to be more "advanced" than the Croods, which naturally leads to a comedic culture clash of sorts right off the bat. To make matters worse, Phil and Hope set their sights on grooming Guy – the most "mannered" member of this gang – to be a prospective partner for Dawn, kicking off a chaotic chain of events that ultimately leads to the abduction of Grug, Phil, and Guy by some prehistoric adversaries. Now, it's up to the ladies – including Grug's daughter/Guy's girlfriend Eep (Emma Stone, of La La Land and The Favourite), Grug's wife Ugga (Catherine Keener, of The 40-Year-Old Virgin and Get Out), Hope, and Dawn, among others – to band together, overcome their differences, rescue their family before its too late, and hopefully find a way to coexist cordially when all is said and done.
The first Croods film was a delightful little diversion when it debuted in the spring of 2013, but it didn't quite leave as indelible an impact on audiences as fan-favorite franchises like Shrek and How to Train Your Dragon. Sure, it grossed $587 million worldwide and eventually earned an Oscar nomination to boot, but you would be forgiven if you were left scratching your head over what warranted a sequel, especially after all this time. Surprisingly, The Croods: A New Age turns out to be not just an entertaining cinematic excursion through and through, but also a wonderfully worthy continuation that completely justifies its existence over the course of its rollicking 95-minute runtime.
Even if one is simply just analyzing the aesthetics of the film, it's abundantly clear that no animators are working on autopilot here, as they all deftly design a colorful and commoving display of visual effects that instantly evokes the mayhem of a Saturday morning cartoon. From the playful and phrenetic prologue to the feverishly frenzied finale, The Croods: A New Age is an engaging experience for the eyes alone, never losing your attention thanks to the ever-escalating and enormously engaging anarchy unfolding onscreen. The environments that the Croods and the Bettermans encounter are equally engrossing, as the animators make use of the full range of the rainbow when bringing this wondrous world into being. It's clear that the seven-year wait was worth it in some respect merely for these advancements in animation, as the second installment in the Croods franchise is a significant step up visually from its predecessor.
However, this sequel isn't just satisfying from a surface-level perspective, as its script is similarly as savvy and sharp. Courtesy of Kevin Hageman (The Lego Movie), Dan Hageman (Hotel Transylvania), Paul Fisher (The Adventures of Puss in Boots), and Bob Logan (The Lego Ninjago Movie), The Croods: A New Age finely fleshes out the characters and their chief concerns in ways that feel like plausible progressions from their emotions and experiences in the first film. Though Grug has abandoned his isolationist ideologies, he still craves closeness, and when Eep and Guy start to plan a future together apart from the family, his fatherly instincts and fears are activated once more. Meanwhile, as Guy comes to piece together more of his pained past – spurred by catching up with the Bettermans, who were pals with his deceased parents – he has to decide what exactly this "future" will look like. Does he take after the coarse yet compassionate Croods, who have affected so much of his adult life, or the brainy yet boastful Bettermans, who symbolize where he started?
On top of all of this, the central conflict between the Bettermans and the Croods prompts a compelling conversation about communication between contrasting individuals who are alike in their humanity but at odds in how they choose to live their lives. The picture doesn't convey any complex political or social commentary of any sort (this isn't Zootopia, even if you can certainly use your imagination to envision what groups the Croods and the Bettermans are meant to mirror), but it does tell a touching tale about putting aside prejudices – that both families possess – and shaping a stronger and more successful society with empathy instead of enmity.
See Also

Across the board, the voice cast is once again in top form, as even stars who some may say have grown too "big" for the property (such as Reynolds and Stone) still come back and deliver in spades. Cage has the stubborn-but-sweet father schtick down to a science at this point, while the aforementioned Reynolds is as engagingly endearing as he was in the first film, and Stone's spunky star power shines through Eep splendidly. Luckily, the new additions are aptly amusing as well, with Dinklage succeeding at portraying Phil's smug smarminess, Mann nailing Hope's faux niceties, and Tran completely channeling Dawn's charming cheeriness.
Given how many substandard sequels we see today, The Croods: A New Age can be marked down as a solid surprise success. By doubling down on convincing character development, adding to the absorbing animated spectacle on display, and retaining the humor and heart of the widely favored first film, A New Age is a franchise continuation that effectively justifies its existence and acts as exciting all-ages entertainment that anyone and everyone can enjoy this holiday season.
---
The Croods: A New Age is now playing in U.S. cinemas, and will be released in select countries worldwide from December 2020.
---
JOIN US!
Don't miss our monthly updates with film news, movie-inspired recipes and exclusive content! You'll only hear from us once a month. #nospam