Two of Us (Deux) Review: a Moving, Heartfelt Romance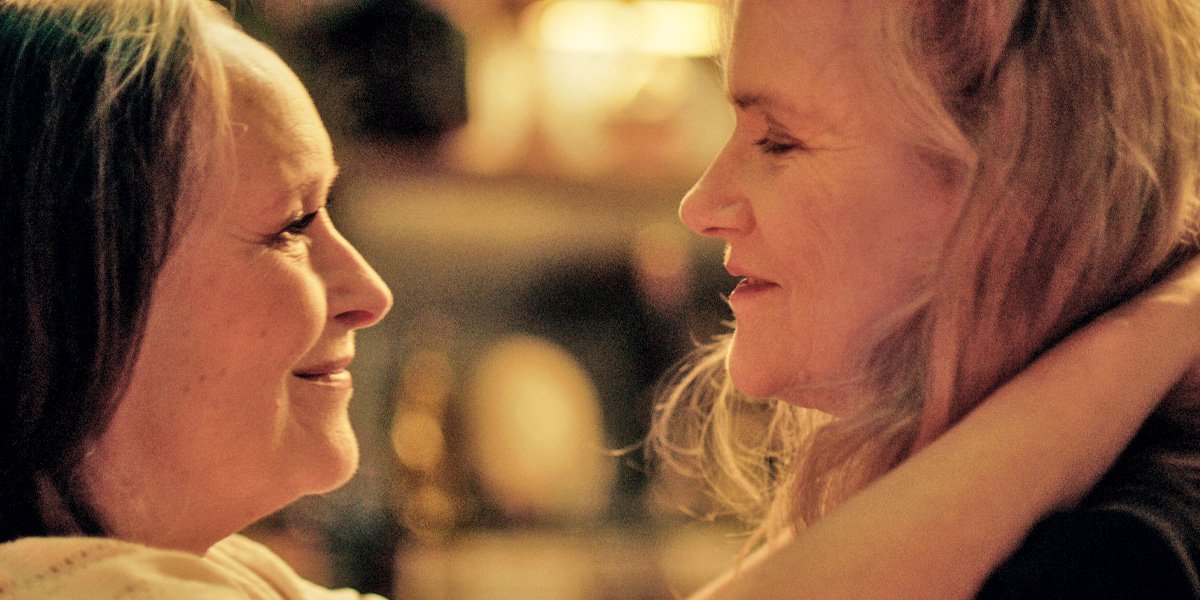 Martine Chevallier and Barbara Sukowa in TWO OF US (Magnolia Pictures)
Two of Us makes for a noteworthy showpiece for the moving chemistry between two excellent lead actresses, Martine Chevallier and Barbara Sukowa.
---

If you were to read a plot description of this movie, I think you'd be struck by how many contrivances make up the film's plotting. It would be inescapable how conveniently actions connect to one another for utmost drama. And yet, the performances here are so tender and heartfelt – the emotion between the film's lead actresses so earnest and genuine – that I'm more than willing to overlook some structural issues.
So what is that plot? Two of Us (France's submission to the 2021 Oscars) tells the story of two largely closeted gay women, Mado (Martine Chevallier, of Le Bourgeois Gentilhomme) and Nina (Barbara Sukowa, of Lola) – neighbors who have taken up a comfortable life between their adjacent apartments. After a fight, Mado has a stroke and is left unable to speak or to fully care for herself. As Mado had not told her children of her relationship, Nina is largely left frozen out of her partner's life. Much of the film's tension arises from Nina's effort to maintain place in Mado's life.
It's is, of course, sheer melodrama. What writer-director Filippo Meneghetti seems to grasp so effectively is that the genre can serve as a sharp lens on very human emotions. By focusing on these heightened moments, Meneghetti has given his lead actresses fantastic fodder to perform. Chevallier is given a complicated role tasked with selling both the emotional weight of her struggle to come out to her adult children and the wordless desire to remain with her partner after her stroke. In one scene we see Mado come to the very precipice of telling her children about her relationship with Nina. Meneghetti leaves the camera locked on Chevallier's face as she wrestles with the words, clearly on the tip of her tongue, before closing herself down again. It's remarkable, introspective work.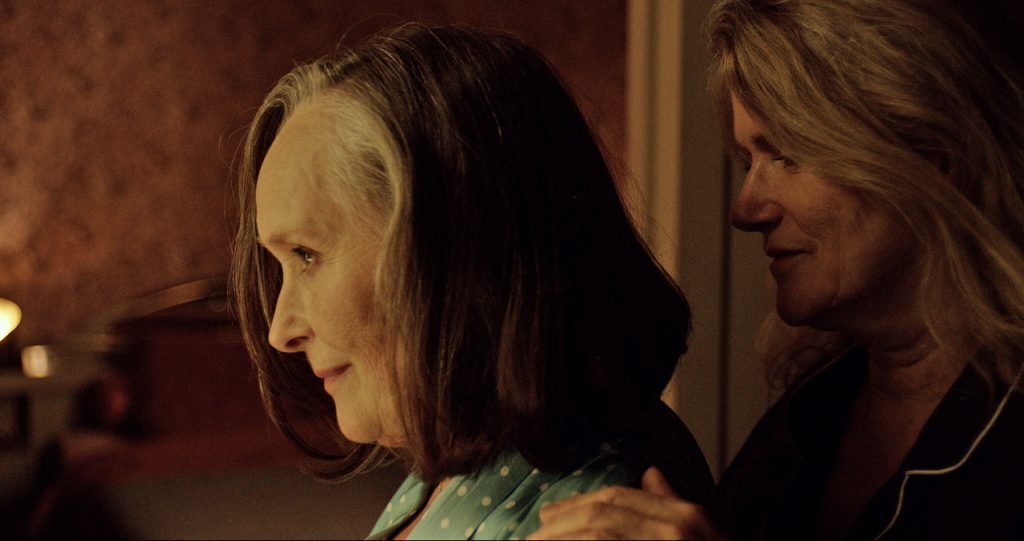 After Mado's stroke, the film largely shifts to Nina's perspective. Sukowa is a veteran of Rainer Werner Fassbinder's films, who is perhaps best known for using the tropes of melodrama to engage in stories about gender, politics and the gay experience. It's sage meta-casting to tell a melodrama about the experience of aged lesbians with one of Fassbinder's muses. Sukowa is a wonderfully intense presence. Her performance is tinged with an air of passionate, romantic obsession. As Mado's children, churlish and closed-minded, attempt to freeze her out, Nina is driven to increasingly desperate extremes to see her partner. It is to Sukowa's immense credit that the increasingly arch plot developments never overwhelm the basic humanity of the character.
Two of Us is not a subtle film. Meneghetti opens the film with chatting then kissing intimately in close circumstances. It soon becomes clear they're in the closet. When the film cuts it is to the bedroom with the lights on – the women make love in the dark, literally in the closet. It's a heavy-handed image, but also an emotionally effective one. It wordlessly lays out the stakes for our characters in starkly effective terms.
The film's efforts to keep Mado and Nina apart, only heighten the emotional stakes of the time when they're together. And really, that's why you should watch the film. It's rare enough to see a romance between two women late in life depicted in film or television, and even rarer when two performers as effective and genuine as Chevallier and Sukowa are given the chance to take on these parts. Their performances are more than worth your time.
---
Two of Us will be available everywhere on February 5, 2021. Click here to find out more.