Chadwick Boseman: A Conversation
Chadwick Boseman in Black Panther (Marvel/Walt Disney Studios)
To honour Chadwick Boseman's life and legacy, Loud and Clear writers Bernard andZoe discuss the Black Panther actor's most iconic performances and how his career impacted both of them.
---
Authors: Bernard Ozarowski & Zoë Rose Bryant
Chadwick Boseman passed away this weekend after a long battle with cancer. In a short time, he cemented a lasting legacy with a number of iconic performances. Bernard andZoe are here to discuss how his career impacted both of them.
---
Bernard: Zoe, let's start by talking about how Chadwick Boseman came into our lives. When did his work come onto your radar? What were your first impressions?
Zoe: I definitely distinctly remember seeing him onscreen for the first time in 2013's 42. I was aware of who Jackie Robinson was prior to seeing the film, as we'd briefly touched on his career/significance in various history classes over the years, but this movie really explored all the intense evils he endured and all the barriers he broke to become the legend he is today.
There's one scene that still sticks with me to this day – the Dodgers are playing against the Phillies, and as Robinson is up to bat, their antagonistic manager (played by Alan Tudyk) keeps hurling racial slurs at Robinson while he's attempting to focus. No one steps in to stop Tudyk's character, and Jackie has to try his hardest to tune out his words, but it's a Herculean task. I feel like this scene is symbolic of the overall struggle Robinson faced in life – he was asked to do what everyone else was doing (play the game) and perform just as well, but he had to continually combat forces that the other players didn't have to fight, and he could hardly even say a word about it without risk of ruining his reputation.
It's heartbreaking, and Chadwick Boseman is not only extraordinary in this singular scene, but in portraying this plight throughout the entire film. In light of his recent passing, the scene even now has a "meta" quality to it; Boseman has been doing what other actors do for years now – taking on diverse work and bringing us a plethora of iconic performances – but all while silently dealing with agony we were never aware of and could never comprehend. 
Bernard: It was 42 for me as well. I grew up a huge baseball fan so it seemed near impossible for an actor to humanize a figure who had been elevated to such mythic proportions. For me, the first real crack in the baseball mythos came from Jonathan Eig's biography of Robinson, Opening Day, which focused on his first season in the majors. The book had really captured the pressure and tension Robinson had to carry throughout his rookie year and how it necessarily carried into his home life. I thought Boseman wonderfully captured that almost overwhelming burden, and his easy chemistry with Nicole Beharie gave their marriage a real feel of emotional honesty: his time with his wife serves as his one safe harbor from the tribulations of the outside world.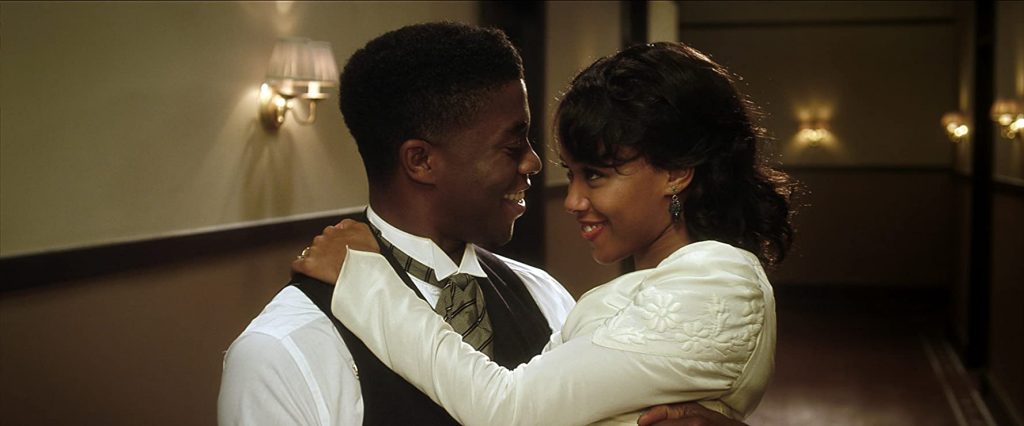 Speaking of meta, it's hard not to mention that Boseman himself felt a responsibility in his work to depict black characters in ways that they are not usually depicted in mainstream film. His Robinson is allowed to break down the mythologized facade in one fictionalized scene that sees all the abuse – just for one moment – get the better of him as he smashes a bat in a clubhouse hallway. It speaks to Chadwick Boseman's ability to imbue humanity in his roles that the fictionalized scene feels cathartic instead of contrived. Have you seen Boseman's other major historical figure performances as James Brown and Thurgood Marshall?
Zoe: I have! And building off of what you mentioned about his ability to "depict Black characters in ways that they are not usually depicted in mainstream film," it's just absolutely insane that this guy was playing so many real-life Black "superheroes" before inevitably playing an actual Black superhero. I mean, to have already portrayed African-American icons like Jackie Robinson, James Brown, and Thurgood Marshall all the age of 43? That's a career of accomplishments that most actors dream of accumulating over their entire lifetime, and Boseman did it over the course of 7 years!
It's common to bag on biopics nowadays and label them as "basic," given that so many follow a similar structure/formula, but Get on Up and Marshall are able to avoid these labels simply by the power of Boseman's performances. Even if the narratives tackle tried-and-true plot points here and there, he was never less than magnificently magnetic, and his charisma alone carried each film to the finish line. And can we talk about his range? A show-stopping star like James Brown couldn't be more different from the serious and steely Thurgood Marshall, and yet Boseman managed to make us fully believe he was each individual in each film, without hesitation. He could switch from Brown's bombast to Marshall's modestness on a dime, and he did so without breaking a sweat.
Bernard: Marshall is actually my favorite Boseman performance. To me, the film is merely good, more reliant on a sort of "white safe" rendition of history than I suspect the filmmakers would ever want to acknowledge, but Boseman elevates it. His performance has this wonderful sense of measured, assured confidence – he always seems to hover just a few inches above the film's fray. Like with Jackie Robinson, you can feel Boseman pushing to find the more human depiction of what one imagines as a staid Supreme Court justice. His Marshall has the sort of brashness a trial lawyer needs to succeed, and brings extra dimension to the role.
You're right on about his prowess in biopics. I'm 35, so, for me, Denzel Washington has basically been my point of entry to a lot of figures in black history through Glory, Malcolm X, and The Hurricane. It's easy to see Chadwick Boseman holding a similar place with young film viewers today.
Zoe: I think 42 still takes the cake for me, but I certainly see parallels between his performance in that and his performance in Marshall, as you said; he brings the same sense of honesty and humility to each part, and he makes these larger-than-life icons feel like men we could meet on the street today. He finds the relatability inherent in each role. In that way, I think the Washington comparison is quite apt. I sense a lot of similarities in their acting sensibilities (even aside from their mutual tendency to take on biopic projects), and I do feel that he was well on his way to serving as the "Denzel" of my generation.
Bernard: Before we get to T'Challa and Da 5 Bloods, I thought it would be nice to talk about some of his lesser known work. This morning I watched The Kill Hole – one of the only Boseman movies I had not seen – and I was impressed to see that his screen arresting star power is present in his first leading role even in this low budget overwrought war drama. He brings a sense of gravitas to a stock tortured veteran character and almost manages to single-handedly salvage the movie. Have you seen much of his other work? This is a safe space – you can definitely admit that you're a secret Gods of Egypt fanboy…
Zoe: While I do admittedly admire his overblown antics in Gods of Egypt (which is some captivating cinematic chaos), I must say that he recently excellently elevated the otherwise merely middling 21 Bridges. The film itself was nothing to write home about – full of conventional "cop movie" cliches – but as you mentioned, he just had this admirable ability to rise above whatever material he was given, no matter how mediocre it was, and turn in a titanic performance that absolutely demanded your attention from the first frame to the last. His distinguished dedication and stellar swagger alone make the film worth a watch.
Bernard: Totally agree on 21 Bridges. It's such a classic movie star action movie – exactly what we might expect from Denzel as a matter of fact.
So… It's that time, right?
Zoe: It most certainly is. I must say, as terrible as these last 24 hours have been, I've tried to take solace in the words "Wakanda Forever." If it wasn't already, the legacy he leaves behind with Black Panther is now forever immortalized.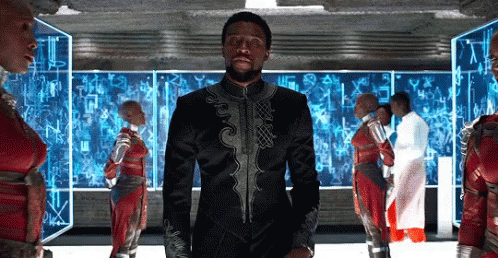 Bernard: My favorite part of Black Panther is the Korea arc. Here we are in yet another MCU movie – a deliriously well-designed one, mind you – and all of a sudden a miniature James Bond movie breaks out: T'Challa, dressed to the nines, ventures to a Busan casino to meet a shady contact with not one, but two, Panther Girls on his arms. All with that, T'Challa isn't just a king and a genius and a warrior, he's so goddamn cool.
Zoe: I'm 100% with you on that. The beauty of Black Panther is that T'Challa is able to be both a "majestic" monarch and just a supremely sexy and suave superstar, and he never sacrifices his sovereignty for his sensuality or vice versa. So often I feel that Black characters in genre films are boxed into being "one" thing – the silly sidekick in comedies, the first one to die in horror movies, etc. – but Black Panther subverts those stereotypes and lets Boseman manifest the multidimensionality of the role in riveting fashion.
Bernard: That's right on – T'Challa is a complete character in the way most black characters in major studio pictures are not. He brings a sense of supreme decency to the part as well. Even when the character is behaving somewhat impulsively, Boseman never loses grasp of T'Challa's fundamental goodness. During my opening night screening of Endgame, T'Challa's return brought far and away the biggest round of applause from my crowd. It speaks to just how deeply Boseman's work resonated with audiences.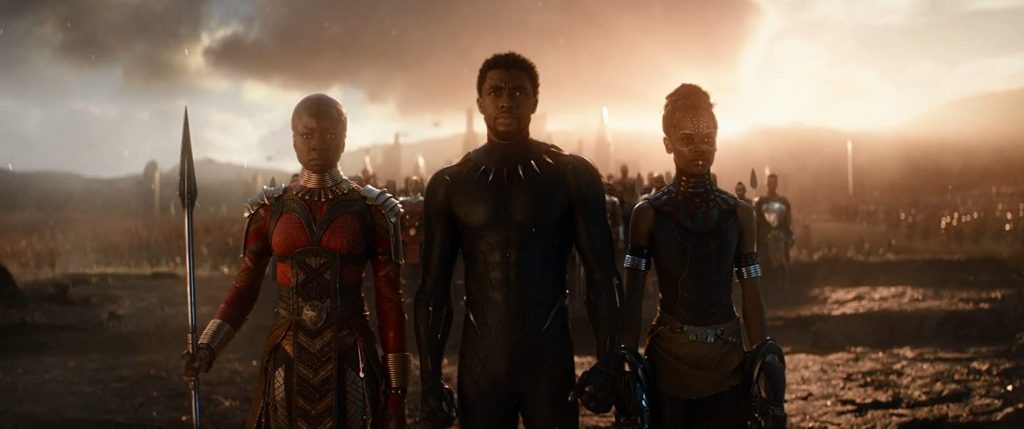 Zoe: The world-building of Wakanda was immensely influential in securing Black Panther's stupendous success (both critically and commercially), but if T'Challa wasn't as engaging as he ended up being as well, the movie would've crumbled right then and there. Boseman brought it home, time and time again. I keep thinking of the kids who were able to see themselves honored on screen as heroic and how T'Challa defined their symbol of what made a "superhero," and I truly don't know how I would start a conversation explaining what has happened to the children who cherished this character so much. I have no doubt that Marvel will safeguard this story in the future and perfectly pay respect to Boseman, but right now, I'm focused first and foremost on the trauma of this time, here and now, as I can't imagine how it feels to finally have that representation and then see it ripped away from you, just like that.
Bernard: I think that beautifully captures the legacy of that character, Zoe. I'm interested in your thoughts on the man's legacy. I've found myself deeply moved by his commitment to visiting kids suffering through pediatric cancer and other serious ailments. The guts, and profound kindness, to spend his days trying to brighten the lives of children facing the same burden he himself carried is some real life hero material.
Zoe: I must admit, I've found it hard to scroll through those photos and watch those videos without turning into a blubbering mess over the past 24 hours. Previously, these visitations resembled the usual – but nevertheless admirable – celebrity outreach efforts to use one's fame to bring some hope and happiness to those who are hurting. But now, this news has recontextualized those encounters entirely. You said it best – the man is a real life hero. Clearly, he was driven by the similar struggles he too was suffering from when he visited these kids, but he put aside his own pain on these days to fully devote himself to cheerfully comforting them in the most charming manner possible.
Bernard: Spike Lee's treatment of his character in Da 5 Bloods bordered on hagiography, but now I cannot help but wonder just how much of Lee's intentionality was focused on Stormin' Norman (and all that character represented to his Bloods) and how much was about the real man behind the character.
Zoe: I can definitely see how Stormin' Norman's role in Da 5 Bloods might come across as hagiographic, but I was always so swept up by Boseman's star power that I just bought into it from the moment he was introduced. I too was in awe of this man's commanding allure, so I absolutely understood why the Bloods were equally as mesmerized. However, I'm definitely starting to wonder what Lee knew (and when) about Boseman's personal battles, as many of the scenes (most notably, the climactic "farewell" between his character and Delroy Lindo's Paul) feel particularly prescient today. If this wasn't intentional, it's even more extraordinary. Either way, I'll never be able to watch that film the same way again.
Bernard: I completely agree about never being able to watch Da 5 Bloods the same way again. Which reminds me… humor my Oscar love for a moment – do you think he might win one? I think the heat has to be behind Delroy Lindo for Bloods, but I do wonder if Ma Rainey's Black Bottom could be the ticket. The last August Wilson adaptation, Fences, saw nominations for both leads. Here, he'll match up with Viola Davis, who seems a near lock to deliver a powerhouse performance. Nobody else has come close to locking up the Best Actor race (who would be the winner right now? Ben Affleck in The Way Back?). I cannot claim to be a fan of much of director George C. Wolfe's cinematic work, but his theater direction resume is top of the charts. Worst case, he seems like a good candidate for an eventual Honorary Oscar, right?
Zoe: It's so eerie – I was literally just discussing his Oscar prospects with a pal earlier this week and talking about how I felt that he could run away with awards in the Best Supporting Actor category all season long. I've read the play that Ma Rainey's Black Bottom is based on, and it's simply stupendous stuff (as is to be expected with August Wilson), and Boseman's character Levee is the heart and soul of the piece, hands down. Ma Rainey is the "lead," but Levee's actions/emotions push the plot forward even with his "supporting" standing; it's a ravishing role.
Obviously, I understand that awards are the last thing on anyone's mind right now (and we haven't even seen a frame of footage), but it's so sad that so many of us were viewing this as his big "awards breakthrough" and now, it'll end up being his curtain call. He most certainly doesn't need a trophy to cement the influence of his contributions to cinema – those have already been canonized – but it'd truly be a wonderful way for the industry to honor him (assuming the performance does deliver, which, as we've been saying, was never a problem for Boseman).
Bernard: I've not read the play so I appreciate you providing me a bit of context on his role. But the simple reality is that I'm rooting for him. You're exactly right though – he's canonized in Hollywood history with or without an Oscar.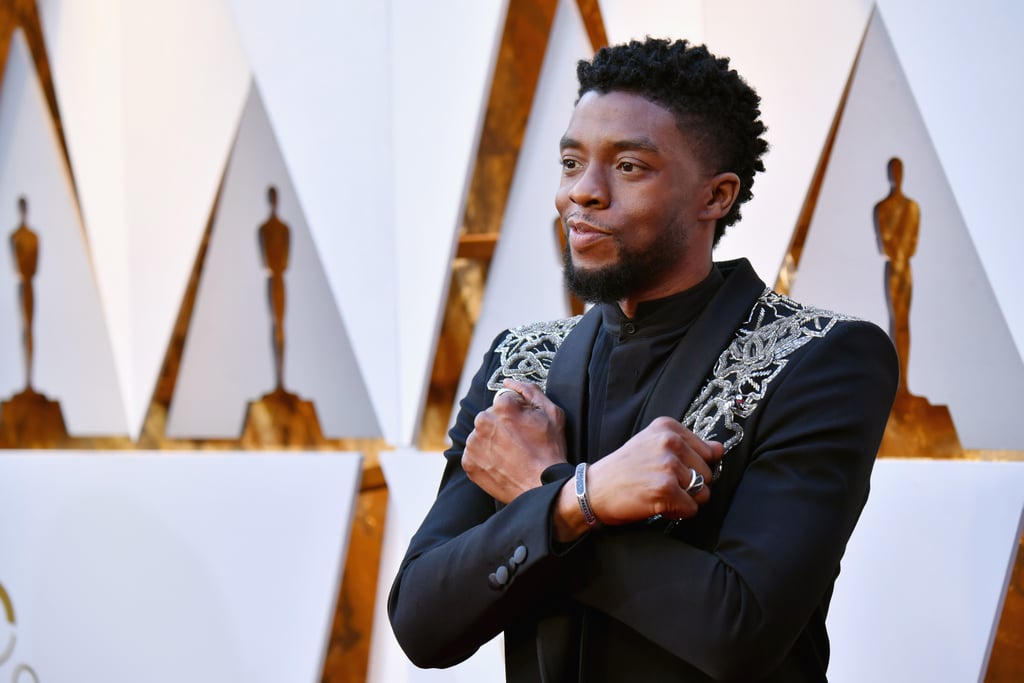 Bernard: I'll leave the last words to you, my friend, but I did want to say one more thing. I think Chadwick Boseman's loss is particularly difficult when viewed in the broader context of 2020. During the worst year in recent American history, to see the loss of a man who meant so much to so many is utterly heart wrenching. I'm a straight white guy; there are literally hundreds of superheroes who look and act like me. Dozens of them have feature movies.
For a young black child (and with all due respect to Wesley Snipes' Blade Trilogy), black superheroes simply didn't exist until Boseman helped change the frame of what a big screen hero could look like. Representation matters, and the loss is so much more sadder when it seems clear that he was a genuinely decent man in his personal life. As so many in our society attempt to reckon with the sins of our Country's past and present, a voice like Boseman's could have helped guide the way. It says so much about him that even in the months leading up to his death – and despite a national pandemic – he chose to spend his time helping to raise millions of dollars to acquire PPE supplies for communities of color as part of Operation 42. Wakanda Forever.
Zoe: I think you summed up the significance of Boseman's passing perfectly – a death like this would be distressing no matter when it occurred, but in a time of such social unrest where Black men and women fear for their lives every day and have to fight for the right to merely exist, Black Panther – and Boseman's representation of that character – has always offered immense optimism for a brighter future. Now, it's hard not to feel like that hope has been snuffed out, but we cannot let our faith fade. We owe it to Chadwick Boseman and the legacy he leaves behind to march on and make change, just as he did.