One Night in Miami (Review): "It's Been A Long Time Coming, But A Change Is Gonna Come"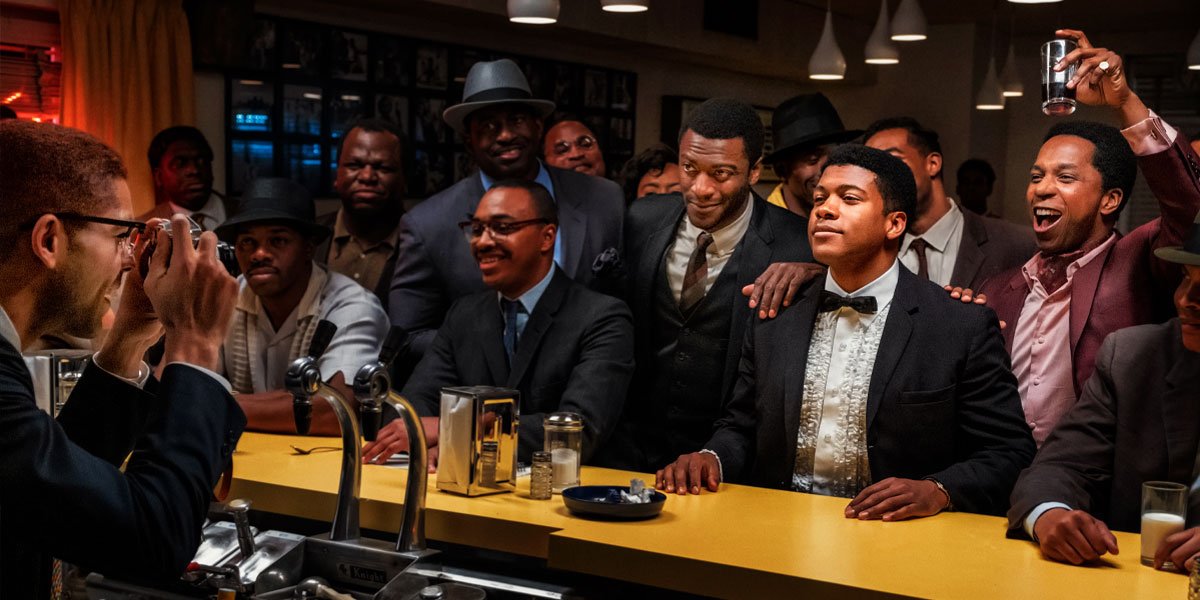 Kingsley Ben-Adir, Aldis Hodge, Leslie Odom Jr. and Eli Goree in One Night in Miami (Courtesy of TIFF)
In One Night in Miami, Regina King explores the 1964 meeting between Cassius Clay, Malcom X, Jim Brown and Sam Cooke to bring a timely analysis of racism and social change.
---

It was February 25, 1964 when a 22-year-old Cassius Clay – the man who'd later be known as Muhammad Ali – defeated Sonny Liston and became the new Heavyweight Boxing Champion of the World. Unable to celebrate his victory in Miami Beach due to segregation laws that prevented him from staying on the island, he spent the night at the unglamorous Hampton House Motel, in Brownsville. But that "One Night In Miami" would go down in history for a different reason, as he ended up spending it with three of his closest friends, who also happened to be the most prominent black icons of the time. These people were footballer and touchdown record holder Jim Brown, successful recording artist Sam Cooke and Nation of Islam preacher/activist Malcom X.
Adapted to the screen from Kemp Powers's 2013 play with the same name, Oscar-winning actress Regina King (If Beale Street Could Talk)'s directorial debut is a fictional account of that night, and a clever, comprehensive examination of racism, celebrity and social change that sheds light on how hard it is to find the right approach to take when it comes to fighting for justice, while also staying true to one's self.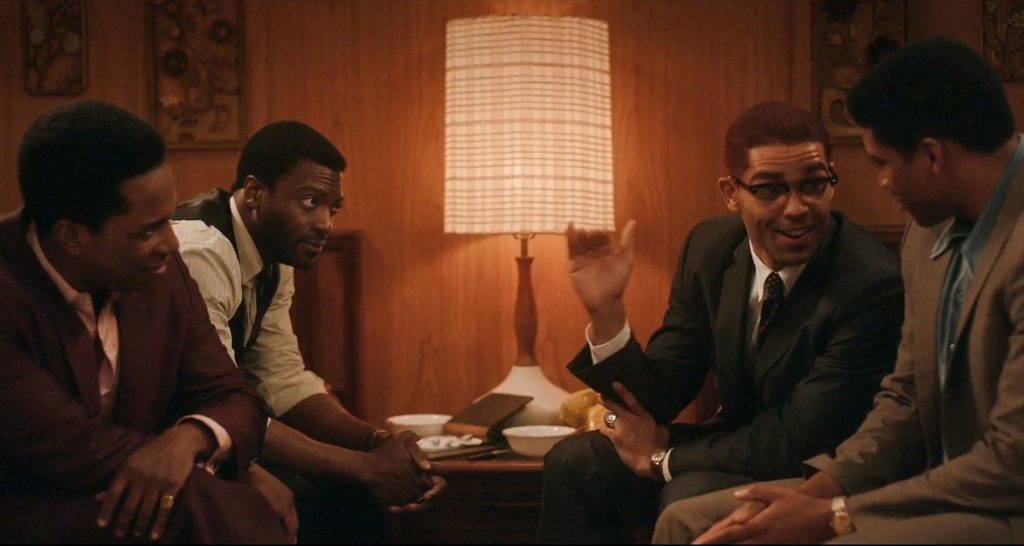 If Powers' 2013 play began right outside of the motel where the meeting took place, King and Powers (who also wrote the film's screenplay, adapting it from his own play) take full advantage of the cinematic medium, with the first sequences of the film showing us the protagonists one year earlier: this serves as an effective introduction that also showcases King's ability as a storyteller and the film's impressive technical execution. Composer Terence Blanchard (Blackkklansman) and sound designer Bryan Parker (Get Out)'s compelling jazz score immediately takes us back to the Sixties, with desaturated colours and soft lighting that add a patina of historical importance – but also of prejudice – and make for a truly immersive experience.
And so we are taken back to Wembley Park, London, in 1963, where Cassius Clay (Eli Goree, of Race) is floored by boxer Henry Cooper, whom Clay failed to defeat minutes earlier, when he had the chance, for fear of staining his boxers with the opponent's blood. As Clay falls, the photographers' flashes fill the frame, and we are taken to a very different setting, where another defeat is taking place. Sam Cooke (Leslie Odom Jr., of Hamilton) is about to play at the prestigious Copacabana nightclub, and his attempts to warm up the crowd are met with indifference and disapproval, as the club's white, upper-class, middle-aged diners shake their heads, exchange glances and leave the room, denigrating Cooke's song choices out loud.
Meanwhile, Jim Brown (Aldis Hodge, of Hidden Figures) visits his white friend Mr. Carlton (Beau Bridges, of Masters of Sex), with whom he reminisces about Brown's touchdown world record, until Mr. Carlton offers to help him "on the island", should he ever need anything. As Brown realises that his friend is about to move some heavy furniture inside his home, his offer to assist him is declined with a casual "you know we don't allow n****** in the house" – a comment that comes as a painful reminder of white privilege and a quieter, but incredibly significant, kind of defeat for the footballer. The last character to be introduced is Malcom X (Kingsley Ben-Adir, of The OA), who we first meet as he's contemplating renouncing the Nation of Islam and founding a new religious movement, which would later be known as the Islamic Muslim Mosque. The activist is then shown on TV, uttering words such as "what's good news for the sheep might just be bad news for the wolf", bringing attention to a world that was on the verge of a much-needed change – the very same kind of change we're in desperate need of today.
In fact, One Night in Miami's meaningful introduction doesn't even begin to describe King's insightful adaptation, which only truly takes off when its four protagonists meet. That moment is also when it really becomes quite evident that the film originated as a play, as it mainly consists of the four celebrities engaging in a long, dense conversation inside the room of a shabby motel. It's a second half that asks you to follow intense dialogues, with camera movement that attempts (and often succeeds) to make these scenes less static, and writing that also allows for a series of endearing, entertaining interactions. Yet, it's Odom Jr, Goree, Ben-Adir and Hodge's impressive acting that ensures the film's success, as the four leads address a multitude of timely topics with such emotion and charm that they manage to hold our attention for the entire duration of the movie. The tangible chemistry between One Night in Miami's protagonists reaches its peak in a goosebump-worthy, incredibly moving sequence in which Malcom X reminisces about witnessing Sam Cooke perform "Chain Gang" to an angry audience, with a broken microphone: these five minutes, alone, make the entire film worth watching.
One Night in Miami is a remarkable film that approaches a complex, timely topic from many sides, thanks to four protagonists who share similar struggles but approach them from different points of view, and who find it hard to understand which method is right and which is wrong. Thanks to an impressive screenplay and the added magic that only film can give, King's adaptation works in cinematic form, and shows us a different kind of American Dream that feels less like a victory and more like a defeat. One Night in Miami highlights that change cannot happen without having a conversation, and invites us to find the courage to tell our own story and stand up for what we believe in, so that we may have, at last, "a world where it's safe to be ourselves".
---
One Night in Miami premiered at the Venice Film Festival on September 7 and at the Toronto International Film Festival on September 11, 2020. The film will be released on Amazon Prime Video on January 12, 2021.