Malcolm & Marie (Review): Zendaya & Washington Wow as Couple in Chaos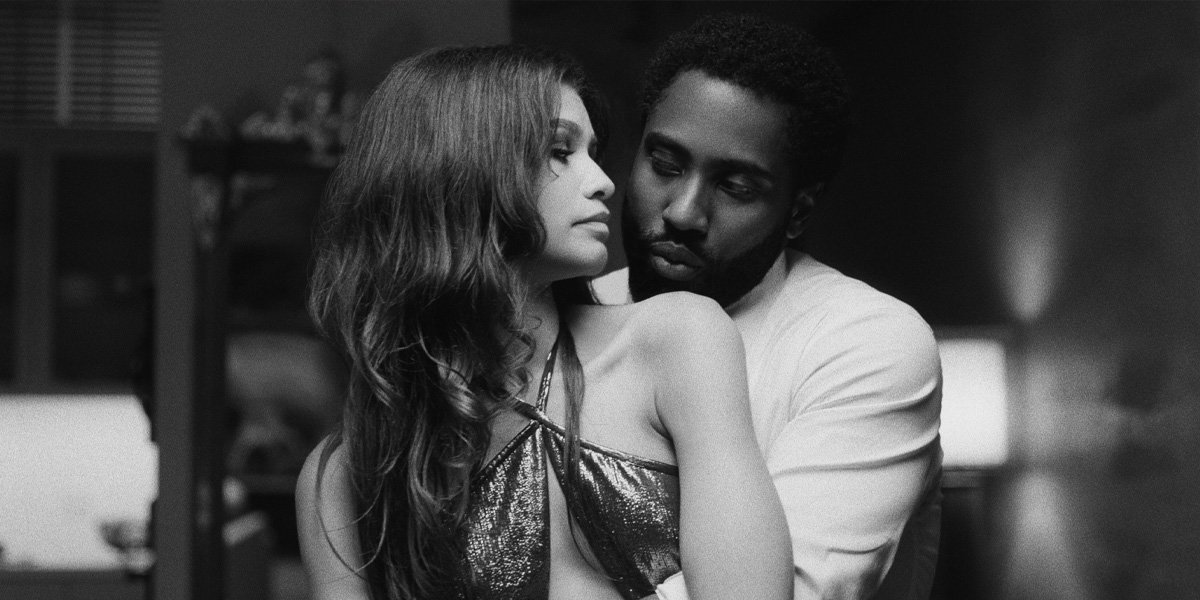 Zendaya and John David Washington in Malcom & Marie (Netflix)
Malcolm & Marie is a staggering last-minute surprise in this year's awards season, stunning with a scorching screenplay and two powerhouse performances.
---

Writer-director Sam Levinson – son of famed filmmaker Barry Levinson and showrunner of HBO hit Euphoria – is certainly no stranger to pushing boundaries and taking a stab at subject matter that others in the industry wouldn't dare work with. Just consider his controversial 2018 dark comedy Assassination Nation, which skillfully skewered a series of hot-button issues surrounding social media, sexting, and suicide without ever stopping to give the audience a break or breather of any kind, forcing them to confront the cruelty of the 21st Century. Or, analyze the aforementioned and widely admired Euphoria, a teen melodrama that many maligned for its abrasive approach to depicting adolescents in this day and age, never shying away from their sexuality or substance abuse in any regard.
Love or hate his singularly sharp stylistic tendencies, one can't deny that Levinson genuinely captures the grievances of Generation Z, perhaps better than any auteur of the moment. Most important of all, no matter what struggles he's showcasing in his art, he never devolves into simple "shock value" – every experience exhibited onscreen is some individual's authentic story, finally told without an artificial "Hollywood" sheen, and that commitment to candor is as present as ever in his third feature film, Malcolm & Marie.
As the first feature to be entirely written, financed, and filmed during the COVID-19 pandemic – having shot this past summer, from June 17 to July 2, 2020 – Malcolm & Marie's production hasn't been a walk in the park by any means, but with creativity and careful consideration from the cast and crew, the team behind this tumultuous romantic odyssey was able to defy all odds, and that passion is palpable in each and every frame. Over the course of its riveting 106-minute runtime, the film follows an indie darling director named Malcolm (John David Washington, of BlacKkKlansman and Tenet) and his girlfriend Marie (Zendaya, of HBO's Euphoria and Spider-Man: Far From Home) as the two return home from the former's latest movie premiere and anxiously await the critical reactions that will soon roll in. However, nothing can ever be that easy for this young couple in constant conflict, as Marie simmers with scorn, barely biting her tongue about a betrayal on Malcolm's part. When this temper takes hold of her, both become locked in a riotous row that will rock their relationship to its very core, testing their attachment to one another and making them question the very personhood of the partner they've come to cherish.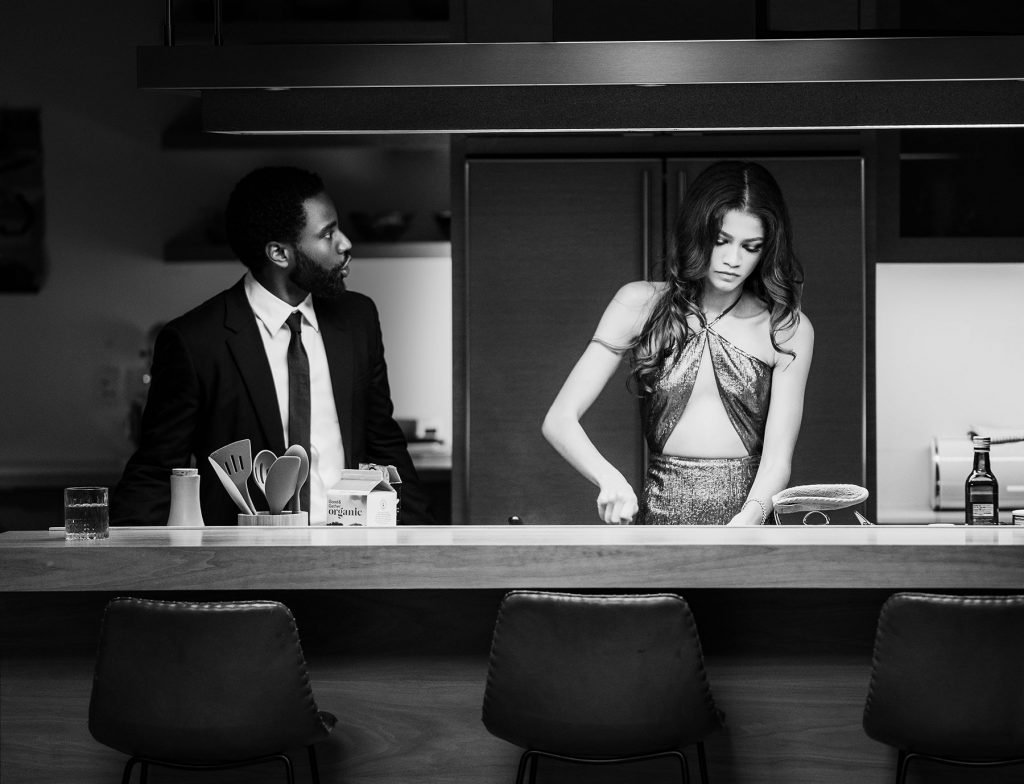 Partially inspired by a plight from Levinson's own past – in which he had fought with his wife following the premiere of Assassination Nation, after forgetting to thank her – Malcolm & Marie builds off of this familiar foundation and blossoms into something else entirely, intricately interrogating not just the concerns of couples in the creative arts but also the ruts in any real relationship, unveiling the uglier side of spending your life with another imperfect individual. While one is most likely meant to sympathize with Marie (especially as more of Malcolm's misbehavior comes to light), Levinson's searing script is still exceptionally even-handed, gifting each character – and actor – with momentous monologues and stormy screeds that allow them to expunge all of their emotions and present their perspective with bursts of bombastic bluster, never leaving any word unsaid. At risk of feeling like the fight scene in Marriage Story stretched to a full-length film, Levinson thankfully spaces out the strepitous spectacle, mirroring the melee of actual couples and plausibly parroting the patterns of these types of tiffs in the real world – it isn't all anger all of the time, and the way Malcolm and Marie fight, forgive, and soon find another reason to be belligerent is achingly accessible to anyone who has ever been stuck in similar scenarios.
Aside from his modern-day riff on Who's Afraid of Virginia Woolf?, Levinson also uses Malcolm & Marie to take aim at film criticism of the 21st Century, calling out the commentators who only survey artistic work to serve their own social image and those who pigeonhole creatives of color into constricting classifications where their stories can only ever be seen as an expression of some greater statement instead of for the films they are on the surface. As Malcolm laments in one key monologue, "Not everything I do is political because I'm Black" – and boy, does the impact of that line linger when one is forced to consider how often Black filmmakers are grouped with other Black filmmakers for no reason apart from their race (with Malcolm also complaining about being placed into a category alongside Spike Lee, Barry Jenkins, and John Singleton, when they're all such different storytellers in spite of the color of their skin). For as much time as critics spend trying to "say the right thing" or appear "ahead of the times," many can still fail to notice how their attempts at seeming socially aware are shortchanging the depiction of diverse talent in the industry, and Malcolm & Marie's testimonies on this topic are too incendiary to ignore.
As the fiery first half of this titular chaotic couple, John David Washington simply stuns, demonstrating depth even beyond what he brought to his Golden Globe and SAG nominated turn BlacKkKlansman. His Malcolm is frighteningly flawed but supremely spellbinding at the same time, as his allure proves unavoidable when he takes off into yet another tirade against airheaded critics or when defending the integrity of his ideas to Marie. Even as we come to chide the man for his childish antics and his shameful shortcomings, he's entirely enthralling the whole way through, and we can't help but be as mesmerized as Marie is by him at times, primarily because Washington so wholly buys into Malcolm's mindset and capably conveys his acuity to the audience in each and every scene. Washington handles the Malcolm's hubris without a hitch as well, humanizing the frenetic filmmaker but never dodging his deficiencies either, persuasively portraying his puerile persona with all of its contradictions and complexities intact.
That being said, as most have already made clear, it is Washington's captivating co-star Zendaya who truly makes the movie her own, giving new significance to the saying "Hell hath no fury like a woman scorned" and tearing through the turmoil like a tsunami of rage and resentment. Levinson writes Zendaya's Marie with layers upon layers of relational anguish, allowing the 24-year-old superstar to slowly spill these sorrows over the duration of the entire evening – never fully giving away her game until the very end – and it is an engrossing evolution to behold. What starts as simple spite slowly shifts into far more internalized sorrow and suffering as Marie's deep-rooted distress is disclosed, and Zendaya is able to effectively exhibit the range of her emotional rollercoaster without any worries whatsoever, simultaneously always making some of her selfhood secret, keeping engaged viewers on the edge of the seat, unable to estimate her next move. Apprehension over her age should be put aside here, as Zendaya manifests a maturity far beyond her years to tap into Marie's misery, and that astonishing achievement alone should put any reservations to rest.
See Also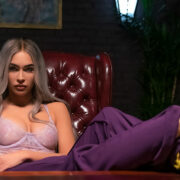 Behind the camera, Levinson's direction is just as dynamic as his sumptuous screenwriting, as he masterfully maximizes the potential of placing a predicament in this one location, but it's Marcell Rév's (Assassination Nation, Euphoria) consuming black-and-white cinematography that suffuses the film with sophistication and imbues it with intrigue, bringing us back to the Golden Age of Hollywood and giving Malcolm & Marie the feel of a compelling classic romance. Likewise, Labrinth's (Euphoria) swanky score fits splendidly alongside the film's age-old aesthetic and takes on a transporting nature in its own right as well.
Malcolm & Marie is a towering piece of art from top-to-bottom, complete with a stimulating script – that tells of a lively love story gone wrong on the surface whilst simultaneously engaging with socially relevant subject matter – and two powerhouse performances from Zendaya and John David Washington, who completely convey the complexity of this chaotic couple and prove fascinating from the first frame to the last. This type of moving melodrama is all but nonexistent in the movies nowadays, so much praise must be paid to writer-director Sam Levinson and his two leads for reinvigorating the medium with magisterial and meaningful work such as Malcolm & Marie, which reminds us how good stories still reign supreme in cinema, above all else.
---
Malcom & Marie will be available to watch on Netflix everywhere on February 5th, 2021.
---
---
JOIN US!
Don't miss our monthly updates with film news, movie-inspired recipes and exclusive content! You'll only hear from us once a month. #nospam