Ma Rainey's Black Bottom (Film Review): Boseman & Davis Blow Audiences Away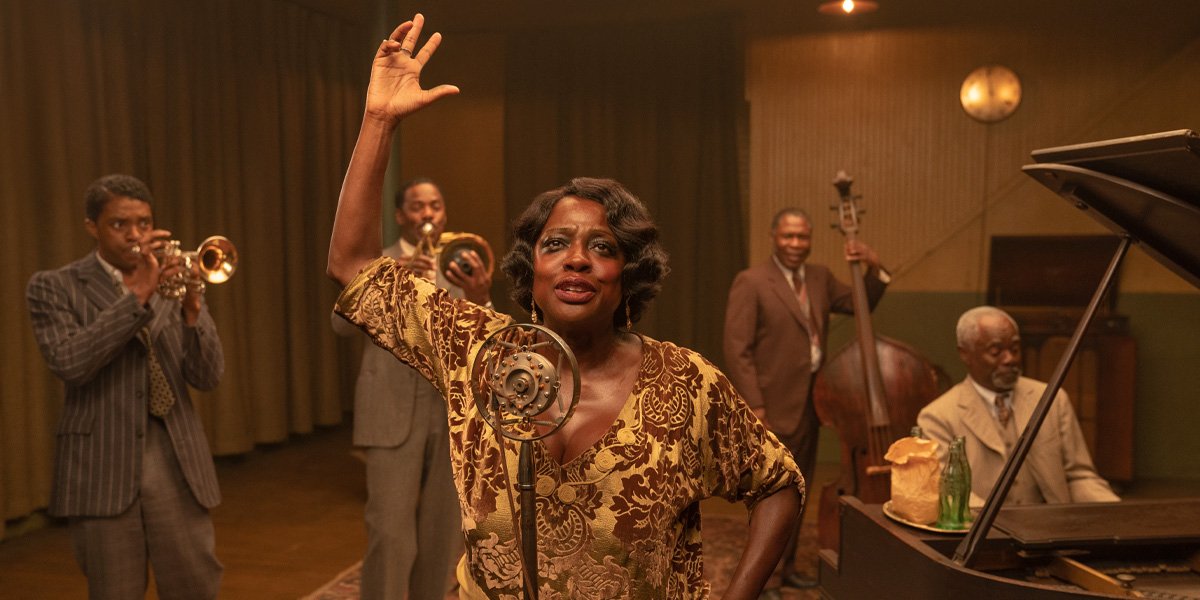 Chadwick Boseman, Colman Domingo, Viola Davis, Michael Potts and Glynn Turman in Ma Rainey's Black Bottom (David Lee / Netflix)
Ma Rainey's Black Bottom is the rare play adaptation that actually feels "alive," thanks to the towering talents of Chadwick Boseman and Viola Davis.
---

One would be remiss to begin any review of the marvelous Ma Rainey's Black Bottom without sufficiently recognizing the lingering shadow of Chadwick Boseman's soulful spirit, which suffuses each and every scene with a somber solemnity and supplemental significance. In an already abysmal year, film fans around the world received some of the most surprising and saddening news in recent memory on August 28th, when it was announced that the widely adored actor had passed away at the age of 43 due to complications with colon cancer. Boseman was diagnosed with this disease in 2016, but he received treatment in secret for four years, making his passing all the more unexpected and upsetting.
As a long-admired inspiration for Black artists around the world and one of the towering talents of his generation, his loss was felt throughout countless communities, and many are still reeling from the sudden shock. Though he did leave behind a legendary and lasting legacy that we will continue to cherish for years to come – including his revelatory steps forward for representation in the superhero genre in Marvel's Black Panther – there is perhaps no better picture to crystallize his indelible impact on cinema than Ma Rainey's Black Bottom, and while it is a staggering success of storytelling in its own right, Boseman elevates it to something truly extraordinary.
The film opens on a scorching summer day in 1927 Chicago, where the titular "Mother of the Blues" (played by a valiant Viola Davis) and her band – comprised of the compassionate Cutler (Colman Domingo, of If Beale Street Could Talk and the upcoming Candyman reboot), the talkative Toledo (Glynn Turman, of Gremlins and The Way Back), the snappy Slow Drag (Michael Potts, of HBO's The Wire and True Detective), and the lively Levee (Boseman) – are set to convene at a local music studio and record an album together with the assistance of Ma's white manager, Irvin (Jeremy Shamos, of Birdman and The Big Sick). Unfortunately, the day gets off to a less than stellar start as the militant Ma takes her sweet time arriving to the studio, irritating Irvin and her sweat-soaked ensemble. The boys keep busy by spinning all sorts of stories in the rehearsal room, with Levee laying out his plans to start a band of his own, outside of Ma's constricting control, as he constantly challenges her compositions with his own creative contributions. When the powerhouse prima donna does eventually arrive, she brings an air of animosity along with her, clouding the claustrophobic studio with consternation and setting the stage for a series of chaotic conflicts before the day is done.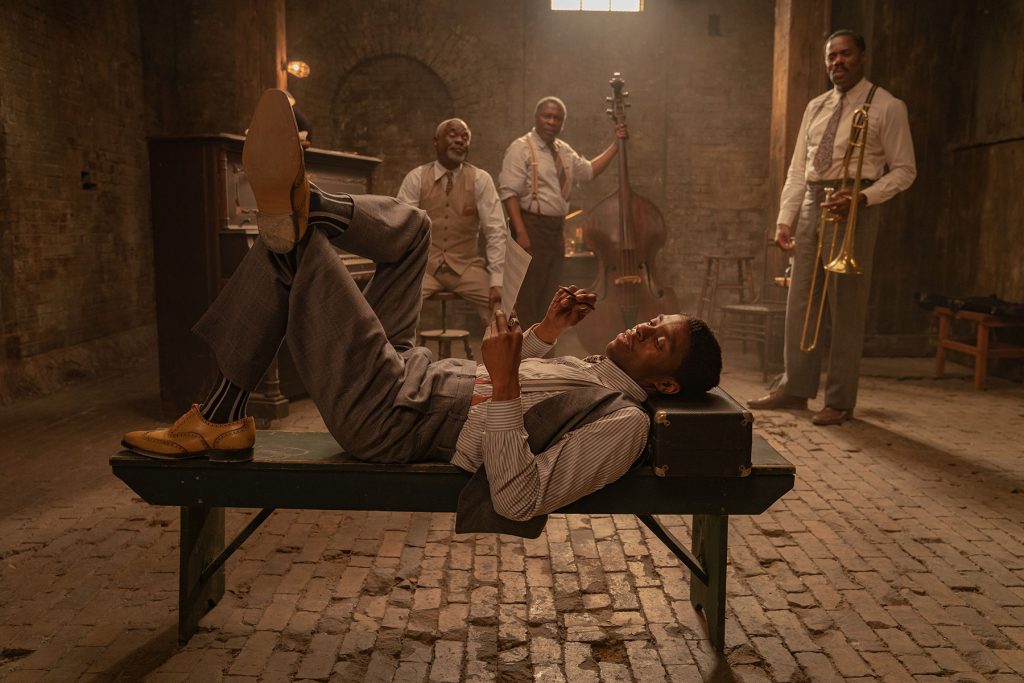 Though Ma Rainey's Black Bottom is a story originally shaped for the stage, the film happens to be the rare play adaptation that actually feels alive, preserving its priority on the pandemonium that occurs in this one location while assuring that its production values are still completely and convincingly cinematic at all times. As Ruben Santiago-Hudson authentically adapts the words of August Wilson for the silver screen and carefully conserves Wilson's cultural commentary on issues surrounding racial relations in the music industry, director George C. Wolfe (The Immortal Life of Henrietta Lacks, Nights in Rodanthe) cunningly crafts an exhilarating environment in the confines of this singular studio, imbuing it with an invigorating allure that audiences will simply find irresistible. When the boys of the band debate with Levee over his dreams and discount his ability to "work with the white man," Wolfe finds ways to keep his camerawork creative throughout this dynamic discourse, never letting the pacing feel passive or their speeches grow static. A lesser director could've solely planted his camera, let his actors read their lines, and called it a day, but Wolfe doesn't ever take the easy way out – instead, he finds every opportunity to enhance the energy of the play and the emotions at hand, justifying this adaptation's existence.
While his name may not be in the title, Chadwick Boseman's Levee is undeniably the star of the show here, with a performance that stands as an astounding artistic accomplishment that most actors would spend their entire careers attempting to achieve. Right from his initial introduction, Boseman brings the totality of Levee to life before our very eyes, with all of his strengths and shortcomings intact; though he starts by showcasing the stubborn trumpeter's swagger, it is concurrently clear that there is a deeper desperation to this doe-eyed dreamer beneath his deceptive disposition, and Boseman brilliantly balances these intersecting identities with deft dexterity. Boseman may default to Levee's more dashing demeanor, but he can switch on the sentiment in a mere moment's notice, most notably in a monumental monologue about the pain his family has suffered at the hands of the "white man" that simply leaves one speechless and in awe at the openhearted anguish on display (which almost feels otherworldly). And yet, despite this anger, Levee can't stop chasing the improbable idea that maybe, just maybe, white society will one day give him his due – and once again, Boseman characterizes these contradictions with a confounding complexity.
As a whole, the work that Boseman puts forth as Levee is leagues beyond what we've ever seen from him thus far – without discounting other celebrated characters in films like 42 and Da 5 Bloods – and it's hard not to feel forlorn when realizing that we'll never be able to watch what greatness may have followed. Nevertheless, rather than serving as a starting point for subsequent dramatic successes, Boseman's performance as Levee comes to epitomize an extraordinary exclamation mark on the end of a life cut far too short, but one that will be remembered for all its enthralling exuberance thanks to the acting coup that has been committed to film here.
See Also

It would be hard for any thespian to effectively go toe to toe with Boseman's titanic turn, but Viola Davis is a dynamo in her own right, tearing through the theatrics like a tornado as the magisterial Ma Rainey in what has to be her most raucous role to date. Her commoving command over a room is electrifying to experience, as is the sight of her seething rage as she spits out orders at those who have dared to disobey her. Still, despite all of her discourtesy, Davis honorably humanizes the snippy singer with several stirring scenes in which she caustically criticizes the white workers in the music business who only see her as a commercial opportunity and nothing more, oblivious to her woes as a Black woman in 1920s America. Therefore, while she concedes that she's making decent money as the "Mother of the Blues," she also never intends to make it easy for the white men who manage her career along the way, forever enraged at their unwillingness to assist her in any other aspect in life. She's a product to them – nothing more, nothing less – and though Ma acknowledges this "unspoken" agreement, that won't stop her from raising holy hell along the way.
Truly, the rest of the cast is equally as entrancing as Boseman and Davis, with everyone completely committing to the chronicle that August Wilson conceived nearly 40 years ago. Domingo is mightily moving as Cutler, as he attempts to be the mediator between Ma and Levee during their distasteful disagreements, while Turman and Potts each fully flesh out Toledo and Slow Drag with a lived-in legitimacy. Taylour Paige (White Boy Rick, the upcoming Zola) is a delight as Ma's girlfriend Dussie Mae – who also takes a liking to Levee – while Jonny Coyne (Nightcrawler, The Nun) is suitably slimy as Sturdyvant, the smug studio owner who indirectly causes the film's crushing conclusion.
With dexterous direction and two prodigiously powerful performances from Chadwick Boseman and Viola Davis, Ma Rainey's Black Bottom proves to be an admirably affecting adaptation of August Wilson's widely apprized play of the same name. In the end, the film is able to simultaneously succeed at being both a celebration of the beauty of the blues and an accomplished analysis of how Black artists were taken advantage of by an increasingly icy and insensitive industry with little care for the concerns of their talent outside of what they could offer commercially.
---