The 10 Best Films of the 2010s: A Decade in Movies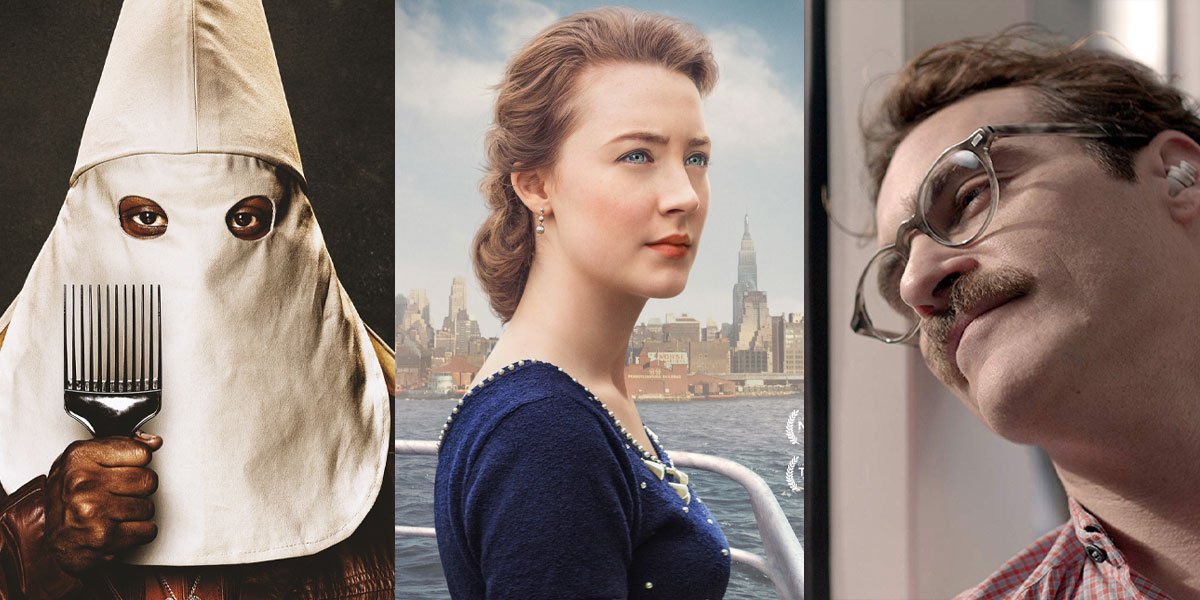 BlackKklansman, Brooklyn, Her (Focus/BBC/Warner)
What were the 10 best films of the 2010s? Take a look at the past decade in movies and discover many great gems, divided by year!
---
With all these closed cinemas and cancelled releases, we'll have to come to terms with the fact that we won't be seeing many upcoming movies anytime soon. Instead, we decided to look at the very best that the past decade had to offer. From The Social Network to Jojo Rabbit, let's take a look at the 10 best films of the 2010s, divided by year.
---
2010
THE SOCIAL NETWORK
Director: David Fincher
Cast: Jesse Eisenberg, Andrew Garfield, Armie Hammer, Rooney Mara, Justin Timberlake
Remember when our Facebook walls didn't have Timelines, Stories and News Feeds? The Social Network steps even further into the past, back when a Harvard student named Mark Zuckerberg created it, almost by accident, only to be sued with the accusation of having stolen someone else's idea. Starring Jesse Eisenberg, Andrew Garfield, Armie Hammer, Justin Timberlake and a young Rooney Mara, The Social Network is a fast-paced, clever biopic that will charm you, entertain you and keep you guessing with two hours of quickly-delivered geek speak and witty lines. Fun fact: Armie Hammer took inspiration from Jeremy Irons's performance in Dead Ringers to play twin brothers Cameron and Tyler Winklevoss.
The best films of the 2010s – Other great 2010 releases:
The King's Speech
Inception
Scott Pilgrim vs the World
Black Swan
Toy Story 3
True Grit
How to Train Your Dragon
---

2011
THE ARTIST
Director: Michel Hazanavicius
Cast: Jean Dujardin, Bérénice Bejo, John Goodman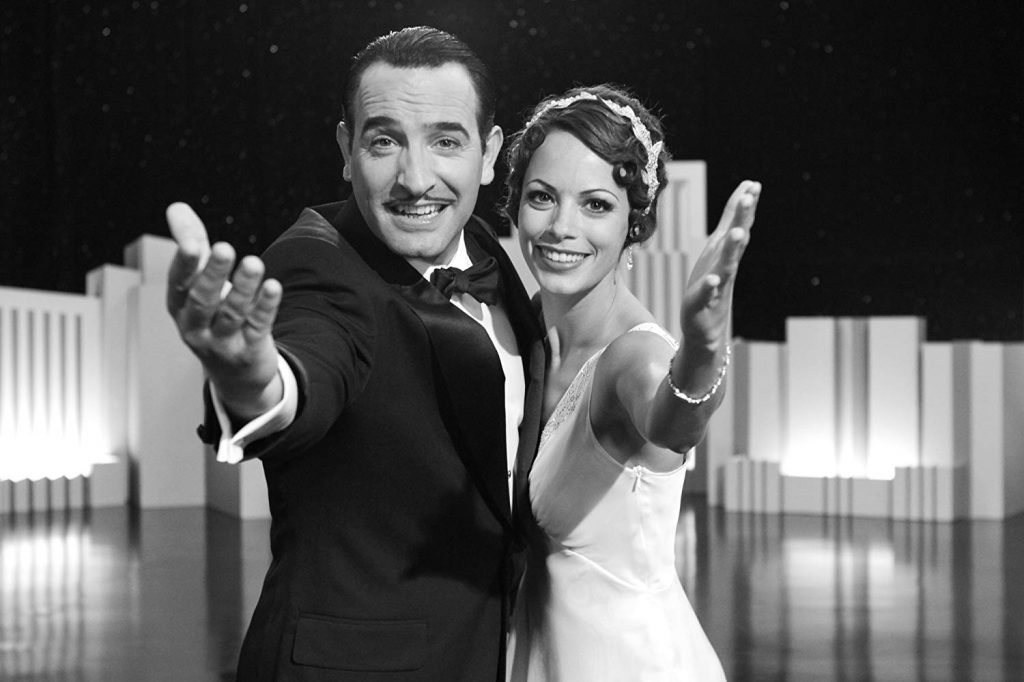 Michel Hazanavicius (Godard Mon Amour)'s visually striking, multi-award winning drama about a silent movie star (an exceptional Jean Dujardin) who develops a relationship with a dancer (Bérénice Bejo) took everyone by surprise when it first came out. Who could have imagined that a black and white, almost completely silent film could grip us so much? The Artist is a pure, unalterated shot of happiness and a charming, affectionate love song to cinema's golden age.
The best films of the 2010s – Other great 2011 releases:
Harry Potter and the Deathly Hallows
Melancholia
Drive
Bridesmaids
Hugo
---

2012
DJANGO UNCHAINED
Director: Quentin Tarantino
Cast: Jamie Foxx, Christoph Waltz, Leonardo DiCaprio, Kerry Washington, Samuel L. Jackson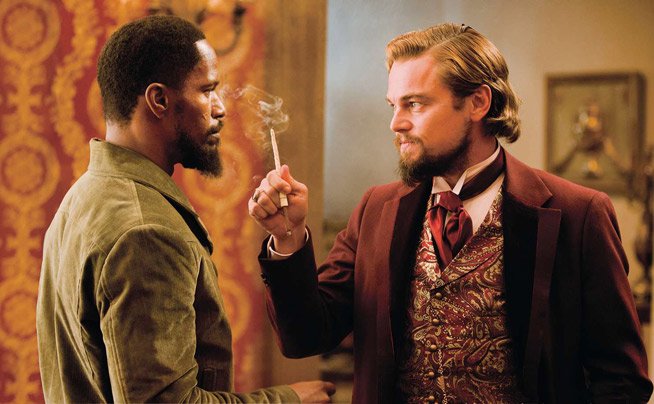 In his eight drama, Quentin Tarantino tackles the theme of revenge through the story of a slave (Jamie Foxx) who's on a mission to find his long lost wife (Kerry Washington). Starring Christoph Waltz as a German bounty hunter, Leonardo DiCaprio as the ruthless owner of a plantation called "Candyland" and Samuel L. Jackson as his loyal house slave, Django Unchained is entertaining, compelling and, at times, hard to watch. As usual, in the best Tarantino tradition, it's the the appealing aesthetics, flawless writing and exceptional acting that will leave you wanting for more.
The best films of the 2010s – Other great 2012 releases:
Zero Dark Thirty
The Master
Skyfall
Argo
Amour
The Dark Knight Rises
Midnight in Paris
---

2013
HER
Director: Spike Jonze
Cast: Joaquin Phoenix, Amy Adams, Scarlett Johansson
Long before Joaquin Phoenix became known as the face of the Joker, he played a man who fell in love with an Operating System. But that's not all: in Spike Jonze (Being John Malkovich, Where the Wild Things Are)'s compelling sci-fi drama, the world's first intelligent OS has the (very recognizable) voice of Scarlett Johansson. As lonely writer Theodore (Phoenix) decides to install "OS1" to help him get through his recent divorce, he ends up isolating himself further and further, into a relationship that feels incredibly real, even if it's made of long phone calls to… well, computer software.
Both philosophically intriguing and surprisingly entertaining, Her is a thought-provoking investigation on the nature of consciousness, a clever commentary on our use of technology and an absolutely heartwrenching look at loneliness. Watch it for Joaquin Phoenix's superb performances, for Hoyte Van Hoytema (Dunkirk, Interstellar)'s flawless cinematography and for its unusual subject matter: we guarantee you'll never see a film like Her again.
The best films of the 2010s – Other great 2013 releases:
Dallas Buyers Club
Gravity
Blue is the Warmest Colour
The Wolf of Wall Street
Snowpiercer
12 Years a Slave
Frozen
Prisoners
---

2014
BIRDMAN OR (THE UNEXPECTED VIRTUE OF IGNORANCE)
Director: Alejandro G. Iñárritu
Cast: Michael Keaton, Zach Galifianakis, Emma Stone, Edward Norton
Alejandro G. Iñárritu (21 Grams, The Revenant)'s black comedy about an actor who used to be famous is as unusual as it is technically flawless. Starring Michael Keaton in a career-defining role, Birdman is one of those movies that cannot be described in words. Both a haunting account of a man's misfortunes and a fascinating journey through consciousness, memory and dream, Iñárritu's Academy Award-winning drama is psychologically captivating and surprisingly entertaining. More than that, it's a masterpiece in directing, and a unique gem of a movie that will keep your eyes glued to the screen, one long take at a time, as you watch Michael Keaton and Edward Norton do their magic.
The best films of the 2010s – Other great 2014 releases:
Whiplash
Ex Machina
The Babadook
Guardians of the Galaxy
What We Do In The Shadows
Boyhood
Interstellar
Nightcrawler
---

2015
BROOKLYN
Director: John Crowley
Cast: Saoirse Ronan, Emory Cohen, Domhnall Gleeson
Before Greta Gerwig picked Saoirse Ronan as the leading character of Lady Bird and Little Women, the Irish-American actress starred in another adaptation of a beloved novel, written by Colm Tóibín. Brooklyn is the story of Eilis Lacey (Ronan), a young Irish immigrant who moves to New York City, leaving her family home in the hope of finding a better future. As Eilis moves past her initial homesickness and finds love and independence in New York , she soon realises that she will have to choose between the two countries – and the prospects that each of them brings. Brooklyn is much more than yet another film about the American Dream, and its strength lies in the apparent simplicity of the story it tells. Co-written for the screen by Nick Hornby and Colm Tóibín, Brooklyn is moving, endearing and genuinely enjoyable, and Ronan pours such energy and charm into her character that it's a real pleasure to watch her story unfold.
The best films of the 2010s – Other great 2015 releases:
Max Max: Fury Road
Carol
Spotlight
The Hateful Eight
Room
Star Wars: The Force Awakens
---

2016
ARRIVAL
Director: Denis Villeneuve
Cast: Amy Adams, Jeremy Renner, Forest Whitaker
What if aliens suddenly decided to show up, with giant spacecrafts strategically placed in specific areas of the world, but decided not to take any action? Communication is the key issue to solve in Denis Villeneuve (Prisoners, Blade Runner 2049)'s Arrival, a clever, intimate, meaninfgul film that proves that sci-fi dramas don't have to be all about the action. Starring a superb Amy Adams as a linguist who joins forces with the military to try and find a way to communicate with the aliens, Arrival is a visually and auditory impressive story about courage, unity and the incredible power of language. As you try to solve a puzzle made up of clever flashbacks and H.P.Lovecraft-like creatures, you will be drawn into a quietly compelling world in which nothing is what it seems. If you liked Memento, you're guaranteed to fall in love with Arrival.
See Also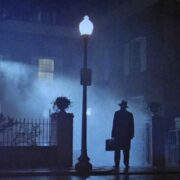 The best films of the 2010s – Other great 2016 releases:
The Nice Guys
Your Name
The Handmaiden
Manchester by the Sea
Zootopia
Paterson
Nocturnal Animals
Deadpool
Sing Street
---

2017
THREE BILLBOARDS OUTSIDE EBBING, MISSOURI
Director: Martin McDonagh
Cast: Frances McDormand, Woody Harrelson, Sam Rockwell, Lucas Hedges
Full review: Three Billboards Outside Ebbing, Missouri Film Review!
Martin McDonagh (In Bruges)'s take on the revenge movie genre is a modern western with a badass, John Wayne-inspired heroine (Frances McDormand) in the lead. But it's also so much more than that. On paper, Three Billboards Outside Ebbing, Missouri is a dark comedy about a mother who takes it upon herself to avenge the brutal murder of her daughter, and decides to paint a controversial message directed at the chief of police (Woody Harrelson) on three visible billboards just outside her town. Yet, this compelling drama is not just about a mother grieving the loss of her daughter. Three Billboards Outside Ebbing, Missouri is a powerful investigation on morality, justice and compassion disguised as a revenge drama. McDonagh's clever, meaningful story flows to perfection, moves you when you least expect it to and never fails to entertain. Watch it for Carter Burwell's compelling score, McDormand and Harrelson's undeniable chemistry and Sam Rockwell's hilarious, Oscar-worthy performance.
The best films of the 2010s – Other great 2017 releases:
The Shape of Water
I, Tonya
Coco
Blade Runner 2049
The Disaster Artist
Dunkirk
Get Out
Call me by Your Name
---

2018
BLACKKKLANSMAN
Director: Spike Lee
Cast: John David Washington, Adam Driver, Alec Baldwin, Laura Harrier
Based on true events and produced by the team behind Get Out, Spike Lee (Do The Right Thing, Malcom X)'s Ku Klux Klan crime drama might just be the best film he's ever made. BlackKklansman is the true story of Ron Stallworth (John David Washington), the first African-American detective hired by the Colorado Springs Police Department in the early 1970s. With the aim of infiltrating the Ku Klux Klan, Stallworth joins forces with Jewish colleague Flip Zimmerman (Adam Driver), and sets in motion an unbelievable (but painfully real!) undercover investigation to expose the group. Flawlessly written and superbly acted, BlackKklansman is as clever and entertaining as it is absolutely hilarious.
The best films of the 2010s – Other great 2018 releases:
Shoplifters
Spider-Man: Into the Spider-Verse
Eighth Grade
Crazy Rich Asians
Burning
Free Solo
Roma
Three Identical Strangers
Avengers: Infinity War
---

2019
JOJO RABBIT
Director: Taika Waititi
Cast: Roman Griffin Davis, Thomasin McKenzie, Scarlett Johansson, Sam Rockwell, Taika Waititi, Rebel Wilson, Stephen Merchant
Full review: Jojo Rabbit Film Review!
We've been talking about Joker for months, so we thought we'd surprise you and pick another film to represent 2019 – one that didn't get much recognition at the Oscars (with only one win for Best Adapted Screenplay), but that it absolutely should have. Based on Christine Leunens' bestselling novel Caging Skies, Taika Waititi (What We Do In The Shadows, Thor Ragnarok)'s exquisitely absurd Nazi comedy is the story of a 10-year-old boy/Hitler Youth recruit (played by the larger than life Roman Griffin Davis) whose imaginary friend is Adolf Hitler himself. At least, it's the wonderfully bizarre, hilarious version of Hitler that this 10 year old boy's brain was able to conjure up. Which makes it pretty hard not to laugh every time he appears, showing off absurd outfits and giving unlikely advice.
Yet, Jojo Rabbit is also a thought-provoking reflection on war, family and survival, made even more effective by Scarlett Johansson and Thomasin McKenzie's emotional, effective performances. If you embrace its apparent madness, not only will you find plenty of meaning and poetry in Jojo Rabbit, but you'll absolutely fall in love with its young protagonist.
The best films of the 2010s – Other great 2019 releases:
Joker
Once Upon a Time in Hollywood
Parasite
Midsommar
Knives Out
Stan & Ollie
Dolor y Gloria
I Am Mother
Late Night
Blinded by the Light
The Farewell
Us