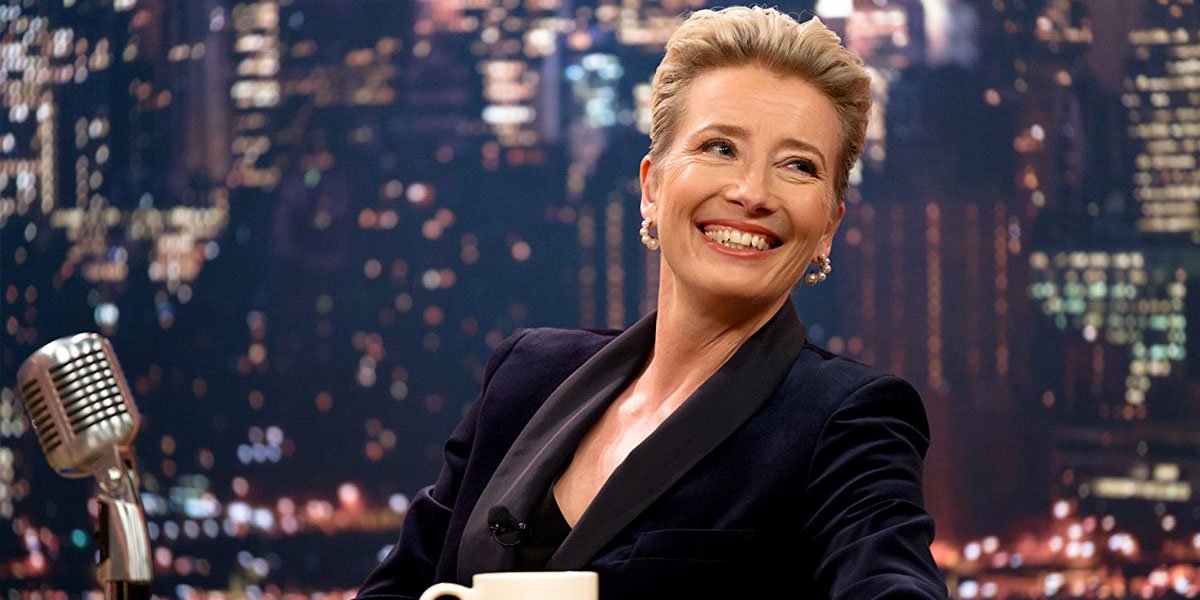 Emma Thompson in Late Night (Sundance Institute)
Kaling and Thompson excel in Late Night, an excellently written, brilliantly acted film that will entertain you, empower you, and make you wiser.

---

What if your favourite talk-show host was the opposite of what she appeared to be like on tv? What if, in real life, she turned out to be a cynical, disillusioned, overly critical person with a very pessimistic view on the world and the irritating tendency to judge everyone around her too quickly? In Nisha Ganatra's clever comedy Late Night, Emma Thompson (Sense and Sensibility, the Harry Potter saga) plays a successful talk show host whose public persona doesn't exactly reflect her personality and attitude to work. Uncaring of everyone else's opinions and quick to fire any employee who dares to make unsolicited requests, Katherine Newbury is every producer's worst nightmare.
Not only does Katherine defy every single workplace ethic with her blunt, inappropriate comments, but, at the very start of the film, the face of the talk show has never even met any of her writers. Not only that, but her writers' room consists entirely of men, as this "woman who hates women" has fired every single female writer who has worked for her in the past. Which is why it doesn't come as a surprise that, when we first meet Katherine, she in the process of (hilariously) firing yet another good writer for no reason, having urged her all too relatable executive producer Brad (Denis O'Hare, aka The Good Wife's Judge Abernathy), to start looking for a female writer to hire. But the choice to make her staff more gender-equal won't be the only decision Katherine will have to make in the film.
When her network executive/nemesis Caroline (Amy Ryan, of Birdman) threatens to remove her from her own show, our talk show host has to come to terms with the fact that she might actually lose everything. And, as the seriousness of the situation sinks in, it doesn't take her long to realise that she is going to have to do "something (she hasn't) been doing to a very long time": fight again. "They can't replace you if everyone loves you", her husband Walter (John Lithgow, of Mozart in the Jungle) wisely points out, and Katherine's battle begins.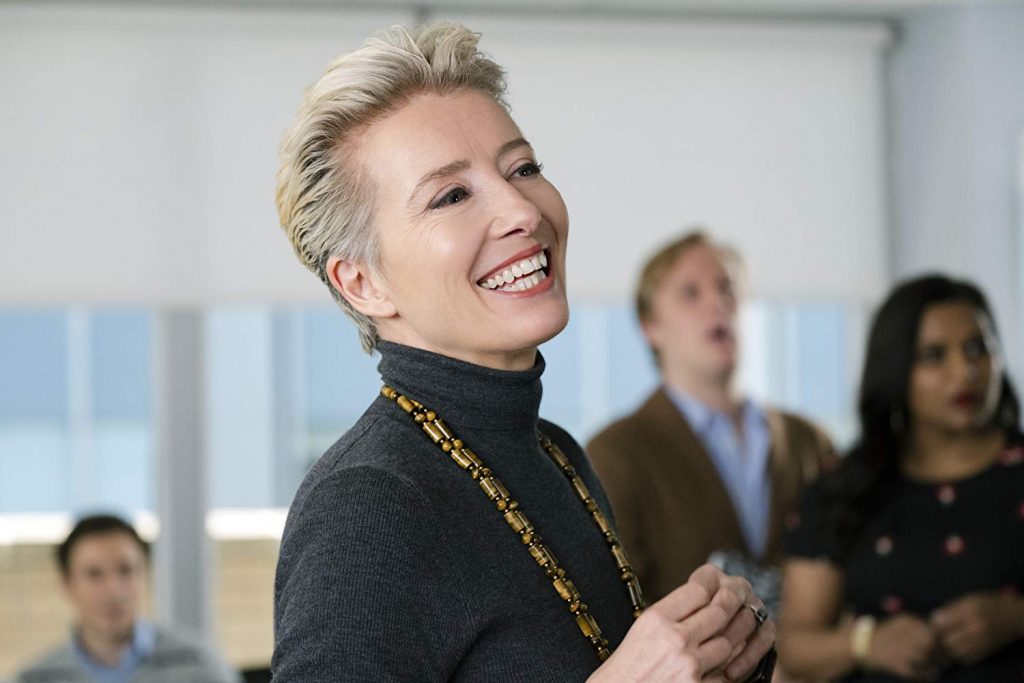 There are several factors that make Late Night such a one of a kind drama. One of them is the unpredictability and excellent pace of the screenplay, written by Mindy Kaling (The Mindy Project, The Office), who also produced and starred in the film. Another is Emma Thompson's incredible charisma: a pro at pouring incredible amounts of emotion into every character she plays, Thompson is an absolute pleasure to watch in a role that we don't often get to see her in, and that instantly reminds us of another character that made comedy history – The Devil Wears Prada's Miranda Priestly.
But the Love Actually actress is not the only protagonist who gives us a performance we will remember: there is another reason why Late Night works so well, and that reason is Mindy Kaling. The Emmy-nominated actress arrives just at the right time and introduces us to Molly Patel, the other protagonist of the film and a character we instantly love and recognise as "one of us". Molly is Katherine's diversity hire, but she is also so much more than that. This ex-chemical plant employee is a resourceful woman who somehow manages to get an interview for a position as a writer in her favourite show, whose host she absolutely worships. When she does indeed land the job of her dreams, it soon becomes clear that, although she doesn't have any experience in the glamorous world of television, she is the very opposite of ordinary.
Yes, she might be giddy, nervous, overly excited and a little too eager to please, but that's the point. Molly is the likeable character every single one of us can relate to. She is that person who'd rather tell her mum she's out having fun than admit to being at home eating ready-made food, and she's that employee who hangs motivational posters by her desk and googles ways to make a good impression at work only to end up conjuring awkward situations by overdoing it with the cupcakes.
Molly is not just a quirky, endearing character that sometimes reminds us of our own mishaps: she is, in all respects, the better version of ourselves. She possesses that one quality that everyone else seems to have lost on the way/many years ago: honesty. In fact, she's so honest that she's the only one who is able to rationally point out the flaws in Katherine's show, and she's also the one who will ultimately be able to help. Molly embodies consistency and resilience, and is in fact the best thing that could have happened to Katherine, even if she doesn't know it yet.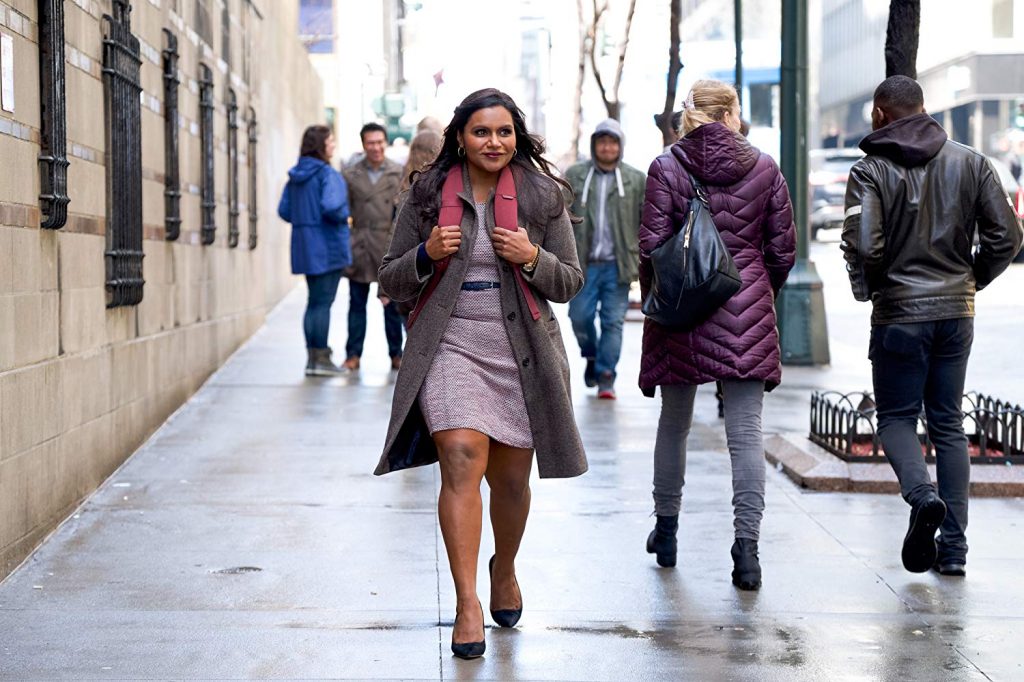 "She's not the classy role model you've been watching on TV for 25 years". Her writing colleague Charlie's (Hugh Dancy, of Hannibal) words of warning couldn't have been more accurate. At Molly's first official writers' room meeting, where Katherine unexpectedly shows up for the first time ever, it becomes clear just how desperate the situation is. Not only does Katherine appear to possess a massive ego and a complete lack of empathy, but her interaction with her writers is almost painful to see. And, with her insensitive behaviour and stubborn refusal to listen to advice, it is no surprise that it only takes one more public appearence for the once legendary talk-show host to quickly get demoted to "least favourite aunt". Katherine's downfall is a key point for the film, as it's exactly when Kaling's screenplay comes to life and both protagonists surprise us in more than one way.
If Katherine is stubborn and inflexible, Molly is just as determined, and that is what makes the two women such fascinating characters to watch. Because if Katherine loosely reminds us of The Devil Wears Prada's Miranda Priestly, Molly is the opposite of Anne Hathaway's character Andy. She's not the typical "newly hired employee" one would expect to find in this kind of film – a goofy, insecure, inexperienced girl whose struggles to be heard would make audiences root for her: she is the opposite of that.
See Also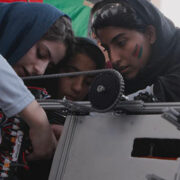 Molly is not looking for an identity, nor is she lacking confidence or self-awareness: she knows perfectly well that it's precisely because she's "a dark-skinned Indian woman" that she got her the job in the first place, and she embraces what makes her different. In fact, she does more than that: from the very beginning of the movie until the very end, we witness her constantly turning these differences into advantages. It would have been so easy to turn Molly's character into a stereotype, but Ganatra and Kaling show us a tough co-protagonist who is just the opposite of that. Molly is a woman who's had to fight harder than anyone else for her whole life, and it's so refreshing to acknowledge her as a strong, confident, self-aware person who already knows who she is.
Molly is a surprising character from start to finish, so, when the time does come to follow Walter's advice and "make it so that, even if [Katherine] doesn't like [her], she needs [her]", it comes as no surprise that she effortlessly rises to the occasion. Molly's actions when Katherine needed her the most mark the first of a series of important changes in the relationship between the two women, leaving us with an equal amount of hilarious sequences and important issues to think about. Like the fact that it's so much easier for a woman than for a man to be criticised for being firm and decisive and for having ideas in the first place, or that sometimes the lies we make up in our mind can be less scary than the truth.
It's easier to run than to face the real issues, and, sometimes, in the effort to keep everything under control, we simply lose track of who we are. There is a reason why Katherine is always lashing out at everyone else, and it doesn't have anything to do with her staff. It has to do with acceptance, risk-taking and honesty, and with finding the courage to show others who you really are, even if you're not exactly the person you'd like to be.
Late Night surprises us by tackling issues you didn't think you'd find in a comedy – from important reflexions on life, friendship and love to social injustices, serious illness and depression – and that's exactly where the film excels. Ganatra's account of a successful woman who doesn't know who she is and the woman who helps her find herself again is a refreshing, thought-provoking, insightful comedy drama with a powerful social commentary and plenty of laugh-out-loud moments. It will entertain you, it will move you, it will inspire you and it will stay with you for a long time after the credits roll.
---
Late Night premiered at the Sundance Film Festival (USA) on January 25, 2019 and is now available to watch on digital and on demand.