Stan & Ollie (2019): Film Review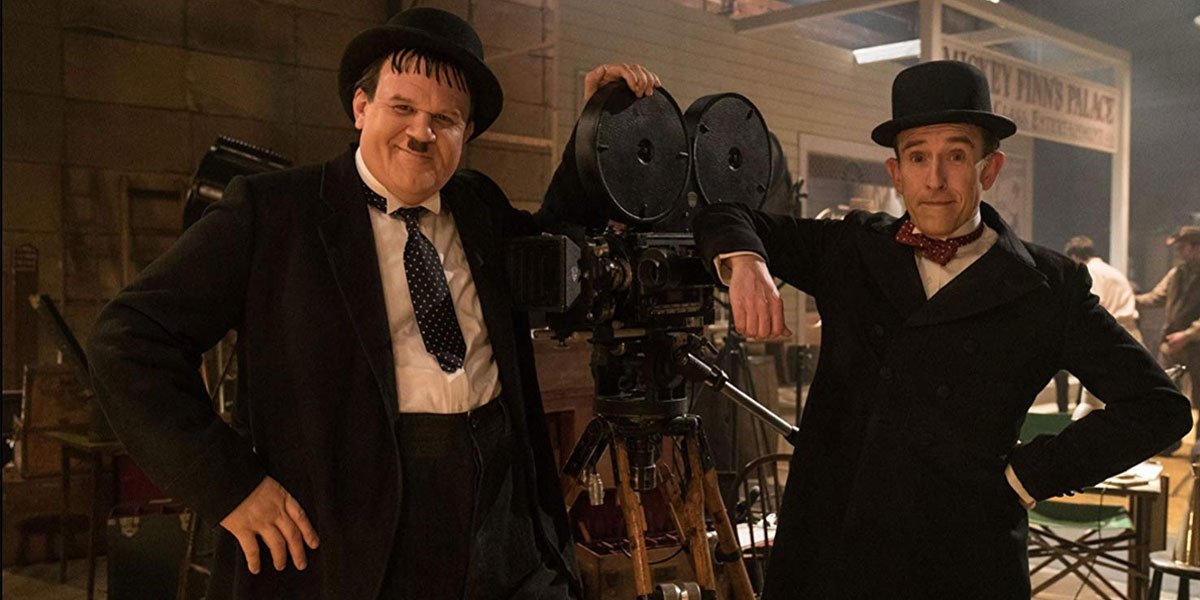 John C. Reilly and Steve Coogan in Stan & Ollie (Sony Pictures Classics)

John S. Baird's Stan & Ollie is a heartwarming tale of friendship and courage and the perfect farewell to the world's most famous comedy duo.
---
In the summer of 1937, Stan Laurel and Oliver Hardy are at the peak of their success. When we first meet them, in John S. Baird's Stan & Ollie, they are on the set of their latest project, Way Out West, having a serious conversation: the comic duo might be extremely popular, but Stan and Ollie aren't getting paid nearly enough for their hard work. As we listen to their plans, it doesn't take long to realise that changes are underway for the two actors: not only are they planning to asking their producer, Hal Roach (Danny Huston), for a raise, but Stan is also insisting that they should leave.
Which, as a matter of fact, is exactly what he's going to do: history already taught us that Laurel will sign a contract with Fox, confident that his partner will join him, but Hardy's refusal to end things up with Roach before the end of the contract will lead to a series of events that will force the pair to go on separate ways for a while. But, at the very start of the film, we don't know that yet.
As we follow Laurel and Hardy on the set thanks to an impressive four minutes-long extended take that lets the camera goes back and forth from the actors to their interlocutors until they reach the stage, what they're talking about is not the first thing that really grabs our attention. Of course, the decisions they need to make and the consequences these choices will have on both their careers and their personal lives (Oliver has also recently been through a divorce) are extremely important, but what really tells us so much more about the duo is that, even when they are not in character, they never, for one second, forget about who they are.
A quick acknowledgement from Laurel and Hardy is enough to make everyone around them smile, even on the set, and the two comedians know this perfectly well. Which is why, even before we witness their legendary dance routine for Way Out West, they have already won our hearts with their affectionate interactions with the crew.
The Stan and Ollie we are presented next are very different people. Sixteen years later, their theatrical tour of the U.K. is about to begin: it's 1953, and our favourite duo has just arrived in Newcastle. As we see them check into the sad-looking "Bottle and Glass Inn" Hotel, after having been left there by a manager who won't even dine with them (Bernard Delfont, played by Rufus Jones), it doesn't take long to realise that many things have changed in these sixteen years.
Of course, the most obvious difference would be their significant (and incredibly realistic) physical transformation, but that's not all. "I thought you had retired!", the receptionist tells them, having witnessed an impromptu sketch involving the hotel bell, and we really feel for them. It's the beginning of a long series of events that quickly make it clear that, even if the public's affection for Laurel and Hardy is still very much alive, they aren't exactly at the top of any producer's list.
And so, while popular acts take the stage at the Royal Theatre, the less glamorous Queen's Hall has been booked for their show, and all that's left to the duo is performing to empty chairs and improvising stand-up routines to pretty much anyone they meet, who, in turn, meets them with circumstancial smiles. The portrait we're given is heartwrenching, endlessly moving and brutally honest, which is exactly what Stan & Ollie is all about.
If you're expecting John S. Baird's biopic to be one of those movies that make you burst out in laughter ever so often, you will be disappointed. Not only Stan & Ollie is the opposite of funny, but it's a film in which what we don't get to see is so much more important than the events that unfold on the screen. Which doesn't mean that you won't get to see any of the duo's famous sketches: it's quite the opposite. As Laurel and Hardy rehearse new scenes for a future film that might or might not be happening and entertain us with absolutely hilarious performances that bear a striking resemblance to the originals, it's the quiet, genuine moments that we're interested in.
Those rare seconds in which our protagonists forget about their public personas and bare their souls, showing us who they really are, underneath it all – those are the moments that really strike a chord. Because it becomes more obvious by the minute that so much has been left unsaid between the two comedians, and there's something we can't quite figure out that subtly changes the way we look at everything. It's a layer of nostalgia and regret that permeates the whole film, making it thought-provoking and intense and, at the same time, tearing our hearts apart.
It's when the duo arrives in London that their relationship starts evolving once again, and it's partly due to the arrival of another very important duo – their wives. Lucille (Shirley Henderson) and Ida (Nina Arianda) are not only responsible for most of the genuinely comic scenes in the film, but they reveal yet another side of their husbands' personalities. Most of all, if Stan and Ollie are focused on their career in moving pictures (or lack thereof), Lucille and Ida are not afraid to look at the past. These two characters are honest and outspoken, and that is precisely what makes them not only very relatable but also extremely needed in this story. Nina Arianda and Shirley Henderson's excellent portrayal of two strong women who understand so much more than they say makes them connect with us instantly, and enables them to provide stability to two main characters whose delicately balanced emotions often prevent them from saying what they think.
See Also

At the same time, it's when the two actors are forced to react to the many hardships that come their way that we really get to know them, not just as the "Laurel & Hardy" the public loves, but, most of all, as the much more private "Stan & Ollie". And so we meet an Ollie who gets mad about losing a bet that would have allowed him to buy his wife jewelry instead of flowers, but who keeps it together when he notices someone watching, and instantly switches to his stage persona with an affectionate wave and a smile.
And then there's the Stan who tries everything he can to convince a director to produce their new film, even if he knows it's probably never going to happen, but who reacts to the director's rejection by keeping his secretary entertained with impromptu sketches. Because "Stan and Ollie" and "Laurel and Hardy" are linked to each other in such a profound way that one cannot exist without the other: the private and public personas are two sides of the same coin, but they are both extremely real. It's who they are, and, most of all, it's who they need to be.
"The show must go on", and, as the London performance takes place, so does a much awaited confrontation between our protagonists. Which is when Stan and Ollie conjure up all their courage and finally bare their souls to each other, and it's also when we finally understand that our two comedians are not oblivious to what's happening around them: they simply don't know how to function without being Laurel and Hardy. And so, as our respect and admiration for them grows, so does the awareness that, in the end, we already knew just how much Stan and Ollie loved each other. It's the kind of love you reserve to family, a love that comes effortlessly and that we had been witnessing for the entire duration of the film without even realising it: we had seen it in their choices, in their glances, in their words and, most of all, in what they didn't even need to say to each other.
"You can't have Hardy without Laurel," Stan had said to Roach in 1937, before leaving the set of Way Out West, but a more accurate sentence comes to mind: you can't have Stan and Ollie without Laurel and Hardy, and it's in this realisation that lies the whole message of the film. Stan & Ollie is a film that will move you, entertain you and surprise you in many ways. It's one of those movies that enfold slowly and weasel their way into your heart until you're a complete mess. Most of all, it's the perfect farewell to two beloved actors that, by the end of the film, you will remember as family. Stan & Ollie is not a comedy, but that's what's great about it: it's an intense, thought-provoking, surprisingly moving drama with a huge deal of heart.
---
Stan & Ollie premiered at the London Film Festival on 21 October, 2018. It was released in cinemas worldwide in 2019, and it's now available on DVD in most countries.