Roma: Cuarón's Memories Come Alive (Review)
Yalitza Aparicio and Marco Graf in Alfonso Cuarón's Roma (Netflix)
Alfonso Cuarón takes us back to 1970s Mexico City in Roma, an exceptional tale about identity inspired by his own childhood memories.

---

"When you grow up with someone you love, you don't question her identity".The words Alfonso Cuarón used to describe his childhood nanny Lio at the press conference in Venice couldn't have been more accurate to give us an idea of what his new film, Roma, is all about. There are many reasons why the director chose to dedicate his film to Lio, the most obvious being that the main character, Cleo (Yalitza Aparicio), is based on her, or, to put it more accurately, on Cuarón's memory of her. Just like the director's domestic was, in Cuarón's own words, "part of my family – or, rather, we became her family", Cleo is not just the one person that holds the whole story together, but also the one everything and everyone else revolve around. Which, keeping in mind that Roma's events involve several families belonging to at least three if not four different social classes, is impressive to say the least.
Roma is the story of Cleo, a young domestic who works for a middle-class family in Mexico City's Roma neighborhood. It is also the story of that very same middle-class family, with its complex dynamics and everyday struggles, from Sra Sofía's (Marina de Tavira) efforts to raise her children to the kids' own growth in 1970s Mexico. Not to mention Cleo and Adela's (the other domestic, played by Nancy García García) personal lives outside "their employer's Mexico City" and into a whole new universe of strong emotions and fascinating cultures. Because class isn't the only factor that differentiates Cleo and Adela from Sra Sofía: their Mixteca culture – coming from one of the many indigenous tribes in the state of Oaxaca – also grants us entry into a different Mexico City, one that's full of fascinating traditions and dialects to explore.   
Just as the director's household was "held together" by women, it is Cleo, Adela, Sra Sofía and the other women of this film that lead the narrative and allow Roma to be so much more than just a potrait of Mexico in the 1970s. Cuarón certainly does approach a series of extremely relevant socio-political themes, but Roma is also full of feelings. The language, the long takes, the cinematography, a type of black and white that was conceived by mixing together past and contemporary techniques: all these elements bring us back to a different place, where time moves at its own pace and each nuance of grey brings a new emotion to the surface.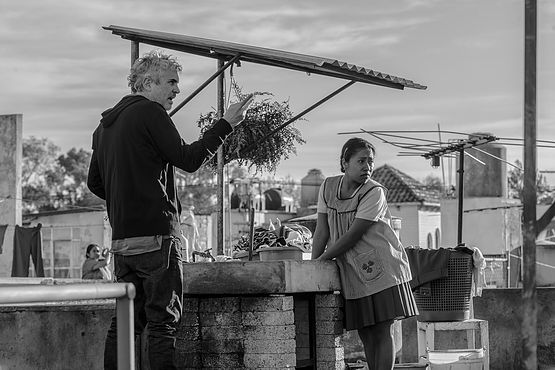 When Cuarón let us see his memories, he allows us to take in all these details at once, from his country's political issues to the way his women lead their lives. And, as time keeps moving, we slowly begin to notice that, though Cleo and Sra Sofía belong to two different worlds, the issues they face are the same. Because Cuarón's women are Roma's heroes: they are mistreated, and they have to endure endless frustration and pain (most of the time on their own) while also taking care of their families. In a world where violence is everywhere, anger spreads like a disease and innocent children grow older by the minute, the women are somehow able to find the strength to connect and look out for one another.
Cleo and Sra Sofía's bonds with their respective families and with each other are strong, but so is their connection with the audience. Cuarón's objective and nuanced way of building his narrative enables our own relationship with Cleo to grow stronger by the minute. We see her with the children, we watch her work, we witness every moment of her life and, as the film goes on, we suddenly realise her "world" has somehow become our own, too.
From Sofía's hilarious manoeuvres on her husband's car to to Borras the dog's adventures in the patio; from the noisy streets of Mexico City to the family's house in Roma: it doesn't matter how many times the dirt of the day is washed away and a new cycle begins. The director slowly and delicately lets us witness and process his memories on our own, and that is Cuarón's true magic: when the film is over, although we don't know exactly how and when it happened, a little part of his Mexico somehow belongs to us too.
---
Roma is now available to watch on Netflix.